Twenty-nine scientists argue in Science today that the world will not be able to lift up the world's poor unless it also addresses global biodiversity loss. They say that the same underlying problems—exploitation of resources, unsustainable overconsumption, climate change, population growth—are exacerbating global poverty and the extinction of species.
"Action is urgently needed to identify and quantify the links between biodiversity and ecosystem services on the one hand, and poverty reduction on the other," the scientists write.
| | |
| --- | --- |
| | Top: Children in Akavandra, Madagascar. Fifty percent of children in Madagascar "suffer retarded growth due to a chronically inadequate diet," according to the World Food Programme. Bottom: Multi-colored beetle from Mount Kenya. Photo by: Rhett A. Butler. |
They point to agriculture as one example of an area where more sustainable methods can help save biodiversity and reduce global poverty. "For instance, we can use existing land more efficiently; we can pursue development that protects or enhances biodiversity; and we can improve productivity in ways that maintain ecosystem services, through institutional changes to secure better access to seeds, markets, and expertise, combined with adaptive applications of technologies," write the scientists.
International goals are in place to tackle poverty and biodiversity loss. An aim of the Millennium Development Goals is to halve extreme poverty by 2015, while 190 countries have pledged to reduce the rate of biodiversity loss by 2010 under the Convention on Biological Diversity (CBD) —a pledge that the world will miss by a large margin.
The failure to stem biodiversity loss has led researchers to look at the problem anew and see the links between current unsustainable use of the environment, biodiversity loss, and extreme poverty.
"Many of the fundamental causes of poverty and environmental degradation are the same – such as pressures caused by unsustainable human population growth. The conservation and development communities need to focus on solutions that will provide win-win outcomes for all life on this planet," says Professor Jonathan Baillie, Director of Conservation at ZSL, and one of the paper's authors.
| | |
| --- | --- |
| | Las Vegas sprawl: scientists blame overconsumption, unsustainability, and overpopulation for biodiversity loss and global poverty. Photo by: Rhett A. Butler. |
CBD's goal to stem biodiversity loss was recently recognized as important enough to be added incorporated into the Millennium Development Goals "in recognition of the impact of biodiversity loss on human well-being," according to the paper. However, the scientists add that this is not enough: "Attention must focus on constructing and meeting a new biodiversity target for the remaining Millennium Development Goal period and beyond. The next target should be more specific, similarly time-limited, reasonably achievable, and should address the consequences of biodiversity loss globally and for the most vulnerable people and societies."
Dr Kate Jones, Senior Research Fellow at ZSL, and one of the paper's authors points out that the key is to stop separating environment sustainability from development.
"The global issues are now so intense we will only succeed if we have an integrated environment and development agenda – our children's environment is an essential part of their welfare," she says.
Citation: Jeffrey D. Sachs, Jonathan E. M. Baillie, William J. Sutherland, Paul R. Armsworth, Neville Ash, John Beddington, Tim M. Blackburn, Ben Collen, Barry Gardiner, Kevin J. Gaston, H. Charles J. Godfray, Rhys E. Green, Paul H. Harvey, Brett House, Sandra Knapp, Noëlle F. Kümpel, David W. Macdonald, Georgina M. Mace, James Mallet, Adam Matthews, Robert M. May, Owen Petchey, Andy Purvis, Dilys Roe, Kamran Safi, Kerry Turner, Matt Walpole, Robert Watson, Kate E. Jones. Biodiversity Conservation and the Millennium Development Goals. Science, 18 September 2009 Volume 325. 10.1126/science.1175035.
Related articles
Discovering nature's wonder in order to save it, an interview with Jaboury Ghazoul

(09/08/2009) Sometimes we lose sight of the forest by staring at the trees. When this happens we need something jarring and eloquent to pull us back to view the big picture again. This is what tropical ecologist Jaboury Ghazoul provided during a talk at the Association of Tropical Biology and Conservation (ATBC) meeting this summer in Marburg, Germany. Throwing out a dazzling array of big ideas and even bigger questions—incorporating natural history, biodiversity, morality, philosophy, and art—the enthusiastic Ghazoul left his audience in a state of wonder.
Investing in conservation could save global economy trillions of dollars annually
(09/03/2009) By investing billions in conserving natural areas now, governments could save trillions every year in ecosystem services, such as natural carbon sinks to fight climate change, according to a European report The Economics of Ecosystems and Biodiversity (TEEB).
A new effort to save global biodiversity? Just ask E.O. Wilson
(08/24/2009) In a short interview with New Scientist, world renowned entomologist, conservationist, and author, E.O. Wilson speaks about his latest idea to save the world's biodiversity.
Economic crisis threatens conservation programs and endangered species, an interview with Paula Kahumbu of WildlifeDirect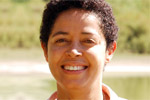 (08/17/2009) Founded in 2004 by legendary conservationist Richard Leakey, WildlifeDirect is an innovative member of the conservation community. WildlifeDirect is really a meta-organization: it gathers together hundreds of conservation initiatives who blog regularly about the trials and joys of practicing on-the-ground conservation. From stories of gorillas reintroduced in the wild to tracking elephants in the Okavango Delta to saving sea turtles in Sumatra, WildlifeDirect provides the unique experience of actually hearing directly from scientists and conservationists worldwide.
869 species extinct, 17,000 threatened with extinction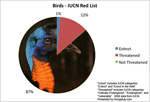 (07/02/2009) Nearly 17,000 plant and animal species are known to be threatened with extinction, while more than 800 have disappeared over the past 500 years, reports the International Union for Conservation of Nature (IUCN). While these numbers are substantial, they are likely "gross" underestimates since only 2.7 percent of 1.8 million described species have been assessed. The IUCN report warns that governments will miss their 2010 target for reducing biodiversity loss.