Sears Holding Company, most known for their ubiquitous catalogues, continues to stall on crafting a more environmental paper policy, according to the nonprofit environmental organization ForestEthics. Sears' long delay to implement a more forest-friendly policy is adding pressure to already threatened caribou populations and deforesting forests in Canada, where the company sources much of its paper.
"Sears has been made fully aware of the costs of stalling on a strong environmental paper policy," said Ginger Cassady of ForestEthics. "It's hard not to conclude that they place a lower priority than their competitors on the welfare of caribou and Endangered Forests. Their fellow Chicago company, Crate & Barrel, for example, cleared this hurdle two years ago."
| | |
| --- | --- |
| | Logging in the boreal forest in Alaska. Photo by: Rhett A. Butler. |
ForestEthics has negotiated with Sears for over two years to come up with a better paper policy, but the company continues to stall.
Currently, 425 million Sears and Lands End catalogues are sent to Americans every year, a number that eclipses the population of the entire United States by more than 100 million. According to ForestEthics, Sears Company was one of the pioneers of the junk mail industry.
As well as containing a large number of threatened species, including the caribou, the boreal forests act as a massive carbon sink.
"Crate & Barrel implemented a strong paper procurement policy that gives preference to FSC, increases its use of recycled fiber, sources no paper from Endangered Forests and reduces paper use overall," Cassady says. "ForestEthics is asking Sears to do the same."
In addition to pressuring companies to change the ways they use forests products like paper, ForestEthics also runs a Do Not Mail campaign that seeks to establish a national Do Not Mail Registry, so Americans can opt out of receiving destructive junk mail.
Related articles
Boreal forests in wealthy countries being rapidly destroyed
(08/12/2009) Boreal forests in some of the world's wealthiest countries are being rapidly destroyed by human activities — including mining, logging, and purposely-set fires — report researchers writing in Trends in Ecology and Evolution.
Caribou and reindeer population plunges 60 percent in three decades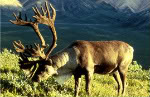 (06/14/2009) The first ever comprehensive survey of caribou worldwide (known as reindeer in Europe) has found that the species has suffered a staggering decline. Researchers from the University of Alberta discovered that the caribou population has fallen 60 percent in half as many years. The study published in Global Change Biology points to global warming and industrial development as the reasons behind the decline.
Canada's boreal forest must be saved
(05/14/2007) At a conference Monday, 1500 prominent scientists called for protection of Canada's boreal forest, one of the largest intact forest and wetland ecosystems remaining on the planet.