Despite violent protests by indigenous groups over plans to expand oil and gas exploration in the Peru's Amazon rainforest, energy investments in the South American country are expected to increase to $1.5 billion in both 2009 and 2010, reports Reuters.
Daniel Saba, president of Perupetro, Peru's energy agency, told Reuters that the government will auction more than a dozen lots in October of November. Most of the 17 blocks are located in the country's Amazon region, 70 percent of which has been concessioned for oil and gas exploration and development. A number of firms are already operating in the area including Repsol (Spain), Perenco (France), Pluspetrol (Argentina), Petrobras (Brazil), Maple Energy (United States), and Petroperu (Peru). South American Explorations, working on behalf of the U.S.-based Hunt Oil, launched exploration activities in a million-acre area in the Madre De Dios region late last month, according to local sources.

Oil and gas blocks in the western Amazon. Solid yellow indicates blocks already leased out to companies. Hashed yellow indicates proposed blocks or blocks still in the negotiation phase. Protected areas shown are those considered strictly protected by the IUCN (categories I to III).
Image modified from Finer M, Jenkins CN, Pimm SL, Keane B, Ross C, 2008 Oil and Gas Projects in the Western Amazon: Threats to Wilderness, Biodiversity, and Indigenous Peoples. PLoS ONE 3(8): e2932. doi:10.1371/journal.pone.0002932
Indigenous groups have fiercely opposed what they see as encroachment on their traditional lands. In May thousands of protesters blocked roadways and rivers in opposition to a set of presidential decrees that would have made it easier for foreign firms to develop Amazon land. President Alan Garcia responded by sending in federal police, quickly leading to a heated standoff that ended in bloodshed when 34 police and protesters were killed. The escalation was widely condemned by human rights groups and environmentalists.
Garcia has since rescinded two of the most controversial decrees and shuffled his cabinet. But Saba's remarks to Reuters indicate that Peru intends to move forward on oil and gas development despite the controversy.
Green groups and indigenous rights' organizations say the rainforests slotted for oil and gas exploration is home to a wealth of biodiversity and "uncontacted" tribes. The Peruvian government maintains there is but a single isolated tribe and that development will bring vast sums to the treasury.
Dana Ford. Peru sees energy investments up despite protests. Reuters 05 Aug 2009
Related articles
Weeks after bloodshed, American oil moves into Peruvian Amazon, putting rainforest, possible archeological site at risk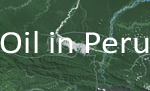 (08/03/2009) Barely six weeks after a dozen Amazon natives were gunned down by the Peruvian Army in the oil town of Bagua for protesting the cozy relationship between Big Oil and the government of President Alan Garcia, I find myself on the banks of the Mother of God River in Salvacion, Peru, wondering if all those folks died in vain. Any day now, the bulldozers will be moving in as Texas-based Hunt Oil Company – with the full go-ahead of the Peruvian government — fires its first salvo in its assault against the million-acre pristine rainforest wilderness of the little-known and largely unexplored Amarakaeri Communal Reserve.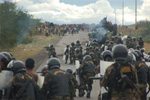 (06/19/2009) Peru's Congress revoked two controversial land laws that sparked violent conflicts between indigenous protesters and police in the country's Amazon region. The move temporarily defuses a two-week crisis, with protesters agreeing to stand down by removing blockades from roads and rivers. Congress voted 82-14 Thursday to overturn legislative decrees 1090 and 1064, which would have facilitated foreign development of Amazon land. Indigenous groups said the decrees threatened millions of hectares of Amazon rainforest and undermined their traditional land use rights.
Peru suspends decree that triggered bloody conflict between Indians and police
(06/11/2009) Peruvian lawmakers yesterday suspended a controversial decree that contributed to a bloody conflict between police and indigenous protesters in the country's Amazon region, reports the AFP.
(06/06/2009) More than 70% of the Peruvian Amazon has been allocated for oil and gas extraction, and the current government of Alan Garcia has been pushing for more. Unfortunately, as usual, these policies are promoted by and only benefit a handful of people, but negatively impact the lives of many. However, Garcia's government did not foresee the potential consequences of their actions.
Peru may take military action against Indians protesting Amazon energy development
(05/19/2009) Indigenous protesters have stepped up demonstrations over the Peruvian government's moves to support energy development in the Amazon rainforest, reports Reuters.
Peru's uncontacted Amazon tribes under attack
(10/22/2008) Illegal logging in the Peruvian Amazon is driving uncontacted tribes into Brazil where they are in conflict over food and resources with other uncontacted groups, according to a Reuters interview with a leading expert on indigenous tribes.
Oil development could destroy the most biodiverse part of the Amazon
(08/12/2008) 688,000 square kilometers (170 million acres) of the western Amazon is under concession for oil and gas development, according to a new study published in the August 13 edition of the open-access journal PLoS ONE. The results suggest the region, which is considered by scientists to be the most biodiverse on the planet and is home to some of the world's last uncontacted indigenous groups, is at great risk of environmental degradation.