The wild population of the Critically Endangered Philippine crocodile Crocodylus mindorensis has just received a very welcome boost. Fifty crocodiles have been released into Dicatian Lake, Isabela Province on Luzon Island.
Biologists fitted ten of the crocodiles with radio transmitters, so their movements can be monitored by the Mabuwaya Foundation, an NGO devoted to saving the crocodile, and the Philippines' Department of Environment and Natural Resources. The groups hope to gather information from the transmitters that will be helpful in future reintroductions of the crocodile.
Dicatian Lake was chosen as a reintroduction site since it rests within the Northern Sierra Madre Natural Park, one of the Philippines most important parks. While, the lake shore is uninhabited, nearby communities are supportive of the reintroduction and are working to develop a community-based ecotourism project with the Mabuwaya Foundation.
Considered the world's most endangered crocodile, the Philippine crocodile is endemic to the nation of islands. Hunting, habitat loss, and destructive fishing practices, such as employing dynamite, have nearly wiped out the species. Today it is estimated that 100 mature individuals survive in the wild.
The Mabuwaya Foundation—which is a shortened form of 'long live the crocodile' in Filipano—has worked with the provincial government of Isabela, the Department of Environment and Natural Resources, Isabela State University and local communities. The initiative is largely supported by The Conservation Leadership Programme (CLP)
News footage of release of the Philippine crocodiles, most of the report is in Filipano:

For the latest Philippine news stories and videos, visit GMANews.TV
Related articles
New carnivorous plant big enough to swallow a rat
(08/11/2009) A newly discovered carnivorous plant in the central Philippines is large enough to catch a rat, according to a story by the BBC. Nepenthes attenboroughii, named after naturalist and broadcast David Attenborough, is a member of the pitcher plant family, so-called because it is shaped like a large pitcher. The plant preys on insects and animals that fall into its gaping maw.
Malaysian palm oil firms seek 100,000 ha in the Philippines
(06/08/2009) Malaysian oil palm developers are looking to establish a a 100,000-hectare palm oil plantation and extraction facility on the island of Mindanao in the Philippines, reports Business Mirror, a Philippine business publication.
Will the illegal trade of the critically endangered Philippine forest turtle lead to its extinction?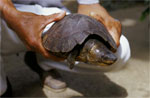 (05/04/2009) Endangered Species International (ESI) conducted ongoing monitoring at markets known to sell pets and wild animals in Manila, Philippines, to monitor the status of the trade of one of the most endangered turtle in the world: the Philippine forest turtle Siebenrockiella (Panayenemys) leytensis,. The critically endangered Philippine forest turtle is endemic to the Philippines, occurring only on one major island, Palawan, and its small satellite island, Dumaran.