Five baby lemurs have been born at the Bronx Zoo's Madagascar exhibit in the year since it opened, reports the Wildlife Conservation Society.
Three red ruffed lemurs, one collared lemur and one Coquerel's sifaka were born at the exhibit.
Jim Breheny, Director of the Bronx Zoo and Senior Vice President of WCS's Living Institutions, said the births show that lemurs are comfortable enough to breed and raise their young.
"These births are testament that the Madagascar! exhibit is proving to be an ideal habitat for its inhabitants as they settle in and raise their young," he said.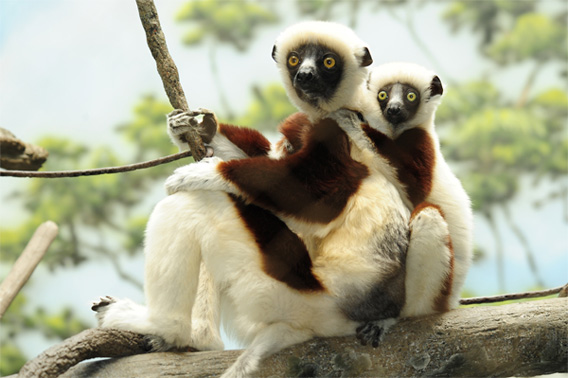 Coquerel's sifaka with baby. Photo by Julie Larsen Maher


A recent study by Randi Korn and Associates suggests the the exhibit is also effectively communicating conservation to visitors. The research found that after experiencing the exhibit, the majority of visitors could explain the roles of scientists working in Madagascar, an increase from thirty percent prior to visiting the exhibit.
"Our visitors enter the exhibit enthusiastic to see strange new animals, like lemurs and fossa, and they emerge with a deeper appreciation and understanding of the island's incredibly unique biodiversity and threats and challenges faced by animals living as part of an island ecology," said Breheny.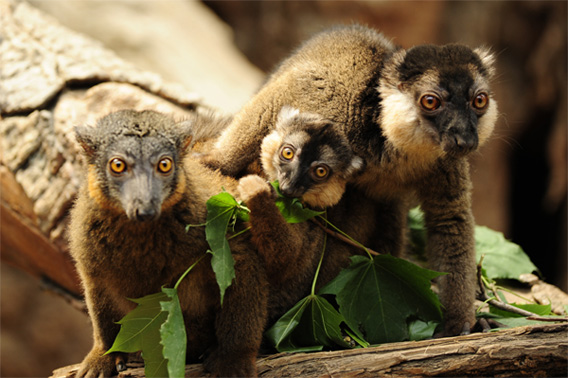 Collared lemurs with baby. Photo by Julie Larsen Maher


WCS has played an active role in conservation in Madagascar, a biological treasure trove located in the Indian Ocean. The conservation group helped establish and manage the Masoala National Park and the Makira Forest Protected Area, Madagascar's two largest, contiguous protected areas. WCS also helped the government of Madagascar develop a forest carbon project that could generate millions for conservation and local communities.
Lemurs, a group of primate, are endemic to Madagascar, meaning they do not occur naturally anywhere else on Earth.