Comments from Chinese official don't commit the world's largest palm oil importer to buying eco-certified palm oil but suggest interest in the environmetal performance of the vegetable oil linked to widespread deforestation in southeast Asia.
China-based producers and users of palm oil said they will provide more support for sustainable palm oil, reports WWF. The move could boost efforts to reduce the environmental impacts of the world's most productive oilseed.
In a public statement issued at the 2nd International Oil and Fats Summit in Beijing on July 9, leading palm oil industry companies committed to "support the promotion, procurement and use of sustainable palm oil in China" and to "support the production of sustainable palm oil through any investments in producing countries."
Other details on the announcement were vague. WWF says the statement was signed by Wilmar International, IOI Corperation, KLK Berhad, Kulim Malaysia Berhad, Asia Agri., Premier Foods PLC and Unilever PLC, none of which are headquartered in China. Oxfam International, TransAsia Lawyers, and Solidaridad China were also signatories.
China is the largest importer of palm oil, accounting for about one third of the global market, or about 6.2 million tons. To date the country has shown strong preference for price over environmental performance, but WWF says the announcement is a sign that China is at least aware of the environmental issues associated with production of the oilseed. Green groups have linked palm oil to deforestation of wildlife-rich rainforests across Southeast Asia.
"Given the massive of volumes of palm oil now being purchased, any move China makes towards using sustainable palm oil will have a big influence on protecting tropical forest resources in South East Asia and other areas," said WWF-China Country Representative Dermot O'Gorman.
WWF notes that China's interest in sustainable palm oil was highlighted last year when Dr. Huo Jiangguo, President of China Chamber of Commerce for Import and Export of Foodstuffs and Native Produce, attended the annual Roundtable on Sustainable Palm Oil (RSPO) meeting in Indonesia. RSPO has developed a certification standard that aims to improve the environmental performance of palm oil. Producers, buyers, and environmental groups are members of the organization.
| | |
| --- | --- |
| | Chart/Graph: Market share of top 5 palm oil producers for the 2008 market year |
Speaking in his opening address to the forum in Beijing, Dr. Bian Zhenghu, vice president of the China Chamber of Commerce, told conference goers that China is interested in the sustainability of palm oil.
"Industry in China acknowledges that sustainability is one of the key criteria of ensuring competence in the global market," he said. "The roundtable encourages the entire industry chain to make a move towards sustainability, and also gives Chinese stakeholders a big opportunity to play a significant role achieving the aims of RSPO."
The announcement comes a month and a half after Chinese state media reported new environmental rules for Chinese companies operating overseas. The guidelines, drafted by the Ministry of Environmental Protection and the Ministry of Commerce, are awaiting final approval from authorities.
The mandatory rules will require Chinese firms to abide by green regulations in their host countries as well as international treaties signed by China. Chinese businesses will have to implement environmental safeguards to reduce pollution and provide compensation for any damages their operations cause abroad.
Related articles
Auckland Zoo bans Cadbury chocolate due to palm oil content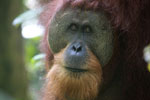 (07/12/2009) Auckland Zoo has pulled Cadbury chocolates from its shops and restaurants following the candy maker's decision to start adding palm oil to its chocolates, reports the Sunday Star Times. The zoo is also removing other products that contain palm oil, due to concerns that its production is driving rainforest destruction across Southeast Asia, putting orangutans and other species at risk. Cadbury said it made the change to palm oil for economic reasons. Palm oil, described as "vegetable fat" on its packaging, is cheaper than cocoa butter.
Failure to support greener palm oil may lead industry to abandon environmental measures
(07/08/2009) Consumer apathy towards eco-certified palm oil have undermined efforts to improve the environmental performance of the industry, a top industry official told Reuters.
Palm oil boycott an unrealistic approach to conserving biodiversity
(04/15/2008) Boycotting palm oil produced in Southeast Asia in an "unrealistic" and "ineffective" approach to conserving the region's fast-disappearing rainforests, said a Princeton University researcher speaking at a conference on the sustainability of palm oil. Instead, NGOs should focus on engaging and working with the palm oil industry to reduce its impact on the environment. Addressing the first International Palm Oil Sustainability Conference in Kota Kinabalu, Malaysia, Princeton biologist Dr. David S. Wilcove said that the palm oil industry is too important to the economies of Indonesia and Malaysia to justify blanket import bans on the edible oil used in food, cosmetics, industrial products, and biodiesel. The palm oil industry contributes to health, education, and infrastructure in rural areas.
Eco-friendly palm oil could help alleviate poverty in Indonesia
(04/03/2007) The Associated Press (AP) recently quoted Marcel Silvius, a climate expert at Wetlands International in the Netherlands, as saying palm oil is a failure as a biofuel. This would be a misleading statement and one that doesn't help efforts to devise a workable solution to the multiplicity of issues surrounding the use of palm oil.