Tesco, one of Europe's largest retailers, has sent a response to the British newspaper The Guardian in light of the paper's coverage of recent allegations that the chain store sells beef and leather products that caused deforestation of the Amazon.
Drafted by Tesco's Corporate and Legal Affairs Director Lucy Neville-Rolfe the letter states that Tesco does not knowingly stock products that have caused illegal deforestation. However, the Greenpeace report that raised the issue was clear that companies had been unwittingly duped by their suppliers in South America.
Neville-Rolfe writes that she "was disappointed by the suggestion that supermarkets and Tesco in particular were supporting illegal deforestation of the Amazon rainforest". However, she goes on to say that the company is largely depending on the word of its suppliers.
| | |
| --- | --- |
| | Cattle ranching in the Amazon. Photo by: Rhett A. Butler. |
"The Greenpeace report alleges that two Brazilian suppliers, JBS and Bertin, source cattle from illegal farms in the Amazon region and then ship the beef products to southern Brazil for further processing," according to the letter. "We have made it clear to our suppliers that the use of beef from illegally deforested regions is unacceptable and we are working with them to ensure that no illegal beef is used in our products. We have also sought and received assurances from both companies that the beef products they supply to Tesco from the Sao Paolo region have not been made using cattle from the Amazon."
The Brazillian Association of Supermarkets (ABRAS) has already admitted that there is "no guarantee that the meat does not come from deforested areas in Amazonia." Two weeks after Greenpeace's report the organization announced that it will suspend any contracts with producers who are found to be complicit in Amazon deforestation.
Regarding leather suppliers, Tesco's letter is clear about the difficulty of knowing who is sourcing what: "leather is sold on the open commodities market and is more of a challenge, but we are working to see what progress can be made""
| | |
| --- | --- |
| | Deforestation for grazing lands pushes against the Amazon. Photo by: Rhett A. Butler. |
Neville-Rolfe also writes that Tesco recognizes "the importance of the Amazon for the crucial role rainforests play in addressing climate change" and "more generally we welcome the moves by the Brazilian Government to enforce local laws and protect ecosystems that are vital to the future of our planet."
Currently, there is no certification system in place for Brazilian beef or leather products in Brazil to ensure they were produced responsibly. An organization known as Aliança da Terra is working to create just such a system.
Tesco is Britain's largest retailer and the world's third largest behind the U.S.'s Wal-Mart and France's Carrefour.
Greenpeace's report has rippled through beef suppliers in Brazil with rapid and large consequences. Following the expose, the World Bank withdrew a 90 million dollar loan to accused cattle company Bertin, while just last week another cattle giant, Marfrig, has announced a moratorium on Amazon deforestation. In addition, a Brazilian federal prosecutor has filed a billion dollar law suit against the cattle industry for environmental damage.
Related articles
Brazilian cattle giant declares moratorium on Amazon deforestation
(06/25/2009) Marfrig, the world's fourth largest beef trader, will no longer buy cattle raised in newly deforested areas within the Brazilian Amazon, reports Greenpeace. The announcement is a direct response to Greenpeace's Slaughtering the Amazon report, which linked illegal Amazon forest clearing to the cattle producers that supply raw materials to some of the world's most prominent consumer products companies. Marfrig was one several cattle firms named in the investigative report.
Cattle giant JBS facing corruption probe
(06/17/2009) JBS, the world's largest beef processor, is under investigation by Brazil's federal prosecutor's office for corruption, reports Reuters.
Wal-Mart bans beef illegally produced in the Amazon rainforest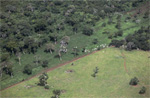 (06/12/2009) Brazil's three largest supermarket chains, Wal-Mart, Carrefour and Pão de Açúcar, will suspend contracts with suppliers found to be involved in Amazon deforestation, reports O Globo. The decision, announced at a meeting of the Brazilian Association of Supermarkets (Abras) this week, comes less than two weeks after Greenpeace's exposé of the Amazon cattle industry. The report, titled Slaughtering the Amazon, linked some of the world's most prominent brands — including Nike, Toyota, Carrefour, Wal-Mart, and Johnson & Johnson, among dozens of others — to destruction of the Amazon rainforest for cattle pasture.
World Bank revokes loan to Brazilian cattle giant accused of Amazon deforestation
(06/13/2009) The Work Bank's private lending arm has withdrawn a $90 million loan to Brazilian cattle giant Bertin, following Greenpeace's release of a report linking Bertin to illegal deforestation of the Amazon rainforest, report environmental groups, Friends of the Earth-Brazil and Greenpeace. The loan, granted by the International Finance Corporation (IFC) in March 2007, was to expand Bertin's meat-processing in the Brazilian Amazon. At the time, the IFC promoted the loan as a way to promote environmentally responsible beef production in the Amazon, although environmental groups — including Friends of the Earth-Brazil and Greenpeace — criticized the move.
Nike, Unilever, Burger King, IKEA may unwittingly contribute to Amazon destruction, says Greenpeace
(06/01/2009) Major international companies are unwittingly driving the deforestation of the Amazon rainforest through their purchases of leather, beef and other products supplied from the Brazil cattle industry, alleges a new report from Greenpeace. The report, Slaughtering the Amazon, is based on a three-year undercover investigation of the Brazilian cattle industry, which accounts for 80 percent of Amazon deforestation and roughly 14 percent of the world's annual forest loss. Greenpeace found that Brazilian beef companies are important suppliers of raw materials used by leading global brands, including Adidas/Reebok, Nike, Carrefour, Eurostar, Unilever, Johnson & Johnson, Toyota, Honda, Gucci, Louis Vuitton, Prada, IKEA, Kraft, Tesco and Wal-Mart, among others.