It has been estimated that Afghanistan only has 100 snow leopards left, however photos from camera traps placed by the Wildlife Conservation Society (WCS) show that there may be hope for snow leopards in the war-torn nation after all.
Working in Afghanistan's Wakhan Corridor, WCS set up five camera traps. Four of the five camera traps took photos of snow leopards, including 22 images in total.
WCS, along with funding from USAID, hopes to work with the Afghan government to establish the Wakhan Corridor as a protected area. In April, Afghanistan's first National Park was announced in Band-e-Amir.
The snow leopard is protected under Afghanistan's new endangered species list, which debuted on June 3rd. Globally the species is listed as Endangered on the IUCN Red List and, besides Afghanistan, may be found in Nepal, Bhutan, China, India, Mongolia, Kazakhstan, Kyrgyz Republic, Pakistan, Tajikistan, and less than a hundred individuals in Uzbekistan.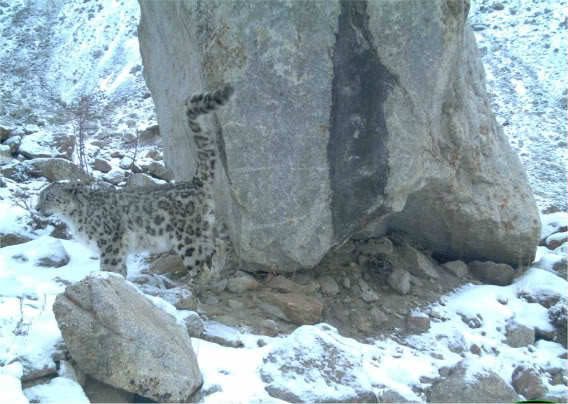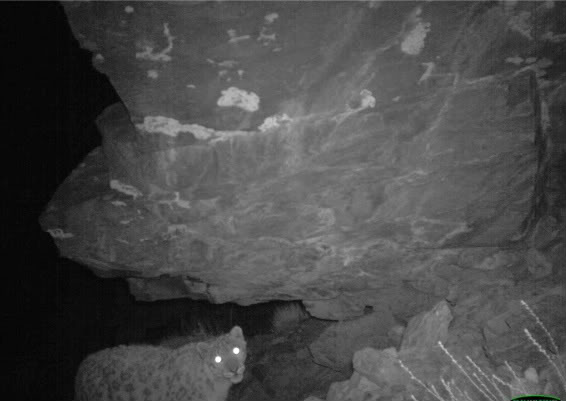 Photos taken first week of June 2009 in the Wakhan Corridor in northeastern Afghanistan. Photo credit: Wildlife Conservation Society.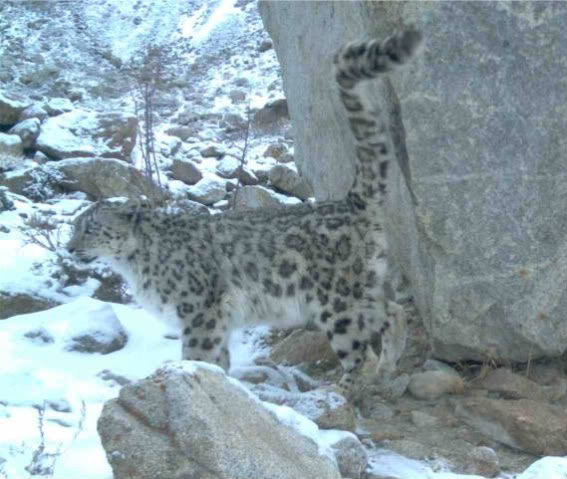 Detail of photo. Photo credit: Wildlife Conservation Society.

Related articles
(10/28/2008) The snow leopard (Panthera uncia) is one of the rarest and most elusive big cat species with a population of 4,500 to 7,500 spread across a range of 1.2 to 1.6 million kilometers in some of the world's harshest and most desolate landscapes. Found in arid environments and at elevations sometimes reaching 18,000 feet (5,500 meters), the species faces great threats despite its extreme habitat. These threats vary across its range, but in all countries where it is found — Afghanistan, Bhutan, China, India, Kyrgyzstan, Kazakhstan, Nepal, Mongolia, Pakistan, Russia, Tajikistan, Uzbekistan and possibly Myanmar — the species is at risk. In some countries snow leopard are directly hunted for their pelt, in others they are imperiled by depletion of prey, loss of habitat, and killing as a predator of livestock. These threats, combined with the cat's large habitat requirements, means conservation through the establishment of protected areas alone may not be enough save it from extinction in the wild in many of the countries in which it lives. Working to stave off this fate in half a dozen of its range countries is the Snow Leopard Conservancy. Founded by Dr. Rodney Jackson, a biologist who has been studying snow leopard in the wild for 30 years, the Conservancy seeks to conserve the species by "promoting innovative grassroots measures that lead local people to become better stewards of endangered snow leopards, their prey, and habitat."
(03/06/2008) conservationists and officials from twelve Asian countries are meeting in Beijing next week to discuss the fate of the endangered snow leopard. Less than 7,000 snow leopard remain in the wild.
Photo: Bronx Zoo has bred 80 endangered snow leopard
(12/06/2007) The Snow Leopard, hunted for its attractive coat, is an endangered species found in the mountain ranges of central and southern Asia. After reaching a population low during the 1960s when only around 1000 individuals remained, the cat has staged a recovery thanks to conservation efforts both in its native habitat and captivity.