Greenpeace finds Amazon deforestation in supply chains of global consumer products giants.
Major international companies are unwittingly driving the deforestation of the Amazon rainforest through their purchases of leather, beef and other products supplied from the Brazil cattle industry, alleges a new report from Greenpeace.
The report, Slaughtering the Amazon, is based on a three-year undercover investigation of the Brazilian cattle industry, which accounts for 80 percent of Amazon deforestation and roughly 14 percent of the world's annual forest loss. Greenpeace found that Brazilian beef companies are important suppliers of raw materials used by leading global brands, including Adidas/Reebok, Nike, Carrefour, Eurostar, Unilever, Johnson & Johnson, Toyota, Honda, Gucci, Louis Vuitton, Prada, IKEA, Kraft, Tesco and Wal-Mart, among others.
| | |
| --- | --- |
| | Cattle herd in the Brazilian Amazon. Photos by Rhett A. Butler. |
"Top brand running shoes, ready meals and designer handbags may have an environmental footprint that includes the trashing of the Amazon and could also be linked to human rights abuses," said Pat Venditti, Forest Campaign Coordinator, Greenpeace International. "Companies worldwide must ensure that their supply chains are not caught up in this destructive industry. They must support climate protection by pulling out of deforestation."
Greenpeace's investigation also revealed that Brazilian government is a major stakeholder in three of the country's top cattle producers – Bertin, JBS and Marfrig. Given this "vested interest" and the role cattle ranching plays in forest loss, the report highlights an inherent conflict between in the government's aim to expand beef while simultaneously reducing deforestation under its climate plan.
"By bankrolling the destruction of the Amazon for cattle, President Lula's government is undermining its own climate commitments as well as the global effort to tackle the climate crisis," said Andre Muggiati, Greenpeace Brazil, Amazon campaigner.
"If it wants to be part of the climate solution, Lula's government must get out of bed with cattle industry, and instead commit to ending Amazon deforestation. Otherwise it will be culpable in the global climate catastrophe that will ensue."
| | |
| --- | --- |
| | Forest clearing in Mato Grosso. Photo by Rhett A. Butler. |
President Lula has committed Brazil to cut Amazon forest loss by 70 percent from a 1996-2005 baseline. While details of the plan are still unclear, Lula hopes to fund the scheme by raising $21 billion in donations from industrialized countries. So far only Norway has committed any money to the endeavor, which is known as the Amazon Fund. The Nordic country has pledged up to one billion dollars by 2015 depending on Brazil's success in curtailing deforestation.
Still at the same time that Lula is promoting the Amazon Fund, Brazilian lawmakers are weighing bills that would significantly expand industrial activities in the Amazon rainforest. The proposed legislation would underwrite extensive infrastructure projects, grant legal title for illegally deforested Amazon land, and scale back environmental protections for forest reserves on private land. Greenpeace notes that the government has offered $41 billion in credit to farmers to boost production, or nearly twice the entire amount of the proposed Amazon Fund.
Full of accusations, short on solutions
Slaughtering the Amazon urges international companies to suspend buying from tainted cattle suppliers and calls for an immediate moratorium on further Amazon deforestation. The report also demands support for a strong climate treaty at the December 2009 U.N. climate talks in Copenhagen. Greenpeace says that any climate deal must include a mechanism to fund forest protection.
The report — which traces cattle products used in shoes, clothing and fashion accessories, beauty products, and read-made meals back to their origin: ranches in the Amazon — aims to expose environmental transgressions rather than make sound recommendations for improving the environmental performance of Brazil's beef industry. Nevertheless the report may bolster an effort to create a certification system for beef produced responsibly in the Amazon. The initiative, founded and led by Aliança da Terra, will reward ranchers who maintain their legal forest reserves (Brazilian law requires landowners to keep 80 percent of their land forested), establish fire breaks and riparian buffer zones, and take other measures to minimize the impact of their operations.
The report may be used to justify intensification of cattle production in the Amazon. Intensification would reduce the need to clear more land for pasture, but would carry environmental costs, including increased pollution and the need to boost supplemental feeding of livestock. Presently a selling point for Brazilian beef in some markets is that it is generally not associated with industrial feedlots.
Others will seize upon the report as another justification to reduce beef consumption. A 2006 report by the United Nations Food and Agriculture Organization (FAO) found that meat production generates more greenhouse gas emissions (14-22 percent of global emissions) than either transportation or industry. Of meats, beef is the most carbon-intensive with the production of a 1-pound paddy resulting in roughly 36-pounds of CO2 emissions or 13 times the emissions from chicken.
Related articles
Brazil could triple agricultural output without touching the Amazon rainforest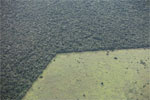 (04/15/2009) Brazil could triple its agricultural without the needing to clear additional rainforest in the Amazon Basin, Roberto Mangabeira Unger, Brazil's Minister of Strategic Affairs, told Bloomberg in an interview. The argument that Brazil can expand its agricultural production without harming the Amazon is a mantra among Brazilian officials. The country has vast tracts of pasture and agricultural land that are being underutilized or have been abandoned, but rapidly appreciating land prices, coupled with poor governance and inconsistent enforcement of environmental laws, means that it is often more profitable to clear new forest land than to rehabilitate pasture.
37,000 sq km of Amazon rainforest destroyed or damaged in 2008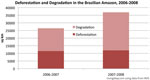 (03/19/2009) Logging and fires damaged nearly 25,000 square kilometers (9,650 square miles) of Amazon rainforest in the August 2007-July 2008 period, an increase of 67 percent over the prior year period, according to a new mapping system developed by Brazil's National Institute for Space Research (INPE). The damage comes on top of the nearly 12,000 sq km (4,600 sq mi) of rainforest that was cleared during the year.
Beef consumption fuels rainforest destruction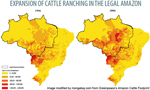 (02/16/2009) Nearly 80 percent of deforestation in the Brazilian Amazon results from cattle ranching, according to a new report by Greenpeace. The finding confirms what Amazon researchers have long known – that Brazil's rise to become the world's largest exporter of beef has come at the expense of Earth's biggest rainforest. More than 38,600 square miles has been cleared for pasture since 1996, bringing the total area occupied by cattle ranches in the Brazilian Amazon to 214,000 square miles, an area larger than France. The legal Amazon, an region consisting of rainforests and a biologically-rich grassland known as cerrado, is now home to more than 80 million head of cattle. For comparison, the entire U.S. herd was 96 million in 2008.
How to save the Amazon rainforest
(01/04/2009) Environmentalists have long voiced concern over the vanishing Amazon rainforest, but they haven't been particularly effective at slowing forest loss. In fact, despite the hundreds of millions of dollars in donor funds that have flowed into the region since 2000 and the establishment of more than 100 million hectares of protected areas since 2002, average annual deforestation rates have increased since the 1990s, peaking at 73,785 square kilometers (28,488 square miles) of forest loss between 2002 and 2004. With land prices fast appreciating, cattle ranching and industrial soy farms expanding, and billions of dollars' worth of new infrastructure projects in the works, development pressure on the Amazon is expected to accelerate. Given these trends, it is apparent that conservation efforts alone will not determine the fate of the Amazon or other rainforests. Some argue that market measures, which value forests for the ecosystem services they provide as well as reward developers for environmental performance, will be the key to saving the Amazon from large-scale destruction. In the end it may be the very markets currently driving deforestation that save forests.
Lula pledges big cuts in Amazon deforestation — after he leaves office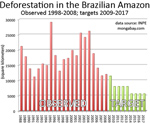 (12/12/2008) Last week Brazil unveiled plans to cut deforestation substantially from a 1996-2005 baseline of 19,533 square kilometers per year. The announcement met a mixed response from conservationists. Some applauded the decision to set hard targets for reducing deforestation, others say the targets were too low and that the country should aim for zero net deforestation by 2015. Nevertheless as more details have emerged, it becomes clear that the onus for reining in deforestation falls on Brazilian President Luiz Inacio Lula da Silva's successor.
Future threats to the Amazon rainforest
(07/31/2008) Between June 2000 and June 2008, more than 150,000 square kilometers of rainforest were cleared in the Brazilian Amazon. While deforestation rates have slowed since 2004, forest loss is expected to continue for the foreseeable future. This is a look at past, current and potential future drivers of deforestation in the Brazilian Amazon.
Land invasions undermine Amazon forest law
(04/03/2008) Land invasions are undermining a Brazilian law that requires ranchers to keep 80 percent of their land forested, according to reports from the Amazon state of Mato Grosso. A run up in land prices, driven by surging soy and cattle production in the region, combined with a lackadaisical response from law enforcement authorities are blamed for the incursions.
Amazon rainforest burning "worst" in memory

(10/16/2007) Fires continue to rage in the Amazon, according to local reports. John Cain Carter, a rancher who runs Alianca da Terra, an environmental accountability group for agricultural operators, says that the fires are the worst he has ever seen in the region. "I have never seen fires this bad," he told mongabay.com. "The fires are even worse than in 1998's El Nino event." NASA satellite images released at the end of September confirm widespread burning in the Amazon state of Mato Grosso.
Can cattle ranchers and soy farmers save the Amazon?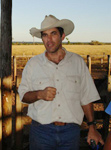 (06/06/2007) John Cain Carter, a Texas rancher who moved to the heart of the Amazon 11 years ago and founded what is perhaps the most innovative organization working in the Amazon, Alianca da Terra, believes the only way to save the Amazon is through the market. Carter says that by giving producers incentives to reduce their impact on the forest, the market can succeed where conservation efforts have failed. What is most remarkable about Alianca's system is that it has the potential to be applied to any commodity anywhere in the world. That means palm oil in Borneo could be certified just as easily as sugar cane in Brazil or sheep in New Zealand. By addressing the supply chain, tracing agricultural products back to the specific fields where they were produced, the system offers perhaps the best market-based solution to combating deforestation. Combining these approaches with large-scale land conservation and scientific research offers what may be the best hope for saving the Amazon.