Sime Darby, a Malaysian palm oil producer, will invest $800 million in palm oil and rubber plantations in Liberia, reports Reuters.
The deal will cover 200,000 hectares (500,000 acres) in the West African country. 80 percent of the investment would go towards development of Liberia's palm oil industry, while the balance would be used to restore and expand country's third-largest rubber plantation.
"It is increasingly difficult to acquire arable plantation land in Asia and thus it is imperative that new frontiers be sought to meet increasing demand," said Ahmad Zubir Murshid, chief executive of Sime Darby, in a statement.
"Sime Darby will also have the first mover advantage over future entrants into Liberia in terms of securing choice land."
Malaysia is the world's second largest palm oil producer after Indonesia but, facing land scarcity at home, Malaysian developers are now expanding overseas. Last year Malaysian Plantation Industries and Commodities Minister Peter Chin Fah Kui called upon Malaysian palm growers to use their expertise to establish oil palm plantations in Africa and South America, including the Congo and Amazon basins.
Oil palm is the world's highest yielding commercial oilseed. Palm oil is used in food products, for industrial purposes, and in biodiesel.
Liberia lacks a commercial palm oil industry. Most of its annual production—presently around 6,000 metric tons according to the USDA—goes toward domestic consumption.
Liberia is recovering from from a brutal civil war which ran from 1989-2003. Its economy surged 9.4 percent in 2008, after climbing 7.8 percent in 2007, 9.8 percent in 2006, and 21.8 percent in 2005.
Related articles
Malaysian palm oil targets the Amazon
(03/25/2009) Malaysia's Land Development Authority FELDA will soon break ground on a joint venture with a Brazilian firm to establish 30,000-100,000 hectares (75,000 – 250,000 acres) of oil palm plantations in the heart of the Amazon rainforest, reports the Malaysian Star.
Will palm oil drive deforestation in the Amazon?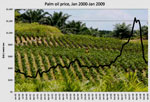 (03/23/2009) Already a significant driver of tropical forest conversion across southeast Asia, oil palm expansion could emerge as threat to the Amazon rainforest due to a proposed change in Brazil's forest law, new infrastructure, and the influence of foreign companies in the region, according to researchers writing in the open-access journal Tropical Conservation Science. William F. Laurance, a senior scientist at the Smithsonian Tropical Research Institute (STRI) in Panama City, Panama, and Rhett A. Butler, founder of environmental science web site Mongabay.com, warn that oil palm expansion in the Brazilian Amazon is likely to occur at the expense of natural forest as a result of a proposed revision to the forest code which requires land owners to retain 80 percent forest on lands in the Amazon. The new law would allow up to 30 percent of this reserve to consist of oil palm.
Political violence in Madagascar may lead Daewoo to abandon controversial farm project
(02/10/2009) Political instability and low commodity prices may lead South Korea's Daewoo Logistics to delay or pull out of a controversial agricultural project in Madagascar, reports Reuters.
Malaysia targets Africa and the Amazon for oil palm expansion
(08/25/2008) Facing land scarcity at home and environmental complaints, Malaysian palm oil producers should look overseas to expand operations, a high-ranking Malaysian agricultural minister said Monday.