The global economic crisis has slowed demand for timber products and may undermine efforts to improve the environmental performance of forestry, reports the U.N. Food and Agriculture Organization (FAO) in its biannual "State of the World's Forests 2009", released today.
"Wood demand is unlikely to reach the peak of 2005-2006 again in the foreseeable future," the report said. "Scaling down of production is widespread in almost all countries and all forest industries, from logging to sawmilling to production of wood panels, pulp, paper and furniture."
FAO said that falling demand for commodities would reduce pressure to convert forests for croplands as well as delay the development of next-generation biofuel feedstocks derived from fiber. Lower prices for timber and agricultural products, coupled with a difficult financing environment, will sap the viability of once-profitable operations.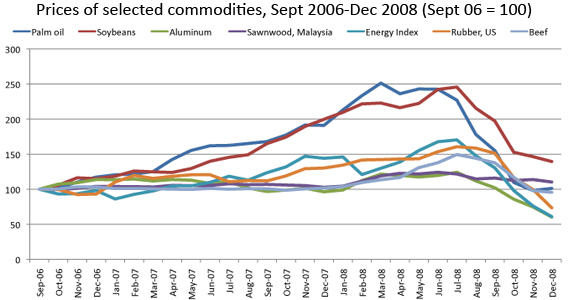 Bad economic not necessarily a boon for the environment
Still the news is not all positive for the world's remaining forests.
FAO said that green initiatives — including sustainable forest management, timber certification, and payments for carbon sequestration in forests — would likely suffer as well.
"The economic crisis could also reduce investment in sustainable forest management and favor illegal logging," it said. "Contraction of formal economic sectors often opens opportunities for expansion of the informal sector, including illegal logging. For example, a number of countries in Southeast Asia witnessed an increase in illegal logging following the 1997/98 economic crisis."
"Declining demand for high-priced wood from legal operations, reduced institutional capacity to protect forests as a result of lower budgets and increasing unemployment in the formal sector could increase illegal logging."
| | |
| --- | --- |
| | Oil palm plantations and forest in Costa Rica 2009 |
The report noted that declining affluence could push recent urban migrants back to the countryside and drive expansion of subsistence cultivation. Reduced remittances from abroad could further increase the need to clear forests.
"A more general concern is that some governments may dilute previously ambitious green goals or defer key policy decisions related to future climate change mitigation," the report said. "Commitment to European legislation on climate change, especially on auctioning emission allowances, is meeting obstacles."
"Initiatives such as those for reducing emissions from deforestation and forest degradation (REDD) that are dependent on international financial transfers could face similar problems."
The report noted that a decline in travel may hurt wildlife tourism, an important source of income in some biodiversity-rich rural areas.
The report includes with a wealth of forestry data, most of which was part of prior editions of the "State of the World's Forests". The next major update ̵ which is expected to include more accurate forest data — will be in 2010.
State of the World's Forests 2009
Related articles
What does slowing economy mean for rainforest conservation?
(01/26/2009) Plunging commodity prices may offer a reprieve for the world's beleaguered tropical forests. The global economic downturn has caused demand for many commodities to plummet. The resulting decline in the prices of timber, energy, minerals and agricultural products may do what conservationists have largely failed to achieve in recent years: slow deforestation.
Brazil to boost spending on infrastructure to counter economic crisis
(02/05/2009) Brazil will increase spending on infrastructure projects by 28 percent to in response to the global financial crisis, reports Bloomberg. Speaking Wednesday in Brasilia, Dilma Rousseff, Brazilian President Luiz Inacio Lula da Silva's Cabinet chief, told reporters that government and private spending on roads, hydroelectric dams and other projects under the Accelerated Growth Program for 2007-2010 "will be increased to 646 billion reais ($281 billion), from the 504 billion reais originally announced in January 2007", according to Bloomberg.


Agricultural firms cut incentives for Amazon deforestation
(12/02/2008)
As grain prices plummet and concerns over cash mount, agricultural giants are cutting loans to Brazilian farmers, reports the Wall Street Journal. Tighter farm credit may be contributing to a recent slowing in deforestation in the Brazilian Amazon, where agriculture is an increasingly important driver of forest clearing.
Future threats to the Amazon rainforest
(07/31/2008)
Between June 2000 and June 2008, more than 150,000 square kilometers of rainforest were cleared in the Brazilian Amazon. While deforestation rates have slowed since 2004, forest loss is expected to continue for the foreseeable future. This is a look at past, current and potential future drivers of deforestation in the Brazilian Amazon.