80 percent of the world's major armed conflicts between 1950 and 2000 occurred in biodiversity hotspots, reports a study published in the journal Conservation Biology.



The research examined conflicts in the world's 34 biodiversity hotspots identified by Conservation International (CI). It found that 23 experienced warfare during the study period. More than 90 percent of conflicts major armed conflicts – defined as those resulting in more than 1,000 deaths – occurred in countries that contain at least one biodiversity hotspots and 81 percent took place within specific hotspots.
"This astounding conclusion – that the richest storehouses of life on Earth are also the regions of the most human conflict – tells us that these areas are essential for both biodiversity conservation and human well-being," said Russell A. Mittermeier, president of Conservation International (CI) and an author of the study. "Millions of the world's poorest people live in hotspots and depend on healthy ecosystems for their survival, so there is a moral obligation – as well as political and social responsibility – to protect these places and all the resources and services they provide."
The report cites examples in Vietnam, Liberia, Cambodia and Democratic Republic of Congo and notes that warfare has sometimes been funded by the pillaging of natural resources, including timber, gems, and minerals. Displaced populations can put further pressure on ecosystems, as seen in Rwanda and Democratic Republic of Congo.
"The consequences extend far beyond the actual fighting," said lead author Thor Hanson of the University of Idaho. "War preparations and lingering post-conflict activities also have important implications for biodiversity hotspots and the people who live there."
"The fact that so many conflicts have occurred in areas of high biodiversity loss and natural resource degradation warrants much further investigation as to the underlying causes, and strongly highlights the importance of these areas for global security," Mittermeier said.
The report concludes that better coordination between humanitarian agencies and conservation groups could help mitigate damage and suffering from conflicts. The authors recommend developing and maintaining conservation programs in warn-torn areas to safeguard ecosystems that will provide the resources needed to support recovery once fighting ends.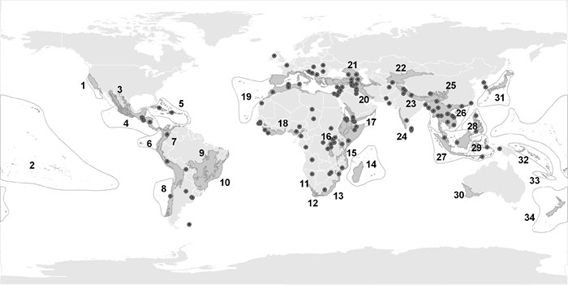 The world's thirty-four biodiversity hotspots (numbers) and the location of all armed conflicts with >1000 casualties between 1950 and 2000 (points) (conflict data from Arnold 1991, Sarkees 2000, Gleditsch et al. 2002). Biodiversity Hotspots as follows: 1 – California Floristic Province; 2 – Polynesia-Micronesia; 3 – Madrean Pine-Oak Woodlands; 4 – Mesoamerica; 5 – Caribbean Islands; 6 – Tumbes-Chocó-Magdalena; 7 – Tropical Andes; 8 – Chilean Winter Rainfall and Valdivian Forests; 9 – Cerrado; 10 – Atlantic Forest; 11 – Succulent Karoo; 12 – Cape Floristic Region; 13 – Maputaland-Pondoland-Albany; 14 – Madagascar and the Indian Ocean Islands; 15 – Coastal Forests of Eastern Africa; 16 – Eastern Afromontane; 17 – Horn of Africa; 18 – Guinean Forests of West Africa; 19 – Mediterranean Basin; 20 – Irano-Anatolian; 21 – Caucasus; 22 – Mountains of Central Asia; 23 – Himalaya; 24 – Western Ghats and Sri Lanka; 25 – Mountains of Southwest China; 26 – Indo-Burma; 27 – Sundaland; 28 – Philippines; 29 – Wallacea; 30 – Southwest Australia; 31 – Japan; 32 – East Melanesian Islands; 33 – New Caledonia; 34 – New Zealand.
THOR HANSON, THOMAS M. BROOKS, GUSTAVO A. B. DA FONSECA, MICHAEL HOFFMANN, JOHN F. LAMOREUX, GARY MACHLIS, CRISTINA G. MITTERMEIER, RUSSELL A. MITTERMEIER, JOHN D. PILGRIM. Warfare in Biodiversity Hotspots (p ) Published Online: Feb 19 2009 DOI: 10.1111/j.1523-1739.2009.01166.x