Pumpkins used for behavioral enrichment of zoo animals
mongabay.com
October 19, 2008
Keeping with the theme of the season, keepers at the Bronx Zoo are using pumpkins as a form of behavioral enrichment to stimulate animals both mentally and physically.
Pictures released by the Zoo show a Surinam horned frog and a lace monitor lizard exploring pumpkins for food (beetle larvae) during the zoo's annual Boo at the Zoo Halloween event.
Surinam horned frogs are also known as pac-man frogs, due to their large mouths which are 1.6 times wider than the length of their body. They are mostly nocturnal and live among the leaf litter in the rain forest area of the Amazon Basin of South America. This species are avid feeders, employing a sit-and-wait ambush on their prey.
The lace monitor — a lizard from Australia — can reach a length of 6 feet 10 inches. Its tail is long, slender and often about one and one-half times the length of its head and body with spectacled white spots sometimes appearing as bands. Typically, this lizard's diet consists of insects, birds and their eggs, as well as other small reptiles and mammals.
Boo at the Zoo takes place at the zoo's Reptile House in the weeks leading up to Halloween.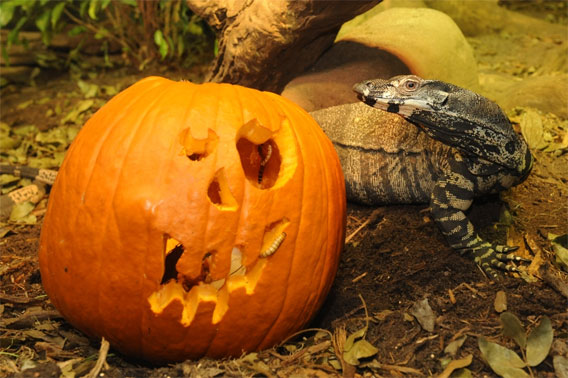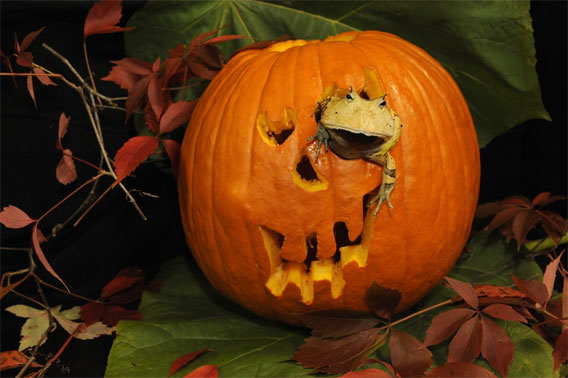 Photos by Julie Larsen Maher © Wildlife Conservation Society (WCS)