Falling palm oil price makes palm biodiesel viable, may offer target for NGOs
Falling palm oil price makes palm biodiesel viable, may offer target for NGOs
Commentary
Rhett A. Butler, mongabay.com
September 10, 2008
Plunging palm oil prices are increasing its attractiveness as a biofuel feedstock and thereby helping buoy demand for the oilseed, reports Reuters.
With the feedstock accounting for as much as 80 percent of the cost of producing biodiesel, surging palm oil prices due to rising demand as an ingredient in food, consumer, and industrial products have undermined the economics of biodiesel production using the oilseed. Now that prices have fallen by about half since peaking in March at 4,486 Malaysian ringgit per metric ton, it is again profitable to produce biodiesel from palm oil.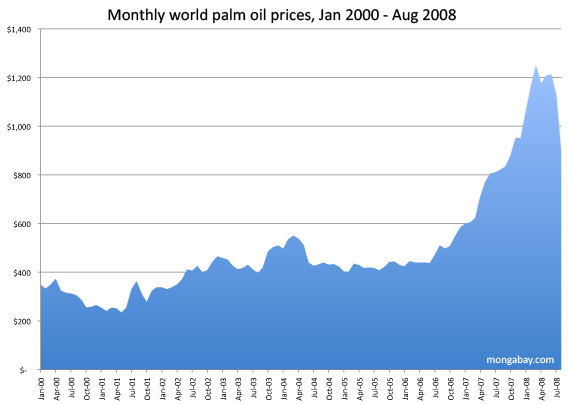 World palm oil prices from January 2000 through August 2008. Data from the World Bank.
"Biofuels have become attractive again, that is one thing which will support prices. CPO is now cheap," James Fry, chairman of LMC International, told Reuters at a palm oil producers conference in Singapore. "Palm oil prices will find support around 2,300 ringgit because of the biofuels demand, unless crude oil falls faster than I think."
"Biofuels can generate some instant demand which can mop up the surplus [palm oil production]" Dorab Mistry, a leading industry analyst and director of Godrej International, told Reuters.
The run-up in the price of palm oil since early 2005 has been linked to rising demand for crude oil, which has effectively driven up the price of all other vegetable oils. Producers in the U.S. and Europe have been diverting vegetable oils (canola/rapeseed and soy) and other agricultural feedstocks (especially corn) to the production of biofuels, buoying the high price for grains and oilseeds worldwide.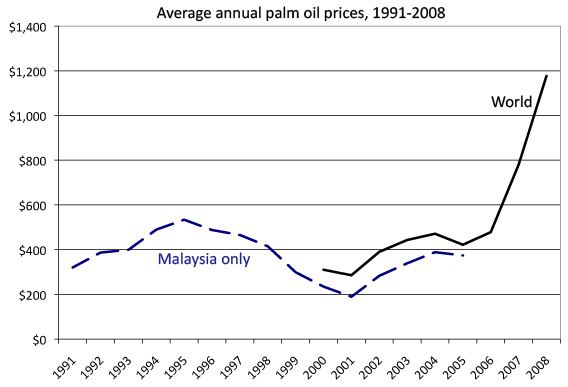 World palm oil prices from January 2000 through August 2008. Data from the World Bank.
Most palm oil is currently used in food products, cosmetics, and for industrial purposes — less than one percent of Malaysia's 2007 production was used for biodiesel. Such use has helped deflect some of the criticism levied by environmentalists against the industry, which maintains that palm oil is helping "feed the world" and has a favorable energy balance relative to biofuel feedstocks grown in Europe and the United States. However now that more palm oil will be going into biofuel production, it may make the industry an easier target for green groups who say that oil palm expansion is destroying large tracts of rainforests and peatlands, releasing greenhouse gases and putting endangered species like the orangutan at risk.
Already facing an onslaught from activists — including a recent "consumer-awareness" campaign by the Rainforest Action Network in the U.S. — the palm oil industry has launched a two-pronged response: cleaning up operations by establishing criteria for sustainable production (the Roundtable on Sustainable Palm Oil – RSPO) and a global PR campaign to promote the virtues of palm oil while simultaneously attacking critics via editorials, blogs and web sites. The marketing effort has included what scientists say are misleading claims on the carbon balance and biodiversity value of plantations. One promotional video features iguanas and hummingbirds apparently living in harmony with a Malaysian oil palm plantation even though the species are only found in the Americas.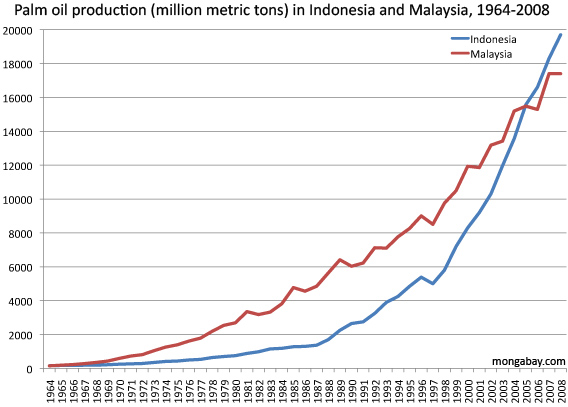 World palm oil prices from January 2000 through August 2008. Data from the World Bank.