Facing criticism, biofuels industry forms new lobby group to influence lawmakers
Facing criticism, biofuels industry forms new lobby group to influence lawmakers
mongabay.com
July 25, 2008
Under attack by politicians, aid groups, and environmentalists for driving up food prices and fueling destruction of ecologically sensitive habitats, some of the world's largest agroindustrial firms have formed a lobby group to influence consumers and lawmakers to support continued subsidies for biofuel production in the United States, reports Reuters.


The group, known as the Alliance for Abundant Food and Energy, was created by Archer Daniels Midland Co, DuPont Co, Deere & Co, Monsanto Co and the Renewable Fuels Association. Its initial budget is "in the multimillions", according to the group's executive director Mark Kornblau.


"There are critics who are trying to create an either-or decision between food and fuel," Kornblau was quoted as saying by Reuters. "We believe this is a false choice. Today, more than 90 percent of crops in the United States and around the world are used exclusively for food."


The group will promote genetically modified crops to improve crops yields as a solution to meeting global food needs. It does not aim to curtail biofuel production and will lobby Congress to keep subsidies for ethanol and biodiesel production in place.


The alliance says that the current run up in food prices is linked to high energy prices, not production of biofuels from feedstocks such as corn and soy.


The U.S. Agriculture Department estimates that one-third of the U.S. corn crop this year will be used to make ethanol. The UN's Food and Agriculture Organization says that biofuel production has consumed roughly 100 million tons of grains. Food prices have doubled in the past three years according to the World Bank. The International Food Policy Research Institute estimates that biofuels account for more than 30 percent of the increase.
Environmentalists say ethanol and biodiesel subsidies in Europe and the United States have caused market distortions that have displaced biofuel feedstock production into rainforests, tropical savannas, and other biologically-rich ecosystems.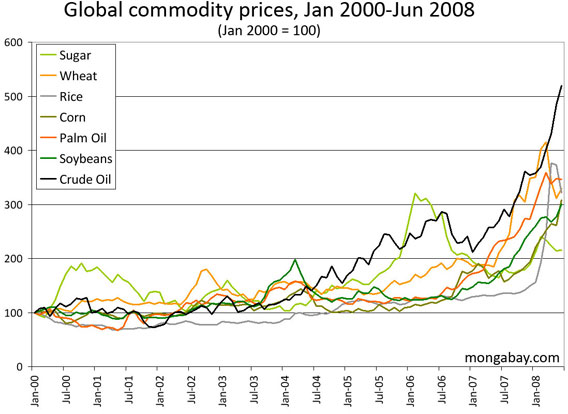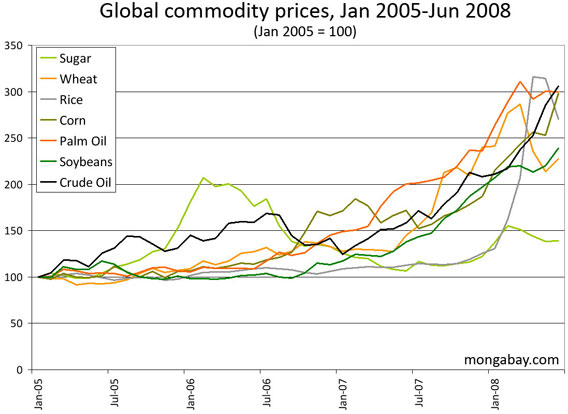 Related articles
Biofuels can reduce emissions, but not when grown in place of rainforests
(7/22/2008) Biofuels meant to help alleviate greenhouse gas emissions may be in fact contributing to climate change when grown on converted tropical forest lands, warns a comprehensive study published earlier this month in the journal Environmental Research Letters. Analyzing the carbon debt for biofuel crops grown in ecosystems around the world, Holly Gibbs and colleagues report that "while expansion of biofuels into productive tropical ecosystems will always lead to net carbon emissions for decades to centuries… [expansion] into degraded or already cultivated land will provide almost immediate carbon savings." The results suggest that under the right conditions, biofuels could be part of the effort to reduce humanity's carbon footprint.
Beyond high food prices, little to show for $11B/yr in biofuel support, says OECD report
(7/17/2008) Government support of biofuel production in rich countries is squandering vast amounts of amounts of money while exacerbating the global food crisis and failing to meaningfully curb greenhouse gas emissions and improve energy security, alleges a new report from the OECD, the club of industrialized nations.
Palm oil industry moves into the Amazon rainforest
(7/9/2008) Malaysia's Land Development Authority FELDA has announced plans to immediately establish 100,000 hectares (250,000) of oil palm plantations in the Brazilian Amazon. The agency will partner with Braspalma, a local company, to form Felda Global Ventures Brazil Sdn Bhd. FELDA will have a 70 percent stake in the venture. The announcement had been expected. Last month Najib said Malaysia would seek to expand its booming palm oil industry overseas. The country is facing land constraints at home.
Britain urges 'cautious approach' on biofuels
(7/7/2008) Britain and the E.U. should exercise caution in pushing for wider use of biofuels, warns a new study commissioned by the U.K. government.
Biofuel production on abandoned lands could meet 8% of global energy needs
(6/23/2008) Using abandoned agricultural lands for biofuel production could help meet up to 8 percent of global energy needs without compromising food supplies or diminishing biologically-rich habitats, reports a new study published in the journal Environmental Science and Technology.
U.S. may allow corn farming on conservation land
(6/23/2008) The U.S. Department of Agriculture may allow farmers to plant corn on million of acres of conservation land to bolster the food supply in response to flooding in the Midwest and record high prices spurred by demand for domestic ethanol production, according to a report in the New York Times.
Global Commodities Boom Fuels New Assault on Amazon
(6/20/2008) With soaring prices for agricultural goods and new demand for biofuels, the clearing of the world's largest rain forest has accelerated dramatically. Unless forceful measures are taken, half of the Brazilian Amazon could be cut, burned or dried out within 20 years.
Nestle Chairman: Biofuels are "ethically indefensible"
(6/14/2008) The emergence and expansion of biofuels produced from food crops has exacerabted world's agriculture and water crisis and is a bigger short-term threat than global warming, argued Peter Brabeck-Letmathe in an editorial published Thursday in the Wall Street Journal Asia.
Biofuels expansion in Africa may impact rainforests, wetlands
(5/28/2008) Biofuel feedstock expansion in Africa will likely come at the expense of ecologically-sensitive lands, reports a new analysis presented by Wetlands International at the Convention of Biological Diversity in Bonn.
Half of oil palm expansion in Malaysia, Indonesia occurs at expense of forests
(5/20/2008) More than half of the oil palm expansion between 1990 and 2005 Malaysia and Indonesia occurred at expense of forests, reports a new analysis published in the journal conservation Letters. Analyzing data from the United Nations Food and Agriculture Organization, Lian Pin Koh and David S. Wilcove of Princeton University found that 55-59 percent of oil palm expansion in Malaysia and at least 56 percent of that in Indonesia occurred at the expense of forests. Given that oil palm plantations are biologically impoverished relative to primary and secondary forests, the researchers recommend restricting future expansion to pre-existing cropland and degraded habitats.
Global ban on biofuels would lead to immediate decline in food prices
(5/16/2008) A global moratorium on biofuels produced from food crops would result in a significant decline in the price of corn, sugar, cassava and wheat by 2010, reports the International Food Policy Research Institute (IFPRI).
Record food prices to climb through 2010
(3/6/2008) The U.N. expects record high food prices to continue through 2010, driving hunger and poverty in the world's poorest countries, said a top U.N. official Thursday.
UN: biofuels are starving the poor by driving up food prices
(2/14/2008) Echoing sentiments increasingly expressed by politicians, scientists, and advocates for the poor, the U.N. Food and Agriculture Organization warned that the world's poorest people are suffering as a result of the push to use food crops for biofuel production.