Papua New Guinea's rainforests disappearing faster than thought
Papua New Guinea's rainforests disappearing faster than thought
mongabay.com
June 2, 2008


Higher-than-expected deforestation rate may benefit PNG should carbon credits-for-forest conservation scheme get off the ground.
Logging is taking a heavy toll on the forests of Papua New Guinea, suggests a new study.
Using satellite images to reveal changes in forest cover between 1972 and 2002, researchers from the University of Papua New Guinea and the Australian National University found that Papua New Guinea (PNG) lost more than 5 million hectares of forest over the past three decades — total forest cover declined from 38 million hectares in 1972 to 33 million hectares in 2002. Worse, deforestation rates may be accelerating, with the pace of forest clearing reaching 362,000 hectares (895,000 acres) per year in 2001. The study warns that at current rates 53 percent of the country's forests could be lost or seriously degraded by 2021.
| | |
| --- | --- |
| | Deforestation in the Milne Bay Province, in 1990 (top) and 2005 (bottom). Much of the land was converted for oil palm plantations. |
"Forests in Papua New Guinea are being logged repeatedly and wastefully with little regard for the environmental consequences and with at least the passive complicity of government authorities," said Phil Shearman, director of the University of Papua New Guinea's Remote Sensing Centre and lead author of the paper.
The figures are higher than estimates by the Food and Agriculture Organization of the United Nations (FAO) which put net forest loss at around 139,000 hectares per year between 1990 and 2005. FAO data — which is based largely on information provided by national forestry department — shows that only Brazil and Indonesia lost more old growth forest than Papua New Guinea since 1990 (Myanmar likely ranks ahead of PNG but data is lacking). Overall, PNG lost 4 million hectares of primary forest between 1990 and 2005.
Logging, palm oil, and subsistence agriculture are key drivers
Deforestation in Papua New Guinea — the eastern half of the island of New Guinea — primarily results from industrial logging, subsistence agriculture, and, increasingly, large-scale agriculture — especially oil palm plantations. Logging has the largest impact, resulting both in direct deforestation and the degradation of biologically-rich primary forest. Logging also promotes the conversion of forest land for agriculture.
"Contrary to forest industry claims, the results of the analysis suggest that logging practices in PNG have resulted in permanent damage to the country's forest estates," stated the report. "These findings complement a number of reports produced in recent years that have established, beyond all reasonable doubt that the PNG logging industry is more akin to a "timber mining" operation than a well-managed, ecologically sustainably industry."
| | |
| --- | --- |
| | Logging around the Wawoi River, Western Province, 1972 versus 2002 |
Beyond logging, the report also attributed some forest loss in PNG can be attributed to mining.
Monetizing deforestation and forest conservation
Forest loss in PNG has become a particularly hot topic in recent years. The government has been aggressively pushing a scheme that would compensate tropical countries via the carbon market for reducing their deforestation rates. The concept — dubbed REDD for reducing emissions from deforestation and degradation — won initial approval at last year's climate talks in Bali, Indonesia as a mechanism for fighting global warming.
Because countries are compensated based on reductions in deforestation below a historical baseline, by upping estimates of its annual forest loss the new study could ironically establish a higher baseline for deforestation in PNG, effectively increasing its payments under the REDD mechanism. As such the new estimates suggest the country could reap tens of millions of dollars per year for cutting deforestation.
Shearman says these payments could be an incentive for PNG to begin protecting its forests.
"Papua New Guinea is still one of the most heavily forested countries in the world," said Shearman. "The government could make a significant contribution to global efforts to combat climate change. "It is in its own interest to do so, as this nation is particularly susceptible to negative effects due to loss of the forest cover."
Impacts
Beyond reducing its timber stock, the report says that deforestation and degradation may be diminishing PNG's high levels of cultural and biological diversity. The country is home to more than six percent of the world's terrestrial biodiversity and more than 10 percent of the planet's spoken languages. The report says that logging and deforestation may be degrading important ecological functions — including regulation of water, global and regional climate stabilization, soil and nutrient retention, pest control, crop pollination, and the maintenance of fish stocks — provided by healthy forests.
"We need to imagine a future in which forest loss is not inevitable&#8212a future in which it should be possible for us to have more forest than we do now," said Belden Namah, PNG's Minister for Forests. "Forests are valuable resources, and managed correctly are renewable resources. We will need them to support us long after the minerals are gone."



NOTES
Carbon storage and emissions from PNG's forests
PNG's primary and secondary forests were estimated to store 4,724-4,735 million tons (Mt) of carbon in 2002 (excluding soil carbon)
Between 1972 and 2002 deforestation resulted in a net release of 926.5 Mt of carbon (3,397 Mt of CO2) with an additional 76.39-88.83 Mt of carbon being released through logging-related forest degradation
In 2001, 44.98-54.87 Mt of carbon were released through deforestation and degradation
In 2007, 63.58-73.25 Mt of carbon were released through deforestation and degradation, nearly one-third of which resulted from logging activities
Assuming a nominal value of $10 per ton, the estimate value of carbon loss ($636-733 million in 2007 alone) is greater than the value of official log exports in 2006 ($189 million in raw logs and other timber exports)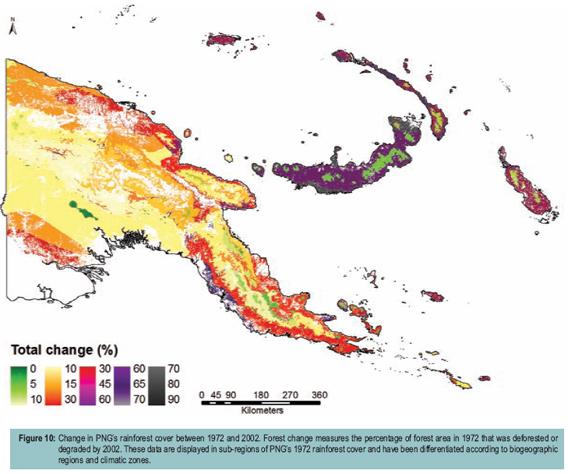 Change in PNG's rainforest cover between 1972 and 2002.
Related articles
| | |
| --- | --- |
| | This time series shows the sequential allocation of forest areas to the logging industry between 19780 and 2005. Areas in red a allocated while areas in green are designated as production forests. |
How activists and scientists saved a rainforest island from destruction for palm oil
(2/12/2008) In mid-January, Mongabay learned that the government of Papua New Guinea had changed its mind: it would no longer allow Vitroplant Ltd. to deforest 70% of Woodlark Island for palm oil plantations. This change came about after one hundred Woodlark Islanders (out of a population of 6,000) traveled to Alotau, the capital of Milne Bay Province, to deliver a protest letter to the local government; after several articles in Mongabay and Pacific Magazine highlighted the plight of the island; after Eco-Internet held a campaign in which approximately three thousand individuals worldwide sent nearly 50,000 letters to local officials; and after an article appeared in the London Telegraph stating that due to deforestation on New Britain Island and planned deforestation on Woodlark Island, Papua New Guinea had gone from being an eco-hero to an 'eco-zero'.
Palm oil developer abandons plan to log 70% of Woodlark Island
(1/14/2008) Vitro Plant, a developer that planned to log 70 percent of Papua New Guinea's Woodlark Island for oil palm plantations, has pulled out of the project reports The National, a Papuan newspaper.
Rainforest conservation could yield more cash than logging in PNG
(11/6/2006) Papua New Guinea (PNG) could earn hundreds of millions of dollars for cutting its rainforest destruction if a carbon carbon-trading initiative it proposed last year makes headway this week at U.N. climate talks in Nairobi, Kenya.
Scientists endorse plan to save rainforests through emissions trading
(5/19/2006) The Association for Tropical Biology and Conservation (ATBC), the world's largest scientific organization devoted to the study and wise use of tropical ecosystems, has formally endorsed a radical proposal to help save tropical forests through carbon trading. Under the initiative proposed by an alliance of fifteen developing countries led by Papua New Guinea and Costa Rica, tropical nations that show permanent reductions in deforestation would be eligible to receive international carbon funds from industrial nations who could purchase carbon credits to help them meet their emissions targets international climate agreements like the Kyoto Protocol.
China's Olmypics may destroy New Guinea's rainforests
(5/1/2006) Construction for the 2008 Olympics in China may fuel deforestation in New Guinea according to an article published last week in the Jakarta Post. The article reports that a Chinese company has asked the Indonesian government for permission to establish a timber processing factory in Indonesia's Papua province to produce 800,000 cubic meters of merbau timber in time for the Olympic games to be held in Bejing. Merbau — a dark hardwood found in the rainforests of New Guinea — is used for hardwood floors and currently commands prices of up to US$138 per square meter, making the proposal potentially worth more than a billion dollars.
Home Depot, Lowe's selling illegal wood from Papua New Guinea-Report
(3/23/2006) Consumers in the United States are being mislead as to the origin of merbau hardwood flooring being sold by Home Depot and Lowe's. According to a new report published by the Environmental Investigation Agency and their Indonesian NGO partner Telepak, such timber is coming from the forests of Indonesia's remote Papua Province, where 80 percent of logging is estimated to be illegal.
Papua New Guinea's forests under threat from corruption, illegal logging
(3/8/2006) Illegal logging is destroying large areas of rainforest in Papua New Guinea according to a report released last week by Forest Trends, a leading international forestry organization.