China's CO2 emissions 14% higher than America's in 2007
China's CO2 emissions 14% higher than America's in 2007
mongabay.com
June 14, 2008
China emitted 14 percent more carbon dioxide than the United States in 2007 according to a report released by the Netherlands Environmental Assessment Agency. China's emissions grew 8 percent from 2006.
It is the second consecutive year that the agency's report has shown China to be the largest emitter of CO2, although last year's rankings were contested by some. The International Energy Agency said it expected China to surpass the U.S. in emissions sometime in 2007.
China now accounts for nearly a quarter of global emissions, followed by the U.S. with 21 percent, the "EU-15" countries (12 percent) and India (8 percent), according to the Dutch agency.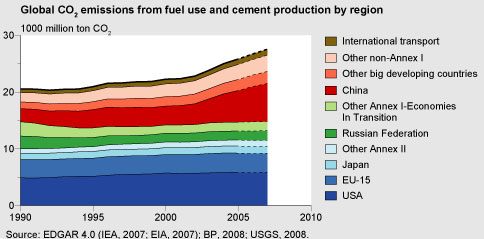 Overall the new report estimates that global carbon dioxide emissions grew 3.1 percent in 2007, with China accounting for two-thirds of the increase. The Netherlands Environmental Assessment Agency attributes the worldwide increase about 800 million metric tons of CO2 mainly to a 4.5 percent increase in global coal consumption. Coal generates more CO2 emissions than other conventional energy sources.
Environmentalists say the shift of production and manufacturing from developed countries is contributing to China's surging emissions. Some have argued the United States and Europe are effectively "outsourcing" emissions to China. Still domestic economic growth is a major driving of rising emissions as China's output has grown at a torrid pace over the past decade.
A study published in March indicates that China's emissions are expected to expand two to four times faster than previously projected by the Intergovernmental Panel on Climate Change (IPCC). The research, published in the Journal of Environmental Economics and Management, estimates China will see an 11 percent annual growth rate in CO2 emissions between 2004 and 2010.
369