?


Eight individuals of one of the world's rarest cats caught on film
Jeremy Hance, mongabay.com
May 9, 2008
Recent photographs have brought hope to conservationists regarding the world's rarest large cat, the Amur leopard. They were taken in the Primorisky Region of Russia by a camera trap.


Amur leopards, considered critically-endangered by the IUCN, have been brought to the brink by habitat loss, due to logging and man-made burning, and poaching, both of its prey and itself. There are an estimated twenty-five to forty Amur leopards in the wild, and only six known females (the seventh was shot by hunters in April 2007). One hundred and fifty Amur leopards are captive in zoos, yet only twelve of these are assuredly pure-bred.


Amur leopards live in the northern forests, the taiga, of Russia, and have developed longer fur for survival in these cold climes and longer legs for traveling through snow. They hunt boar, hares, badgers and roe, musk, and sika deer. Although they share this habitat with the world's largest cat, the Siberian Tiger, they are thought to avoid overlapping territory.


The photographs were taken during a recent census of the leopard.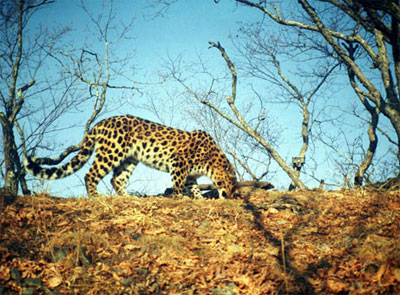 Eight Fare Eastern Leopards were photographed
in Kedrovaya Pad reserve in east Siberia.
© WWF-Russia, ISUNR