Amid accusations of bribery by loggers, Borneo chief's remains to be exhumed
Amid accusations of bribery by loggers, Borneo chief's remains to be exhumed
Jeremy Hance, mongabay.com
February 19, 2008


With Penan chieftain's body to be exhumed, son accuses loggers of complicity in cover up surrounding his death.
Police have announced that they plan to exhume the body of Kelesau Naan to discover his cause of death. The Penan chieftain and passionate activist against logging disappeared in October while checking animal traps. His body was found on December 12th of last year. Several bones were broken, leading some to believe that Naan was assassinated because of his long campaign against loggers — Naan had been one of the key figures in the Penan community's fight against logging. He was also a plaintiff and witness in a land rights claim that has been awaiting trial since 1998.
| | |
| --- | --- |
| | Portrait of the late Kelesau Naan, headman of Long Kerong in the upper reaches of the Baram (Sarawak/ East Malaysia). Image provided by Bruno Manser Fonds for the Peoples of the Rainforest. |
An investigation into Naan's death was originally requested on January 3rd by Penan villagers. When nothing happened, several of Naan's relatives traveled to Malaysia's capital, Kuala Lumpur, to meet with Malaysia's Human Rights Commission (SUHAKAM). According to the Swiss organization Bruno Manser Fund, named after the Swiss environmentalist who disappeared in Malaysia in 2000 under suspicious circumstances, during the meeting between Naan's relatives and SUHAKAM, Naan's son, Nick Kelesau, revealed that a timber company offered to bribe him with nearly $8,000 USD to retract a statement he had made regarding his suspicions that his father's death was due to foul play.
SUHAKAM pushed extra pressure on the local police for a full investigation. Sarawak police commissioner Mohmad Salleh stated that the police would seek a court order this week to exhume the remains.
Logging in Borneo has been rampant since the 1980s. In 2005 just over 50% of Borneo's forest remained. More recently palm oil plantations have increased pressure on the forests. Aboriginal peoples of the Malaysia's Sarawak state, the Penans number around 10,000. They currently live in settlements, but have not completely abandoned their traditional nomadic ways. They subsist off small gardens, hunting, and gathering. They have struggled long and hard against the logging of the forest that sustains them.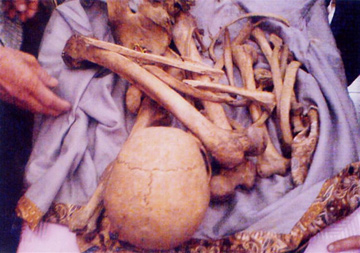 The remains of Kelesau as documented by the Penan before his burial. Image provided by Bruno Manser Fonds for the Peoples of the Rainforest.