High-resolution image map of Antarctica
NASA releases high-resolution map of Antarctica
mongabay.com
November 27, 2007
A team of researchers from NASA, the U.S. Geological Survey, the National Science Foundation and the British Antarctic Survey today unveiled a high resolution, true-color map of Antarctica. The map is expected to help scientists better understand changes occurring on the icy continent.


The map, called the Landsat Image Mosaic of Antarctica, is made up of about 1,100 images from the NASA-built Landsat 7 satellite. The mosaic gives nearly a cloudless view of the southern-most continent with a resolution 10 times greater than ever before.
| | |
| --- | --- |
| | The Landsat Image Mosaic of Antarctica (LIMA). Courtesy of NASA/USGS |
"This mosaic of images opens up a window to the Antarctic that we just haven't had before," said Robert Bindschadler, chief scientist of the Hydrospheric and Biospheric Sciences Laboratory at NASA's Goddard Space Flight Center in Greenbelt, Md. "It will open new windows of opportunity for scientific research as well as enable the public to become much more familiar with Antarctica and how scientists use imagery in their research. This innovation is like watching high-definition TV in living color versus watching the picture on a grainy black-and-white television. These scenes don't just give us a snapshot, they provide a time-lapse historical record of how Antarctica has changed and will enable us to continue to watch changes unfold."


NASA says the map will help researchers better plan scientific expeditions.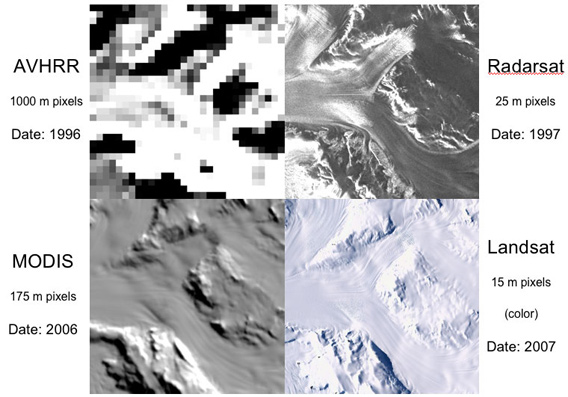 The enhanced resolution of the new mosaic map is shown in comparison to three previous Antarctic mosaics. Each pixel from the new mosaic is roughly the half the size of a basketball court. An earlier satellite mosaic created in 1996 from the Advanced Very High Resolution Radiometer had pixels a little more than twice the size of Vatican City. Click image to enlarge. Credit: NASA