Agents of death for wildlife become jewelry in Zambia
mongabay.com
July 12, 2007
| | |
| --- | --- |
| | Snareware jewelry being made by Zambian designer Misozi Kadewele; and the raw materials — a pile of confiscated snares. Photos by Julie Larsen Maher ©WCS |
Craftswomen in Zambia are turning snares formerly used to illegal kill wildlife into jewelry. Called "snareware", the handmade jewelry is part of a program that has grossed $350,000 for rural communities and helped protect endangered wildlife.
The program, known as COMACO (Community Markets for Conservation), is a farming co-op designed by the New York-based Wildlife Conservation Society (WCS) in Zambia's rural Luangwa Valley. It allows poachers to trade firearms and snares for training in organic farming methods, bee-keeping, gardening, carpentry, and jewelry making. WCS says over 40,000 snares and 800 firearms have been turned in to date.
"Snarewear is wearable art with a mission," said COMACO director Dale Lewis of the Wildlife Conservation Society. "Necklaces, bracelets, earrings and decorative pieces not only make a fashion statement, but a statement for conservation as well."


"Supplies are hopefully limited as snares will become a thing of the past in Zambia," he added.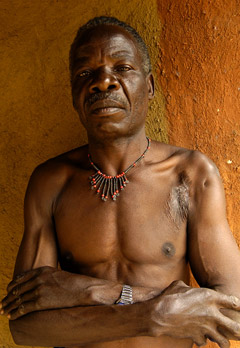 Reformed poacher Thomson Tembo who reportedly killed 700 elephants over 40 years proudly modeling a necklace. Photo by Julie Larsen Maher ©WCS