China finds 7.5 billion barrel oilfield off northern coast
China finds 7.5 billion barrel oilfield
mongabay.com
May 8, 2007
PetroChina, Asia's largest oil and gas producer, announced the discovery of a 7.5 billion barrel oil field off the northeast coast of China. The find, in an undersea field in Bohai Bay, is the largest in Asia in four decades and will boost China's known oil reserves by 20 percent. Nevertheless, the discovery will not be enough to offset China's oil imports, which have surged in recent years due to a booming economy and rapid adoption of automobiles.
Analysts say that once production begins, the oil field will likely pump out 180,000 to 200,000 barrels per day, or an amount about equal to the growth of China's foreign oil imports last year.
In 2006, China's total oil consumption reached 7.4 million barrels per day, while growth in domestic production rose less than 2 percent to 3.7 million barrels per day. The International Energy Agency forecasts demand for oil in China this year will rise 6.8% to 7.6 million barrels per day and that by 2030 Chinese oil imports will equal current imports by the U.S.
| | |
| --- | --- |
| | Chart showing China's oil consumption, 1980-2006 |
China's demand for oil, which is projected to reach 12.8 million barrels/day by 2025, is commonly cited as a major contributing factor to the recent run up in global oil prices. Economists have found a close correlation between Chinese demand for oil and crude prices in recent years.



China's growing use of oil will increase its carbon dioxide emissions — the International Energy Agency expects China to overtake the United States in CO2 emissions this year or in 2008. The country lobbied against lower emissions targets in recent climate negotiations, arguing that such limitations would restrict its economic growth.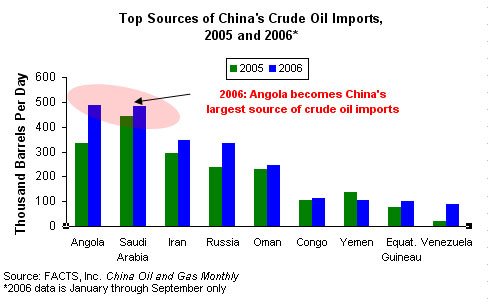 Above image and the following table are courtesy of the U.S. Energy Information Adminsitration (EIA)
Major Chinese Oil Fields by Production, January 2006

Field

Production (bbl/d)

China National Petroleum Corporation (CNPC)/PetroChina

Daqing

929,268

Liaohe

256,991

Xinjiang

222,524

Changqing

162,422

China
Petroleum and Chemical Corporation (Sinopec)

Shengli

535,531

Sinopec Star

78,567

Zhongyuan

67,092

China
National Offshore Oil Corporation (CNOOC)

Total offshore

519,108

Source:
Oil & Gas Journal