Nuclear power plants are financially risky given high costs
Nuclear power plants are financially risky given high costs
mongabay.com
April 4, 2007
Nuclear power plants are risky investments given rapidly rising costs of construction of nuclear fuel, reports a new study by researchers from Georgetown University, Stanford University and UC Berkeley.
The paper, published in the April 1 issue of the journal Environmental Science and Technology, warns power companies that nuclear power may not be financially attractive even with generous government subsidies.
"For energy security and carbon emission concerns, nuclear power is very much back on the national and international agenda," said study co-author Dan Kammen, UC Berkeley professor of energy and resources and of public policy. "To evaluate nuclear power's future, it is critical that we understand what the costs and the risks of this technology have been. To this point, it has been very difficult to obtain an accurate set of costs from the U. S. fleet of nuclear power plants."


Analyzes the costs of electricity from existing U.S. nuclear reactors, the researchers found that "cost surprises" could significantly increase the cost of new energy technologies, including next-generation nuclear power.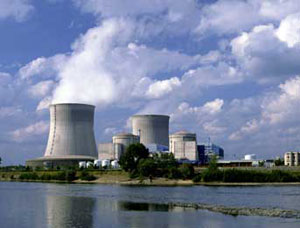 Photo courtesy of the Department of Energy (DOE).

Noted energy expert Amory Lovins has said separately that nuclear power plants are simply too costly to build and maintain relative to other available options.



"Nuclear power has no prospects in market-driven energy systems, for a simple reason: new nuclear plants cost too much to build. In round numbers, electricity from new light-water reactors will cost twice as much as from new windfarms, five to ten times as much as distributed gas-fired cogeneration or trigeneration in buildings and factories (net of the credit for their recovered heat), and three to thirty times as much as end-use efficiency that can save most of the electricity now used," wrote Lovins and colleagues in the Rocky Mountain Institute's Winning the Oil Endgame: Innovation for Profits, Jobs, and Security.



"New nuclear plants are simply unfinanceable in the private capital market, and the technology will continue to die of an incurable attack of market forces—all the faster
in competitive markets. This is true not just in the U.S., where the last order was in 1978 and all orders since 1973 were cancelled, but globally."
"In the long term, whether these plants are 4 cents or 8 cents per kilowatt hour, they are still a good deal, if you think carbon is an issue," Kammen said, referring to the carbon dioxide emissions from oil, coal and gas-fueled power plants that exacerbate global warming. "If the argument is that cost really needs to be important, then I'm not sure nuclear competes that well."
The study warns that while politicians may play up the security and possible environmental benefits of nuclear, their enthusiasm does not "translate into decreased risk for investors."
"In a deregulated electricity environment, investors will increasingly share the financial risks of underperformance of generation assets," said co-author Nathan Hultman of Georgetown University in Washington, D.C. "We don't have a good way of forecasting these risks yet, but looking at the historical data can be one way to understand the possibilities and scenarios for the future."
The study notes that "no new nuclear power plants have been built in the United States in 29 years, in part because they've proved to be poor investments, producing far more expensive electricity than originally promised." It reports that about 19 percent of U.S. electricity generation in 2005 was produced by 104 nuclear reactors.
In the past, most of the cost surprises have resulted result from poor plant operation and unanticipated security costs, the study says. In the future, new plant construction will likely run into unexpectedly high costs for new reactor design and new safe-operating technologies.
"Some U.S. plants were really well done, and they happen to be the older ones," Kammen said. "If we can learn the lessons from those plants, which are often simplicity of design and standardization of design, then I think nuclear could make a comeback."
Comment: Concentrating solar power better option than nuclear
This article is based on a news release from the Society for Experimental Biology