China's demand for hardwood drives illegal logging says Greenpeace
China's demand for hardwood drives illegal logging says Greenpeace
Reuters
April 17, 2007
China not convincing in illegal logging denial
Environmental group Greenpeace said on Tuesday China should take responsibility for illegal hardwood logging in Southeast Asia which supplied the raw materials for Chinese exports to the West.
Greenpeace's China office said China's timber industry was complicit in the illegal felling of Indonesia and Papua New Guinea's merbau trees, with logs then smuggled to China and processed and exported as floorboards and high-end furnishings to the United States, Canada, Australia and Europe.
"We are arguing that both Indonesia and Papua New Guinea bear responsibility to tighten (curbs on illegal logging and manufacture) within their own countries, but so too does China, as a major recipient of the wood, and the Chinese industry for being complicit in allowing the smuggling to occur," said Greenpeace China forest campaign manager Tamara Stark.
Greenpeace said smugglers were importing banned Indonesian merbau into China using forged Malaysian documentation, and were taking logs from illegal forest concessions in Papua New Guinea.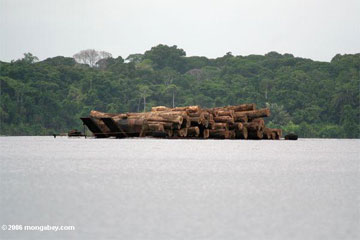 Illegal Logging Link between Indonesia and China, says group. A new report released by EIA/Telapak, entitled "The Last Frontier", exposes the international criminal syndicates behind the massive looting of merbau trees from Indonesia's Papua Province. Merbau, a valuable hardwood used mainly for flooring, is being smuggled out of Papua at a rate of around 300 000 cubic metres of logs every month to feed China's timber processing industry. China's economic boom has led to it becoming the largest buyer of illegal timber in the world.
Timber hungry China moves into Africa. China, as the fastest growing economy in the world, is poised to make significant impacts on the global market and the global environment, especially with its expanding involvement with nations rich in natural resources but deficient in economic and political stability. Nowhere is this more apparent than in Africa where China has rapidly bolstered its ties in recent years with the majority of the continent's 54 nations.
China's Olympics may destroy New Guinea's rainforests. Construction for the 2008 Olympics in China may fuel deforestation in New Guinea according to an article published last week in the Jakarta Post. The article reports that a Chinese company has asked the Indonesian government for permission to establish a timber processing factory in Indonesia's Papua province to produce 800,000 cubic meters of merbau timber in time for the Olympic games to be held in Bejing. Merbau — a dark hardwood found in the rainforests of New Guinea — is used for hardwood floors and currently commands prices of up to US$138 per square meter, making the proposal potentially worth more than a billion dollars.
"Almost all of the (Chinese) traders readily admit that they know this wood is illegal and is being smuggled in but because it's commanding such a high price in the international market, they're willing to proceed and take the risks," Stark told reporters.
"China is by far the largest market for merbau. It's a highly prized and endangered tropical hardwood. The reality is, it's also international trade that's fuelling the destruction of these forests."
Merbau is a resilient red hardwood, one of the most valuable in Southeast Asia.
Stark said China had failed to deploy enough resources to stop illegal log smuggling.
"The central government position is strong … But it's an issue of governance on a provincial basis … There are far too few staff assigned," she said.
"STRICT SUPERVISION"
China's Foreign Ministry brushed away accusations that the country's demand for timber was hastening the destruction of Southeast Asian forests.
"China has a strict system of supervision and management of its timber and timber product imports," ministry spokesman Liu Jianchao told a regular press briefing on Tuesday.
"As a large importer and exporter of timber and timber products, China places a high level of importance on cooperating with timber-producing countries to develop forest resources according to principles of mutual benefit and long-term sustainable development," Liu said.
Left unchecked, the logging of merbau wood, priced at over $600 per cubic metre (35 cubic feet), would lead to the "destruction of an entire eco-system", Stark said.
"In many cases, only one to five merbau trees are found per hectare … The challenge is, the logging industry is only interested in the merbau, but they have to clear huge swathes at the forest to get to those few trees."
Greenpeace said merbau forests would be wiped out within 35 years if the current rate of legal logging was sustained, but illegal logging would lead to their extinction "much sooner".
In October, the U.N. Convention on International Trade in Endangered Species of Wild Fauna and Flora (CITES) flagged trade restrictions on Southeast Asian merbau because of rapid depletion.
China, whose own forest cover has nearly doubled in 50 years to 18 percent today according to forestry officials, is regularly accused by environmental groups of plundering forests in Africa, South America and Southeast Asia, and of being at the heart of a global trade in illegal timber sold to Western markets.
— Reuters