Photos of baby langur born at Bronx Zoo
Photos of baby langur born at Bronx Zoo
Pictures in the news
mongabay.com
March 26, 2007
| | |
| --- | --- |
| | Photos by Julie Larsen Maher of WCS. |
A highly endangered, three-month-old ebony langur (scientific name: Trachypithecus auratus) is thriving at the Bronx Zoo in New York City.
The Wildlife Conservation Society (WCS) reports that the langur (born on Nov 25, 2006) is starting to explore its Asian rain forest habitat at the Bronx Zoo's JungleWorld. Visitors can see this adorable and agile zoo baby on exhibit with its mother, Dashini, father, Indra, and the rest of their troop.
Female langurs share in infant-rearing responsibilities within their troop, a behavior called allomothering, and forcibly take infants from their mother. Generally langurs live in groups of around seven individuals. Females usually give birth to a single infant at a time.
Also known as the Javan Lutung, the ebony langur is an arboreal primate found exclusively in the rainforests of Indonesia. They are herbivorous, eating leaves, fruit, flowers, and flower buds, according to Wikipedia.


This species is listed as "Endangered" by the World Conservation Union (IUCN) due to hunting and habitat loss. In recent years, Indonesia has had the highest deforestation rate in the world as a result of illegal logging, fires, and forest conversion for agriculture — especially oil palm plantations.
The Bronx Zoo is the flagship of the largest network of metropolitan zoos in the country. It is run by the Wildlife Conservation Society (WCS), a nonprofit group that works to save wildlife and wild places around the globe.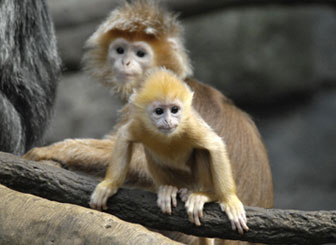 Photos by Julie Larsen Maher of WCS.
Related articles
World's only blue lizard heads toward extinction
(03/08/2007) High above the forest floor on the remote Colombian island of Gorgona lives a lizard with brilliant blue skin, rivaling the color of the sky. Anolis gorgonae, or the blue anole, is a species so elusive and rare, that scientists have been unable to give even an estimate of its population. Due to the lizard's isolated habitat and reclusive habits, researchers know little about the blue anole, except that it is highly threatened by habitat loss and over-collection.


Borneo, a look into a disappearing world
(02/23/2007) Borneo, the third largest island in the world, was once covered with dense rainforests. With swampy coastal areas fringed with mangrove forests and a mountainous interior, much of the terrain was virtually impassable and unexplored. Headhunters ruled the remote parts of the island until a century ago. In the 1980s and 1990s Borneo underwent a remarkable transition. Its forests were leveled at a rate unparallel in human history. Today the forests of Borneo are but a shadow of those of legend and those that remain are highly threatened by the emerging biofuels market, specifically, oil palm.



Balloon technology could cut cost of solar energy 90% by 2010
| | |
| --- | --- |
| | |
(02/21/2007) Inflatable mirrors for capturing sunlight could reduce the cost of solar power to 29 cents by 2010, making the solar energy cost competitive with traditional fossil fuels. The "tensegrity-based concentrated photovoltaic system" could produce a solar farming revolution where farmers would produce both agricultural products and clean energy. "In short we are developing free-market-hyper-competitive renewable energy with the mission of reaching global carbon neutrality," Dr. Eric B. Cummings, founder of California-based CoolEarth Solar, told mongabay.com. "We are working to reduce the cost of solar electricity by a factor of 25, making it cheaper to produce than energy from coal or other non-renewable sources. By developing a solution from minimal, low-cost materials, we aim to make solar generation as profitable as today's best investment options."
[
Mongabay was given express permission to use quotes, information, and photos from the Wildlife Conservation Society (WCS) for this piece.