Oil consumption by industrialized countries falls in 2006
mongabay.com
January 19, 2007
Oil consumption by industrialized countries fell 0.6 percent in 2006, the first significant drop in more than 20 years according to the International Energy Agency.
The decline is fueled by high oil prices which have spurred interest in alternative energy sources — especially biofuels like ethanol — and driven energy conservation initiatives, including increased demand by consumers for fuel efficient vehicles.
Lower demand for oil has sent crude prices plunging. After peaking at $77 in July, benchmark oil futures are currently trading around $50.
OPEC has said it plans to further cut production in an effort to raise prices.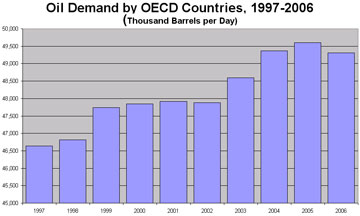 Total Petroleum Consumption of selected OECD countries.
---