Environmentalists hope a new film will help lemurs
Friday, May 06, 2005
By Michael M. Phillips, The Wall Street Journal

ANDASIBE, Madagascar — The lemurs were right next to the road just a short walk from the lodge, munching on bamboo and frolicking with their babies.
"Is that cute or what?" exclaimed Russ Mittermeier, president of Conservation International and one of the world's foremost experts on the rare primates. It was a tourist-brochure moment.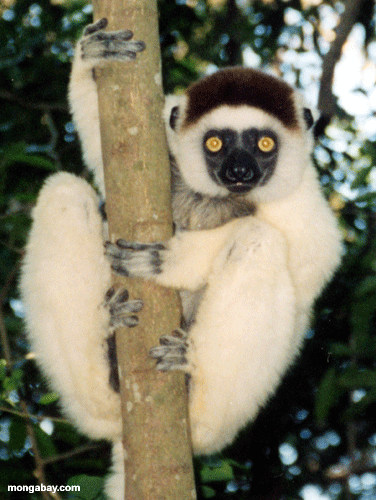 Sifaka lemur from southern Madagascar
Madagascar is world famous for its lemurs — primates that look something like a cat crossed with a squirrel and a dog. These animals are unique to the island and display a range of interesting behaviors from singing like a whale (the indri) to sashaying across the sand like a ballet dancer (the sifaka).
Well, yes, except for the black, whip-like leech that had just dropped onto Mr. Mittermeier from the moist leaves above. "Just roll it up and step on it," he said.
But it was a reminder of how much work lies before him as he seeks to turn the remote African country into a premier ecotourism destination. At the end of this month, DreamWorks Animation SKG Inc. will release a new movie called "Madagascar," and Conservation International, an aggressive, well-connected American environmental group, wants to make sure the country doesn't let the free Hollywood publicity slip through its opposable thumb and forefinger.
Executives at CI, as it is known, are pulling strings as fast as they can in California and Madagascar, an island a little larger than California, to make sure the movie generates the sort of tourism that helps save the country's spectacular, and increasingly endangered, forests and animals. Within a few months, they think, thousands of moviegoers will decide they'd like to see the real Madagascar, and the country had better get ready.
CI environmentalists believe carefully planned ecotourism will bring jobs and money to the villages near the forests, giving the locals an incentive not to cut down the trees or eat the wildlife. But Madagascar can't compete with Kenya or South Africa for lion-watching safaris. The country has none, except for the animated lion in "Madagascar" who escapes with a zebra, hippo and giraffe from New York's Central Park Zoo and, through a series of misadventures, ends up washing ashore in Madagascar and meeting lemurs.
So CI, which is based in Washington, and Malagasy organizations are trying to brand the real Madagascar as a paradise of mammals, reptiles, amphibians and birds found nowhere else in the world. Most famously, Madagascar is the only place that has true lemurs — 69 species and subspecies of them — 24 of which are endangered.
For millions of years, the animals in Madagascar evolved without a human presence. Many have had a hard time surviving since people began arriving here 1,500 or 2,000 years ago, mostly from Indonesia and the African mainland. Nine-foot-tall elephant birds went extinct, as did a type of lemur the size of a gorilla. Now, 90 percent of the forests are gone, mostly cut down for lumber or farming.
In the field, Mr. Mittermeier carries a pocket tape recorder with lemur calls, which he plays when he wants to stir up the Indri lemurs or rare Diademed Sifaka lemurs. The Indri call sounds like the song of the humpback whale, speeded up to 45 rpm. "They're not terribly bright," Mr. Mittermeier concedes. But "they're very pretty. They're wonderful animals. They're not like monkeys or apes."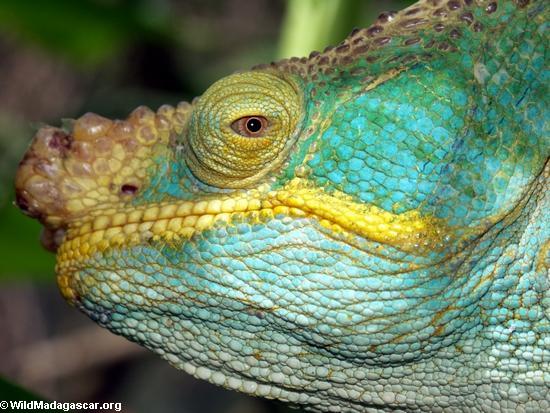 Parson's chameleon from eastern Madagascar
Madagascar is home to about half the world's 150 or so species of chameleons, lizards famous for the ability to rapidly and dramatically change color.
CI isn't like other environmental groups. It does no direct-mail fund raising and has just 4,000 donors, many very wealthy, who provide it with an annual budget of $120 million. The group, created in 1987, funds everything from scientific research to protected areas in developing countries. Its board is a lineup of luminaries from business, science and Hollywood, including Wal-Mart Stores Inc. Chairman Rob Walton, Queen Noor of Jordan and actor Harrison Ford. The group regularly escorts its major donors to rain forests and deserts so they'll know how their money is being spent.
CI's chief executive, Peter Seligmann, first realized what DreamWorks was up to last November, while he was showing Mr. Walton around Madagascar. At a lodge one day, he was approached by Sylvia Stanat, a retired North Carolina virologist who mentioned that her son was working on a new film called "Madagascar."
That night, Mr. Seligmann emailed a CI board member, attorney Skip Brittenham, who had helped DreamWorks Animation go public. The connection led to a phone call with the studio's chief executive, Jeffrey Katzenberg. Mr. Seligmann pitched to him the idea of using the movie to promote the country and its fragile environment. "You can play a big role," Mr. Seligmann told him, because millions of people will hear about Madagascar thanks to the movie.
"Hundreds of millions," Mr. Katzenberg corrected him.
"Yeah, that's what I meant," Mr. Seligmann said quickly.
Mr. Katzenberg was planning a trip to Madagascar, and Mr. Seligmann offered Russ Mittermeier as guide and traveling companion. Before they left, Mr. Seligmann met Mr. Katzenberg in Los Angeles. He came away with the impression that Mr. Katzenberg was worried that too much preaching would sully the entertainment — and commercial — value of the movie.
"If people are looking for some message about environmentalism, they ain't going to find it in this movie," says Mr. Katzenberg. "Environmentalism is not a pejorative word. It's just the story has nothing to do with that."
Mr. Seligmann met separately with the movie's director and producer, and tried, to no avail, to persuade them to add an environmental lesson. "I'm sure in a humorous way they could show how the fires and destruction of the habitat makes these guys" — the lemurs — "as high-strung as they are," he says.
As it happens, no member of the movie's creative team had ever been to Madagascar, and the film's portrayal of the landscapes and wildlife came from the Internet, books and videos. The studio set the movie in Madagascar largely because it sounded wild compared to Central Park.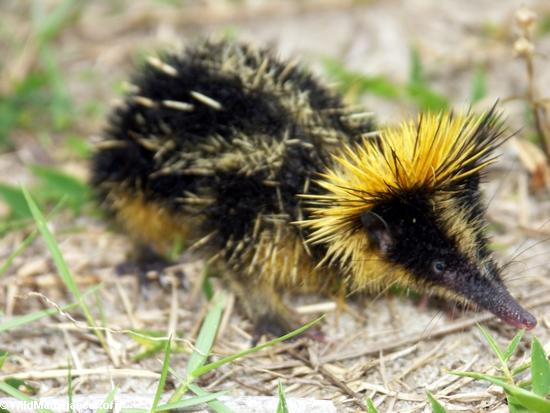 Streaked tenrec from eastern Madagascar
Tenrecs are unusual insectivores that have radiated into ecological niches filled in other lands by hedgehogs, mice, shrews, opossums, and even otters. While a few species of tenrec are found in central Africa, they are most diverse in Madagascar which has around 30 species.
"Madagascar is a magical name, that's why we picked it," says Mr. Katzenberg. "The word itself seems to be full of fantasy and promise of a place that's exotic and unique. And, lo and behold, it actually is."
With Mr. Mittermeier at his side, Mr. Katzenberg spotted eight species of lemur in the Malagasy wild. They met the country's president, Marc Ravalomanana, a self-made dairy magnate who had pledged to triple the amount of protected land in the country, but who knew nothing about the movie until he was told about it by Mr. Mittermeier. Mr. Katzenberg promised the president $500,000 of his own money to help CI promote ecotourism in Madagascar.
Soon, Mr. Ravalomanana found himself in Santa Monica being feted at a dinner thrown by CI and DreamWorks. Afterward, CI sent letters to the 250 attendees asking them collectively to match Mr. Katzenberg's pledge.
CI executives hope DreamWorks and its marketing partners will include an environmental message in their Madagascar promotions. Mr. Katzenberg has shot down the idea of a marketing tie-in between CI and the movie, as "not appropriate in terms of the film." He says there may be promotions for the country itself.
In the meantime, CI, the Malagasy and others are trying to figure out how to get Madagascar's rough tourism industry ready for a flood of Americans and Europeans. The country doesn't have infrastructure to absorb a rush of the kind that Disney's "The Lion King" generated for Kenya. In many areas, the hotels are rustic at best, and bad roads mean that tourists in a hurry must fly, often by expensive chartered planes, from park to park. The country is now largely the province of the very rich, and of backpackers with the time and taste for cramped travel in public bush taxis.
"I think people will be intrigued by Madagascar," says Helen Crowley, Madagascar director of the Wildlife Conservation Society, which operates the Central Park Zoo. "Then, they'll go on the Web and find out it's a long way away, costs $2,000 and has malaria … I do wonder about the American market."
CI used some of Mr. Katzenberg's donation to hire a German consultant to advise the president and his new tourism task force. CI may tap its own venture fund to help bring mobile safari camps from East Africa. Ecotourists "don't want to stay at the Hilton," says President Ravalomanana. "They want to stay in the forest."
CI and the U.S. Agency for International Development put together a tourism conference in the capital Antananarivo last month to help prepare for the movie's release. Hotel owners called for tax breaks. Tour operators asked for an upgrade of Antananarivo's one-runway airport. The national tourism office touted free visas for American and European visitors. Air Madagascar, the national carrier, promised to improve its international service. And a New York tourism consultant suggested a quick-hit marketing campaign to get Madagascar into the heads and brochures of tour operators and travel agents.
The attendees watched a short trailer for the movie, in which the lemurs chant "Oy vey" in imitation of the animals from New York. "As you notice, this movie isn't a movie about Madagascar — it's a story," CI Vice President Leon Rajaobelina told the audience. "Even if it's not a movie about Madagascar and is drawn from pictures of Madagascar, it's an incredible opportunity for Madagascar."
©2005 The Wall Street Journal
Downloads:
---