conservation news and environmental science news.


Non-Malaysian and Indonesian palm oil producers pledge not to develop peatlands for plantations

(11/04/2009) Palm oil producers outside of Malaysia and Indonesia pledged to stop developing new plantations on peatlands, circumventing an impasse that developed between palm oil producers and environmental groups meeting this week at the Roundtable on Sustainable Palm Oil in Kuala Lumpur. The factions deadlocked over plans to account for emissions from plantation development, delaying the criteria for a year.


Emissions from deforestation overestimated; 12% rather than 17%

(11/04/2009) Greenhouse gas emissions from deforestation are lower than previously believed, according to a new study published in Nature Geoscience. The findings mean that developing countries may see less money under Reducing Emissions from Deforestation and Degradation, a proposed climate change mitigation mechanism.


Impasse over palm oil emissions at RSPO meeting

(11/04/2009) Environmentalists and palm oil producers meeting at the annual Roundtable on Sustainable Palm Oil (RSPO) were locked in an impasse over how to account for emissions from converting forests and peatlands to oil palm plantations, report conference attendees.


California's great white sharks are a distinct population

(11/04/2009) Researchers have long thought that white sharks migrated across oceans, but a new study in the Proceedings of the Royal Society B shows that the population in the northeastern Pacific Ocean, along California, hasn't mixed with other white sharks for tens of thousands of years.


Disney commits $4 million to rainforest conservation in the Amazon, Congo

(11/03/2009) The Walt Disney Company will invest $7 million in forest conservation projects in the U.S., the Congo Basin, and the Amazon in an effort to reduce its greenhouse gas emissions.


REDD in Colombia: using forests to finance conservation and communities in Colombia's Choco, a former war zone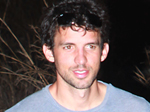 (11/03/2009) Reducing Emissions from Deforestation and Degradation (REDD), a climate change mechanism proposed by the U.N., has been widely lauded for its potential to simultaneously deliver a variety of benefits at multiple scales. But serious questions remain, especially in regard to local communities. Will they benefit from REDD? While much lip-service is paid to community involvement in REDD projects, many developers approach local communities as an afterthought. Priorities lie in measuring the carbon sequestered in a forest area, lining up financing, and making marketing arrangements, rather than working out what local people — the ones who are often cutting down trees — actually need in order to keep forests standing. This sets the stage for conflict, which reduces the likelihood that a project will successfully reduce deforestation for the 15-30 year life of a forest carbon project. Brodie Ferguson, a Stanford University-trained anthropologist whose work has focused on forced displacement of rural communities in conflict regions in Colombia, understands this well. Ferguson is working to establish a REDD project in an unlikely place: Colombia's Chocó, a region of diverse coastal ecosystems with some of the highest levels of endemism in the world that until just a few years ago was the domain of anti-government guerrillas and right-wing death squads.


Gucci drops APP in pledge to save rainforests

(11/03/2009) One of the world's largest and most prestigious fashion brands has stated it will stop sourcing paper from Indonesian forests and will drop Asia Pulp and Paper (APP) as a supplier, which has become notorious for tropical deforestation. The move comes after pressure from the Rainforest Action Network (RAN) on the fashion industry to stop sourcing paper from threatened rainforests for their shopping bags.


Palm oil lobby group launches public relations push to counter environmental complaints

(11/02/2009) A report released by World Growth International in late September claimed that environmentalists are waging a "morally indefensible" campaign against palm oil. The report accurately highlighted the high productivity of oil palm — the world's highest-yielding commercial oilseed — and noted that the crop has created jobs and driven rural development in Malaysia and Indonesia. Critically, World Growth also downplayed chief concerns about the rapid expansion of oil palm cultivation across southeast Asia, notably worries that palm oil production is contributing to deforestation, putting endangered wildlife like the orangutan at risk, and adversely affecting climate. To make its case, the report made some questionable claims, asserting that oil palm plantations sequester more carbon than natural forests and that deforestation is driven by poverty rather than industrial activities.


Wolves keep forests nutrient-rich

(11/02/2009) As hunting wolves is legal again in two American states, Montana and Idaho, researchers have discovered an important role these large predators play in creating nutrient hotspots in northern forest environments. Researchers from Michigan Technological University found that when wolves take down their prey—in this case moose—they do more than simply keep a check on herbivore populations. The corpses of wolf-hunted moose create hotspots of forest fertility by enriching the soil with biochemicals. Due to this sudden up-tick in nutrients, microbial and fungal growth explodes, in turn providing extra nutrients for plants near the kill.


Goodbye, snows of Kilimanjaro


(11/02/2009) The most recent survey among the ice fields atop Mount Kilimanjaro found that the ice atop Africa's most famous mountain could be gone in twenty years—and maybe even sooner. Published in the Proceedings of the National Academy of Science the study was conducted by a team of researchers who first measured the glaciers in 2000. They discovered that between 1912 and 2007, 85 percent of the ice that covered Mount Kilimanjaro vanished. When using 2000 as baseline the mountain has lost 26 percent of its ice.


Tsavo lions ate 35 people, not 135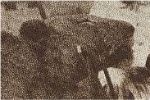 (11/02/2009) A recent study in the Proceedings of the National Academy of Sciences has shown that the two man-killing lions of Tsavo very likely did not kill and eat as many people as claimed. Looking at hair and bone samples from the pair of male lions, now resting in the Chicago Field Museum, researchers were able to determine that the Tsavo lions likely killed and ate approximately 35 people, not 135 as claimed by Lieutenant Colonel John H. Patterson. Patterson became famous for shooting and killing the lions in December 1898. For nine months the two lions terrorized a railroad camp in Kenya.


Without reinstatement of key provision, REDD could subsidize large-scale forest destruction

(11/02/2009) The elimination of a key provision from the negotiating text for the Reducing Emissions from Deforestation and Degradation in developing countries (REDD) mechanism could turn the proposed climate change mitigation scheme into a subsidy for large-scale conversion of natural forests to industrial plantations, warned environmentalists today at the resumption of U.N. climate change negotiations in Barcelona.


Cement mining puts Dominican Republic park at risk

(11/01/2009) A cement mine, granted under questionable circumstances, is putting one the Caribbean's most important forest parks at risk, warns a group working to stop the project.


Tiger rescued from poachers in Malaysia perishes from injuries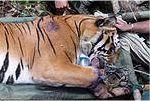 (10/29/2009) Rescued in early October from a poacher's snare, a Malayan tiger has died from stress and infection due to its injuries. The 120 kilogram (264 pound) male tiger died on October 19th in the Malacca Zoo after undergoing surgery to amputate its right foreleg, which two weeks before had been caught in a poacher's snare and severely injured. "It broke my heart as I was there during the rescue. Everyone had such high hopes of the tiger being released back into the wild after its treatment at the zoo, and no one spoke of the in-betweens," says Reuben Clements.


China's Pearl River suffers from "almost impossible to remove" pollution

(10/29/2009) A new study by Greenpeace has found high volumes of heavy metals and organic chemicals in China's Pearl River, which provides drinking water for 47 million people.


Google partners with Amazon tribe

(10/29/2009) The story of an indigenous Amazon tribe that has embraced technology in its fight to protect its homeland and culture is now highlighted as a layer in Google Earth.


European companies not supporting 'greener' palm oil

(10/29/2009) Most European consumers of palm oil are failing to buy eco-certified palm oil, undermining efforts to encourage producers to reduce their impact on the environment, reports WWF.


Atlantic bluefin tuna should be banned internationally: ICCAT scientists

(10/29/2009) Scientists with the International Commission for the Conservation of Atlantic Tuna (ICCAT) have said in a new report that a global ban on Atlantic bluefin tuna fishing is justified. ICCAT meets in November to decide if they will follow their scientist's recommendations.


Carbon accounting must not neglect emissions from bioenergy production and use

(10/29/2009) Carbon accounting used in the Kyoto Protocol and other climate legislation currently neglects CO2 emissions from the production of biofuels, a loophole that could drive large-scale destruction of tropical forests and exacerbate global warming, warned researchers writing last week in the journal Science.


Language and conservation: why words matter


(10/28/2009) The words we choose matter. Benjamin Lee Whorf, an influential American linguist theorized that the language one speaks directly impacts our thoughts; he is quoted as saying, "language shapes the way we think, and determines what we can think about". If this is the case then those who believe in conservation must select their words wisely. My wife and I recently traveled to Africa where we visited wildlife parks in both Zimbabwe and Botswana. The animals we encountered and the scenes we were fortunate enough to witness proved so beautiful and wondrous that I have a difficult time describing them—at least in any way that accurately depicts the experience.


Brazil to support REDD in Copenhagen

(10/28/2009) Brazil will conditionally support a proposed climate change mitigation scheme that will compensate tropical countries for preserving their forests, reports Reuters.


Illegal logging trade from Myanmar to China slows, but doesn't stop

(10/28/2009) The illegal wood trade from Myanmar to China has slowed, but it still threatens Myanmar's tropical forests and species, according to a new report by Global Witness. From 2005 and 2008 improved border controls into China led to a drop in imports of logs and sawn wood by 70 percent.


Rosewood traffickers busted in Madagascar

(10/28/2009) Authorities in Madagascar have sacked a local official, arrested several businessmen, and issued fines following the discovery of illegally harvested rosewood logs aboard a ship, reports L'Express de Madagascar.


New bill would protect children from untested chemicals

(10/28/2009) Emerging science increasingly links exposure to toxic chemicals with serious health problems. From bisphenol-A in baby bottles to phthalates in children's toys and flame retardants in nursery furnishings, the modern world is filled with synthetic compounds that research now shows likely cause neurological and behavioral disorders, reproductive and developmental disruption, cancer and other troubles.


Scientists discover that bats practice oral sex

(10/28/2009) The short-nosed fruit bat Cynopterus sphinx is the first bat species to have been observed engaging in oral sex.


Crisis averted for now, Peruvian natives will meet with Hunt Oil

(10/28/2009) Indigenous groups in a dispute with Hunt Oil, over the company performing seismic tests their land, have scheduled a meeting with the Texas based oil corporation, according to Reuters.


Will Ecuador's plan to raise money for not drilling oil in the Amazon succeed?

(10/27/2009) Ecuador's Yasuni National Park is full of wealth: it is one of the richest places on earth in terms of biodiversity; it is home to the indigenous Waorani people, as well as several uncontacted tribes; and the park's forest and soil provides a massive carbon sink. However, Yasuni National Park also sits on wealth of a different kind: one billion barrels of oil remain locked under the pristine rainforest.


200 million more people going hungry

(10/26/2009) The war on hunger is becoming a rout—and we're losing. The UN World Food Program (WFP) announced today that during the last two years 200 million more people are going hungry.


"Money is not a problem," palm oil CEO tells conservationists during speech defending the industry


(10/26/2009) Earlier this month at a colloquium to implement wildlife corridors for orangutans in the Malaysian state of Sabah, Dr. Yusof Basiron, the CEO of Malaysian Palm Oil Council (MPOC), told conservationists and primate experts that the palm oil industry was ready to fund reforestation efforts in the corridors. "We can raise the money to replant [the corridors] and keep contributing as a subsidy in the replanting process of this corridor for connecting forests," Basiron said in response to a question on how the palm oil industry will contribute. "Money is not a problem. The commitment is already there, the pressure is already very strong for this to be done, so it's just trying to get the thing into motion."


New reserve created in Cambodia with REDD in mind

(10/26/2009) Cambodia's Royal Government's Council of Ministers has declared the creation of the Seima Protection Forest, a 1,100 square miles (2,849 square kilometers) park home to tigers, elephants, and endangered primates. The park's creation was developed in part by the Wildlife Conservation Society's (WCS) "Carbon for Conservation" program, which intends to protect high-biodiversity ecosystems while raising funds through carbon sequestration schemes such as Reducing Emission from Deforestation and Degradation (REDD).


Amazonian natives say they will defend tribal lands from Hunt Oil with "their lives"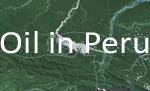 (10/25/2009) Indigenous natives in the Amazon are headed to the town of Salvacion in Peru with a plan to forcibly remove the Texas-based Hunt Oil company from their land as early as today. Peruvian police forces, numbering in the hundreds, are said to be waiting in the town. The crisis has risen over an area known as Lot 76, or the Amarakaeri Communal Reserve. The 400,000 hectare reserve was created in 2002 to protect the flora and fauna of the area, as well as to safeguard watersheds of particular importance to indigenous groups in the region.


The faster, fiercer, and always surprising sloth, an interview with Bryson Voirin



(10/25/2009) Sloths sleep all day; they are always slow; and they are gentle animals. These are just some of the popular misconceptions that sloth-scientist and expert tree-climber, Bryson Voirin, is overturning. After growing up among the wild creatures of Florida, spending his high school years in Germany, and earning a Bachelors degree in biology and environment at the New College of Florida, Voirin found his calling. At the New College of Florida, Voirin "met Meg Lowman, the famous canopy pioneer who invented many of the tree climbing techniques everyone uses today."


Perfect shot of the rare Iberian wolf wins nature photo contest

(10/22/2009) It's hard to believe the shot is real: it's that good. But a photo of a rare Iberian wolf—a subspecies of the gray wolf—jumping a fence has won the 45th Veolia Environment Wildlife Photo of the Year award. The photographer, Jose Luis Rodriguez, has said that he hopes the haunting image will inspire the people of Spain to be proud to have this endangered animal still roaming their countryside.


The Yangtze River may have lost another inhabitant: the Chinese paddlefish

(10/22/2009) In December of 2006 it was announced that the Yangtze River dolphin, commonly known as the baiji, had succumbed to extinction. The dolphin had survived on earth for 20 million years, but the species couldn't survive the combined onslaught of pollution, habitat loss, boat traffic, entanglement in fishing hooks, death from illegal electric fishing, and the construction of several massive dams. Now, another flagship species of the Yangtze River appears to have vanished.


Scientists uncover mystery of how frog plague kills its victims

(10/22/2009) One hundred and twenty species of frogs are reported to have gone extinct since 1980 (although the number is likely even higher). While devastated by habitat loss, pollution, and climate change, a baffling disease may be the biggest factor behind the alarming extinctions of frogs. Called chytridiomycosis, the disease is caused by the microscopic fungus Batrachochytrium dendrobatidis which kills its tiny victims indiscriminately.


Logged forests support biodiversity after 15 years of rehabilitation, but not if turned into plantations

(10/21/2009) With the world facing global warming and a biodiversity crisis, a new study shows that within 15 years logged forests—considered by many to be 'degraded'—can be managed in order to successfully fight both climate change and extinction.


Protests over tuna industry development plans in Papua New Guinea

(10/21/2009) People from the area of Madang in Papua New Guinea are protesting government plans, supported by the World Bank's International Finance Cooperation (IFC), to build large-scale industrial tuna canneries and docks, labeled the Pacific Marine Industrial Zone (PMIZ). Over 700 people showed up and marched at the Madang Provincial Governmental Headquarters on October 15th, despite the protest being banned by local police.


Emotional call for palm oil industry to address environmental problems


(10/21/2009) During what was at times an emotional speech, Sabah's Minister of Tourism, Culture, and Environment, Datuk Masidi Manjun, called on the palm oil industry to stop polluting rivers and work with NGOs to save orangutans and other wildlife. He delivered the speech on the first day of an Orangutan Conservation Colloquium held in early October in the Malaysian state of Sabah on the island of Borneo.


World's largest golden orb weaving spider discovered in South Africa and Madagascar


(10/21/2009) Golden orb weaving spiders have been garnering media attention recently. Last year stunning photographs of a golden orb weaver eating a bird in Australia made world coverage. Now, over a century after the last legitimate species of golden orb weaver was discovered, researchers have announced the discovery of a new and rare species of golden orb weaving spider in Africa and on the island of Madagascar. On average the new species is the largest of all golden orb weavers known.


Kenya's pain, part two: decades of wildlife decline exacerbated by drought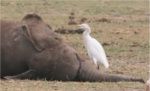 (10/20/2009) Not many years ago if you were planning a trip to Africa to see wildlife, Kenya would be near the top of the list, if not number one. Then violent riots in late 2007 and early 2008 leaving a thousand dead tarnished the country's image abroad. When calm and stability returned, Kenya was again open for tourism, and it's true that most travelers were quick to forget: articles earlier this year announced that even with the global economic crisis Kenya was expecting tourism growth. However, a new disaster may not be so quickly overcome.


Illegal ivory demand could wipe out Africa's elephants by 2025

(10/20/2009) Nearly twenty years ago the ivory trade was banned by Convention on International Trade in Endangered Species (CITES). Many saw this as the most important step in preventing the continued loss of elephants at the hands of poachers, and for awhile poaching slowed down. But now elephants are in danger again: a report by the International Fund for Wildlife Welfare (IFWW) states that an astounding 38,000 elephants are killed for their tusks annually—over a hundred every day.


Arctic lake undergoing unprecedented changes due to warming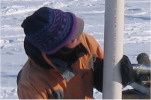 (10/19/2009) The Arctic should be growing cooler, but a new sediment core taken from an Arctic lake reveals that the lake's ecology and chemistry has been transformed by unnatural warming beginning in the 1950s. The sediment core proves that changes happening in the lake during the Twentieth Century are unprecedented over the past 200,000 years. Headed by University of Colorado scientist Yarrow Axelford, the study retrieved the sediment core from the bottom of a thirty foot deep lake on Baffin Island. Importantly the sediment core goes back 80,000 years further than any other core retrieved from the Greenland ice sheet, providing researchers with the longest timescale yet of changes in the Arctic climate.


Present day tropical plant families survived in warmer, wetter tropics 58 million years ago


(10/18/2009) Fifty eight million years ago the tropical rainforests of South America shared many similarities with today's Neotropical forests, according to research published in the Proceedings of the National Academy of Sciences. Looking at over 2,000 fossils in Colombia from one of the world's largest open pit coal mines, scientists were able to recreate for the first time the structure of a long vanished rainforest. One inhabited by a titanic snake, giant turtles, and crocodile-like reptiles.


TV worthless when it comes to knowledge about global warming

(10/18/2009) Is TV your top media choice? Then its likely, according to new research, that climate change is largely off your radar.


Tiger success story turns bleak: poachers decimating great cats in Siberia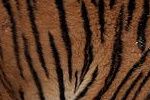 (10/18/2009) There were two bright spots in tiger conservation, India and Russia, but both have dimmed. Last year India announced that a new survey found only 1,411 tigers, instead of the previous estimation of 3,508, and now Russian tigers may be suffering a similar decline. The Siberian Tiger Monitoring Program—a collaboration between the Wildlife Conservation Society (WCS) and several Russia government organizations—has found evidence that after a decade of stability the Siberian tiger's population may be falling. This year's annual survey, which covers only a portion of tiger habitat in Russia, found only 56 adult tigers: a forty percent decrease from the average of 95 tigers. While the cause of this year's decline may be weather-related, researchers fear something far more insidious is going on.


Major Chinese Lead Smelter Admits Fault in Poisoning, Environmental Contamination

(10/17/2009) The largest lead smelting company in China has recently admitted responsibility in contributing to pollution leading to poisoning in almost 1,000 children residing near lead factories. Out of 2,743 children tested for lead poisoning, 968 were determined to have excessive lead levels in their blood. Lead poisoning causes anemia, brain damage, and muscle atrophy, among other serious medical and environmental problems. Lead levels in blood samples from the children were 5 times higher than safe limits.


Plants recognize that family comes first

(10/16/2009) People like to say 'blood is thicker than water'. But plants may actually treat ther siblings better than many of us: although lacking in blood, scientists have found that plants not only recognize family, but respect their space.


Freshwater species worse off than land or marine

(10/15/2009) Scientists have announced that freshwater species are likely the most threatened on earth. Extinction rates for freshwater inhabitants are currently four to six times the rates for terrestrial and marine species. Yet, these figures have not lead to action on the ground.


Uganda to open its doors to big game hunters

(10/15/2009) Uganda, which suffered a 90 percent decline in large mammals during the 70s and 80s, has now lifted a decades-long ban on big game hunting, reports the AFP.


Business and conservation groups team up to conserve and better manage US's southern forests

(10/15/2009) A new project entitled Carbon Canopy brings together multiple stakeholders—from big business to conservation organizations to private landowners—in order to protect and better manage the United State's southern forests. The program intends to employ the emerging US forest carbon market to pay private forest owners for conservation and restoration efforts while making certain that all forest-use practices subscribes to the standards of the Forest Stewardship Council (FSC).


Page 1 | Page 2 | Page 3 | Page 4 | Page 5 | Page 6 | Page 7 | Page 8 | Page 9 | Page 10 | Page 11 | Page 12 | Page 13 | Page 14 | Page 15 | Page 16 | Page 17 | Page 18 | Page 19 | Page 20 | Page 21 | Page 22 | Page 23 | Page 24 | Page 25 | Page 26 | Page 27 | Page 28 | Page 29 | Page 30 | Page 31 | Page 32 | Page 33 | Page 34 | Page 35 | Page 36 | Page 37 | Page 38 | Page 39 | Page 40 | Page 41 | Page 42 | Page 43 | Page 44 | Page 45 | Page 46 | Page 47 | Page 48 | Page 49 | Page 50 | Page 51 | Page 52 | Page 53 | Page 54 | Page 55 | Page 56 | Page 57 | Page 58 | Page 59 | Page 60 | Page 61 | Page 62 | Page 63 | Page 64 | Page 65 | Page 66 | Page 67 | Page 68 | Page 69 | Page 70 | Page 71 | Page 72 | Page 73 | Page 74 | Page 75 | Page 76 | Page 77 | Page 78 | Page 79 | Page 80 | Page 81 | Page 82 | Page 83 | Page 84 | Page 85 | Page 86 | Page 87 | Page 88 | Page 89 | Page 90 | Page 91 | Page 92 | Page 93 | Page 94 | Page 95 | Page 96 | Page 97 | Page 98 | Page 99 | Page 100 | Page 101 | Page 102 | Page 103 | Page 104 | Page 105 | Page 106 | Page 107 | Page 108 | Page 109 | Page 110 | Page 111 | Page 112 | Page 113 | Page 114 | Page 115 | Page 116 | Page 117 | Page 118 | Page 119 | Page 120 | Page 121 | Page 122 | Page 123 | Page 124 | Page 125 | Page 126 | Page 127 | Page 128 | Page 129 | Page 130 | Page 131 | Page 132 | Page 133 | Page 134 | Page 135 | Page 136 | Page 137 | Page 138 | Page 139 | Page 140 | Page 141 | Page 142 | Page 143 | Page 144 | Page 145 | Page 146 | Page 147 | Page 148 | Page 149 | Page 150 | Page 151 | Page 152 | Page 153 | Page 154 | Page 155 | Page 156 | Page 157 | Page 158 | Page 159 | Page 160 | Page 161 | Page 162 | Page 163 | Page 164 | Page 165 | Page 166 | Page 167 | Page 168 | Page 169 | Page 170 | Page 171

News index | RSS | News Feed


---
Advertisements:


Organic Apparel from Patagonia | Insect-repelling clothing


WEEKLY NEWSLETTER
SUPPORT
Mongabay.com seeks to raise interest in and appreciation of wild lands and wildlife, while examining the impact of emerging trends in climate, technology, economics, and finance on conservation and development (more)

Help support mongabay.com when you buy from Amazon.com



LIKE MONGABAY?
Consider a tax-deductible donation to support our independent reporting:

POPULAR PAGES
Photos
HIGH RESOLUTION PHOTOS / PRINTS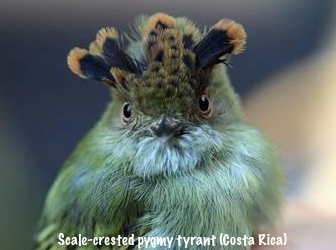 CALENDARS