Conservation news
Founded in 1999, Mongabay is a leading provider of environmental science and conservation news.
Nobel laureate and Green Belt Movement founder Wangari Maathai dead at 71

(09/26/2011) Kenyan environmentalist and Nobel laureate Wangari Maathai died Sunday after a battle with ovarian cancer. She was 71.


Activists worldwide push for leaving the fossil fuel age behind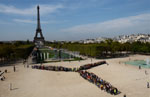 (09/25/2011) On six continents, in over 75 percent of the world's countries, people came out en masse yesterday to attend over 2,000 events to demonstrate the power of renewable energy to combat global climate change. As apart of the 'Moving Planet' campaign organized by 350.org, activists created a giant human-windmill in Paris, gave out bike lessons in Buenos Aires, practiced evacuation measure in the Pacific island of Tuvalu imperiled by rising sea levels, and marched in Cape Town for a strong agreement at the next UN climate meeting hosted in Durban, South Africa.


Animal picture of the day: baby blue frog

(09/23/2011) The blue color form of the green-and-black poison dart frog (Dendrobates auratus) is occurs on the Pacific side of parts of Panama. This individual is a juvenile.


U.S. Lacey Act, programs in Rwanda and Gambia, awarded for forest protection

(09/23/2011) Forest policies in the United States, Rwanda, and Gambia won U.N. backed awards for contributing to efforts to protect and sustainably manage forests.


Tribal leader to the UN: Indigenous peoples of the Amazon are in danger

(09/22/2011) Amazonian indigenous peoples and their traditional territories are living under constant threat.


Animal picture of the day: world's tiniest rhino for World Rhino Day

(09/22/2011) The Sumatran rhino is the world's smallest species of rhino, but the Bornean rhino—a subspecies of the Sumatra—is even tinier.


New map reveals the most biodiverse place on Earth, but already threatened by oil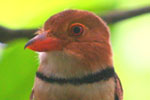 (09/22/2011) A new map highlights the importance of conserving Yasuni National Park as the most biodiverse ecosystem in the Western Hemisphere, and maybe even on Earth. Scientists released the map to coincide with the United National General Assembly in support of a first-of-its-kind initiative to save the park from oil exploration through international donations to offset revenue loss. Known as the Yasuni-ITT Initiative, the plan, if successful, would protect a 200,000 hectare bloc in Yasuni National Park from oil drilling in return for a trust fund of over $3 billion.


Amazon deforestation up moderately in August, but forest degradation falls

(09/22/2011) Deforestation in the Brazilian Amazon continues to be slightly higher than this time last year, reports a new bulletin from Imazon, a Brazilian NGO.


Rich countries must maintain commitment to reducing emissions despite slow economy, says Indonesian official

(09/22/2011) Industrialized nations must do more to reduce greenhouse gas emissions from energy consumption, said an Indonesian official speaking at a workshop on climate finance.


Asia Pulp & Paper to undertake human rights audit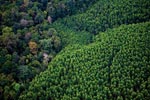 (09/22/2011) Paper products giant Asia Pulp & Paper (APP) will undertake a human rights audit across its Indonesian operations. The move, which APP says is an acknowledgment of a recent United Nations call for the global protection of human rights by businesses, comes as APP intensifies its effort to improve its image abroad. APP, a brand for paper products manufactured by several subsidiaries in Indonesia, has been beset by criticism from environmental and human rights group over its development of timber plantations on the island of Sumatra. The complaints have cost APP a number of prominent customers.


China's new forests aren't necessarily green

(09/21/2011) When most of Asia is cutting down its forests, China stands apart. In the last two decade the massive country has gained over 30 percent forest cover. However, a new opinion piece by Jianchu Xu, with the World Agroforestry Centre and the Kunming Institute of Botany, argues that China's growing forest is not what it appears to be. The problem, according to Xu, is that the statistics of forest cover include monoculture plantations.


Featured video: Sumatran species spring to life on video camera traps

(09/21/2011) New video camera trap footage has revealed the stunning and often hidden biodiversity of Sumatra's Leuser Ecosystem, the only place in the world inhabited by elephants, orangutan, tigers, and rhinos. The video camera trap project, dubbed Eyes on Leuser, has captured 26 species to date usinf 10 video camers, including astounding footage of a sniffing Sumatran tiger, a great argus pheasant displaying for the camera, a springing sambar, and an emerald dove chasing away a mouse deer.


Loango National Park lodge to re-open

(09/21/2011) A renowned ecotourism lodge will re-open in Gabon's Loango National Park more than a year after it suspended operations due to a dispute with authorities over flight access to the region.


Europe should lift duty on RSPO-certified palm oil to encourage use, says Dutch group

(09/21/2011) To encourage uptake of palm oil that is less damaging to the environment, the European Union (EU) should lift the import duty on palm oil certified under Roundtable on Sustainable Palm Oil (RSPO), said a Dutch industry group.


Indigenous people blockade river against 'murderous' oil company

(09/21/2011) Over the weekend more than 100 Shuar indigenous people, also known as Wampis, blockaded the Morona River in Peru in an effort to stop exploratory oil drilling by Canadian-owned Talisman Energy. The blockade in meant to prevent oil drilling in an area of the Peruvian Amazon known as Block 64, home to four indigenous tribes in total and the Pastaza River Wetland Complex, a Ramsar wetland site.


Scientists confirm ancient Egyptian knowledge: Nile crocodile is two species

(09/20/2011) DNA has shown that the Nile crocodile is in fact two very different species: a bigger, more aggressive crocodile and a smaller, tamer species that today survives only in West Africa. While the taxonomy of the Nile crocodile has been controversial for over a century, the new study points out that the ancient Egyptians recognized the differences in the species and avoided the big crocodile for its rituals.


Two arrested in connection with murdering Amazon activists

(09/20/2011) Two suspects have been arrested for allegedly taking part in the killing of Amazon activist, José Cláudio Ribeiro da Silva, and his wife, Maria do Espírito Santo da Silva. The men, who are brothers, were arrested after police stormed their remote jungle camp on Sunday in Brazilian state of Para. A third man remains at large.


New US stamp seeks to raise money for endangered species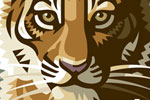 (09/20/2011) As of today, buying a stamp may help save some of the world's most beloved and endangered species. The US Postal Service has released a new stamp that will raise money for the Multinational Species Conservation Funds (MSCF) which works to save tigers, rhinos, great apes, marine turtles, and elephants. The new stamp sports the image of an Amur tiger cub, a subspecies of the tiger the Amur tiger (Panthera tigris altaica) is listed as Endangered by the IUCN Red List.


Converting rainforest to cropland in Africa reduces rainfall

(09/19/2011) Converting West African rainforests into cropland reduces rainforest in adjacent forest areas, reports research published in Geophysical Research Letters.


From Red to Green? How the Financial Credit Crunch Could Bankrupt the Environment - a book review

(09/19/2011) Paul Donovan and Julie Hudson, CFA argue in From Red to Green? How the Financial Credit Crunch Could Bankrupt the Environment that twin credit crunches – both environment and financial – have been underway for some time. With chapters on food, water, energy, infrastructure, housing, consumer durables, health, education, work and leisure accompanied by a thorough economic analysis regarding both credit and environmental debts driving supply and demand of these goods and services, the authors discuss at length how global economics may be impacted in an environmentally constrained future.


The Global Carbon Cycle: a book review

(09/19/2011) The Global Carbon Cycle, by Dr. David Archer, is an excellent primer on the global carbon cycle. An easily readable format, this lightweight book is an excellent companion to those who need a quick on-the-go reference or for those who need a compendium for their office or lab. With chapters on the basic carbon cycle, geologic carbon cycle, unstable ice age carbon cycle, present and future carbon cycle, and methane, The Global Carbon Cycle is an authoritative book with numerous examples explaining scientific phenomena associated the global carbon cycle.


Conservationists renew push for 'rainforest bonds'

(09/19/2011) Conservationists are renewing a push for a special class of 'rainforest bonds' to fund efforts to conserve tropical forests.


Picture of the day: Meandering river in the Amazon

(09/18/2011) Rivers in lowland Amazonia tend to meander due to the flatness of the basin. For example, the Amazon itself falls only 345 feet (105 m) from the Peruvian river port of Iquitos, a full 2,300 miles from the ocean. Thus the river descends at a rate of only 1.8 inches per mile (2.8 cm/km).


Measuring Livelihoods and Environmental Dependence: Methods for Research and Fieldwork - Book Review

(09/18/2011) eveloping a systematic approach applicable globally to measuring the environmental impacts associated with rural economic development in the developing world, as measured through landscape-level carbon accounting, is critically important as these communities begin to implement land-based carbon projects. To be able to successfully compare carbon sequestration activities between communities, we need to develop quantitatively robust methodologies to measure rural livelihoods' environmental impacts. With these methodologies in place it is possible to begin to measure financial effectiveness and equitable distribution of revenue associated with these land-based carbon projects.


Biodiversity and Social Carbon: Sustainable Development and the Carbon Market - Book Review

(09/18/2011) Our 21st century economy faces to twin challenges - biodiversity loss and climate change - and in Biodiversity and Social Carbon, authors Divaldo Rezende and Stefano Merlin, describe the Social Carbon methodology and its approach to protecting and enhancing biodiversity while mitigating climate change. Moreover, the authors also provide numerous case studies on how the Social Carbon methodology functions.


The Vietnam War's ongoing effect on conservation

(09/16/2011) In the Phong Dien Nature Reserve in central Vietnam, an unlikely resource is hindering formal conservation efforts. Deep in the forest, villagers scavenge for scrap metal left during the Vietnam War. Unprecedented research from the Center for International Forestry Research (CIFOR) and the Institute of Tropical Forest Conservation (ITFC) finds scrap metal gathering is a primary driver in forest degradation and trade in non-timber forest products in Vietnam.


Photo of the day: Turquoise waters along the California coast

(09/15/2011) A new study, commissioned by the California Department of Boating and Waterways and conducted by San Francisco State University (SFSU), finds that rising sea levels could take a substantial toll on one of California's biggest attractions: its beaches.


Tropical Ecology: A Book Review

(09/15/2011) Dr. Kricher's full-color textbook is a great introductory textbook for tropical ecology courses. With increased interest globally in forest carbon and the underlying tropical forest ecological fundamentals that forest carbon offsets are manufactured from allowing climate change mitigation, this book provides a one-stop tropical forest ecology resource for those who work in the forest carbon field in the tropics. Key topics addressed, through a pan-tropical lens, include evolution, tropical rain forest structure and biodiversity, carbon flux and climate change, forest fragmentation, nutrient cycling, species richness, and flora and fauna relationships.


Pictures: 12 new species of frog discovered in India

(09/15/2011) Scientists have discovered 12 new species of frogs in the rainforests of India's Western Ghats, according to a paper published in the latest issue of ZooTaxa.


New species of bottlenose discovered in Australia (PHOTO)

(09/15/2011) Researchers have discovered a new species of dolphin in Australia, reports ABC News.


Scientists discover giant species of crocodile; luckily it is extinct

(09/15/2011) Researchers excavating a coal mine in Colombia have discovered a previously unknown species of prehistoric crocodile. The beast is described in the September 15 issue of the journal Palaeontology.


Gore launches 24-hr push to 'confront the reality' of climate change

(09/14/2011) For the next 24 hours the Climate Reality Project — an initiative founded and chaired by former Vice President Al Gore — is hosting an event to mobilize action on climate change. The entire event will be broadcast live and presented in 13 languages.


Old-growth forests are irreplaceable for sustaining biodiversity


(09/14/2011) Old growth rainforests should be a top conservation priority when it comes to protecting wildlife, reports a new comprehensive assessment published in the journal Nature. The research examined 138 scientific studies across 28 tropical countries. It found consistently that biodiversity level were substantially lower in disturbed forests.


Sea turtle deaths in U.S. waters reduced 90%, but shrimp trawling accounts for 98% of kill

(09/14/2011) The number of sea turtles accidentally caught and killed in United States coastal waters has declined by an estimated 90 percent since 1990, reports a new study published in the journal Biological Conservation. The authors, including researchers at Duke University and Duke University, say regulations to reduce bycatch are responsible for the decline.


Famine in Africa: Can Reforestation Improve Food Security?

(09/14/2011) Millions of people across the Horn of Africa are suffering under a crippling regional drought and tens of thousands have died during the accompanying famine. Refuge camps in Somalia, Kenya, and Ethiopia are swelling with the hungry.


Logged rainforests are a cheap conservation option


(09/14/2011) With old-growth forests fast diminishing and land prices surging across Southeast Asia due to rising returns from timber and agricultural commodities, opportunities to save some of the region's rarest species seem to be dwindling. But a new paper, published in the journal Conservation Letters, highlights an often overlooked opportunity for conservation: selectively logged forests.


UN: private sector engagement needed to save forests

(09/14/2011) Reversing global forest decline will require private sector engagement and finance, argues a new report published by the United Nations and a coalition of more than 200 financial institutions.


Palm oil, poverty, and conservation collide in Cameroon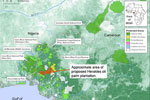 (09/13/2011) Industrial palm oil production is coming to Africa, its ancestral home. And like other places where expansion has occurred rapidly, the crop is spurring hope for economic development while generating controversy over its potential impacts. The world's most productive oil seed has been a boon to southeast Asian economies, but the looming arrival of industrial plantations in Africa is raising fears that some of the same detriments that have plagued leading producers Malaysia and Indonesia—deforestation, greenhouse gas emissions, biodiversity loss, conflicts with local people, social displacement, and poor working conditions—could befall one of the world's most destitute regions. While there is no question that oil palm is a highly lucrative crop that can contribute to economic development, there is also little doubt that conversion of native forests for plantations exacts a heavy toll on the environment. The apparent conflict seems to pit agroindustrial goliaths against greens, with communities falling somewhere in between. But Herakles, a New York-based investment firm planning to construct a 60,000-hectare plantation in the Central African country of Cameroon, says its approach will bridge this gap between economic development and the environment. Social and environmental campaigners are skeptical.


Indonesia to launch REDD+ agency to tackle deforestation

(09/13/2011) Indonesia will establish a REDD+ agency to support the country's efforts to reduce emissions from deforestation and forest degradation, according to a statement released by Indonesian President Susilo Bambang Yudhoyono's office.


Green Jobs? New program to compensate poor for environmental protection

(09/12/2011) Brazilian President Dilma Rousseff has introduced a new program, Bolsa Verde (Green Allowance), to compensate the poor for environmental protection, reports Globo News. Eighteen thousand families living in extreme poverty in the Brazilian Amazon are expected to benefit in the first stage of the program.


Deutsche Bank faces money-laundering investigation over dealings with Malaysian chief minister

(09/12/2011) Banking giant Deutsche Bank is under investigation by the German Federal Financial Supervisory Authority (BaFin) for its dealings with the family of Abdul Taib Mahmud, the chief minister of the Malaysian state of Sarawak, reports the Bruno Manser Fund, a group that campaigns on behalf of forest people in Borneo.


Northwest Passage open as sea ice falls to lowest cover ever recorded

(09/12/2011) Arctic sea ice cover fell to its lowest level on record, report researchers from the University of Bremen.


Conserving and Valuing Ecosystem Services and Biodiversity: Economic, Institutional and Social Challenges

(09/11/2011) Conserving and Valuing Ecosystem Services and Biodiversity: Economic, Institutional and Social Challenges provides a much needed survey reflecting upon recent institutional experience yielding analysis that concludes that there exists financially rigorous rationale to justify conservation of biodiversity for economic reasons, above and beyond the usual rationale of conservation only for biodiversity, spiritual or ethical reasons.


Featured video: the Caribbean's last mammals

(09/11/2011) Although they are little-known, the hutia and solenodon are some of the last surviving mammals of the Caribbean. A hefty rodent, the hutia spends its time grazing in trees like a giant arboreal hamster. While, the solenodon may be one of the world's oddest creatures: a 'living fossil', the solenodon's evolutionary origins goes back all the way to the time of dinosaurs.


Loving the tapir: pioneering conservation for South America's biggest animal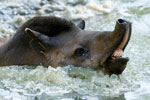 (09/11/2011) Compared to some of South America's megafauna stand-out species—the jaguar, the anaconda, and the harpy eagle come to mind—the tapir doesn't get a lot of love. This is a shame. For one thing, they're the largest terrestrial animal on the South American continent: pound-for-pound they beat both the jaguar and the llama. For another they play a very significant role in their ecosystem: they disperse seeds, modify habitats, and are periodic prey to big predators. For another, modern tapirs are some of the last survivors of a megafauna family that roamed much of the northern hemisphere, including North America, and only declined during the Pleistocene extinction. Finally, for anyone fortunate enough to have witnessed the often-shy tapir in the wild, one knows there is something mystical and ancient about these admittedly strange-looking beasts.


Animal picture of the day: red, white, and blue butterfly

(09/11/2011) The Malay Red Harlequin (Paralaxita damajanti) is a butterfly species found in the rainforests of peninsular Malaysia, Sumatra and Borneo.


Malaysian court blocks rainforest tribes' fight against mega-dam in Borneo

(09/09/2011) Indigenous tribes in Borneo suffered a stinging defeat Thursday after Sarawak's highest court ruled against them in 12-year-long legal battle. Tribal groups had challenged the Malaysian state government for seizing indigenous lands in order to build a massive hydroelectric power plant, dubbed the Bakun dam, but the three-person top court found unanimously against the tribes.


Another major elephant ivory bust in Malaysia

(09/09/2011) Customs authorities in Malaysia seized two containers full of 695 elephant tusks in the country's largest port, reports TRAFFIC, the wildlife trade monitoring network.


Children on the frontlines: the e-waste epidemic in Africa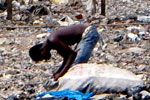 (09/09/2011) In Agbogbloshie, a slum outside the capital city of Accra, Ghana, tons of electronic waste lies smoldering in toxic piles. Children make their way through this dangerous environment, desperate to strip even a few ounces of copper, aluminum, brass, and zinc from worn-out electronics originating from the United States and Europe. "The smell alone will drive all but the most desperate away, but many are so desperate they persevere despite the obvious dangers. It is a very tough thing to witness," explains Dr. Kwei Quartey, a Ghanaian author and physician, in a recent mongabay.com interview.


Animal picture of the day: giraffe spots

(09/08/2011) A South African giraffe in Chobe National Park, Botswana. The world's tallest land animal, giraffes inhabit sub-Saharan Africa.



Page 1
|
Page 2
|
Page 3
|
Page 4
|
Page 5
|
Page 6
|
Page 7
|
Page 8
|
Page 9
|
Page 10
|
Page 11
|
Page 12
|
Page 13
|
Page 14
|
Page 15
|
Page 16
|
Page 17
|
Page 18
|
Page 19
|
Page 20
|
Page 21
|
Page 22
|
Page 23
|
Page 24
|
Page 25
|
Page 26
|
Page 27
|
Page 28
|
Page 29
|
Page 30
|
Page 31
|
Page 32
|
Page 33
|
Page 34
|
Page 35
|
Page 36
|
Page 37
|
Page 38
|
Page 39
|
Page 40
|
Page 41
|
Page 42
|
Page 43
|
Page 44
|
Page 45
|
Page 46
|
Page 47
|
Page 48
|
Page 49
|
Page 50
|
Page 51
|
Page 52
|
Page 53
|
Page 54
|
Page 55
|
Page 56
|
Page 57
|
Page 58
|
Page 59
|
Page 60
|
Page 61
|
Page 62
|
Page 63
|
Page 64
|
Page 65
|
Page 66
|
Page 67
|
Page 68
|
Page 69
|
Page 70
|
Page 71
|
Page 72
|
Page 73
|
Page 74
|
Page 75
|
Page 76
| Page 77 |
Page 78
|
Page 79
|
Page 80
|
Page 81
|
Page 82
|
Page 83
|
Page 84
|
Page 85
|
Page 86
|
Page 87
|
Page 88
|
Page 89
|
Page 90
|
Page 91
|
Page 92
|
Page 93
|
Page 94
|
Page 95
|
Page 96
|
Page 97
|
Page 98
|
Page 99
|
Page 100
|
Page 101
|
Page 102
|
Page 103
|
Page 104
|
Page 105
|
Page 106
|
Page 107
|
Page 108
|
Page 109
|
Page 110
|
Page 111
|
Page 112
|
Page 113
|
Page 114
|
Page 115
|
Page 116
|
Page 117
|
Page 118
|
Page 119
|
Page 120
|
Page 121
|
Page 122
|
Page 123
|
Page 124
|
Page 125
|
Page 126
|
Page 127
|
Page 128
|
Page 129
|
Page 130
|
Page 131
|
Page 132
|
Page 133
|
Page 134
|
Page 135
|
Page 136
|
Page 137
|
Page 138
|
Page 139
|
Page 140
|
Page 141
|
Page 142
|
Page 143
|
Page 144
|
Page 145
|
Page 146
|
Page 147
|
Page 148
|
Page 149
|
Page 150
|
Page 151
|
Page 152
|
Page 153
|
Page 154
|
Page 155
|
Page 156
|
Page 157
|
Page 158
|
Page 159
|
Page 160
|
Page 161
|
Page 162
|
Page 163
|
Page 164
|
Page 165
|
Page 166
|
Page 167
|
Page 168
|
Page 169
|
Page 170
|
Page 171
|
Page 172
|
Page 173
|
Page 174
|
Page 175
|
Page 176
|
Page 177
|
Page 178
|
Page 179
|
Page 180
|
Page 181
|
Page 182
|
Page 183
|
Page 184
|
Page 185
|
Page 186
|
Page 187
|
Page 188
|
Page 189
|
Page 190
|
Page 191
|
Page 192
|
Page 193
|
Page 194
|
Page 195
|
Page 196
|
Page 197
|
Page 198
|
Page 199
|
Page 200
|
Page 201
|
Page 202
|
Page 203
|
Page 204
|
Page 205