Conservation news
Founded in 1999, Mongabay is a leading provider of environmental science and conservation news.
Paradigm shift needed to avert global environmental collapse, according to author of new book The Blueprint: Averting Global Collapse
(01/10/2013) Global strategist, trained educator, and international lecturer Daniel Rirdan set out to create a plan addressing the future of our planet. His book The Blueprint: Averting Global Collapse, published this year, does just that. "It has been a sixty hour a week routine," Rirdan told mongabay.com in a recent interview. "Basically, I would wake up with the burden of the world on my shoulders and go to sleep with it. It went on like this for eighteen months." It becomes apparent when reading The Blueprint that it was indeed a monumental undertaking.


The genetically modified 'Frankenfish' salmon soon in a plate near you

(01/10/2013) The U.S. Food and Drug Administration (FDA) has partially approved the AquAdvantage Salmon, a genetically engineered salmon that grows twice as fast as normal. The FDA states that the GM salmon is "safe and unlikely to harm the health of the consumers or the environment".


Google invests $200m in west Texas wind farm

(01/09/2013) Google has made another big renewable energy investment, putting $200 million into a Texas wind farm, said the Internet search giant in a post on its official blog.


Biofuel boom could lead to life-threatening ozone pollution

(01/09/2013) Not long ago biofuels were seen as one of the major tools to combat climate change, but a large number of studies in recent years have shown that many first generation biofuels may have little climate benefit—and some are actually harmful—and are also linked to rising food prices. Now, a new study in Nature Climate Change warns that biofuels using fast-growing trees (polar, willow, and eucalytpus) could also exacerbate ground-level ozone pollution.


Australia reels from record heatwave, fires

(01/09/2013) Yesterday Australia recorded its highest average temperature yet: 40.33 degrees Celsius (104.59 Fahrenheit). The nation has been sweltering under an unprecedented summer heatwave that has spawned wildfires across the nation, including on the island of Tasmania where over 100 houses were engulfed over the weekend. Temperatures are finally falling slightly today, providing a short reprieve before they are expected to rise again this weekend.


New giant flying frog discovered near city of 9 million


(01/09/2013) Jodi Rowley is no stranger to discovering new amphibians—she's helped describe over 10 in her short career thus far—but still she was shocked to discover a new species of flying frog less than 100 kilometers from a major, bustling Southeast Asian metropolis, Ho Chi Minh City. Unfortunately, the new frog, dubbed Helen's tree frog (Rhacophorus helenae), may be on the verge of extinction, according to the description published in the Journal of Herpetology.


2012 was America's warmest year on record

(01/08/2013) 2012 was the warmest year on record for the contiguous U.S. according to the National Oceanic and Atmospheric Administration (NOAA).


Giant squid caught on video


(01/08/2013) Last summer, after 55 dives, three scientists in a submarine off the coast of Japan encountered an animal people have mythologized and feared for thousands of years: the giant squid. According to the researchers with Japan's National Science Museum they managed to capture the first footage ever (see below) of a giant squid in its natural habitat, although photos were also released in 2005 of a giant squid feeding.


Kenya suffers it worst elephant poaching incident yet

(01/08/2013) Over the weekend Kenya suffered its single worst elephant poaching incident when poachers killed an entire family of elephants. In all, eleven elephants were gunned down and had their tusks removed. Among the dead was a two-month-old calf. The elephants were killed in Tsavo East National Park.


From Intelligent to Smart Cities - a book review

(01/08/2013) From Intelligent to Smart Cities brings together recent and leading research on transitioning to smart cities from intelligent cities.


Environment ministry drops copper mine in Zambezi park

(01/07/2013) A proposed copper mine set to be built in Lower Zambezi National Park has been rejected by Zambia's environmental management agency. Australian company Zambezi Resources Ltd, a subsidiary of Proactive Investors, had scheduled the $494 million Kangaluwi Copper Project to begin production in 2015. But their proposal sparked an outcry from environmentalists and government lobbyists concerned about the effects of the open pit mine in the park. Though mining is not generally permitted in the park, Zambezi Resources obtained a Large-Scale Mining License from the government which would have allowed them to mine for 25 years right in the middle of Lower Zambezi National Park.


Botanists discover cave-dwelling plant


(01/07/2013) The South China Karst region resembles a lost world with its stone forests and towering limestone formations that look like petrified skyscrapers. Standing at the edge of one of the region's many vine-covered gorges, you could picture an apatosaurus lifting its head above the mist that blankets the gorge floor. Of course, that would be impossible, but what botanists recently found in the region was only slightly less surprising (to botanists). Near the back of a limestone cave, pink flowers bloomed on a newly discovered nettle that could survive on just a tiny fraction of the sunlight other plants receive. As Ian Malcolm in Jurassic Park said, "life will find a way."


Mercury hurts birds and people: what we can learn from studying our feathered friends


(01/07/2013) Birds aren't that different from people. We learn from our parents, just like zebra finches learn songs from their fathers. We are active and noisy during the day, like birds, and we can also be territorial. Also like birds, we try to attract mates through colorful displays and beautiful songs. Birds are sensitive to pollution in their environment just like we are: harmful elements such as mercury wreak similar havoc on human and bird biology alike. Because our species share so many attributes, studying birds illustrates the connections between them and us.


Picture gallery of the day: Day geckos

(01/07/2013) Day geckos are the jewels of the gecko family.


Between Two Worlds: Tears for the Unheeded Wisdom of Elders

(01/06/2013) It was September 1990 and I was flying, blissfully high on a sea of books, their rich smells, colors and textures heady like incense, in Blackwell's Bookshop on Broad Street, Oxford. I had been thrilled just to arrive in Oxford a week before, fresh from the forests of northeastern Tasmania. I had won a scholarship to study at the Oxford Forestry Institute and here I was, ready and eager but frustrated that the course didn't begin for another week. Grown from humble beginnings, Oxford was a whole new world to me, one of potential, of learning, history, of new experiences promised, new thinking to embrace.


Animals of the Masai Mara - book review

(01/06/2013) Animals of the Masai Mara is the first illustrated guidebook to the Masai Mara region along the Kenya and Tanzania border. This is the world famous region of wildebeest migrations, large felines, towering African elephants, fascinating cultures, and great flora and fauna diversity. This is the guidebook for every child, and child inside of us, between the ages of 5 and 105 that has ever dreamt of learning about the fascinating animals seen on a safari in Africa.


Photo: Bluefin tuna sells for record $1.76 million in Japan

(01/05/2013) A bluefin tuna sold for a record $1.76 million at an auction in Tokyo, Japan Saturday, reports the Associated Press.


Scientists work to discover watermelon's lost genetic diversity


(01/04/2013) A hard, white, and bitter watermelon has plant geneticists licking their lips with anticipation. The size of tennis balls, wild watermelons grow natively in southern and western Africa. Geneticists cracked open this small relative to the juicy, summertime treat to extract ancient genetic material. They are mining the fruit's DNA for useful traits such as disease resistance that cultivated, or domesticated, watermelons have lost.


An avalanche of decline: snow leopard populations are plummeting

(01/03/2013) The trading of big cat pelts is nothing new, but recent demand for snow leopard pelts and taxidermy mounts has added a new commodity to the illegal trade in wildlife products, according to the Environmental Investigation Agency (EIA). Traditionally, the market for large cat products has centered around tiger bones and parts for traditional Chinese medicine. Snow leopards (Uncia uncia), however, are a novel trend in the illegal wildlife trade arena and skins and taxidermy mounts are the most recent fad in luxury home décor.


Scientists: bizarre mammal could still roam Australia


(01/03/2013) The continent of Australia is home to a wide variety of wonderfully weird mammals—kangaroos, wombats, and koalas among many others. But the re-discovery of a specimen over a hundred years old raises new hopes that Australia could harbor another wonderful mammal. Examining museum specimens collected in western Australia in 1901, contemporary mammalogist Kristofer Helgen discovered a western long-beaked echidna (Zaglossus bruijnii). The surprise: long-beaked echidnas were supposed to have gone extinct in Australia thousands of years ago.


Mountain pine beetle threatening high-altitude, endangered trees

(01/02/2013) In the western U.S., few trees generally grow in higher altitudes than the whitebark pine (Pinus albicaulis). Providing shelter and food for bears, squirrels and birds, the whitebark pine ecosystems also help regulate water flow from snowmelt. But, according to a new study in the Proceedings of the National Academy of Sciences (PNAS), climate change has produced a novel threat for these high-altitude forests : mountain pine beetles (Dendroctonus ponderosae).


Fires burn over a third more land than estimated

(01/02/2013) Scientists currently detect fires around the world using moderate resolution satellite imagery, however a new study in the Journal of Geophysical Research finds that this tool misses many of the world's smaller fires, which add up.


Arctic oil rig runs aground

(01/02/2013) On Monday night, an oil drilling rig owned by Dutch Royal Shell ran aground on Sitkalidak Island in southern Alaska, prompting fears of an oil spill. As of yesterday no oil was seen leaking from the rig according to the Coast Guard, but efforts to secure the rig have floundered due to extreme weather. The rig, dubbed Kulluk, contains over 140,000 gallons of diesel fuel.


Solving complex problems through simple physics - book review

(01/02/2013) Guesstimation 2.0 Solving Today's Problems on the Back of a Napkin succeeds where most popular science literature so often fails. This is because it provides its readers with a scientific tool they can use immediately in their everyday lives.


Scientists nearly double the number of biogeographic realms


(01/02/2013) In 1876, British biologist Alfred Russell Wallace published a map of the world that outlined how related animals were spread over the Earth. For example, Wallace was the first to publicize that North American biodiversity was substantially different from South America, and that an invisible line separated Southeast Asian biodiversity from that of Australia, New Guinea, and nearby islands. With Wallace's research came the founding of biogeography, or the study of species in relation to geography. Today, scientists with the University of Copenhagen have updated Wallace's map—nearly doubling the number of biogeographic realms—with support from data on over 21,000 species.


Biochar: a brief history and developing future

(01/02/2013) Biochar - charcoal produced from pyrolysis of biomass - has received tremendous attention and support in recent years, and championed as one of the potentially most useful techniques for soil restoration and carbon sequestration in the modern era. Although a multitude of initiatives in biochar research and application have sprung into action many critical details remain uncertain.


This is a test of the system

(01/01/2013) The fossil fuel divestment campaign won a major victory today.


Most popular environmental news articles of 2012

(01/01/2013) The most popular environmental news article on mongabay.com during 2012 was a post about the so-called "penis snake" discovered in a Brazilian river. The article, which explained that the creature was actually an amphibian and that its habitat was being destroyed by a hydroelectric dam, was viewed 238,000 times.


This is a test


(01/01/2013) Part of it was environmental education at a young age. The other part was going to Punjab when I was young and seeing, basically, the trees didn't look like the trees I saw growing up in the United States. The land really looked like it was stripped of a lot of its natural beauty. There weren't birds. A lot of the wildlife described in the Guru Granth Sahib [Sikh scriptures] isn't there anymore. Something had really been taken, something had been removed from this land that I felt was such a piece of what [the land] was — in my own understanding, through my family's knowledge, through the Guru Granth Sahib. That's when I really started to think, this is the issue I want to work on for the rest of my life.


The year in rainforests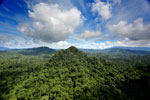 (12/31/2012) 2012 was another year of mixed news for the world's tropical forests. This is a look at some of the most significant tropical rainforest-related news stories for 2012. There were many other important stories in 2012 and some were undoubtedly overlooked in this review. If you feel there's something we missed, please feel free to highlight it in the comments section. Also please note that this post focuses only on tropical forests.


Becky Tarbotton, head of the Rainforest Action Network, dies in accident in Mexico


(12/28/2012) Rebecca Tarbotton, the executive director of the Rainforest Action Network (RAN) died Wednesday. She was 39. Tarbotton died in rough surf off a beach in Puerto Vallarta, Mexico where she was vacationing with her husband and friends. Tarbotton was born in Vancouver, British Columbia on July, 30, 1973. She assumed the leadership role of the activist group in August 2010 after three years with the organization.


Photos: the top new species discoveries in 2012


(12/26/2012) Thousands of species were described for the first time by scientists in 2012. Some of these were 'cryptic species' that were identified after genetic analysis distinguished them from closely related species, while others were totally novel. Either way, here are some of the "new species" highlights from 2012.


Paper giant breaks pledge to end rainforest logging in Sumatra, says group


(12/26/2012) Pulp and paper giant Asia Pacific Resources International Limited (APRIL) continues to destroy large areas of rainforests and peatlands despite a commitment to end natural forest logging by 2009, says a new report issued by a coalition of Indonesian environmental groups. The Eyes on the Forest report finds that APRIL and its suppliers cleared at least 140,000 hectares (346,000 acres) of natural forest between 2008 and 2011 in Riau, accounting for 27 percent of all forest loss in the province during the period. Some of the area cleared by APRIL and its subsidiaries consisted of deep peat swamp forest, which stores massive amount of carbon.


Making the connection: environmentalism as a family value


(12/26/2012) Passing values from one generation to the next is a central theme for most families. For career conservationists, Chip and Jill Isenhart, passing along a passion for the environment to their children took more than just lectures, and their efforts offer insights into furthering the cause of global environmental education.


Pictures: Christmas-colored animals

(12/25/2012) There are a surprising number of Christmas-colored animals. Below is a small set of red-and-green creatures photographed by Rhett A. Butler during his reporting travels.


Amazon rainforest failing to recover after droughts

(12/24/2012) The impact of a major drought in the Amazon rainforest in 2005 persisted far longer than previously believed, raising questions about the world's largest tropical forest to cope with the expected impacts of climate change, reports a new study published in the journal Proceedings of the National Academy of Sciences.


Amazon deforestation obliterates soil biodiversity, with wider ecological implications

(12/24/2012) Deforestation in the Amazon leads to a substantial loss in microbial biodiversity potentially reducing the ecological resilience of affected areas, report researchers writing in the Proceedings of the National Academy of Sciences.


Our favorite nature photos of 2012


(12/24/2012) In the course of reporting for Mongabay.com, I spent time in several countries in 2012, including Indonesia, Brazil, Madagascar, and Malaysia, among others. The following are some of my favorite nature pictures I took in the field. Overall I added more than 20,000 images to the site in 2012. For more, check out travel.mongabay.com, which now has nearly 100,000 captioned photos.


Norway to send Guyana $45m for maintaining low deforestation rate

(12/24/2012) Norway will pay Guyana $45 million for maintaining its low deforestation rate under a climate partnership between the two countries.


Photo: New spider species named after Obama

(12/24/2012) One of 33 newly described species of trapdoor spiders is named after President Barack Obama, reports Wired.


Temperature in West Antarctica rising twice as fast as previously thought, finds study

(12/23/2012) The West Antarctic Ice Sheet is warming twice as fast as previously believed, spurring new concerns about broader melting in Antarctica and associated sea level rise, according to a new study published in the journal Nature Geoscience.


Ivory smuggling surged in 2011

(12/23/2012) Ivory smuggling surged in 2011, reaching its highest levels in nearly 20 years, says a new report released by the Convention on International Trade in Endangered Species of Wild Fauna and Flora (CITES).


Mystery surrounds disappearance of prominent environmental activist in Laos

(12/23/2012) Questions surrounding the disappearance of 60-year-old Sombath Somphone deepened after the government of Laos denied kidnapping and holding the prominent social activist, reports the Associated Press.


Photos: one of the world's rarest turtles hatches at the Bronx Zoo

(12/21/2012) Turtle conservationists received some good news this week when five critically endangered Chinese yellow-headed box turtles hatched at Wildlife Conservation Society's Bronx Zoo.


Lessons From Sandy: extreme weather will be the new normal

(12/21/2012) In a recent forum held at the Harvard School of Public Health four expert panelists discussed the most important lessons learned from Hurricane Sandy.


Obama triples area of protected California coastline

(12/20/2012) Today President Obama announced the government would add almost 3,000 square miles of California coastline to the National Marine Sanctuary system, roughly tripling its size, reports the Sierra Club.


RSPO rules against palm oil company in controversial deforestation case

(12/20/2012) The body that sets social and environmental criteria for greener palm oil production has taken action against a palm oil accused of clearing community forest in Indonesian Borneo, reports the Environmental Investigation Agency (EIA).


DR Congo gets first validated and verified REDD+ project

(12/20/2012) The Democratic Republic of the Congo (DRC) has its first Reducing Emissions from Deforestation and Degradation (REDD+) project validated and verified under the Verified Carbon Standard (VCS).


Brazil launches forest trading system

(12/19/2012) Brazil has launched a new platform that enables farmers and ranchers who have cleared forest beyond the legal minimum to come into compliance by purchasing forest 'quotas' from landowners who have more than the mandated level of forest cover, reports the Associated Press. The system could spur increased compliance with the country's Forest Code, according to some experts.


Photos: 3 colorful lizard species discovered in Australia

(12/19/2012) Researchers in Australia have described three new lizard species from the northwestern part of the continent.



Page 1
|
Page 2
|
Page 3
|
Page 4
|
Page 5
|
Page 6
|
Page 7
|
Page 8
|
Page 9
|
Page 10
|
Page 11
|
Page 12
|
Page 13
|
Page 14
|
Page 15
|
Page 16
|
Page 17
|
Page 18
|
Page 19
|
Page 20
|
Page 21
|
Page 22
|
Page 23
|
Page 24
|
Page 25
|
Page 26
|
Page 27
|
Page 28
|
Page 29
|
Page 30
|
Page 31
|
Page 32
|
Page 33
|
Page 34
|
Page 35
|
Page 36
|
Page 37
|
Page 38
|
Page 39
|
Page 40
|
Page 41
|
Page 42
|
Page 43
|
Page 44
|
Page 45
|
Page 46
|
Page 47
|
Page 48
|
Page 49
|
Page 50
|
Page 51
|
Page 52
|
Page 53
|
Page 54
|
Page 55
|
Page 56
|
Page 57
|
Page 58
|
Page 59
| Page 60 |
Page 61
|
Page 62
|
Page 63
|
Page 64
|
Page 65
|
Page 66
|
Page 67
|
Page 68
|
Page 69
|
Page 70
|
Page 71
|
Page 72
|
Page 73
|
Page 74
|
Page 75
|
Page 76
|
Page 77
|
Page 78
|
Page 79
|
Page 80
|
Page 81
|
Page 82
|
Page 83
|
Page 84
|
Page 85
|
Page 86
|
Page 87
|
Page 88
|
Page 89
|
Page 90
|
Page 91
|
Page 92
|
Page 93
|
Page 94
|
Page 95
|
Page 96
|
Page 97
|
Page 98
|
Page 99
|
Page 100
|
Page 101
|
Page 102
|
Page 103
|
Page 104
|
Page 105
|
Page 106
|
Page 107
|
Page 108
|
Page 109
|
Page 110
|
Page 111
|
Page 112
|
Page 113
|
Page 114
|
Page 115
|
Page 116
|
Page 117
|
Page 118
|
Page 119
|
Page 120
|
Page 121
|
Page 122
|
Page 123
|
Page 124
|
Page 125
|
Page 126
|
Page 127
|
Page 128
|
Page 129
|
Page 130
|
Page 131
|
Page 132
|
Page 133
|
Page 134
|
Page 135
|
Page 136
|
Page 137
|
Page 138
|
Page 139
|
Page 140
|
Page 141
|
Page 142
|
Page 143
|
Page 144
|
Page 145
|
Page 146
|
Page 147
|
Page 148
|
Page 149
|
Page 150
|
Page 151
|
Page 152
|
Page 153
|
Page 154
|
Page 155
|
Page 156
|
Page 157
|
Page 158
|
Page 159
|
Page 160
|
Page 161
|
Page 162
|
Page 163
|
Page 164
|
Page 165
|
Page 166
|
Page 167
|
Page 168
|
Page 169
|
Page 170
|
Page 171
|
Page 172
|
Page 173
|
Page 174
|
Page 175
|
Page 176
|
Page 177
|
Page 178
|
Page 179
|
Page 180
|
Page 181
|
Page 182
|
Page 183
|
Page 184
|
Page 185
|
Page 186
|
Page 187
|
Page 188
|
Page 189
|
Page 190
|
Page 191
|
Page 192
|
Page 193
|
Page 194
|
Page 195
|
Page 196
|
Page 197
|
Page 198
|
Page 199
|
Page 200
|
Page 201
|
Page 202
|
Page 203
|
Page 204
|
Page 205
|
Page 206
|
Page 207
|
Page 208
|
Page 209
|
Page 210
|
Page 211
|
Page 212
|
Page 213
|
Page 214
|
Page 215
|
Page 216
|
Page 217
|
Page 218
|
Page 219