Conservation news
Founded in 1999, Mongabay is a leading provider of environmental science and conservation news.
Road rage: scientists denounce $60 trillion infrastructure expansion
(03/14/2015) Last November, at the annual G-20 summit - for the 20 wealthiest of the world's nations - in Brisbane, Australia, a staggering commitment was made to invest $60 to $70 trillion worldwide in new infrastructure over the next 15 years. This is akin to doubling the current value of all global infrastructure put together.


Brazil confirms rising deforestation in the Amazon


(03/14/2015) The Brazilian government has officially confirmed that deforestation in the Amazon is pacing sharply higher than a year ago. Figures released last week by the National Institute for Space Research (INPE) shows that forest clearing detected by DETER — a short term deforestation monitoring system based on coarse satellite imagery — is 63 percent higher for the twelve months ended January 31, 2015 relative to the year earlier period.


Proposed law could decimate Indonesia's remaining forests

(03/14/2015) A seemingly well-intended law that aims to turn forests over to traditional users could instead lead to large-scale destruction of Indonesia's native ecosystems, warns a prominent conservation biologist.


Scientists warn of global warming threat to temperate rainforests


(03/13/2015) In a new study published recently in Earth Systems and Environmental Sciences, researchers warn that temperate rainforests may be in for big changes in the face of global warming, and they recommend reducing greenhouse gas emissions before it's too late.


Scientists warn G20 that $60 trillion infrastructure plan is "doubling down on a dangerous vision"


(03/13/2015) If there's one thing most governments and even political parties appear to agree on it's a desire for more infrastructure, i.e. more roads, dams, bridges, power plants, airports and seaports, sewers, pipelines, and telecommunication systems. At the most recent G20 meeting in Brisbane, the world's biggest economies agreed on the need for more infrastructure around the globe, including a plan to boost infrastructure spending by trillions of dollars by 2030 and setting up a so-called Global Infrastructure Hub.


Indigenous leaders present plan to gov't for Suriname's largest official protected area


(03/13/2015) Indigenous leaders from southern Suriname took the first steps toward creating the South American country's largest recognized protected area with a declaration to parliament on March 5.


New wormy amphibians discovered in Southeast Asia


(03/13/2015) Worms come in all different sizes, shapes, textures, colors, and flavors. Some attack human digestive systems, some surface after a rainstorm, and some come in plastic wrappers, covered in sour sugar, at the local grocery store. Despite their similar features and anatomies, many of the real worms (not the sugar kind) demonstrate convergent evolution, meaning they are not related but have independently evolved similar features.


Newly discovered Brazilian bird may number fewer than 10 individuals


(03/12/2015) In October 2002, a team of ornithologists at Murici in northeastern Brazil observed and recorded the call of a bird. At that time, the team believed they had chanced upon a rare bird previously described by other researchers as the Alagaos foliage-gleaner (Philydor novasei).


Even cockroaches have personalities


(03/12/2015) When I was ten, I acquired my first dog. Rani was a Doberman Pinscher—tall, lean, and a huge pushover. She was wonderfully friendly, but sadly misunderstood her whole life, regularly frightening all except those who knew her intimately. There were two innocuous reasons for this—both of which reveal the power of emotions shared across species.


New report: commercial agricultural expansion fueling illegal logging and land conflicts in Myanmar


(03/12/2015) The Myanmar government has been allocating land for large-scale private agricultural businesses in the country's biodiversity-rich forests at an alarming rate, according to a new report released by Forest Trends, a Washington-based non-profit organization. And these concessions may be fueling illegal timber harvests and intensifying land conflicts, the report alleges.


Conservationists announce program to protect East Africa's largest elephant population


(03/12/2015) The Wildlife Conservation Society (WCS) and the Tanzanian government have launched an ambitious new initiative to protect East Africa's largest population of elephants (Loxodonta Africana). With funds from USAID, the plan aims to reduce poaching and protect biodiversity - including the area's 25,000 elephants- across an 115,000 square kilometer ecosystem.


Meet Biomuseo: the world's first biodiversity museum


(03/12/2015) Biomuseo, designed by internationally renowned architect, Frank Gehry, is the first museum in the world dedicated to biodiversity. Opened in October 2014, the museum is located at the end of the Amador Causeway in Panama City, facing the Pacific Ocean at the entrance of the Panama Canal.


Local land rights may be in danger from push for palm oil in Liberia


(03/12/2015) The rights of local and indigenous peoples aren't being adequately protected in the drive for economic development, according to a report published in February by the Rights and Resources Initiative (RRI), a coalition of forest-oriented organizations. For a place like Liberia, reeling from both decades of persistent poverty and the recent Ebola epidemic, economic development seems critical at just about any cost.


Study finds soil releases carbon for decades after forests are felled


(03/11/2015) According to a study by researchers with Dartmouth College, the carbon stored in mineral soils, which lie underneath the organic soil layer, is released for decades after a forest is cut down. This may have serious implications for how carbon emissions from deforestation are accounted for.


New study argues the Anthropocene began in 1610


(03/11/2015) In 1610, William Shakespeare began penning one of his greatest plays, The Tempest, which some critics view as a commentary on European colonization of far-away islands and continents. Along those lines, a study today in Nature argues that 1610 is the first year of the human-dominated epoch, known as the Anthropocene, due to the upheavals caused by the 'discovery' of the New World.


UN report warns of grave consequences if mangroves not protected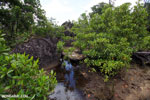 (03/11/2015) According to the United Nations Environment Program (UNEP), global destruction of mangrove forests impacts biodiversity, food security, and the lives and livelihoods of some of the most marginalized communities in the world. Mangroves, which are forests of salt-tolerant trees and shrubs that lie along coastlines in the tropics and subtropics, are also invaluable carbon sinks. And we're not doing nearly enough to protect them, says a recent report.


Hunters and birdwatchers make good conservationists in the U.S.

(03/11/2015) What do hunters and birdwatchers have in common? Both groups are much more likely to support conservation than the average rural American, according to new research published in the Journal of Wildlife Management.


River flooding to affect 40M people annually by 2030

(03/11/2015) 20.7 million people are affected by river flooding each year, and the number is expected to more than double by 2030 as population growth, urban expansion, and climate change will increasingly put people at risk.


Citizen scientists help demystify Serengeti's wildlife with photos


(03/10/2015) Africa's Serengeti conjures up romantic images of millions of migrating wildebeest and zebras, prides of lions feasting on their prey, and hyenas prowling in the background. But not everyone is fortunate to see them up close. Snapshot Serengeti, a citizen science project, is changing that. It lets anyone, with or without a background in science or ecology, become a part of Africa's wilderness from their homes.


Tiger family photo surprises scientists


(03/10/2015) In a frigid Russian forest, a camera trap snapped 21 family photos over two minutes. This wasn't a usual family, though, this was a tiger family, more specifically an Amur tiger family. And this wasn't even a usual tiger family: the cameras showed a dad leading the way.


Endangered forests shrink as demand for soy rises


(03/10/2015) As battles over labeling genetically modified foods or displaying calorific breakdowns per serving rage on, it appears that a possibly more significant battle is in its infancy - where do all the ingredients on the package actually come from?


Palm oil giant buys PNG firm noted for environmental practices

(03/10/2015) Malaysian palm oil giant Sime Darby Plantation Bhd has completed its acquisition New Britain Palm Oil Ltd, a Papua New Guinea-based grower lauded by environmentalists for its green policies.


APP to end relationship with security contractor over villager's killing

(03/10/2015) Asia Pulp & Paper's supplier Wirakarya Sakti Sakti (WKS) will end its relationship with a security contractor implicated in the killing of a villager in Jambi, says the Indonesian forestry giant.


Vicious circle: scientists warn peat fires, global warming may intensify each other


(03/10/2015) A new study published recently in Nature Geoscience warns of the consequences of increased smoldering fires as peatlands are drained to make land for agriculture, or dry up due to climate change.


Photo essay: filming in the remote Amazon


(03/09/2015) You wake up at 4:30 AM, a little before the first rays of tropical sun begin to dance behind the treetops. You put on your wet clothes from the previous day, pack your bag, and pick up your tripod. The jungle is shrouded in a thick mist from the previous nights rain. As you walk, you recognize many of the strange calls that echo between the trees.


Human impacts are 'decoupling' coral reef ecosystems


(03/09/2015) There is a growing consensus among scientists that we have entered the age of the Anthropocene, or the epoch of humans. In other words, at some point between the 12,000 years separating the beginning of agriculture and the Industrial Revolution, humans became the dominant source of change on the planet, shaping everything from the land to the atmosphere to even the geologic record where we etch our reign.


Newly described monkey species found in threatened Amazon forest


(03/06/2015) In 2011, Julio César Dalponte noticed a peculiar looking titi monkey on the bank of the Roosevelt River in Mato Grasso, Brazil. Titi monkeys, genus Callicebus, are common throughout South America, but this one had a flaming orange tail, light gray forehead stripe and ochre sideburns, which didn't match any known titi species.


New bird species confirmed in Sulawesi 15 years after first sighting


(03/06/2015) Although it's a hotspot of avian biodiversity, the Indonesian island of Sulawesi has been "poorly studied ornithologically," according to a study published in the scientific journal PloS one. Case in point: the subject of the study, a new species of flycatcher first observed in 1997 but not formally described by scientists until November 2014.


East Kalimantan reaffirms moratorium on new mining, logging concessions

(03/06/2015) The governor of East Kalimantan, Indonesia, has reaffirmed his commitment to a 2013 moratorium on mining, logging, and plantation permits. The policy, which was originally outlined in a letter to the province's regents and mayors will be elevated to a higher status, he said.


Firewood fervor may turn Zimbabwe into an 'outright desert'


(03/05/2015) In developing countries like Zimbabwe and in much of the rest of sub-Saharan Africa, fuelwood is a major source of energy for cooking and heating for people who can't afford electricity. A 2014 study published in Resources and Environment highlights the severity of this issue in Zimbabwe.


Palm oil certification body purges membership


(03/05/2015) The Roundtable on Sustainable Palm Oil (RSPO) has purged membership of a number of companies and organizations that have failed to comply with reporting requirements. The move could be a sign that the certification body is getting more serious about enforcing its standards, says WWF, one of the founders of the initiative.


Somali charcoal: funding terrorism through deforestation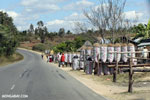 (03/05/2015) Militant terrorist group Al-Shabaab funds itself, in part, through the illegal production and sale of charcoal, turning Somalia's trees into "black gold." Because areas of the country controlled by the group aren't accessible to researchers, it's difficult to determine just how many trees are cut down to fuel Al-Shabaab's violent agenda.


With new policy, 3M drops controversial forestry certification label

(03/05/2015) 3M has announced a new sustainability policy that will reduce the impact of its fiber-sourcing practices on forests and wildlife.


Humans cause erosion one hundred times faster than normal


(03/05/2015) Experts have long linked deforestation and intensive farming to worsening erosion rates around the world. Although studied extensively, determining erosion rates due to human-induced activities has rarely been quantified by scientists. However, new research conducted by geologists finds that erosion rates in the southeastern United States increased one hundred times after the arrival of European colonists in the 1700s due to tree clearing and unsustainable agriculture practices.


Bushmeat's dual role: threatened species face off against nutrition and culture


(03/05/2015) Deforestation, habitat destruction, climate change, and other man-made forces are threatening species around the world. But, often overlooked, overhunting is a rising peril to many animals. On the other hand, bushmeat hunting also helps provide vital protein in rural tropical regions and is an important cultural rite for many indigenous tribes. Thus, there is a dual challenge of maintaining food security for forest-dependent populations and ensuring wildlife conservation.


Indonesian fisheries ministry imposes new limits on gear and fish harvests


(03/04/2015) The Indonesian fisheries ministry has introduced two divisive pieces of legislation aimed at increasing the sustainability of Indonesia's depleted ocean fisheries. Permen KP 1/2015 imposes size limits on wild-caught lobsters and crab, and forbids catching egg-bearing crustaceans. Permen KP 2/2015 bans trawl and seine fisheries. Fishermen last Thursday demonstrated outside the Ministry to protest the damage this will cause to their livelihoods.


Madagascar's frog haven: rich, underexplored, threatened


(03/04/2015) Madagascar is a treasure trove of frogs. Located off the east coast of Africa, this large island nation has more than 500 species of frogs, many of which are found nowhere else in the world. Much of Madagascar's rich biodiversity remains understudied. As researchers comb through the country's forests, they continue to discover previously undescribed species of frogs, adding to Madagascar's amphibian diversity.


Last ditch: Mexico finally gets serious about saving the vaquita


(03/04/2015) There are likely less than 100 vaquita on the planet. Found only in the northern pocket of the Sea of Cortez in Mexico, the vaquita is a tiny, shy porpoise that has been brought to the very edge of extinction due to drowning in gillnets used for shrimping. But after years of stalling, Mexico now appears to be making a final effort to save the world's most endangered cetacean.


Researchers, locals work together to save Ethiopia's 'church forests'


(03/03/2015) Presenting a workshop on ecosystem services to a roomful of priests in Ethiopia may seem like an unlikely scenario for a conservation biologist to end up in, but for Meg Lowman, it's an essential part of spreading her passion for bottom-up conservation. "Canopy Meg," as she's fondly referred to by her colleagues, believes in the power of local communities to be part of the solution, often in ways that are more effective than researchers can make alone.


Colombia proposes protected corridor across South America


(03/03/2015) Colombian President Juan Manuel Santos has announced plans to create the world's largest protected area, stretching from the Atlantic Ocean to the Andes Mountains. Santos plans to propose the protected environmental corridor during the UN climate talks in Paris later this year as a means to combat global warming.


Employing shame for environmental change


(03/03/2015) Anyone who has ever felt the sting of shame, knows its power. Shame has long been used by societal institutions—families, communities, governments, religions—for making individuals tow the line of the majority. But a new book explores another—arguably more positive—side of shame: its potential to challenge rule-breaking and ethically-defunct corporations.


Police investigate villager's murder in pulp and paper concession


(03/02/2015) Indonesian police are investigating the brutal killing of a villager in Jambi at the hands of security guards contracted by Wira Karya Sakti (WKS), a plantation company owned by forestry giant Asia Pulp & Paper (APP). APP quickly condemned the murder and said it is cooperating with the investigation.


How the Sahara keeps the Amazon rainforest going


(03/02/2015) Scientists have just uncovered an incredible link between the world's largest desert (the Sahara) and its largest rainforest (the Amazon). New research published in Geophysical Research Letters theorizes that the Sahara Desert replenishes phosphorus in the Amazon rainforest via vast plumes of desert dust blowing over the Atlantic Ocean.


Giant panda population rises by nearly 17 percent


(03/02/2015) One of the most iconic animals on the planet got good news this week. The world's giant panda population has risen by 268 individuals over the last decade, hitting a total of 1,864 animals, according to China's fourth decadal survey. This represents a total rise of 16.8 percent.


Weak sustainability policy presents financial risk for Malaysian palm oil giant, says report

(02/27/2015) Malaysian palm oil producer Kuala Lumpur Kepong's failure to adopt a robust zero deforestation policy puts its financial performance at risk, asserts a new analysis published by Chain Reaction Research, a project involving several environmental consultancies.


Biofuels are bad news for forests, climate, food security, says report


(02/27/2015) A new report from the World Resources Institute finds that dedicating land to the production of biofuels, a form of renewable energy made from plants, may undermine efforts to achieve a sustainable food future, combat climate change, and protect forests.


Reports slam Malaysian timber companies, urge reforms in forest management


(02/27/2015) Two international NGOs have called out Malaysia in recent months over the country's widespread illegal logging. Malaysia has been accused of not doing enough to protect its diminishing forests and thwart the illicit timber trade, particularly in Sarawak, the site of the country's worst deforestation. Lax oversight, endemic corruption and limited transparency have allowed for Malaysia's forests to be plundered by both the government and the private sector.


Researchers propose improvements for Peru's protected areas


(02/26/2015) In a study published recently in PLOS ONE, researchers examined Peru's network of protected areas. They found that many of these don't exist in the areas most important for preserving the country's biodiversity and addressing its threats, and suggest alternatives to make the system more effective.


China bans carved ivory imports

(02/26/2015) China has established a one-year ban on imports of carved African elephant ivory.


Jokowi's environmental commitments in Indonesia


(02/26/2015) Last fall Indonesia elected its first president with no ties to the established political order or the military. Joko Widodo's election was widely heralded by reformers who hoped the politician's capable management in his stints as mayor of the town of Solo and metropolis of Jakarta could transform Indonesia's chronically underperforming bureaucracy, potentially ushering in a new era of improved human rights, better environmental stewardship, reduced corruption, and healthier economic growth.



Page 1
|
Page 2
|
Page 3
|
Page 4
|
Page 5
| Page 6 |
Page 7
|
Page 8
|
Page 9
|
Page 10
|
Page 11
|
Page 12
|
Page 13
|
Page 14
|
Page 15
|
Page 16
|
Page 17
|
Page 18
|
Page 19
|
Page 20
|
Page 21
|
Page 22
|
Page 23
|
Page 24
|
Page 25
|
Page 26
|
Page 27
|
Page 28
|
Page 29
|
Page 30
|
Page 31
|
Page 32
|
Page 33
|
Page 34
|
Page 35
|
Page 36
|
Page 37
|
Page 38
|
Page 39
|
Page 40
|
Page 41
|
Page 42
|
Page 43
|
Page 44
|
Page 45
|
Page 46
|
Page 47
|
Page 48
|
Page 49
|
Page 50
|
Page 51
|
Page 52
|
Page 53
|
Page 54
|
Page 55
|
Page 56
|
Page 57
|
Page 58
|
Page 59
|
Page 60
|
Page 61
|
Page 62
|
Page 63
|
Page 64
|
Page 65
|
Page 66
|
Page 67
|
Page 68
|
Page 69
|
Page 70
|
Page 71
|
Page 72
|
Page 73
|
Page 74
|
Page 75
|
Page 76
|
Page 77
|
Page 78
|
Page 79
|
Page 80
|
Page 81
|
Page 82
|
Page 83
|
Page 84
|
Page 85
|
Page 86
|
Page 87
|
Page 88
|
Page 89
|
Page 90
|
Page 91
|
Page 92
|
Page 93
|
Page 94
|
Page 95
|
Page 96
|
Page 97
|
Page 98
|
Page 99
|
Page 100
|
Page 101
|
Page 102
|
Page 103
|
Page 104
|
Page 105
|
Page 106
|
Page 107
|
Page 108
|
Page 109
|
Page 110
|
Page 111
|
Page 112
|
Page 113
|
Page 114
|
Page 115
|
Page 116
|
Page 117
|
Page 118
|
Page 119
|
Page 120
|
Page 121
|
Page 122
|
Page 123
|
Page 124
|
Page 125
|
Page 126
|
Page 127
|
Page 128
|
Page 129
|
Page 130
|
Page 131
|
Page 132
|
Page 133
|
Page 134
|
Page 135
|
Page 136
|
Page 137
|
Page 138
|
Page 139
|
Page 140
|
Page 141
|
Page 142
|
Page 143
|
Page 144
|
Page 145
|
Page 146
|
Page 147
|
Page 148
|
Page 149
|
Page 150
|
Page 151
|
Page 152
|
Page 153
|
Page 154
|
Page 155
|
Page 156
|
Page 157
|
Page 158
|
Page 159
|
Page 160
|
Page 161
|
Page 162
|
Page 163
|
Page 164
|
Page 165
|
Page 166
|
Page 167
|
Page 168
|
Page 169
|
Page 170
|
Page 171
|
Page 172
|
Page 173
|
Page 174
|
Page 175
|
Page 176
|
Page 177
|
Page 178
|
Page 179
|
Page 180
|
Page 181
|
Page 182
|
Page 183
|
Page 184
|
Page 185
|
Page 186
|
Page 187
|
Page 188
|
Page 189
|
Page 190
|
Page 191
|
Page 192
|
Page 193
|
Page 194
|
Page 195
|
Page 196
|
Page 197
|
Page 198
|
Page 199
|
Page 200
|
Page 201
|
Page 202
|
Page 203
|
Page 204
|
Page 205
|
Page 206
|
Page 207
|
Page 208
|
Page 209
|
Page 210
|
Page 211
|
Page 212
|
Page 213
|
Page 214
|
Page 215
|
Page 216
|
Page 217