Conservation news
Founded in 1999, Mongabay is a leading provider of environmental science and conservation news.
Frequent understory fires change rainforest community composition

(04/24/2013) Frequent understory fires change the composition of rainforest plant communities, potentially altering the capacity of forests to regenerate, finds a study published in special issue of the journal Philosophical Transactions of the Royal Society B.


China 'looting' Africa of its fish

(04/24/2013) Just 9% of the millions of tonnes of fish caught by China's giant fishing fleet in African and other international waters is officially reported to the UN, say researchers using a new way to estimate the size and value of catches. Fisheries experts have long considered that the catches reported by China to the UN's Food and Agriculture Organization (UNFAO) are low but the scale of the possible deception shocked the authors.


Burned rainforest vulnerable to grass invasion

(04/24/2013) Rainforests that have been affected by even low-intensity fires are far more vulnerable to invasion by grasses, finds a new study published in special issue of the journal Philosophical Transactions of the Royal Society B. The findings are significant because they suggest that burned forests may be more susceptible to subsequent fires which may burn more intensely due to increased fuel loads.


Clownfish helps its anemone host to breathe


(04/24/2013) The sight of a clownfish wriggling through the stinging tentacles of its anemone is a familiar and seemingly well-understood one to most people—the stinging anemone provides a protective home for the clownfish who is immune to such stings, and in turn the clownfish chases away any polyp-eating sunfish eyeing the anemone's tentacles for a meal. But recent research has shown that all that clownfish wriggling significantly helps to oxygenate the anemone at night, when oxygen levels in the water are low.


Featured video: time to meet The Lonely Dodo


(04/24/2013) A new short animation (see below) highlights the plight of today's most endangered species by focusing on one which is already extinct: the dodo. The animation, produced by Academy award-winning studio Aardman, introduces the world to the last, and very lonely, dodo. The short was created for conservation organization, the Durrell Wildlife Conservation Trust, which is striving to save a number of species from the dodo's fate.


Brazil's success in reducing deforestation will be hard to replicate

(04/23/2013) The sharp reduction in deforestation in the Brazilian state of Mato Grosso since the mid-2000s will be difficult to replicate in other tropical countries where commodity production is a major driver in forest loss, argues a new study published in a special issue of the journal Philosophical Transactions of the Royal Society B.


RSPO failing to meet sustainability objectives for palm oil production, says WWF

(04/23/2013) An initiative that aims to improve the social and environmental performance of palm oil production is faltering in its mission by failing to establish strong performance standards on greenhouse gas emissions and pesticide use, argues a new statement issued by WWF, the initiative's biggest green supporter.


The river of plenty: uncovering the secrets of the amazing Mekong


(04/23/2013) Home to giant catfish and stingrays, feeding over 60 million people, and with the largest abundance of freshwater fish in the world, the Mekong River, and its numerous tributaries, brings food, culture, and life to much of Southeast Asia. Despite this, little is known about the biodiversity and ecosystems of the Mekong, which is second only to the Amazon in terms of freshwater biodiversity. Meanwhile, the river is facing an existential crisis in the form of 77 proposed dams, while population growth, pollution, and development further imperil this understudied, but vast, ecosystem.


Featured video: Earth Day message from indigenous tribes in the Peruvian Amazon

(04/23/2013) A new video by Alianza Arkana includes an Earth Day message from the indigenous peoples in the Peruvian Amazon who are facing the existential threats of logging and fossil fuel development on their traditional lands.


Malaysia may be home to more Asian tapirs than previously thought (photos)


(04/23/2013) You can't mistake an Asian tapir for anything else: for one thing, it's the only tapir on the continent; for another, it's distinct black-and-white blocky markings distinguishes it from any other tapir (or large mammal) on Earth. But still little is known about the Asian tapir (Tapirus indicus), including the number surviving. However, researchers in Malaysia are working to change that: a new study for the first time estimates population density for the neglected megafauna, while another predicts where populations may still be hiding in peninsular Malaysia, including selectively-logged areas.


Cobra bust in Vietnam

(04/23/2013) Authorities in Vietnam arrested a man who they say was transporting 53 king cobras — a protected snake species — in his car, reports the Associated Press.


Low carbon prices may spur deforestation

(04/23/2013) Low carbon prices may spur deforestation in New Zealand according to a survey by a researcher at Canterbury University.


Letting nature do the talking this Earth Day (pictures)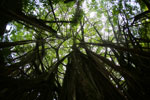 (04/22/2013) Instead of writing a special article for this Earth Day, we are instead letting nature's beauty do the talking. The photos below were taken by the Mongabay.com team — Rhett Butler, Jeremy Hance, and Tiffany Roufs — in the twelve months since Earth Day 2012. Countries in this set include the United States (California and Hawaii), Dominican Republic, Brazil, Malaysia (Sabah), and Indonesia (Kalimantan and Sumatra).


Rhino horn madness: over two rhinos killed a day in South Africa

(04/22/2013) Rhino poachers have killed 232 rhinos during 2013 so far in South Africa, reports Annamiticus, which averages out to 2.1 a day. The country has become a flashpoint for rhino poaching as it holds more rhinos than any other country on Earth. Rhinos are being slaughter for their horns, which are believed to be a curative in Chinese traditional medicine, although there is no evidence this is so.


Two new frog genera discovered in India's Western Ghats, but restricted to threatened swamp-ecosystems


(04/22/2013) The misty mountains of the Western Ghats seem to unravel new secrets the more you explore it. Researchers have discovered two new frog genera, possibly restricted to rare and threatened freshwater swamps in the southern Western Ghats of India. The discoveries, described in the open-access journal Zootaxa, prove once again the importance of the mountain range as a biodiversity hotspot.


The Crossley ID Guide: Raptors - book review

(04/22/2013) Richard Crossley, Jerry Liguori, and Brian Sullivan have produced a unique and much needed bird book in The Crossley ID Guide: Raptors. The Crossley ID Guide: Raptors is a book you study at home so you can easily recognize North American raptors.


'Carbon bubble' could cause next global financial crisis

(04/22/2013) The world could be heading for a major economic crisis as stock markets inflate an investment bubble in fossil fuels to the tune of trillions of dollars, according to leading economists. "The financial crisis has shown what happens when risks accumulate unnoticed," said Lord (Nicholas) Stern, a professor at the London School of Economics. He said the risk was "very big indeed" and that almost all investors and regulators were failing to address it.


Despite unseasonable cold in EU and U.S., March was tenth warmest on record

(04/22/2013) While the month of March saw colder-than-average temperatures across a wide-swath of the northern hemisphere—including the U.S., southern Canada, Europe, and northern Asia—globally, it was the tenth warmest March on record in the last 134 years, putting it in the top 7 percent.


A new tool against illegal logging: tree DNA technology goes mainstream


(04/22/2013) Modern DNA technology offers a unique opportunity: you could pinpoint the origin of your table at home and track down if the trees it was made from were illegally obtained. Each wooden piece of furniture comes with a hidden natural barcode that can tell its story from a sapling in a forest all the way to your living room.


Last 30 years were the warmest in the last 1,400 years

(04/21/2013) From 1971 to 2000, the world's land areas were the warmest they have been in at least 1,400 years, according to a new study in Nature Geoscience. The massive new study, involving 80 researchers from around the world with the Past Global Changes (PAGES) group, is the first to look at continental temperature changes over two thousand years, providing insights into regional climatic changes from the Roman Empire to the modern day. According to the data, Earth's land masses were generally cooling until anthropogenic climate change reversed the long-term pattern in the late-19th Century.


Indonesian palm oil industry would support land swaps to protect forest, while expanding production


(04/19/2013) Indonesian palm oil companies would support land swaps as a means to reduce carbon emissions from deforestation while simultaneously expanding production, representatives from the country's largest association of palm oil producers told mongabay.com in an interview last month.


To win concessions in Aceh, mining company hires official being investigated for graft


(04/18/2013) A Toronto Stock Exchange-listed mining company has hired an official being investigated for corruption under its effort to convince the Aceh provincial government to re-zone protected forest areas for a gold mine on Indonesia's Sumatra island, according to an alliance of Indonesian environmentalists. The official, former Golkar Deputy Chairman Fadel Muhammad, has been retained by East Asia Minerals to help it win a carve-out for its Miwah project, a 30,000-hectare concession atop a forested mountain in Aceh.


Bison return to Germany after 300 year absence

(04/18/2013) Earlier this month, officials took down a fence allowing the first herd of European bison (Bison bonasus) to enter the forests freely in Germany in over 300 years, reports Wildlife Extra. The small herd, consisting of just eight animals (one male, five females and two calves) will now be allowed to roam unhindered in the Rothaar Mountains as their ancestors did long ago.


Unidentified toxin caused the deaths of Borneo elephants

(04/18/2013) After three months, officials still don't know for certain what killed at least 14 Bornean elephants (Elephas maximus borneensis) in the Malaysian state of Sabah. However tests do indicate that the herd perished from a "caustic intoxicant," possibly ingested accidentally or just as easily intentionally poisoned. A distinct subspecies, Bornean elephants are the world's smallest with a population that has fallen to around 2,000 on the island.


Up for grabs: how foreign investments are redistributing land and water across the globe


(04/18/2013) In 2007, the increased human population, increased prices in fuel and transportation costs, and an increased demand for a diversity of food products prompted a Global Food Crisis. Agricultural producers and government leaders world-wide struggled to procure stable food sources for their countries. But the crisis had impacts beyond 2007: it was also the impetus for what we now know as the global land-grabbing phenomenon.


Lions for sale: big game hunting combines with lion bone trade to threaten endangered cats


(04/18/2013) Koos Hermanus would rather not give names to the lions he breeds. So here, behind a 2.4-meter high electric fence, is 1R, a three-and-a-half-year-old male, who consumes 5kg of meat a day and weighs almost 200kg. It will only leave its enclosure once it has been "booked"' by a hunter, most of whom are from the United States. At that point the big cat will be set loose in the wild for the first time in its life, 96 hours before the hunt begins. It usually takes about four days to track down the prey, with the trophy hunter following its trail on foot, accompanied by big-game professionals including Hermanus. He currently has 14 lions at his property near Groot Marico, about two and a half hours by road west of Johannesburg.


Brazil threatens $282m in fines for beef linked to Amazon deforestation

(04/17/2013) Federal prosecutors in Brazil are threatening to fine 26 beef producers $282 million for buying cattle raised in illegally deforested areas and on Indian reservations, reports Reuters.


Madagascar swamped by locust invasion

(04/17/2013) More than 60 percent of Madagascar is suffering from a massive locust infestation that is threatening crops and livestock, potentially increasing risks to native wildlife and forests from hungry farmers, warns the U.N. Food and Agriculture Organization (FAO).


Judge halts military-backed dam assessment in Brazil's Amazon

(04/17/2013) A federal court in Brazil has suspended the use of military and police personnel during technical research on the controversial São Luíz do Tapajós Dam in the Brazilian Amazon. The military and police were brought in to stamp down protests from indigenous people living along the Tapajós River, but the judge decreed that impacted indigenous groups must give free, prior, and informed consent (FPIC) before any furter studies can be done on the proposed dam. However, the decision is expected to be appealed.


Featured video: local communities successfully conserve forests in Ethiopia

(04/17/2013) A participatory forest management (PFM) program in Ethiopia has made good on forest preservation and expansion, according a recent article and video interview (below) from the Guardian. After 15 years, the program has aided one community in expanding its forest by 9.2 percent in the last decade, while still allowing community access to forest for smallscale logging in Ethiopia's Bale Mountains.


At top of the world, activists say exploiting Arctic is 'utter madness'

(04/17/2013) Four young explorers including American actor Ezra Miller have planted a flag on the seabed at the north pole and demanded the region is declared a global sanctuary. The expedition, organized by Greenpeace, saw the flag lowered in a time capsule that contained the signatures of nearly 3 million people who are calling for a ban on exploitation in the region.


Conservation policies that boost farm yields may ultimately undermine forest protection, argues study

(04/17/2013) Rising agricultural profitability due to higher prices, improved crop productivity, and forest conservation itself could make it increasingly difficult for conservation programs tied to payments for ecosystem services to succeed, warns a study published this week in the journal Proceedings of the National Academy of Sciences.


Mining company working with Indonesian govt to strip forest of protected status


(04/16/2013) A Toronto-listed mining company says it is working closely with the Indonesian government to strip the protected status of some 1.2 million hectares of forest on the island of Sumatra. In a statement issued Tuesday, East Asia Minerals Corporation (TSX:EAS) claimed it is actively involved in the process of devising a new spatial plan for Aceh province, Sumatra's western-most province. The proposed changes to the spatial plan, which governs land use in the province, would re-zone large areas of protected forest in Aceh for industrial activities.


Civet poop coffee may be threatening wild species


(04/16/2013) Popularization of the world's strangest coffee may be imperiling a a suite of small mammals in Indonesia, according to a new study in Small Carnivore Conservation. The coffee, known as kopi luwak (kopi for coffee and luwak for the civet), is made from whole coffee beans that have passed through the guts of the animal and out the other side. The coffee is apparently noted for its distinct taste, though some have argued it is little more than novelty.


Illegal logging threatens lowland forests in Indonesian national park


(04/16/2013) Illegal logging in the heart of Indonesia's Gunung Palung National Park may be putting one of the country's last remaining lowland forests at risk. The park, located in Indonesia's West Kalimantan province on the island of Borneo, is home to a number of endangered species including hornbills and gibbons, as well as around 2,500 orangutans, and is the site of a research station that has been collecting data on the forest for more than 20 years.


Yangtze porpoise down to 1,000 animals as world's most degraded river may soon claim another extinction


(04/16/2013) A survey late last year found that the Yangtze finless porpoise (Neophocaena asiaeorientalis asiaeorientalis) population has been cut in half in just six years. During a 44-day survey, experts estimated 1,000 river porpoises inhabited the river and adjoining lakes, down from around 2,000 in 2006. The ecology of China's Yangtze River has been decimated the Three Gorges Dam, ship traffic, pollution, electrofishing, and overfishing, making it arguably the world's most degraded major river. These environmental tolls have already led to the likely extinction of the Yangtze river dolphin (Lipotes vexillifer), or baiji, and possibly the Chinese paddlefish (Psephurus gladius), which is one of the world's longest freshwater fish.


Iraqi who is bringing back the Garden of Eden wins top environment award


(04/16/2013) The vast Mesoptomian marshes in southern Iraq were said to be the site of the original Garden of Eden. On their fringes have risen and fallen 12,000 years of Sumerian, Assyrian, Chaldean, Persian and Arab civilizations. Organized farming is thought to have begun here, as did the first cities and writing. In legend, Gilgamesh fell asleep on the water side and let slip from his fingers the plant of eternal youth. Abraham was said to have been born here and explorers like Sir Wilfred Thesiger made their name here.


Double bad: Chinese vessel that collided with protected coral reef holding 22,000 pounds of pangolin meat

(04/15/2013) What do you do when you're smuggling 22,000 pounds of an endangered species on your boat? Answer: crash into a protected coral reef in the Philippines. Last Monday a Chinese vessel slammed into a coral reef in the Tubbataha National Marine Park; on Saturday the Filipino coastguard discovered 400 boxes of pangolin meat while inspecting the ship. Pangolins, which are scaly insect-eating mammals, have been decimated by the illegal wildlife trade as their scales are prized in Chinese Traditional Medicine and their meat is considered a delicacy.


Future generations to pay for our mistakes: biodiversity loss doesn't appear for decades

(04/15/2013) The biodiversity of Europe today is largely linked to environmental conditions decades ago, according to a new large-scale study in the Proceedings of the National Academy of Sciences (PNAS). Looking at various social and economic conditions from the last hundred years, scientists found that today's European species were closely aligned to environmental impacts on the continent from 1900 and 1950 instead of more recent times. The findings imply that scientists may be underestimating the total decline in global biodiversity, while future generations will inherit a natural world of our making.


Anti-mining activist from Indonesia wins top green honor


(04/15/2013) Aleta Baun, an activist who led a movement to block a destructive mine in a remote part of Indonesia, was today awarded the prestigious Goldman Prize, the top honor for green campaigners. Aleta is an indigenous Mollo from Timor, an island in Eastern Indonesia. Raised among small farmers, Aleta's activism emerged as a response to marble mining in the mountains above her community's fields. Deforestation and mining by the companies resulted in landslides, soil erosion, and water pollution.


How many animals do we need to keep extinction at bay?

(04/15/2013) How many animal individuals are needed to ensure a species isn't doomed to extinction even with our best conservation efforts? While no one knows exactly, scientists have created complex models to attempt an answer. They call this important threshold the "minimum viable population" and have spilled plenty of ink trying to decipher estimates, many of which fall in the thousands. However, a new study in Conservation Biology shows that some long-lived animals may not need so many individuals to retain a stable population.


Breaking the mold: Divya Karnad takes on fisheries and science journalism in India


(04/15/2013) Fishing is not a woman's domain in most countries across the globe. In parts of India there are fishing communities who believe that having a woman onboard a fishing boat brings bad luck. Despite this, Divya Karnad, a scientist who studies marine life in India, has spent several years studying fisheries and their impact on species like sharks and sea turtles. Her work forms a part of global efforts to track declining marine species and encourage more sustainable fishing.


New insect discovered in Brazil, only third known in its bizarre family (photos)


(04/15/2013) A new species of forcepfly named Austromerope brasiliensis, was recently discovered in Brazil and described in the open access journal Zoo Keys. This is the first discovery of forcepfly in the Neotropics and only the third known worldwide. The forcepfly, often called the earwigfly because the male genital forceps closely resemble the cerci of the common earwig, remains a scientific enigma due to the lack of information on the family.


Market figures out that geckos don't cure AIDS, but killing continues

(04/12/2013) Millions of tokay geckos continue to be traded for traditional medicine, despite waning belief that the colorful lizards are a cure for AIDS, reports a new study from TRAFFIC.


Will Indonesia renew its moratorium on new forest conversion licenses?

(04/12/2013) Indonesia's forestry minister has again said that the country will extend its two-year moratorium on primary forest and peatland conversion, which is set to expire next month.


South African reserve poisons rhinos' horns to deter poaching

(04/11/2013) A game reserve in South Africa has taken the radical step of poisoning rhino horns so that people risk becoming 'seriously ill' if they consume them.


Mad Max sequel runs over sensitive desert ecosystem in Namibia


(04/11/2013) The Namib is the oldest desert on Earth, composed of gravel plains and dune fields that have been intact for circa 40 million years. It forms a thin strip along the coast of southwestern Africa running for approximately 2000 km from Namibia into Angola. Its unique assemblage of flora and fauna are specialised for desert life and include one of the longest lived organisms on the planet, a plant named Welwitschia mirabilis.


Fighting deforestation—and corruption—in Indonesia


(04/11/2013) The basic premise of the Reducing Emissions from Deforestation and Degradation (REDD+) program seems simple: rich nations pay tropical countries for preserving their forests. Yet the program has made relatively limited progress on the ground since 2007, when the concept got tentative go-ahead during U.N. climate talks in Bali. The reasons for the stagnation are myriad, but despite the simplicity of the idea, implementing REDD+ is extraordinarily complex. Still the last few years have provided lessons for new pilot projects by testing what does and doesn't work. Today a number of countries have REDD+ projects, some of which are even generating carbon credits in voluntary markets. By supporting credibly certified projects, companies and individuals can claim to "offset" their emissions by keeping forests standing. However one of the countries expected to benefit most from REDD+ has been largely on the sidelines. Indonesia's REDD+ program has been held up by numerous factors, but perhaps the biggest challenge for REDD+ in Indonesia is corruption.


New species tree-dwelling porcupine discovered in critically threatened Brazilian habitat

(04/11/2013) Scientists in Brazil have described a new species of tree-dwelling porcupine in the country's most endangered ecosystems. The description is published in last week's issue of Zootaxa.


Saviors or villains: controversy erupts as New Zealand plans to drop poison over Critically Endangered frog habitat


(04/10/2013) New Zealand's Department of Conservation (DOC) is facing a backlash over plans to aerially drop a controversial poison, known as 1080, over the habitat of two endangered, prehistoric, and truly bizarre frog species, Archey's and Hochsetter's frogs, on Mount Moehau. Used in New Zealand to kill populations of invasive mammals, such as rats and the Australian long-tailed possum, 1080 has become an increasingly emotive issue in New Zealand, not just splitting the government and environmentalists, but environmental groups among themselves. Critics allege that the poison, for which there is no antidote, decimates local animals as well as invasives, while proponents say the drops are the best way to control invasive mammals that kill endangered species like birds and frogs and may spread bovine tuberculosis (TB).



Page 1
|
Page 2
|
Page 3
|
Page 4
|
Page 5
|
Page 6
|
Page 7
|
Page 8
|
Page 9
|
Page 10
|
Page 11
|
Page 12
|
Page 13
|
Page 14
|
Page 15
|
Page 16
|
Page 17
|
Page 18
|
Page 19
|
Page 20
|
Page 21
|
Page 22
|
Page 23
|
Page 24
|
Page 25
|
Page 26
|
Page 27
|
Page 28
|
Page 29
|
Page 30
|
Page 31
|
Page 32
|
Page 33
|
Page 34
|
Page 35
|
Page 36
|
Page 37
|
Page 38
|
Page 39
|
Page 40
|
Page 41
|
Page 42
|
Page 43
|
Page 44
|
Page 45
|
Page 46
|
Page 47
|
Page 48
| Page 49 |
Page 50
|
Page 51
|
Page 52
|
Page 53
|
Page 54
|
Page 55
|
Page 56
|
Page 57
|
Page 58
|
Page 59
|
Page 60
|
Page 61
|
Page 62
|
Page 63
|
Page 64
|
Page 65
|
Page 66
|
Page 67
|
Page 68
|
Page 69
|
Page 70
|
Page 71
|
Page 72
|
Page 73
|
Page 74
|
Page 75
|
Page 76
|
Page 77
|
Page 78
|
Page 79
|
Page 80
|
Page 81
|
Page 82
|
Page 83
|
Page 84
|
Page 85
|
Page 86
|
Page 87
|
Page 88
|
Page 89
|
Page 90
|
Page 91
|
Page 92
|
Page 93
|
Page 94
|
Page 95
|
Page 96
|
Page 97
|
Page 98
|
Page 99
|
Page 100
|
Page 101
|
Page 102
|
Page 103
|
Page 104
|
Page 105
|
Page 106
|
Page 107
|
Page 108
|
Page 109
|
Page 110
|
Page 111
|
Page 112
|
Page 113
|
Page 114
|
Page 115
|
Page 116
|
Page 117
|
Page 118
|
Page 119
|
Page 120
|
Page 121
|
Page 122
|
Page 123
|
Page 124
|
Page 125
|
Page 126
|
Page 127
|
Page 128
|
Page 129
|
Page 130
|
Page 131
|
Page 132
|
Page 133
|
Page 134
|
Page 135
|
Page 136
|
Page 137
|
Page 138
|
Page 139
|
Page 140
|
Page 141
|
Page 142
|
Page 143
|
Page 144
|
Page 145
|
Page 146
|
Page 147
|
Page 148
|
Page 149
|
Page 150
|
Page 151
|
Page 152
|
Page 153
|
Page 154
|
Page 155
|
Page 156
|
Page 157
|
Page 158
|
Page 159
|
Page 160
|
Page 161
|
Page 162
|
Page 163
|
Page 164
|
Page 165
|
Page 166
|
Page 167
|
Page 168
|
Page 169
|
Page 170
|
Page 171
|
Page 172
|
Page 173
|
Page 174
|
Page 175
|
Page 176
|
Page 177
|
Page 178
|
Page 179
|
Page 180
|
Page 181
|
Page 182
|
Page 183
|
Page 184
|
Page 185
|
Page 186
|
Page 187
|
Page 188
|
Page 189
|
Page 190
|
Page 191
|
Page 192
|
Page 193
|
Page 194
|
Page 195
|
Page 196
|
Page 197
|
Page 198
|
Page 199
|
Page 200
|
Page 201
|
Page 202
|
Page 203
|
Page 204
|
Page 205
|
Page 206
|
Page 207
|
Page 208
|
Page 209
|
Page 210
|
Page 211
|
Page 212
|
Page 213
|
Page 214
|
Page 215
|
Page 216