Conservation news
Founded in 1999, Mongabay is a leading provider of environmental science and conservation news.
Amid price cuts, companies struggle to make bottled-water profitable

(08/31/2009) Bottled-water makers have cut prices to win back consumers who have switched to tap water as a way to save money and reduce waste, reports the Wall Street Journal.


Photos: snow leopard in Afghanistan



(08/31/2009) Using camera traps, the Wildlife Conservation Society (WCS) has captured the elusive and rare snow leopard on film in Afghanistan for a second time. The feline was caught on film in the Sast Valley in Afghanistan's Wakhan Corridor. The snow leopard is currently listed as Endangered by the IUCN. The cat is also listed as protected under Afghanistan's new endangered species list, which outlaws hunting it. The IUCN estimates that only 100-200 snow leopards still survive in Afghanistan.


Oil spill off Australia potential 'disaster' for marine wildlife

(08/30/2009) Oil is leaking from an offshore drilling rig in the Timor Sea near Australia's Northwest coast. Authorities say it will be weeks before the leak is plugged: they are awaiting the arrival of a drilling rig from Singapore to plug the leak.


Mining and biodiversity offsets in Madagascar: Conservation or 'Conservation Opportunities?'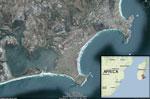 (08/30/2009) Rio Tinto's ilmenite mine in southeastern Madagascar is among the largest on the planet. At peak capacity, its owners say, it could produce as much as 2 million tons of the stuff—worth roughly $100 a ton—each year, to be shipped off and smelted abroad. What's left of it after refining—some 60 percent of the ore that arrives from Madagascar—will be sold for $2000 a ton as titanium dioxide, a pigment used in everything from white paint and tennis court lines to sunscreen and toothpaste. At current levels of demand, the Fort Dauphin mine will provide 9 percent of the world supply over the next 40 years, amounting to more than $60 billion of titanium dioxide. Even that is a conservative estimate: demand for ilmenite has been growing at 3-5 percent annually, with major mines slated to close in coming years and few untapped sources known worldwide.


New Amazonian reserve saves over a million acres in Peru


(08/30/2009) On August 27th Peru's Ministry of the Environment approved the creation of the Matses National Reserve to protect the region's biodiversity, ensure its natural resources, and preserve the home of the Matses indigenous peoples (known as the Mayorunas in Brazil). The park is 1,039,390 acres (or 420,626 hectares) of lowland Amazonian rainforest in eastern Peru. The park is the culmination of over a decade of work by the local non-profit CEDIA (the Center for the Development of the Indigenous Amazonians) funded in part by the Worldland Trust.


World's rarest duck flies closer to extinction's edge

(08/27/2009) The Madagascar pochard, the world's rarest duck, was already thought to be extinct once. After a last sighting in 1991 the species was thought to have vanished until nine adults and four hatchlings were discovered in 2006. However, conservationists have begun to fear that the species will never recover after a survey this year found only six females.


Retailers Costco and Amazon.com flunk sustainable paper use, WalMart and Target fare little better

(08/27/2009) Every year forests are destroyed for the production of paper: habitat is lost, greenhouse gases are released, species are impacted, and fresh water sources damaged. Some companies have begun to move towards more sustainable paper production, seeking paper sources stamped by the Forest Stewardship Council (FSC) and increasing the use of recycled paper, however other companies in the industry have yet to change their way. The 3rd annual report card conducted by Dogwood Alliance and Forest Ethics focuses both on the companies who continue to make progress toward sustainable paper production—and those who don't.


Cost of climate change adaptation to be 2-3 times higher than current estimates

(08/27/2009) The cost of adapting to climate change will be significantly higher than estimated by the UN Framework Convention on Climate Change (UNFCCC) warns a new report published by the International Institute for Environment and Development and the Grantham Institute for Climate Change at Imperial College London.


The mysterious, fascinating, and lightning-quick mantis shrimp: An Interview with Maya deVries



(08/26/2009) If you have never heard of the mantis shrimp, don't feel bad. Berkeley graduate student Maya deVries, who is becoming an expert on these small crustaceans (related neither to shrimp or preying mantis) admits that until she began her graduate studies mantis shrimp were also unknown to her: "I did not even learn what a mantis shrimp was until I applied to work with my current Ph.D. advisor, Dr. Sheila Patek, at UC Berkeley". But Maya's first look at the mantis shrimp on her advisor's website left an impression: "I was struck by the amazing capacity of mantis shrimp to capture fish and smash shells with only a few powerful blows, something a fish could only dream of doing."


The Pope: "creation is under threat"

(08/26/2009) Pope Benedict XVI spoke today on environmental issues, singling out the importance of a September U.N. summit in New York to work on negotiations for an international framework to tackle climate change, preparing for the U.N. Conference on Climate Change in Copenhagen in December.


Trees sprout across farmland worldwide

(08/26/2009) Half the planet's farmed landscapes have significant tree cover, reports a new satellite-based study. The research, conducted by the Consultative Group on International Agricultural Research's World Agroforestry Centre found that tree cover exceeds 10 percent on more than 1 billion hectares of farmland, indicating that agroforestry is a "vital part" of worldwide agricultural production. 320 million hectares of forested agricultural land are found in Latin America, 190 million hectares in sub-Saharan Africa and 130 million hectares in Southeast Asia.


Snails learn from fear

(08/26/2009) We all know that frightening experiences give us powerful memories. Now, researchers at the University of Calgary have demonstrated that an invertebrate is also capable of learning from fear. They published their findings in The Journal of Experimental Biology earlier this month.


Start your engines with watermelon juice

(08/25/2009) Rejected watermelons that are currently plowed back into the field due to blemishes or misshapenness—and therefore deemed unsalable—could be used to drive your car. Results published in the open access journal Biotechnology for Biofuels show that the juice from these culled watermelons can either be efficiently turned into ethanol or used as a diluent for other biofuel crops.


World's largest bat threatened with extinction due to legal hunting


(08/25/2009) Under the current legal hunting rate scientists predict that the world's largest bat, the aptly-named large flying fox or Pteropus vampyrus, faces extinction in six to 81 years. Increasing the urgency to save the large flying fox is the vital role it plays as an ecosystem engineer (a species whose behavior can shape an ecosystem); the species maintains Southeast Asian forests by dispersing a wide variety of seeds over distances farther than most birds and other mammals.


Tiger brutally killed in zoo, body parts taken to sell for Chinese medicine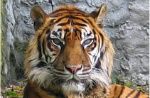 (08/25/2009) Poachers broke into the Jambi Zoo on Saturday morning in Indonesia. Using meat they drugged a female Sumatran tiger named Sheila and then skinned her in the cage. They left behind very little of the great cat: just her intestines and a few ribs. Authorities suspect that the tiger's body parts will be sold in the thriving black market for Chinese medicines where bones are used as pain killers and aphrodisiacs.


Solar powered conservation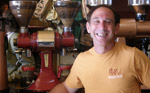 (08/25/2009) Electricity can be a difficult commodity to procure in the remote areas where conservationists often work. Typically field researchers and wildlife rangers rely on gas-powered generators, which require imported fuel, often produce noxious fumes and disruptive noise, and can be costly to maintain. A better option, especially in sun-drenched parts of the world, is solar. Clean and silent, with no need for supplemental fuel, solar seems like an ideal fit for conservation work except for one major drawback: cost. But Stephen Gold – Solar and Technology Manager for Wildlife Conservation Network has been working to overcome that obstacle.


Militarization of scientific research could spawn deadlier weapons

(08/24/2009) The prestigious international science journal Nature recently exposed the issue of the militarization of scientific research. While research into chemical and biological compounds and weapons has been supported by many governments for decades, advances in modern technology could lead to weapons with much greater potential for harm.


Unique acacia tree could play vital role in turning around Africa's food crisis

(08/24/2009) Scientists have discovered that an acacia tree, long used by farmers in parts of Africa, could dramatically raise food yields in Africa. The acacia tree Faidherbia albida, also known as Mgunga in Swahili, possesses the unique ability to provide much-needed nitrogen to soil.


20,000 orangutans killed or poached in 10 years without a single prosecution

(08/24/2009) At least 20,000 orangutans have been killed or captured for the illegal pet trade in the past ten years in Indonesia without a single prosecution, according to a report published by Nature Alert and the Centre for Orangutan Protection, groups that campaign on behalf of orangutans.


Conservation group calls on birders to look for extinct species

(08/24/2009) The conservation group, Birdlife International, has called on birders around the world to keep an eye out for birds classified--some over a centruy ago--as extinct.


A new effort to save global biodiversity? Just ask E.O. Wilson

(08/24/2009) In a short interview with New Scientist, world renowned entomologist, conservationist, and author, E.O. Wilson speaks about his latest idea to save the world's biodiversity.


Gold mining threatens world's most infamous reptile, the Komodo dragon


(08/24/2009) A row has taken off in Indonesia over whether or not to allow gold mining near Komodo National Park, home to the infamous, venomous, and largest of all lizards, the Komodo dragon. Eight mines have currently been proposed, several have already begun exploratory work. Critics of the gold mines contend that the mining threatens the ecology of the park and the Komodo dragon, listed as Vulnerable by the IUCN.


World's rarest camel survived nuclear tests but today threatened by hunger for its meat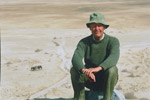 (08/24/2009) Camels are among the most recognizable animals on the planet, yet few realize that wild populations are at a high risk of extinction. Of the world's two camel species, the Dromedary camel, characterized by a single hump, has already gone extinct in the wild. The second species, the two-humped Bactrian camel, was on a similar trajectory until very recently, but still less than 1,000 of the world's 1.4 million Bactrians are wild. The abundance of domesticated Bactrian camels relative to wild camels doesn't address the question of whether it matters if another species of camels goes extinct. John Hare, founder and director of the Wild Camel Protection Foundation, argues that it does. Hare says the world will be a poorer place if wild Bactrian camels are allowed to follow their cousins into the sunset.


Environmental disappointments under Obama

(08/24/2009) While the President has been bogged down for the last couple months in an increasingly histrionic health-care debate-which has devolved so far into ridiculousness that one doesn't know whether to laugh or cry-environmental decisions, mostly from the President's appointees have still been coming fast and furious. However, while the administration started out pouring sunshine on the environment (after years of obfuscated drudgery under the Bush administration), they soon began to move away from truly progressive decisions on the environment and into the recognizable territory of playing it safe-and sometimes even stupid.


Little hydroelectric dams become all the rage, but do they harm the environment?

(08/23/2009) Looking for a way to create energy that doesn't contribute to climate change and avoid the usual opposition that comes with building large hydroelectric dams, many energy companies are now pursuing constructing small hydroelectric dams in the wilderness, reports the Wall Street Journal.


New Zealand dairy industry contributing to rainforest destruction, says Greenpeace

(08/22/2009) Fonterra, the world's largest dairy exporter is contributing to destruction of rainforests in Southeast Asia through its consumption of palm kernel as animal feed, alleges Greenpeace.


Destruction worsens in Madagascar

(08/20/2009) Armed bands are decimating rainforest reserves in northeastern Madagascar, killing lemurs and intimidating conservation workers, despite widespread condemnation by international environmental groups.


Plastic Vortexes Leaching Chemicals into World's Oceans

(08/20/2009) While scientists have acknowledged the existence of billions of pounds of plastic containers, Styrofoam, and similar waste have created massive oceanic trash vortexes (floating islands of garbage), little is known of the effects of the dissolution of these materials into the water.


Lion population in Kenya could disappear in 10 to 20 years

(08/20/2009) The Kenyan Wildlife Service recently announced that massive declines in lion population may lead to their disappearence from the region within less than 2 decades. Kenya currently has an estimated 2000 lions, but is losing the large cats at a rate of around 100 each year.


Hardly indestructible, plastics begin decomposing in ocean within a year, spreading harmful chemicals

(08/20/2009) Scientists had assumed that plastics were basically indestructible. While floating plastic in the ocean was dangerous to particular species of marine life which consumed them or got snared by them, the scientists thought that the threat didn't extend beyond this. However, a new study shows that plastic in the ocean may be quite insidious. Researchers found that so-called indestructible plastics actually decompose in the ocean, releasing potentially toxic substances throughout the seas.


No escape from mercury for US fish

(08/20/2009) Between 1998 and 2005, the US Geological Survey conducted tests on fish from 291 rivers and streams across the United States for mercury. Not one fish had escaped mercury contamination. One-quarter of the fish tested contained levels of mercury higher than those deemed safe for humans, and over two-thirds of the fish tested had mercury levels that exceeding those that safe for fish-eating mammals according the Environmental Protection Agency.


Newly discovered deep sea worms throw bioluminescent 'bombs'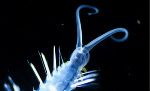 (08/20/2009) Researchers from Scripps Institution of Oceanography at UC San Diego have announced in Science the discovery of seven new species of deep sea worms, five of which drop orb-like parts of their body which cause a brilliant green display of bioluminescence. For this reason researchers have nicknamed them the 'green bombers'. The worms are not just new species, but a clade of animals entirely unknown to science until now.


Rehabilitation not enough to solve orangutan crisis in Indonesia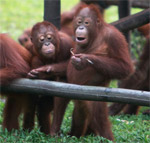 (08/20/2009) A baby orangutan ambles across the grass at the Borneo Orangutan Survival Foundation's Nyaru Menteng rehabilitation center in Central Kalimantan, in the heart of Indonesian Borneo. The ape pauses, picks up a stick and makes his way over to a plastic log, lined with small holes. Breaking the stick in two, he pokes one end into a hole in an effort to extract honey that has been deposited by a conservation worker. His expression shows the tool's use has been fruitful. But he is not alone. To his right another orangutan has turned half a coconut shell into a helmet, two others wrestle on the lawn, and another youngster scales a papaya tree. There are dozens of orangutans, all of which are about the same age. Just outside the compound, dozens of younger orangutans are getting climbing lessons from the Borneo Orangutan Survival Foundation (BOS) staff, while still younger orangutans are being fed milk from bottles in a nearby nursery. Still more orangutans—teenagers and adults—can be found on "Orangutan Island" beyond the center's main grounds. Meanwhile several recently wild orangutans sit in cages. This is a waiting game. BOS hopes to eventually release all of these orangutans back into their natural habitat—the majestic rainforests and swampy peatlands of Central Kalimantan, on the island of Borneo. But for many, this is a fate that may never be realized.


Appalling photos reveal lemur carnage in Madagascar [warning: graphic images]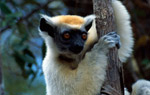 (08/20/2009) New pictures released by Conservation International depict a troubling development in Madagascar: the emergence of a commercial bushmeat market for lemurs. In the aftermath of a March coup that saw Madagascar's president replaced at gunpoint by the capital city's mayor, Madagascar's reserves — especially in the northern part of the country — were ravaged by illegal loggers. Armed bands, financed by foreign timber traders, went into Marojejy and Masoala national parks, harvesting valuable hardwoods including rosewood and ebonies. Without support from the central government — or international agencies that pulled aid following the coup — there was no one to stop the carnage. But now it emerges that timber wasn't the only target.


Weak forest definition may undermine REDD efforts

(08/20/2009) The weak definition of what constitutes forest under the United Nations Framework Convention on Climate Change (UNFCCC) puts the effectiveness of a proposed mechanism for reducing emissions from deforestation and degradation (REDD) at risk, argue researchers writing in the journal Conservation Letters.


Brazil's 'Obama' weighs presidential bid

(08/20/2009) Marina Silva, the charismatic rubber tapper who went on to become senator and Environment Minister, is weighing a presidential bid in Brazil's 2010 election, according to multiple reports. Political observers say that while her chances are long, Silva's entrance and focus on the environment could spur interest among Brazilians disenchanted by the Workers' Party, the dominant part which has been tarnished lately by corruption scandals.


Camping in the Okavango Delta in Botswana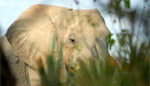 (08/19/2009) The first animal we saw in the Okavango was unmistakable. Although far away, we could easily make it out with its telltale trunk: an African elephant—the world's largest land animal—was striding peaceably through the delta's calm waters. We watched, entranced, from the mokoro, a small boat powered and steered by a local wielding a long pole to push the craft along.


Idaho to allow 25 percent of its wolf population to be killed in one season

(08/19/2009) The state of Idaho has set a quota of 220 individuals for the wolf hunting season which begins on September 1st. If the quota a quarter of Idaho's estimated 880 wolves will be killed.


Record global ocean temperature in July

(08/19/2009) The world's ocean surface temperature was the warmest on record for July, breaking the previous record set in 1998, reports NOAA's National Climatic Data Center. At 62.56°F (16.99°C), ocean temperatures were 1.06°F (0.59°C) above the 20th century average.


50 of the world's most endangered crocodiles released into the wild in the Philippines

(08/18/2009) The wild population of the Critically Endangered Philippine crocodile Crocodylus mindorensis has just received a very welcome boost. Fifty crocodiles have been released into Dicatian Lake, Isabela Province on Luzon Island.


Biofuel company eyes dead zone in the Gulf of Mexico for creating fish-powered fuel

(08/18/2009) 'Dead zones' in the ocean are called such for a reason. Every year agricultural run-off, especially fertilizer, floods the oceans with an abundance of nutrients leading to algae blooms, i.e. massive explosions of phytoplankton. The demise of these blooms, and the rise of bacteria feeding on them, eventually starves the entire area of oxygen creating a 'dead zone' where the vast majority marine life can't survive. Considered by most to be an environmental catastrophe, a new company is looking at dead zones in a different light: fuel and profit.


New center for studying temperate rainforests announced in Alaska

(08/18/2009) Temperate rainforests will soon have a new center in Juneau, Alaska. It is hoped that the Alaska Coastal Rainforest Center (ACRC) will instigate new research and educational opportunities.


World Bank violated environmental rules in lending to palm oil companies, finds internal audit

(08/18/2009) A coalition of indigenous rights' organizations and green groups is calling on the World Bank's International Finance Corporation (IFC) to suspend lending to oil palm plantation developers over revelations by its own internal auditors that the loan-making entity failed to follow its own procedures for protecting against social and environmental abuses.


World's rarest tree kangaroo gets help from those who once hunted it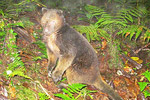 (08/17/2009) The world's rarest tree kangaroo is in the midst of a comeback in a remote part of Papua New Guinea. On the brink of extinction in 2001 with a population estimated at fewer than 100 individuals, Scott's Tree Kangaroo (Dendrolagus scottae), or the tenkile, is recovering, thanks to the efforts of the Tenkile Conservation Alliance to motivate local communities to reduce hunting and respect critical forest habitat. The tenkile Conservation Alliance, led by Australians Jim and Jean Thomas, works to provide alternative sources of protein and raise environmental awareness among local communities.


Guyana uses aggressive deforestation baseline in its plan to seek carbon payments

(08/17/2009) Guyana's deforestation projections under its proposal for seeking carbon payments for conserving its forests are raising questions, according to commentary published in Stabroek News.


Economic crisis threatens conservation programs and endangered species, an interview with Paula Kahumbu of WildlifeDirect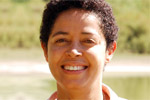 (08/17/2009) Founded in 2004 by legendary conservationist Richard Leakey, WildlifeDirect is an innovative member of the conservation community. WildlifeDirect is really a meta-organization: it gathers together hundreds of conservation initiatives who blog regularly about the trials and joys of practicing on-the-ground conservation. From stories of gorillas reintroduced in the wild to tracking elephants in the Okavango Delta to saving sea turtles in Sumatra, WildlifeDirect provides the unique experience of actually hearing directly from scientists and conservationists worldwide.


China moves forward on global warming: top scientists recommend emissions peak in 2030


(08/17/2009) In a move that many have seen as a step forward for China in terms of its willingness to combat climate change, the nation's top climatologists have released a report recommending that China begin drawing down greenhouse gas emissions after 2030. The report comes just four months before a widely anticipated global meeting to set up a new international framework to combat climate change in Copenhagen, Denmark.


Sears catalogue continues to harm boreal forest and caribou

(08/17/2009) Sears Holding Company, most known for their ubiquitous catalogues, continues to stall on releasing a more environmental paper policy, according to the nonprofit environmental organization ForestEthics. Sears' long delay to implement a more forest-friendly policy is adding pressure to already threatened caribou populations and deforesting forests in Canada, where the company sources much of its paper.


Oil companies in the UK are big users of palm oil biodiesel

(08/17/2009) British motorists are unwittingly big consumers of palm oil produced on rainforest lands in southeast Asia, reports The Times.


Forest fires set by Borneo dam developer contributes to haze in Malaysia, Singapore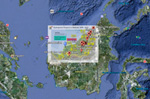 (08/17/2009) The developer of a massive hydroelectric project in Borneo plans to set fire to thousands hectares of logged over rainforest in the dam area, contributing to polluting haze already blanketing the region and raising the risk of forest fires in adjacent areas, reports a local environmental group. The Sarawak Conservation Action Network has learned that Sarawak Hidro Sdn Bhd, the operator of the Bakun Hydroelectric Power Dam project, is in the process of clear-cuting 80,000 hectares (200,000 acres) of rainforest set to be flooded by the dam. The remnants are being torched, in direct violation of Malaysia's laws against open burning.



Page 1
|
Page 2
|
Page 3
|
Page 4
|
Page 5
|
Page 6
|
Page 7
|
Page 8
|
Page 9
|
Page 10
|
Page 11
|
Page 12
|
Page 13
|
Page 14
|
Page 15
|
Page 16
|
Page 17
|
Page 18
|
Page 19
|
Page 20
|
Page 21
|
Page 22
|
Page 23
|
Page 24
|
Page 25
|
Page 26
|
Page 27
|
Page 28
|
Page 29
|
Page 30
|
Page 31
|
Page 32
|
Page 33
|
Page 34
|
Page 35
|
Page 36
|
Page 37
|
Page 38
|
Page 39
|
Page 40
|
Page 41
|
Page 42
|
Page 43
|
Page 44
|
Page 45
|
Page 46
|
Page 47
|
Page 48
|
Page 49
|
Page 50
|
Page 51
|
Page 52
|
Page 53
|
Page 54
|
Page 55
|
Page 56
|
Page 57
|
Page 58
|
Page 59
|
Page 60
|
Page 61
|
Page 62
|
Page 63
|
Page 64
|
Page 65
|
Page 66
|
Page 67
|
Page 68
|
Page 69
|
Page 70
|
Page 71
|
Page 72
|
Page 73
|
Page 74
|
Page 75
|
Page 76
|
Page 77
|
Page 78
|
Page 79
|
Page 80
|
Page 81
|
Page 82
|
Page 83
|
Page 84
|
Page 85
|
Page 86
|
Page 87
|
Page 88
|
Page 89
|
Page 90
|
Page 91
|
Page 92
|
Page 93
|
Page 94
|
Page 95
|
Page 96
|
Page 97
|
Page 98
|
Page 99
|
Page 100
|
Page 101
|
Page 102
|
Page 103
|
Page 104
|
Page 105
|
Page 106
|
Page 107
|
Page 108
|
Page 109
|
Page 110
|
Page 111
|
Page 112
|
Page 113
|
Page 114
|
Page 115
|
Page 116
|
Page 117
|
Page 118
|
Page 119
|
Page 120
|
Page 121
|
Page 122
|
Page 123
|
Page 124
|
Page 125
|
Page 126
|
Page 127
|
Page 128
|
Page 129
|
Page 130
|
Page 131
| Page 132 |
Page 133
|
Page 134
|
Page 135
|
Page 136
|
Page 137
|
Page 138
|
Page 139
|
Page 140
|
Page 141
|
Page 142
|
Page 143
|
Page 144
|
Page 145
|
Page 146
|
Page 147
|
Page 148
|
Page 149
|
Page 150
|
Page 151
|
Page 152
|
Page 153
|
Page 154
|
Page 155
|
Page 156
|
Page 157
|
Page 158
|
Page 159
|
Page 160
|
Page 161
|
Page 162
|
Page 163
|
Page 164
|
Page 165
|
Page 166
|
Page 167
|
Page 168
|
Page 169
|
Page 170
|
Page 171
|
Page 172
|
Page 173
|
Page 174
|
Page 175
|
Page 176
|
Page 177
|
Page 178
|
Page 179
|
Page 180
|
Page 181
|
Page 182
|
Page 183
|
Page 184
|
Page 185
|
Page 186
|
Page 187
|
Page 188
|
Page 189
|
Page 190
|
Page 191
|
Page 192
|
Page 193
|
Page 194
|
Page 195
|
Page 196
|
Page 197
|
Page 198
|
Page 199
|
Page 200
|
Page 201
|
Page 202
|
Page 203
|
Page 204
|
Page 205
|
Page 206
|
Page 207
|
Page 208
|
Page 209
|
Page 210
|
Page 211
|
Page 212
|
Page 213
|
Page 214
|
Page 215
|
Page 216