Conservation news
Founded in 1999, Mongabay is a leading provider of environmental science and conservation news.
Developed countries plan to hide emissions from logging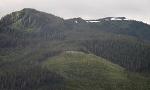 (12/09/2009) While developing countries in the tropics have received a lot of attention for their deforestation emissions (one thinks of Brazil, Indonesia, and Malaysia), emissions from logging—considered forest cover change—in wealthy northern countries has been largely overlooked by the media. It seems industrialized countries prefer it this way: a new study reveals just how these countries are planning to hide forestry-related emissions, allowing nations such as Canada, Russia, and the EU to contribute to climate change without penalty.


REDD+ could turn deforesters into forest protectors

(12/09/2009) Payments for conservation and sustainable management of forests could turn agents of forest destruction into forest protectors, according to a comprehensive analysis of national policy options to reduce deforestation released in Copenhagen by the Center for International Forestry Research (CIFOR).


New tree species discovered in Guyana is rich source of oil

(12/09/2009) Botanists working have described a new species of tree with commercial significance in Guyana. The discovery is published in Brittonia, a journal put out by the New York Botanical Garden.


Changing drivers of deforestation provide new opportunities for conservation


(12/09/2009) Tropical deforestation claimed roughly 13 million hectares of forest per year during the first half of this decade, about the same rate of loss as the 1990s. But while the overall numbers have remained relatively constant, they mask a transition of great significance: a shift from poverty-driven to industry-driven deforestation and geographic consolidation of where deforestation occurs. These changes have important implications for efforts to protect the world's remaining tropical forests in that environmental lobby groups now have identifiable targets that may be more responsive to pressure on environmental concerns than tens of millions of impoverished rural farmers. In other words, activists have more leverage than ever to impact corporate behavior as it relates to deforestation.


Brazilian tribe owns carbon rights to Amazon rainforest land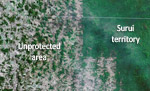 (12/09/2009) A rainforest tribe fighting to save their territory from loggers owns the carbon-trading rights to their land, according to a legal opinion released today by Baker & McKenzie, one of the world's largest law firms. The opinion, which was commissioned by Forest Trends, a Washington, D.C.-based forest conservation group, could boost the efforts of indigenous groups seeking compensation for preserving forest on their lands, effectively paving the way for large-scale indigenous-led conservation of the Amazon rainforest. Indigenous people control more than a quarter of the Brazilian Amazon.


Nuclear option in Copenhagen?

(12/09/2009) On the first day of talks at the Climate Change Conference in Copenhagen, Kevin Conrad, Papua New Guinea's Special Envoy and Ambassador for Environment and Climate Change, surprised many by calling for a 'nuclear option'. The option would allow a document to be ratified by 75 percent of the conference's nations, rather than the usual consensus required. It is thought the nuclear option would give more power to developing countries, since they far outnumber wealthy nations at the conference.


Bangladesh tops list of most vulnerable countries to climate change

(12/09/2009) According to the Global Climate Risk Index, Bangladesh is the most vulnerable nation to extreme weather events, which many scientists say are being exacerbated by climate change. From 1990 to 2008, Bangladesh has lost 8,241 lives on average every year due to natural disasters. In addition, rising sea levels also threaten millions of Bangladeshis.


Current decade is the warmest on record

(12/08/2009) As 192 countries meet in Copenhagen to wrangle out a complex and at times sticky agreement to combat climate change, the World Meteorological Organization (WMO) has released new evidence that the world is undergoing warming. According to the WMO the current decade is likely the warmest on record.


Leaked document in Copenhagen seen as sidelining poor countries

(12/08/2009) A document leaked late in the day at Copenhagen has threatened to further divide developing nations from wealthy countries during the conference in Denmark. The document, labeled as the 'Danish-text', is seen by many as sidelining poor countries by handing over climate financing to the World Bank, requiring developing countries to cut total emissions, and in forty years time still allowing wealthy countries to emit more than developing per capita.


Destruction of old-growth forests looms over climate talks


(12/08/2009) Destruction of old-growth or primary forests looms large in discussions in Copenhagen over a scheme to compensate tropical countries for reducing emissions from deforestation and degradation (REDD). Some environmental groups are pressing for conservation of old-growth forests — the most carbon-dense, and biologically-rich state of forests — to be the centerpiece of REDD, while industry and other actors are pushing for "sustainable forest management" or logging using reduced-impact techniques to be the primary focus of REDD.


Is a polar bear worth more than a lion?

(12/08/2009) For most environmentalists and animal rights activists it is an almost blasphemous idea to compare the value of one species with that of another, especially when that value is measured in terms of marketing potential for climate change awareness. In recent years, broad media coverage has turned the polar bear into a global symbol for the effects of climate change not only in the Arctic, but in the rest of the world too. In Germany particularly, the birth and highly publicized early life of the polar bear "Knut" at the Berlin City Zoo has intensified this symbolic effect. The fact that the Arctic ice is melting due to global warming is an established fact, and environmentalists the world over are lucky to have the polar bear and its disappearing habitat as a symbol for the global effects of pollution. All this publicity has, however, spread the exaggerated idea that polar bears are already on the verge of extinction.


REDD in Madagascar

(12/08/2009) Despite damage from ongoing illegal logging, Madagascar's remaining forests are poised to benefit from the proposed REDD mechanism, a U.N.-backed scheme that would compensate tropical developing countries for reducing emissions from deforestation and degradation, reports a new paper that analyzes efforts to use carbon finance to protect the Indian Ocean island's remaining forests. The research is published in the open-access Madagascar Conservation & Development.


Canada, not Copenhagen, hit by protests over climate policy

(12/08/2009) While tens of thousands of protestors have gone to Copenhagen to call on world governments to do more to fight against climate change, the most surprising protest on the first day of the Climate Change Conference in Copenhagen occurred thousands of miles away: in Canada.


EBay bid to name new shrimp species raises $2,900 for conservation from NBA star

(12/07/2009) Former NBA basketball player for the Chicago Bulls, Luc Longley, has won the EBay auction to name a wild looking red-polka dotted shrimp species. Longley won with a bid of 3,600 Australian dollars (2,900 US dollars): all of the funds go to the Australian Marine Conservation Society (AMCS). He named the shrimp Lebbeus clarehanna as a gift for his daughter, Clare Hanna Longley's fifteenth birthday.


Photos: four Critically Endangered Somali wild ass born at preserve in Qatar



(12/07/2009) Four Somalia wild ass were born at the Al Wabra Wildlife Preservation (AWWP) in Qatar. The Somali wild ass (Equus africanus somaliensis) is a subspecies of the African wild ass, both of which are classified by the IUCN Red List as Critically Endangered. The four foals all have the same father, a stallion named 'Hector' which came to AWWP in April 2008 from the Montpellier Zoo.


Oil sands pollution in Canada worse than industry and government claim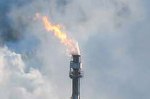 (12/07/2009) Canada's tar sands have been internationally criticized as one of the world's largest industrial sources of greenhouse gases, but the energy-intensive extraction of oil also has a less-noted impact on the local environment. A new study shows that the Alberta's oil sands are likely releasing more PACs (polycyclic aromatic compounds) into nearby Athabasca River and its tributaries than the industry-funded and government-supported Regional Aquatics Monitoring Program (RAMP) has reported.


Europe says US and China emission targets don't go far enough

(12/07/2009) At a press conference during the first day of the UN Copenhagen Climate Change Conference, the European Union has stated it will not raise its emissions cuts from 20 percent to 30 percent by 2020 (over 1990 levels) unless the US and China go further in their cuts.


Profile of the carbon footprint of the global poor: the challenge of alleviating poverty and fighting global warming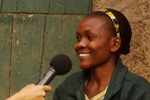 (12/07/2009) Two of the world's most serious issues—poverty and climate change—are interconnected. With a rise in one's income there usually comes a rise in one's carbon footprint, thereby threatening the environment. Wealthy nations have the highest per capita carbon footprints, while developing nations like India and China—which are experiencing unprecedented economic growth—are becoming massive contributors of greenhouse gases. However, it is those who have the smallest carbon footprint—the world's poor—who currently suffer most from climate change. Food crises, water shortages, extreme weather, and rising sea levels have all hit the poor the hardest.


Malaysian land minister attacks credibility of young indigenous rape victims

(12/07/2009) Speaking to the BBC, James Masing, Sarawak Minister for Land Development, dismissed claims by Penan girls and women who said they had been sexually abused and raped by logging workers in a remote jungle area.


Copenhagen and Brazilian Megalomania

(12/07/2009) When people think about preserving the Amazon rainforest, captivating animals may come to mind such as the jaguar, toucan or manatee. But while wildlife must be safeguarded there are now other urgent reasons to protect the jungle. The seriousness of the problem was recently brought home to me when I visited the Amazonian city of Manaus.


Email scandal may be turning against climate change deniers

(12/07/2009) It may be that climate change scientists and policymakers have simply had enough, and it may be that the emails which were hacked did not reveal the massive conspiracy that they were supposed to, either way climatologists and politicians have gone on the offensive against claims that the hacked emails from the East Anglia's Climate Research Unit are evidence that climate change is a conspiracy or hoax.


Obama administration about to declare carbon dioxide a danger to the public, allowing regulation

(12/06/2009) The day before talks start in Copenhagen on a new international treaty to combat climate change, the Wall Street Journal reports that the Environmental Protection Agency (EPA) in the United States is set to declare carbon dioxide a 'public danger' as soon as Monday.


African children on 'gorilla warfare' mission in run-up to COP15

(12/06/2009) "It's the gorillas I've got to thank for bringing me here," said Sephora Binet-Mboti, (13), as she gazed up, wide-eyed, at the Eiffel Tower in Paris. She was a long way from her in home in Central Africa where she lives in Gabon at subsistence level in a clapboard house with her parents and nine brothers and sisters. Sephora had never traveled as far as the capital of Gabon, let alone to the developed world, but on Thursday (3rd December) she boarded a plane for an all-expenses-paid dream week in Paris, the city of lights.


Video: rare footage of the sun bear, the world's smallest, making a nest in the canopy

(12/06/2009) Sun bear expert, Siew Te Wong, has captured rare footage of the world's smallest bear making a nest high in the canopy. The sun bear in the video is a radio-collared individual that Wong is keeping tabs on in Borneo.


Hyenas cooperate more easily than chimpanzees



(12/06/2009) Spotted hyenas (Crocuta crocuta) could show chimpanzees a thing or two about working together, according to a new study. Hyenas, prodigious hunters, pull down prey together. Christine M. Drea, an associate professor in the department of Evolutionary Biology at Duke University, started to ask questions about the cooperative hunting habits of hyenas while she was reading The Spotted Hyena: A Study of Predation and Social Behavior by Hanz Kruuk.


Eco-label for rainforest products could boost sustainability

(12/06/2009) Tropical forests around the world continue to fall, largely the result of logging and conversion to agriculture. But new hope for forests has emerged under a scheme that would reward countries for reducing greenhouse gas emissions from deforestation and degradation. Some variations of the concept, which is known as REDD, would allow for "sustainable forest management" (SFM), that is, reduced impact logging of forests, as well as harvesting of non-wood forest products (NWFPs) like seeds, fruit, and game. But the extent to which this harvesting affects forest ecology, and therefore carbon sequestration, is still poorly understood.


How tree communities respond to distance to edges and canopy openness

(12/06/2009) Tropical forests frequently experience the opening and closing of canopy gaps as part of their natural dynamics. When an edge is created, and the area outside the boundary is a disturbed or unnatural system, forests can be seriously affected even at some distance from the fragmented edge, since sunlight and wind penetrate to a much greater extent. This increases tree mortality and, consequently, canopy openness close to the edge. Thus, canopy openness can be both part of a natural gap-dynamics cycle and the direct manifestation of human edge effects.


Forests recover faster from slash-and-burn when near intact forest reserves

(12/06/2009) Areas cleared for slash-and-burn agriculture recover faster when adjacent to a large block of untouched forest, but may take decades to regain a majority of their biodiversity after tree-felling, according to a new review of ecological studies, published in the December issue of Tropical Conservation Science, an open access journal.


What types of primates are most prone to extinction in small forest fragments?

(12/06/2009) According to the most recent IUCN assessment, 48 percent of primates are threatened with extinction. Major threats to primates include habitat loss and fragmentation, hunting, and the wildlife trade. A new paper published in Tropical Conservation Science looked at ones of these threats — fragmentation — in an effort to determine what traits put primates at highest risk of extinction in forest fragments. Traits investigated all related to various aspects of primate biology, including: the amount of habitat needed, reproductive rate, and types of specialization. Surprisingly the authors, Matthew A. Gibbons and Alexander H. Harcourt of the University of California at Davis, found no significant relationship between extinction risk and any of the biological parameters.


Commercial fish smoking is the "most pervasive" threat to mangrove forests in West Africa

(12/06/2009) An improved system for commercial fish smoking could reduce destruction of mangrove forests and generate human health benefits, report researchers writing in Tropical Conservation Science, an open-access journal published by mongabay.com.


Highest rate of CO2 emissions growth since 1990

(12/04/2009) Between 1990 and 2005 Vietnam had the highest rate of emissions growth among countries that emitted more than 100 million tons of CO2 in any year during the past three decades, according to mongabay.com's analysis of emissions data from the Oak Ridge National Laboratory's Carbon Dioxide Information Analysis Center (CDIAC).


Indonesia: Kalimantan's Lowland Peat Forests Explained



(12/04/2009) Earth's tropical rainforests are a critical component of the world's carbon cycle yet cover only about 12% of its terrestrial land. Accounting for 40% of the world's terrestrial carbon and 50% of the world's gross primary productivity,[1]. the production of organic compounds primarily through photosynthesis, tropical rainforests also are one of the engines driving Earth's atmospheric circulation patterns.


Extinctions on the rise in the Galapagos: fishing and global warming devastating islands' species



(12/03/2009) We may never see again the Galapagos black-spotted damselfish, the beautiful 24-rayed sunstar, or the Galapagos stringweed. These species from Galapagos waters may all very well be extinct. Other species are on the brink, such as the Galapagos penguin and the Floreana cup coral. A new report in Global Change Biology reveals that in just a matter of decades, overfishing and climate change has devastated the Galapagos' unique and famous ecosystems.


Brazil could halt Amazon deforestation within a decade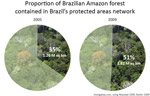 (12/03/2009) Funds generated under a U.S. cap-and-trade or a broader U.N.-supported scheme to reduce greenhouse gas emissions from deforestation and degradation ("REDD") could play a critical role in bringing deforestation in the Brazilian Amazon to a halt, reports a team writing in the journal Science. But the window of opportunity is short — Brazil has a two to three year window to take actions that would end Amazon deforestation within a decade.


James Hansen says Copenhagen approach "fundamentally wrong" would be better to "reassess"

(12/03/2009) James Hansen, one of the world's foremost climatologists, told the Guardian today that he believes the Copenhagen talks are flawed to the point where failure of the talks may be the best way forward. "The approach that is being talked about is so fundamentally wrong that it would be better to reassess," Hansen said.


U.S. cap-and-trade payments could help end Amazon deforestation, reduce CO2 emissions 2-5%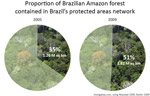 (12/03/2009) Funds generated under a U.S. cap-and-trade or a broader U.N.-supported scheme to reduce greenhouse gas emissions from deforestation and degradation ("REDD") could play a critical role in bringing deforestation in the Brazilian Amazon to a halt, reports a team writing in the journal Science. But the window of opportunity is short — Brazil has a two to three year window to take actions that would end Amazon deforestation within a decade.


Cheap REDD isn't the best conservation strategy for biodiversity

(12/03/2009) The lowest-cost approach to compensating reductions in emissions from deforestation and degradation under a proposed UN program (REDD) isn't necessarily the best approach for biodiversity conservation, report researchers writing in the journal Science.


Forgotten Species: the haunting whistle of the Anjouan scops-owl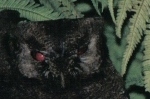 (12/03/2009) I know a two-year-old who is already an owl expert. My friends' daughter, Harper, can identify all of North America's owls by photos or drawings; even more impressive she can identify them by call. There is one owl call, however, that she may never hear. The Anjouan-scops owl, native to Anjouan island apart of the Comoros island chain, is on the verge of extinction. It is so rare that for over a century it was believed to have already vanished.


Paper provider for fashion gurus drops APP due to deforestation across Indonesia

(12/02/2009) One by one, the fashion industry's biggest companies are leaving Asian Pulp and Paper (APP)—and deforestation in Indonesia—behind. The newest defector is PAK 2000, a packaging company for fashion products. After a sustained campaign by the Rainforest Action Network (RAN) and fashion companies buying from PAK 2000, the New Hampshire-based company, has announced that it is severing all ties with APP by the end of the year. The announcement means that big famous companies—from Versace to J. Crew—will have an easier time avoiding paper products that cause rainforest destruction.


Has Canada become the new climate villain (yes, that's right, Canada)?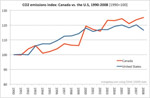 (12/02/2009) In 2007 American delegates to a climate summit in Bali were booed outright for obstructing a global agreement on climate change. Then in a David versus Goliath moment they were famously scolded by a negotiator from Papua New Guinea, Kevin Conrad. "If for some reason you are not willing to lead, leave it to the rest of us. Please get out of the way," Conrad told the American delegates. However, much has changed in two years: the United States, under a new administration, is no longer the climate change pariah. The US has recently announced emissions cuts, negotiated successfully with China on the issue, and will be attending—Obama included—the Climate Change Summit in Copenhagen next week. Obama and his team probably don't need to worry about being booed or remonstrated this time around, but that role may instead go to Canada.


Indonesia could double oil palm plantation area

(12/02/2009) Indonesia has 18 million hectares of land suitable for oil palm cultivation, nearly twice the 9.7 million hectares that have already been allocated for plantations, said Agriculture Minister Suswono said at the opening of the 5th Indonesian Palm Oil Conference in Bali.


In absence of measures to address consumption, REDD may fail to protect forests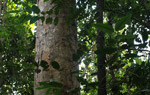 (12/02/2009) Rising demand for timber and agricultural products could work against a proposed initiative to reduce emissions from deforestation and degradation (REDD), warns a new report from the Environmental Investigation Agency (EIA). The briefing, Putting the Brakes on Drivers of Forest Destruction: A Shared Responsibility, says that investment in REDD will not be enough to protect forests if the underlying drivers of deforestation — namely consumption — are not addressed. It urges negotiators to re-insert critical text that has been dropped from the working text on REDD ahead of next week's climate change conferences in Copenhagen.


Brazil to push for 10% limit on REDD carbon offsets

(12/02/2009) Brazil will propose limiting the amount of carbon an industrialized country can offset via a proposed forest conservation initiative to ten percent of their emissions, reports Bloomberg.


Not just the polar bear: ten American species that are feeling the heat from global warming

(12/01/2009) A new report, America's Hottest Species, highlights a variety of American wildlife that are currently threatened by climate change from a small bird to a coral reef to the world's largest marine turtle.


World leaders falling over themselves to show up at Copenhagen

(12/01/2009) If you're a world leader and you won't be in Copenhagen next week you might feel out of the loop. Currently 98 heads of state have agreed to attend the Climate Change Summit in Copenhagen—nearly half of the 192 member nations of the UN.


Face-to-face with what may be the last of the world's smallest rhino, the Bornean rhinoceros



(12/01/2009) Nothing can really prepare a person for coming face-to-face with what may be the last of a species. I had known for a week that I would be fortunate enough to meet Tam. I'd heard stories of his gentle demeanor, discussed his current situation with experts, and read everything I could find about this surprising individual. But still, walking up to the pen where Tam stood contentedly pulling leaves from the hands of a local ranger, hearing him snort and whistle, watching as he rattled the bars with his blunted horn, I felt like I was walking into a place I wasn't meant to be. As though I was treading on his, Tam's space: entering into a cool deep forest where mud wallows and shadows still linger. This was Tam's world; or at least it should be.


Blogging wildlife rangers drive microconservation



(12/01/2009) Wildlife Direct, a group that promotes conservation through blogging by rangers and scientists, has won mongabay.com's "Innovation in Conservation Award" for 2009. The prize, which includes a cash donation and and prominent placement on the mongabay.com web site and newsletter for the month of December, is granted each year to an organization using an unconventional and highly effective approach to conserving forests and biodiversity.


World requires radical new economic models to fight poverty and mitigate global warming



(11/30/2009) A new report calls for a radical re-envisioning of current economic models in order to tackle poverty, mitigate and adapt to climate change, and solve other environmental problems. The report was crafted by the New Economics Foundation (NEF) and the International Institute for Environment and Development (IIED) and was supported by The Working Group on Climate Change and Development, which includes a wide variety of well-known groups, including environmental, religious, and anti-poverty organizations.


What would the Dalai Lama do?: spiritual leader speaks out on climate change

(11/30/2009) The Dalai Lama has given up taking baths in favor of showers and makes certain all lights are off when he leaves a room to help lower his carbon footprint, he told a crowd of reporters in Sydney Australia today.


World's smallest orchid discovered in Ecuador

(11/30/2009) Measuring just 2.1 millimeters wide, the world's smallest orchid has been discovered hiding in the roots of another plant, reports the Independent.



Page 1
|
Page 2
|
Page 3
|
Page 4
|
Page 5
|
Page 6
|
Page 7
|
Page 8
|
Page 9
|
Page 10
|
Page 11
|
Page 12
|
Page 13
|
Page 14
|
Page 15
|
Page 16
|
Page 17
|
Page 18
|
Page 19
|
Page 20
|
Page 21
|
Page 22
|
Page 23
|
Page 24
|
Page 25
|
Page 26
|
Page 27
|
Page 28
|
Page 29
|
Page 30
|
Page 31
|
Page 32
|
Page 33
|
Page 34
|
Page 35
|
Page 36
|
Page 37
|
Page 38
|
Page 39
|
Page 40
|
Page 41
|
Page 42
|
Page 43
|
Page 44
|
Page 45
|
Page 46
|
Page 47
|
Page 48
|
Page 49
|
Page 50
|
Page 51
|
Page 52
|
Page 53
|
Page 54
|
Page 55
|
Page 56
|
Page 57
|
Page 58
|
Page 59
|
Page 60
|
Page 61
|
Page 62
|
Page 63
|
Page 64
|
Page 65
|
Page 66
|
Page 67
|
Page 68
|
Page 69
|
Page 70
|
Page 71
|
Page 72
|
Page 73
|
Page 74
|
Page 75
|
Page 76
|
Page 77
|
Page 78
|
Page 79
|
Page 80
|
Page 81
|
Page 82
|
Page 83
|
Page 84
|
Page 85
|
Page 86
|
Page 87
|
Page 88
|
Page 89
|
Page 90
|
Page 91
|
Page 92
|
Page 93
|
Page 94
|
Page 95
|
Page 96
|
Page 97
|
Page 98
|
Page 99
|
Page 100
|
Page 101
|
Page 102
|
Page 103
|
Page 104
|
Page 105
|
Page 106
|
Page 107
|
Page 108
|
Page 109
|
Page 110
|
Page 111
|
Page 112
|
Page 113
|
Page 114
|
Page 115
|
Page 116
|
Page 117
|
Page 118
|
Page 119
|
Page 120
|
Page 121
|
Page 122
|
Page 123
|
Page 124
|
Page 125
|
Page 126
|
Page 127
|
Page 128
| Page 129 |
Page 130
|
Page 131
|
Page 132
|
Page 133
|
Page 134
|
Page 135
|
Page 136
|
Page 137
|
Page 138
|
Page 139
|
Page 140
|
Page 141
|
Page 142
|
Page 143
|
Page 144
|
Page 145
|
Page 146
|
Page 147
|
Page 148
|
Page 149
|
Page 150
|
Page 151
|
Page 152
|
Page 153
|
Page 154
|
Page 155
|
Page 156
|
Page 157
|
Page 158
|
Page 159
|
Page 160
|
Page 161
|
Page 162
|
Page 163
|
Page 164
|
Page 165
|
Page 166
|
Page 167
|
Page 168
|
Page 169
|
Page 170
|
Page 171
|
Page 172
|
Page 173
|
Page 174
|
Page 175
|
Page 176
|
Page 177
|
Page 178
|
Page 179
|
Page 180
|
Page 181
|
Page 182
|
Page 183
|
Page 184
|
Page 185
|
Page 186
|
Page 187
|
Page 188
|
Page 189
|
Page 190
|
Page 191
|
Page 192
|
Page 193
|
Page 194
|
Page 195
|
Page 196
|
Page 197
|
Page 198
|
Page 199
|
Page 200
|
Page 201
|
Page 202
|
Page 203
|
Page 204
|
Page 205
|
Page 206
|
Page 207
|
Page 208
|
Page 209
|
Page 210
|
Page 211
|
Page 212
|
Page 213
|
Page 214
|
Page 215
|
Page 216
|
Page 217
|
Page 218
|
Page 219