Conservation news
Founded in 1999, Mongabay is a leading provider of environmental science and conservation news.
Video: Amazon deforestation falls, degradation soars in Sept

(11/12/2010) Mongabay.com's Rhett Butler discusses the week in forests for Nov 12, 2010.


Formal petition filed against Belo Monte dam

(11/11/2010) The struggle against Brazil's Belo Monte dam on the Xingu River continues as today indigenous groups sent a formal petition to the Inter-American Commission on Human Rights (IACHR) to suspend the dam's construction, stating the dam violates human rights. The dam, which has been contentious in Brazil for decades, would flood 500 square miles of rainforest, lead to the removal of at least 12,000 people in the region, and upturn the lives of 45,000 indigenous people who depend on the Xingu River for survival.


Chaco expedition working to "minimize the risk" of running into uncontacted natives

(11/11/2010) A joint expedition by the Natural History Museum (NHM), London and the Natural History Museum, Asuncion to study the biodiversity of the dwindling dry forests of Chaco in Paraguay have responded to recent concerns that they risk encountering uncontacted natives, which could potentially threaten the natives' lives as well as their own.


Evo Morales for the Nobel Prize?

(11/11/2010) Does Evo Morales merit a Nobel peace prize for his admirable work on climate justice? Former prize winners, as well as the Bolivian Congress, believe he deserves it and both have launched an international campaign on behalf of Bolivia's indigenous president. In April of this year, Morales helped to organize the First World People's Conference on Climate Change and the Rights of Mother Earth, which drew a whopping 35,000 people to the Bolivian city of Cochabamba. Designed as a kind of counter summit to the official Copenhagen conference of 2009, which proved a debacle in terms of reining in climate change, Cochabamba represented a milestone in social mobilization.


Amazon biodiversity older than believed

(11/11/2010) A new study in Science has found that the incredible biodiversity of the Amazon rainforest goes back much further than expected, perhaps upending old ideas about how the Amazon basin became arguably the world's most biodiverse ecosystem. According to the study, the origin of rich biodiversity in the Amazon likely goes back more than 20 million years when the Andean mountains were rising.


Rainforests thrived in warmer conditions in the past, yet study requires "caution"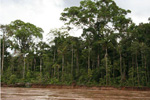 (11/11/2010) A new study in Science is likely to reopen the contentious debate about the impact of climate change on tropical rainforests. Scientific modeling of future climate conditions in tropical rainforests, such as the Amazon, has shown that climate change—combined with deforestation and fire—could create a tipping point whereby a significant portion of the Amazon could turnover to savannah, pushing untold species to extinction and undercutting the many ecosystem services provided by tropical rainforests. Yet, a new study headed by Carlos Jaramillo, staff scientist at the Smithsonian Tropical Research Institute (STRI), has found a tropical forest ecosystem thriving in much warmer conditions than today.


It's not just size that matters: how population affects climate change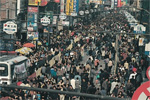 (11/11/2010) As the world's population increases, a surge in the number of older adults and the movement of people from the countryside to crowded cities will significantly affect levels of carbon dioxide emissions by 2050, according to a sweeping study published in the 11 October issue of the Proceedings of the National Academy of Sciences. A significant but attainable slowing of the planet's growing population could achieve up to 29 percent of the total decrease in emissions needed to stave off the harmful consequences of climate change by 2050, according to the study.


Brazil's development bank announces $588m fund to reduce agricultural emissions

(11/11/2010) Brazil's national development bank launched a 1 billion reais ($588 million) fund that will finance projects to reduce greenhouse gas emissions associated with agriculture, reports Reuters.


Local efforts block attempt to ship illegal rosewood from Madagascar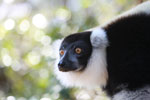 (11/10/2010) Authorities in Madagascar successfully blocked an attempt to ship illegally logged rosewood from the port of Vohemar over the weekend, according to local reports. The incident, while isolated, suggests citizens, the Waters and Forests Administration, local media, and shipping companies are having an impact on slowing the rosewood trade that has devastated Madagascar's rainforest parks, wildlife, and rural communities.


Beyond gloom: solutions to the global coral reef decline

(11/10/2010) The world's coral reefs are in trouble. Due to a variety of factors—including ocean acidification, warming temperatures from climate change, overfishing, and pollution—coral cover has decline by approximately 125,000 square kilometers in the past 50 or so years. This has caused some marine biologists, like Charlie Veron, Former Chief Scientist of the Australian Institute of Marine Science, to predict that coral reefs will be largely extinguished within a century. This year alone, large-scale coral bleaching events, whereby coral lose their symbiotic protozoa and become prone to disease and mortality, were seen off the coasts of Indonesia, the Philippines, and some Caribbean islands. However a new paper in Trends in Ecology and Evolution attempts to dispel the gloom over coral reefs by pointing to strategies, and even some successes, to save them.


Researchers track the little-known giant sunfish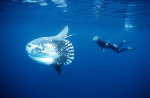 (11/10/2010) Getting to know the heaviest bony fish in the world is surprisingly hard. At 3 m (10 ft) long and 2,200 kg (4,850 lb), the Mola mola, or ocean sunfish, is an elusive giant. A typical day in its life is still a mystery. Now, a study published on 30 September in the Journal of Experimental Marine Biology and Ecology has opened a small portal onto their behaviors – and has underlined concerns that sunfish die in alarming numbers as unintentional catches in commercial fisheries.


African apes threatened by rising temperatures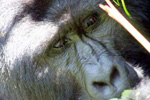 (11/10/2010) Most people wish each day had more than 24 hours. But as the planet heats up, that limited number of hours might push endangered African apes even closer to extinction by making their current habitats unsuitable for their lifestyle, according to a controversial study published on 23 July in the Journal of Biogeography.


Alleged rhino horn dealer takes his own life

(11/10/2010) The illegal trade in rhino horn doesn't just end in the deaths of thousands of rhinos. Humans, too, often lose their lives in the trade. Both those poaching rhinos and those protecting them, such as park rangers, have been killed in gun battles. But the trade ruins lives in many ways: yesterday, Tommy Fourie, 51, who allegedly sold 36 rhino hunters to a game farmer, shot himself with a hunting rifle in South Africa.


Photos: surprises discovered in tiny forest fragment surrounded by palm oil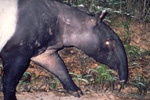 (11/10/2010) Researchers have uncovered an astounding number of species in a tiny protected forest fragment surrounded on all side by palm oil plantations in the Indonesian island of Sumatra. Researchers with the Zoological Society of London (ZSL), Queen Mary, University of London and the Durrell Institute of Conservation and Ecology (DICE – University of Kent) recorded sun bear (Helarctos malayanus), Malayan tapir (Tapirus indicus), the banded langur (Presbytis femoralis), and agile gibbons (Hylobates agilis), but most notable, was the first record ever of the Ridley's leaf-nosed bat (Hipposideros ridleyi) in Sumatra. The discoveries highlight the importance of preserving even small forest fragments surrounded by agriculture.


Indonesia to launch rival palm oil certification standard


(11/10/2010) The Indonesian government is moving closer to launching its own certification system to ensure less damaging palm oil production, reports the Jakarta Post. The scheme would rival the Roundtable on Sustainable Palm Oil, a multi-stakeholder body that has been developing criteria since 2004 and began shipping certified sustainable palm oil (CSPO) in 2008.


Sustainably certified fishery kills over 250 fur seals in one season

(11/10/2010) The New Zealand Ministry of Fisheries estimates that from 2007-2008, 273 New Zealand fur seals (Arctocephalus forsteri) were killed by offshore trawling hoki fisheries, an increase of over 75 seals since the previous year. New Zealand's hoki fishery has been certified as sustainable by the Marine Stewardship Council since 2001 and re-certified in 2007. Hoki is commonly used for ubiquitous fried fish sandwiches, such as those served at McDonald's.


Authorities confiscated over 1000 tigers in past decade

(11/09/2010) Highlighting the poaching crisis facing tigers, a new report by the wildlife trade organization, TRAFFIC, found that from 2000-2010 authorities have confiscated the parts of 1,069 tiger individuals, many of them dead. The tigers, or their body parts, were confiscated from 11 of the species' 13 range countries, according to the report entitled Reduced to Skin and Bones. Yet the number only hints at the total number of tigers (Panthera tigris) vanishing in the wild due to the illegal trade in tiger parts for traditional Asian medicine and decorative items, such as skins.


U.S. companies should help drive push toward sustainable palm oil


(11/09/2010) U.S. companies should take a leadership role in helping ensure that palm oil production is sustainable and does not come at the cost of forests, climate, and communities, argues a new report published ahead of the annual meeting of the Roundtable on Sustainable Palm Oil (RSPO). The report, published by the National Wildlife Federation (NWF), says that while the U.S. is only a minor consumer of palm oil, its demand for the vegetable oil is fast rising, increasing four-fold since 2006. Palm oil, which is among the cheapest of vegetables owing to its high yield, is now found in up to 50 percent of packaged retail food products.


The unruly evolution of island life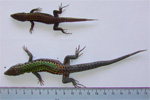 (11/09/2010) From the terrifying Komodo dragon to the diminutive hobbit Homo floresiensis, islands are home to some remarkable curiosities of size. Despite the fame of giant lizards and pygmy humans, a longstanding tenet of evolutionary biology suggests that the size of island animals moves towards the middle of the pack. A study published on 1 September in the Journal of Biogeography explores these two seemingly contradictory notions and finds that neither is a perfect explanation.


Carbon emissions hurting coral recruitment

(11/08/2010) While research has shown that ocean acidification from rising CO2 levels in the ocean imperils the growth and survival mature coral reefs, a new study has found that it may also negatively impact burgeoning corals, by significantly lowering the success of coral recruitment. A study in the Proceedings of the National Academy of Sciences (PNAS) has found that coral recruitment could fall by 73% over the next century due to increasing acidification.


Eco-friendly palm oil conference opens

(11/08/2010) The Roundtable on Sustainable Palm Oil (RSPO), a body that has devised certification criteria to improve the social and environmental performance of palm oil, opens its annual meeting tomorrow in Jakarta.


Saving the best for last: a journey into the final phases of orangutan rehabilitation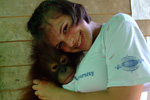 (11/08/2010) Rehabilitation is a powerful word these days. Fashionable, too. In wildlife conservation, rehabilitation can serve functions ranging from augmenting threatened animal populations to desperate attempts to save species from permanent extinction. At its base, rehabilitation consists of handling, preparing and releasing wild animals that have been in some way negatively affected by humans. Rehabilitation programs cover the globe (from cottage-scale sparrow and raccoon rescues in suburban parks to well-established raptor protection programs, wolf rehabilitation and public education about these wild predators in Colorado, semi-touristy rehabilitation centers in Thailand housing everything from gibbons to elephants, vet hospitals dedicated to flu-ridden bobtail lizards in Australia, and sexy lion and cheetah hubs in southern Africa which breed endangered serval cats). The motivations behind these programs are also diverse, but the umbrella goal is unified: to aid the continued survival, so often precarious, of animals valued by people.


Open landfills feed population growth of predatory Alaskan gulls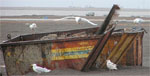 (11/08/2010) Gulls in northern Alaska are making a killing on the garbage they scavenge from landfills, new research shows. Glaucous gulls that consume a lot of trash raise more chicks than gulls that eat only natural food, according to a study in the August 2010 issue of The Condor. The garbage is a boon for the gulls, but it's a bust for other birds nesting on Alaska's coastal plain. These gulls are predators, and their burgeoning numbers threaten waterbird populations already in decline.


Flight of the Monarchs Reveals Environmental Connections across a Continent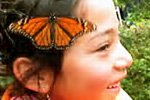 (11/08/2010) As autumn settles across North America, one hallmark of the season is the gentle southward flight of the Monarch Butterflies as they migrate towards the forests that shelter their species during the winter months. Unfortunately, as with other forests across the planet, the Monarch's "over- wintering grounds" in Mexico are suffering from increased human pressures. An innovative conservation group called the ECOLIFE Foundation has stepped up to help safeguard the Monarch's winter forests, and in the process discovered that addressing the Monarch's plight came only after uncovering connections that bind us all. The following article is an interview with Bill Toone, the Executive Director of ECOLIFE.


Growing strawberries organically yields more nutritious fruit and healthier soil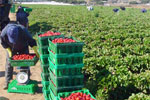 (11/08/2010) Strawberry plants grown on commercial organic farms yield higher-quality fruit and have healthier soil than those grown conventionally, according to a study published on 1 September in the journal PLoS One. The research suggests that sustainable farming practices can produce nutritious fruit, if farmers manage soil and its beneficial microbes properly. This is among the most comprehensive studies to investigate how conventional and organic farming methods affect both fruit and soil quality.


Belize lost 10,000 ha of forest per year since 1980


(11/07/2010) Forests in Belize have been cleared at a rate of nearly 10,000 hectares per year for the past 30 years, a recent study shows. In 1980, forests covered 79.5% of the land surface of Belize but as of February 2010 it had decreased to 62.7%. The area covered by forests in the country thus went from about 6500 square miles 30 years ago to around 5300 square miles today, losing an area the size of Rhode Island.


Eight new plants discovered in Bolivia

(11/07/2010) Researchers have described eight new species of plant from in and near Madidi National Park in the Bolivian Andes. Described in the journal Novon by botanists with the Missouri Botanical Garden and the National Herbaium in Laz Paz, Bolivia, seven of the eight plants were found as apart of the Proyecto Madidi (Project Madidi), a ten year effort to describe the plant species of three inter-connecting protected areas in Bolivia—Madidi National Park, Pilón Lajas Biosphere Reserve and Communal Lands, and Apolobamba Integrated Management Natural Area.


Will biodiversity agreement save life on Earth?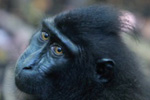 (11/07/2010) On Friday, October 29th, 193 member nations of the Convention on Biological Diversity (CBD) reached a possibly landmark agreement on saving the world's suffering biodiversity in Nagoya, Japan. The agreement was especially notable after nations failed—by all accounts—to live up to the goals from the previous CBD agreement, including stemming the global loss of biodiversity by 2010. According to scientists, the world's species continue to vanish at mass-extinction rates due to habitat loss, deforestation, overconsumption, pollution, climate change, and invasive species. To addresses this crisis the new CBD agreement sets out 20 goals for 2020. But given the global challenges in saving the world's species and the lack-of-teeth in agreement (it is strictly voluntary), will the CBD make a difference or in ten years time will goals be again unmet and life on planet Earth worse off than ever? To answer this mongabay.com turned to a number of experts in the conservation world.


Deforestation jumps, but Guyana nonetheless qualifies for REDD payment

(11/07/2010) Guyana's deforestation rate over the past 12 months was roughly three times the average annual rate over the prior 20 year period, but was still well below the baseline under the recent $250 million forest conservation partnership with Norway, according to a new report released by Guyana Forestry Commission's REDD+ Monitoring Reporting and Verification System (MRVS).


Mato Grosso moves to strip protection of the Amazon rainforest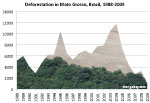 (11/07/2010) The Mato Grosso state assembly passed a bill that would substantially reduce protections for the Amazon rainforest and the Pantanal, a biologically-rich wetland, according to a statement signed by 27 organizations. The bill, which was approved 19 votes to one, would replace the ecological zoning system proposed by the state's former governor, Blairo Maggi, after three years of consultations with a wide range of stakeholders. The bill reduces areas set aside for conservation by 73 percent and calls for a 67 percent increase in the area zoned for agriculture intensification.


Deforestation falls, but rainforest damage surges in Brazil in Sept

(11/06/2010) Despite the worst drought on record in the region, deforestation in the Brazilian Amazon during September fell by 20 percent relative to September 2009, reports Imazon, a research institute that provides monthly updates on forest clearing.


Madagascar's president linked to illegal logging (video)

(11/05/2010) Video released by the Environmental Investigation Agency reveals Chinese rosewood traders have direct links to Madagascar's President Andry Rajoelina, who seized power during a March 2009 military coup.


Video: Dutch to ban unsustainable palm oil by 2015

(11/05/2010) Mongabay.com's Rhett Butler reviews what happened this week in forest news, including the decision by The Netherlands to ban non-certified palm oil from its markets in 2015.


Dutch to use only certified palm oil by 2015

(11/04/2010) The Netherlands has committed to only using palm oil certified under the Roundtable on Sustainable Palm Oil (RSPO) by 2015, providing a huge boost for the certification standard which aims to improve the social and environmental performance of the world's most productive oil crop. The pledge makes the Netherlands the first country to commit itself to using only sustainable palm oil.


Asia Pulp & Paper's emissions from paper production 500 times higher than claimed

(11/04/2010) Asia Pulp & Paper is misrepresenting the greenhouse gas emissions generated through its paper production by several orders of magnitude claims a new analysis of its carbon footprint by the Rainforest Action Network (RAN) and the Japan Tropical Forest Action Network (JATAN).


Wildlife trafficker gets 5 years in Malaysian prison

(11/04/2010) A Malaysian court sentenced notorious wildlife trafficker Anson Wong to five years in jail, reports The Star.


Better protection of cultural heritage sites could generate $100B in poor countries

(11/04/2010) Cultural heritage sites could play a key role in efforts to alleviate poverty provided they are protected from a growing range of threats, says a new report published by the Global Heritage Fund (GHF).


Bushmeat hunting alters forest structure in Africa

(11/04/2010) According to the first study of its kind in Africa, bushmeat hunting impacts African rainforests by wiping-out large mammals and birds—such as forest elephants, primates, and hornbills—that are critical for dispersing certain tree species. The study, published in Biotropica, found that heavy bushmeat hunting in the Central African Republic changes the structure of forest species by favoring small-seeded trees over large-seeded, leading to lower tree diversity of trees that have big seeds.


Biological shocker: snake reproduces asexually

(11/03/2010) Researchers have discovered a biological shocker: female boa constrictors are capable of giving birth asexually. But the surprise doesn't end there. The study in Biology Letters found that boa babies produced through this asexual reproduction—also known as parthenogenesis—sport a chromosomal oddity that researchers thought was impossible in reptiles.


US elects barrage of climate change deniers, threatening support for green energy

(11/03/2010) The US midterm election, which won Republicans the House but safeguarded the Senate for Democrats, has brought in a number of self-proclaimed climate change deniers, ending any likelihood that an energy bill will be passed over the next two years and essentially stumbling the White House's strategy on climate change. Newly elected Republican Senators Rand Paul of Kentucky and Marc Rubio of Florida, both members of the nascent Tea Party, have stated they do not believe in climate change despite that scientists overwhelming agree the Earth is warming due to human impacts.


Undercover for animals: on the frontline of wildlife crime in the US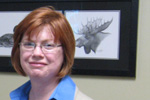 (11/03/2010) Special Agent O'Connor is a veteran wildlife law enforcement officer, with over 20 years of service under belt. She began her career in wildlife law enforcement as a Conservation Police Officer for the Illinois Department of Natural Resources, where she served for eight years. She then moved to federal wildlife law enforcement with the US Fish and Wildlife Service, where she was first posted to Ann Arbor, Michigan, and then to St. Paul, Minnesota. During that time, she investigated several major cases that led to felony convictions for violations of wildlife laws. She now serves as a training officer at the Federal Law Enforcement Training Center (FLETC), the interagency law enforcement training organization that serves 88 Federal agencies, in Georgia.


Tropical agriculture "double-whammy": high emissions, low yields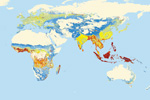 (11/02/2010) Food produced in the tropics comes with high carbon emissions and low crop yields, according to a new study in the Proceedings of the National Academy of Sciences (PNAS). In the most comprehensive and detailed study to date looking at carbon emissions versus crop yields, researchers found that food produced in the tropics releases almost double the amount of carbon while producing half the yield as food produced in temperate regions. In other words, temperate food production is three times more efficient in terms of yield and carbon emissions.


World's rarest snake making a comeback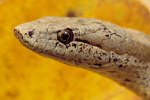 (11/02/2010) The Antiguan racer (Alsophis antiguae) shares a similar story with many highly endangered island species. Invasive mongoose killed every racer on the Caribbean island of Antigua, leaving only a small population on nearby Great Bird Island. Confined to 8 hectares, this final population was being killed-off by invasive Eurasian black rats. By the time conservationists took action, only 50 Antiguan racers survived in the world. But here's where the story turns out different: 15 years later, a partnership between six conservation groups has succeeded in raising the population tenfold to 500 snakes and expanded its territory to other islands through snake-reintroductions.


Illegal logging rampant in Vietnam

(11/01/2010) Illegal logging is rampant in Vietnam, according to a new report from the the Ministry of Agriculture and Rural Development's General Forestry Department.


Nobel Prize winner, anti-poverty group, scientists fire back at logging lobbyist

(11/01/2010) An industrial lobbyist is facing mounting criticism for his campaign to reduce social and environmental safeguards in Indonesia.


UK government plan to sell off half its forests faces stiff criticism

(11/01/2010) The UK's Department for Environment, Food, and Rural Affairs (Defra) has announced plans to sell up to 150,000 hectares of its forest to the private sector—over half of its forests in England—touching off harsh criticism from environmentalists, including the UK's Green Party.


Japanese making themselves sick with dolphin hunt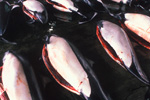 (11/01/2010) Japan's dolphin hunt of Dall's porpoise (Phocoenoides dalli) could be making people sick, according to a new study by the Environmental Investigation Agency (EIA) and Campaign Whale. The controversial hunt, which kills some 15,000 dolphins annually, produces cheap meat-for-consumption that on average contains over double Japan's limit on mercury contamination. "We are very concerned that people in Japan are threatening their health and possibly that of their children by unwittingly eating Dall's porpoise meat that is dangerously contaminated with poisons such as mercury and PCBs," Andy Ottaway, Director of Campaign Whale, said in a press release.


Epidemic hits Amazonian indigenous group

(10/31/2010) An epidemic, suspected to be malaria, has struck down dozens of people of the Yanomami tribe in the Venezuelan Amazon, reports the Associated Press. Leaders of the three impacted village told health workers that approximately 50 people have died so far, many of them children.


Mixed messages on geoengineering: international community approves moratorium, US pushes research

(10/31/2010) Efforts to explore geoengineering, whereby governments would employ large-scale projects to alter the world's climate in a bid to combat climate change, received mixed messages this week. In Nagoya, Japan—where all but three of the world's nations (the US, Andorra, and the Holy See) met at the Convention on Biological Diversity (CBD) to hammer out an agreement on stemming biodiversity loss—member nations agreed on Friday to a moratorium on geoengineering schemes. On the same day a US congressional report on geoengineering, which it termed climate engineering, recommended "research now to better understand which technologies or methods, if any, represent viable stopgap strategies for managing our changing climate."


Former Indonesian REDD+ negotiator arrested on corruption charge

(10/30/2010) Wandojo Siswanto, one of the lead negotiators for Indonesia's delegation at last year's climate talks in Copenhagen and a key architect of its Reduced Emissions from Deforestation and Degradation (REDD) program, has been arrested and charged with receiving bribes.



Page 1
|
Page 2
|
Page 3
|
Page 4
|
Page 5
|
Page 6
|
Page 7
|
Page 8
|
Page 9
|
Page 10
|
Page 11
|
Page 12
|
Page 13
|
Page 14
|
Page 15
|
Page 16
|
Page 17
|
Page 18
|
Page 19
|
Page 20
|
Page 21
|
Page 22
|
Page 23
|
Page 24
|
Page 25
|
Page 26
|
Page 27
|
Page 28
|
Page 29
|
Page 30
|
Page 31
|
Page 32
|
Page 33
|
Page 34
|
Page 35
|
Page 36
|
Page 37
|
Page 38
|
Page 39
|
Page 40
|
Page 41
|
Page 42
|
Page 43
|
Page 44
|
Page 45
|
Page 46
|
Page 47
|
Page 48
|
Page 49
|
Page 50
|
Page 51
|
Page 52
|
Page 53
|
Page 54
|
Page 55
|
Page 56
|
Page 57
|
Page 58
|
Page 59
|
Page 60
|
Page 61
|
Page 62
|
Page 63
|
Page 64
|
Page 65
|
Page 66
|
Page 67
|
Page 68
|
Page 69
|
Page 70
|
Page 71
|
Page 72
|
Page 73
|
Page 74
|
Page 75
|
Page 76
|
Page 77
|
Page 78
|
Page 79
|
Page 80
|
Page 81
|
Page 82
|
Page 83
|
Page 84
|
Page 85
|
Page 86
|
Page 87
|
Page 88
|
Page 89
|
Page 90
|
Page 91
|
Page 92
|
Page 93
|
Page 94
|
Page 95
|
Page 96
|
Page 97
|
Page 98
|
Page 99
|
Page 100
|
Page 101
|
Page 102
|
Page 103
|
Page 104
|
Page 105
| Page 106 |
Page 107
|
Page 108
|
Page 109
|
Page 110
|
Page 111
|
Page 112
|
Page 113
|
Page 114
|
Page 115
|
Page 116
|
Page 117
|
Page 118
|
Page 119
|
Page 120
|
Page 121
|
Page 122
|
Page 123
|
Page 124
|
Page 125
|
Page 126
|
Page 127
|
Page 128
|
Page 129
|
Page 130
|
Page 131
|
Page 132
|
Page 133
|
Page 134
|
Page 135
|
Page 136
|
Page 137
|
Page 138
|
Page 139
|
Page 140
|
Page 141
|
Page 142
|
Page 143
|
Page 144
|
Page 145
|
Page 146
|
Page 147
|
Page 148
|
Page 149
|
Page 150
|
Page 151
|
Page 152
|
Page 153
|
Page 154
|
Page 155
|
Page 156
|
Page 157
|
Page 158
|
Page 159
|
Page 160
|
Page 161
|
Page 162
|
Page 163
|
Page 164
|
Page 165
|
Page 166
|
Page 167
|
Page 168
|
Page 169
|
Page 170
|
Page 171
|
Page 172
|
Page 173
|
Page 174
|
Page 175
|
Page 176
|
Page 177
|
Page 178
|
Page 179
|
Page 180
|
Page 181
|
Page 182
|
Page 183
|
Page 184
|
Page 185
|
Page 186
|
Page 187
|
Page 188
|
Page 189
|
Page 190
|
Page 191
|
Page 192
|
Page 193
|
Page 194
|
Page 195
|
Page 196
|
Page 197
|
Page 198
|
Page 199
|
Page 200
|
Page 201
|
Page 202
|
Page 203
|
Page 204
|
Page 205
|
Page 206
|
Page 207
|
Page 208
|
Page 209
|
Page 210
|
Page 211
|
Page 212
|
Page 213
|
Page 214