News articles on zambia

---
Mongabay.com news articles on zambia in blog format. Updated regularly.






Zambia lifts hunting ban on big cats

(06/01/2015) Nine months after Zambia lifted its general trophy hunting ban—including on elephants—the country has now lifted its ban on hunting African lions and leopards. The Zambia Wildlife Authority (ZAWA) lifted the ban after surveying its big cat populations and setting new regulations.
Pollinator collapse could lead to a rise in malnutrition

(02/09/2015) Saving the world's pollinators may be a public health issue, according to recent research. Scientists have long believed that pollinators are important for human nutrition, but this is first time they have tested the hypothesis. What they found is disturbing: pollinator collapse could increase nutrient deficiency across local populations by a up to 56 percent in four developing counties.
Zambia ends trophy hunting ban, elephants fair game

(09/09/2014) After 20 months, Zambia has lifted its ban on hunting, allowing trophy hunters to target numerous species in the wildlife-rich country including elephants. The announcement was made by the country's Tourism and Art's Minister, Jean Kapata, who stated that the ban had resulted in a loss of revenue to the Zambia Wild Life Authority (ZAWA).
Zebras for the win! Africa's longest land migration discovered
(05/29/2014) With food and water scarce in many parts of Africa, many species migrate long-distances in order to survive. A new study published in the journal, Oryx has found a new record-breaker for the continent's longest tracked terrestrial migration: a huge group of zebras that traveled a total distance of 500 kilometers (300 miles).
Scientists discover new giant mole rat in Africa (photos)
(04/30/2013) Although the term "giant mole rat" may not immediately inspire love, the mole rats of Africa are a fascinating bunch. They spend practically their entire lives underground building elaborate tunnel systems and feeding on plant stems. This underground lifestyle has led them to evolve small ears, tiny eyes, forward-pointing teeth for digging, and nostrils they can shut at will while digging. Some species are quite social, such as the most famous, the naked mole rat (Heterocephalus glaber), while others live largely solitary lives. If that's not enough, the family of mole rats, dubbed Blesmols, may even help us find a cure for cancer.
Three developing nations move to ban hunting to protect vanishing wildlife
(01/21/2013) Three developing countries have recently toughened hunting regulations believing the changes will better protect vanishing species. Botswana has announced it will ban trophy hunting on public lands beginning in 2014, while Zambia has recently banned any hunting of leopards or lions, both of which are disappearing across Africa. However, the most stringent ban comes from another continent: Costa Rica—often considered one of the "greenest" countries on Earth—has recently passed a law that bans all sport hunting and trapping both inside and outside protected areas. The controversial new law is considered the toughest in the Western Hemisphere.
Environment ministry drops copper mine in Zambezi park

(01/07/2013) A proposed copper mine set to be built in Lower Zambezi National Park has been rejected by Zambia's environmental management agency. Australian company Zambezi Resources Ltd, a subsidiary of Proactive Investors, had scheduled the $494 million Kangaluwi Copper Project to begin production in 2015. But their proposal sparked an outcry from environmentalists and government lobbyists concerned about the effects of the open pit mine in the park. Though mining is not generally permitted in the park, Zambezi Resources obtained a Large-Scale Mining License from the government which would have allowed them to mine for 25 years right in the middle of Lower Zambezi National Park.
Fertilizer trees boost yields in Africa

(10/16/2011) Fertilizer trees—which fix nitrogen in the soil—have improved crops yields in five African countries, according to a new study in the International Journal of Agricultural Sustainability. In some cases yields have doubled with the simple addition of nitrogen-soaking trees. The research found that fertilizer trees could play a role in alleviating hunger on the continent while improving environmental conditions.
Innovative program saves wildlife, protects forests, and fights poverty in Africa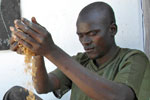 (08/23/2011) Luangwa Valley in Zambia is home to stunning scenes of Africa wildlife: elephants, antelopes, zebra, buffalo, leopards, hyena, and lions all thrive in Luangwa's protected areas, while the Luangwa River is known for multitude of snapping crocodiles and its superabundant herds of hippos. In fact, the area's hippos were filmed for the BBC's program Life, including a dramatic battle between two males (see below). Yet as in many such places in Africa, abundant plains and forest wildlife bump up against the needs of impoverished local people. The resulting conflict usually ends in large-scale wildlife declines; the same trend was documented in the Luangwa Valley until a unique initiative began to make a difference not only in the life of animals, but of people as well.
Record number of nations hit all time temperature highs

(11/23/2010) To date, nineteen nations have hit or matched record high temperatures this year, according to Jeff Master's Wunder Blog, making 2010 the only year to have so many national records. In contrast, no nation this year has hit a record cold temperature.
Rise in poaching pushes CITES to vote 'no' to ivory sales

(03/22/2010) The Convention on International Trade in Endangered Species (CITES) has pleased conservationists with its decision to not allow the one-off sales of ivory from government stockpiles in Tanzania and Zambia given the recent rise in elephants poaching in Africa.
Camping in the Okavango Delta in Botswana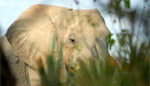 (08/19/2009) The first animal we saw in the Okavango was unmistakable. Although far away, we could easily make it out with its telltale trunk: an African elephant—the world's largest land animal—was striding peaceably through the delta's calm waters. We watched, entranced, from the mokoro, a small boat powered and steered by a local wielding a long pole to push the craft along.
Photos: Hippos threatened in Africa

(01/07/2008) As the sun sets on the Luangwa River in Zambia, a male hippo throws its mouth open in a yawn as wide as a canyon. Night is falling as the hippo herds break to the banks to follow their regular paths to their feeding grounds. Their huge, round hooves made muddy imprints during the rainy season, and have dried to concrete craters along a trail the hippos follow to graze in grassy glades.
Low deforestation countries to see least benefit from carbon trading

(08/13/2007) Countries that have done the best job protecting their tropical forests stand to gain the least from proposed incentives to combat global warming through carbon offsets, warns a new study published in Tuesday in the journal Public Library of Science Biology (PLoS). The authors say that "high forest cover with low rates of deforestation" (HFLD) nations "could become the most vulnerable targets for deforestation if the Kyoto Protocol and upcoming negotiations on carbon trading fail to include intact standing forest."
Agents of death for wildlife become jewelry in Zambia

(07/12/2007) Craftswomen in Zambia are turning snares formerly used to illegal kill wildlife into jewelry. Called "snareware", the handmade jewelry is part of a program that has grossed $350,000 for rural communities and helped protect endangered wildlife.