News articles on wildlife trafficking

---
Mongabay.com news articles on wildlife trafficking in blog format. Updated regularly.






Fracas over Costa Rican shark-fin exports leads American Airlines to stop shipping fins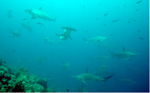 (04/24/2015) On December 24, an American Airlines plane carried 411 kilos of dried hammerhead shark fins from Alajuela, Costa Rica, to Hong Kong, touching down partway through the journey in Miami. The shipment, valued at nearly $53,000, contained fins from around 411 animals, more than seven times the number on its export permit from the Costa Rican government.
Officials: Sumatran rhino is extinct in the wild in Sabah
(04/23/2015) There are no Sumatran rhinos left in the wild in the Malaysian state of Sabah, confirmed Masidi Manjun, the Tourism, Culture and Envi­ronment Minister, over the weekend. In 2008, conservationists estimated there were around 50 rhinos in the state. Five years later, it dropped that estimate to just ten. Now, it's admitted the awful truth: the wild rhino is very likely gone.
Zimbabwe selling baby elephant calves to China, says environmental group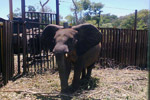 (04/17/2015) A hundred thousand African elephants were killed by poachers for their ivory between 2010 and 2012. Now a new threat looms: a growing wildlife trade in baby animals to satisfy international tourism. Zimbabwe has reportedly taken 80 elephant calves from their mothers and families in the wild, and is currently holding them in two heavily guarded facilities in Hwange National Park and near Victoria Falls. The baby animals await transport overseas for sale to unidentified buyers, possibly in China or other countries, says the international elephant rights organization, Global Action Ending Wild Capture (GAEWC).
Expedition in the Congo rediscovers lost primate
(04/14/2015) The last time there was a sighting of Bouvier's red colobus disco was all the rage, the Internet was non-existent, and Madonna still referred solely to the mother of God. But then the African monkey vanished and conservationists feared it had gone extinct—a victim of the bushmeat trade. For years, research groups called for an expedition to find out if Bouvier's red colobus still survived.
New species of monitor lizards found on the black market
(03/27/2015) Searching the globe for undiscovered species takes biologists to far and remote locations, trekking through exotic locales that may yield a new discovery. However, exploring the black market can also produce results. And this is just the case for Rafe Brown, curator of the University Of Kansas (KU) Biodiversity Institute, during a recent visit to the Philippines. In a black market in Manila, Brown and his colleagues discovered two new species of water monitor lizard for sale.
Elephant poaching rate unchanged – and still devastating
(03/25/2015) New figures show essentially no change in the number of elephants killed in Africa by poachers last year, despite a high-profile meeting on the crisis which was attended by 46 countries and a number of commitments. Data from CITES' Monitoring the Illegal Killing of Elephants (MIKE) estimated that around 20,000 elephants were killed in 2014, the same as in 2013.
Last ditch: Mexico finally gets serious about saving the vaquita
(03/04/2015) There are likely less than 100 vaquita on the planet. Found only in the northern pocket of the Sea of Cortez in Mexico, the vaquita is a tiny, shy porpoise that has been brought to the very edge of extinction due to drowning in gillnets used for shrimping. But after years of stalling, Mexico now appears to be making a final effort to save the world's most endangered cetacean.
$7 million could save lemurs from extinction
(02/25/2015) Last year, scientists released an emergency three-year plan that they argued could, quite literally, save the world's lemurs from mass extinction. Costing just $7.6 million, the plan focused on setting up better protections in 30 lemur hotspots. However, there was one sticking point: donating to small programs in one of the world's poorest countries was not exactly user friendly.
Sting operation nets tiger poachers

(02/24/2015) A sting operation by Indonesian officials snared a group of tiger hunters operating in Karinci Seblat National Park in Jambi Province, Sumatra. After an extended investigation, undercover officers caught three local residents as they attempted to sell a tiger skin and bones in the village of Karang Mendapo, in Sarolangun Regency.
Happy World Pangolin Day. What are we celebrating?
(02/21/2015) It's that crazy time of year again, World Pangolin Day, where we feverishly run out into the streets and join the thousands of pangolin protectors, fighting for the survival of our scaly friend. Well, no actually, hold on, what's a pangolin?
Authorities catch kingpin responsible for killing 20 rhinos
(02/19/2015) With the aid of Interpol, authorities have arrested the leader of a rhino poaching gang responsible for killing a 20 Indian rhinoceros in Nepal. Last month, authorities nabbed Raj Kumar Praja in Malaysia where he had been evading capture for two years. Kumar was already evicted of 15 poaching incidents in absentia and sentenced to 15 years in prison.
42 pangolins rescued...then sold to restaurants

(02/17/2015) On February 1st, local police seized 42 live Sunda pangolins from poachers and handed them over to forest rangers in Vietnam's northern province of Bac Ninh. While the poachers were slapped with a fine, the rangers turned around and sold the live pangolins to local restaurants for a reported $56 a kilo, netting a total of $11,300 for the Critically Endangered mammals.
Sabah shocked by banteng poaching

(02/16/2015) Malaysia's Daily Express recently published graphic photos of poachers in the Malaysian state of Sabah posing proudly with a number of illegally slaughtered large animals, including the incredibly rare and cryptic banteng. Wild, forest cattle, banteng are scattered across parts of Southeast Asia, but Borneo is home to a distinct subspecies: Bos javanicus lowi.
World Parks Congress talks the talk, but future depends on action
(02/05/2015) Last year, more than 6,000 people gathered for the World Parks Congress 2014, an event held around every ten years by the International Union for Conservation of Nature (IUCN). The World Parks Congress discusses myriad issues related to protected areas, which recent research has shown are in rough shape.
1,215 rhinos butchered in South Africa in 2014
(01/22/2015) 1,215: that's the total number of rhinos butchered last year in South Africa for their horns. The number represents another annual record—the seventh in a row—topping last year's total by 195 rhinos. South Africa houses the bulk of the world's rhinos (around 80 percent), but has also become the center of the illegal poaching trade.
Ocean's 15: meet the species that have vanished forever from our seas
(01/15/2015) In the last 500 years, the oceans have suffered far fewer extinctions than on land—at least that we know of. According to a recent study in Science, 15 animals are known to have vanished forever from the oceans while terrestrial ecosystems have seen 514 extinctions. The researchers, however, warn that the number of marine extinctions could rise rapidly as the oceans are industrialized.
Mother and cub: researchers photograph rare cat with cub in Sumatra
(01/13/2015) Researchers working in Kerinci Seblat National Park have captured a remarkable image of a mother Asian golden cat (Catopuma temminckii) carrying her young in her mouth. The image was taken in mid-2014 as reported by Mongabay Indonesia by the Sumatran Tiger Research Team.
California introduces bill to close ivory loophole

(01/08/2015) California congresswoman, Toni G. Atkins, introduced a bill yesterday (AB 96) that would close a major loophole allowing ivory to be sold all over the state. Thousands of miles away, across Africa, poachers are decimating elephants for their ivory tusks. A recent study estimated that one fifth of the continent's elephants have been slaughtered in just three years.
How black rhinos and local communities help each other in Namibia
(01/07/2015) Africa's rhinos are in a state of crisis. Poaching for their horn has resulted in the deaths of thousands of animals and pushed the continent's two species—the white and black rhino—against the wall. Yet, despite the crisis, there are pockets of rhino territory where poaching remains rare and rhinos live comparatively unmolested. Indeed, one of the brightest spots for rhinos is in Namibia.
Top 10 Environmental Stories of 2014
(12/23/2014) In 2014, the unimaginable happened: companies representing the majority of palm oil production and trade agreed to stop cutting down rainforests and draining peatlands for new oil palm plantations. After years of intense campaigning by environmentalists and dire warnings from scientists, nearly two dozen major producers, traders, and buyers established zero deforestation policies.
Meet the world's most wanted environmental criminals

(11/26/2014) In keeping with recent efforts to ramp up action against environmental crime, INTERPOL has highlighted nine fugitives for breaking laws related to illegal logging, poaching and the wildlife trade, illegal fishing, and waste dumping, among other crimes.
New blood record: 1,020 rhinos killed in South Africa

(11/24/2014) South Africa has surpassed last year's grisly record for slaughtered rhinos—1,004—more than a month before the year ends. In an announcement on November 20th, the South African Department of Environmental Affairs said that 1,020 rhinos had been killed to date.
Black market manta ray bust in Indonesia

(11/14/2014) In the largest confiscation in Indonesia to-date, authorities seized 103kg of manta gills in Bali, and arrested one suspect. The dried gill plates were harvested from as many as 85 individuals and are worth about 175 million rupiah on the local market.
Local people are not the enemy: real conservation from the frontlines
(11/12/2014) Saving one of the world's most endangered primates means re-thinking conservation. When Noga Shanee and her colleagues first arrived in Northeastern Peru on a research trip to study the yellow-tailed woolly monkey (Oreonax flavicauda), she was shocked by what she observed.
Using mobile apps to stop wildlife trafficking at the border

(11/11/2014) Conservationists are successfully developing mobile apps that enable authorities to identify illegal wildlife products, making it more difficult for traffickers to smuggle animals and animal parts, reports a paper published in the journal Biological Conservation.
Corruption in Tanzania facilitates ivory trade

(11/06/2014) Corruption in Tanzania is enabling large volumes of illegal elephant ivory to be smuggled out of the country, alleges a new report from the Environmental Investigation Agency (EIA).
Tiger traffickers busted in Indonesia
(11/04/2014) Two online merchants of tiger parts have been arrested in Indonesia. The bust was the result of a coordinated effort between local and national authorities, and the Wildlife Conservation Society (WCS) which supports 'Wildlife Crimes Units' operating throughout the country. The arrests are a small success in the battle to curtail the trafficking of wildlife parts online—where sellers can readily connect with a broad international customer base.
Pet trade likely responsible for killer salamander fungus
(10/30/2014) As if amphibians weren't facing enough—a killer fungal disease, habitat destruction, pollution, and global warming—now scientists say that a second fungal disease could spell disaster for dozens, perhaps hundreds, of species. A new paper finds that this disease has the potential to wipe out salamanders and newts across Europe, the Middle East, North Africa, and the Americas.
The inconvenient solution to the rhino poaching crisis
(10/28/2014) Daily, we read or hear of more rhino being poached to satisfy the seemingly insatiable demand from Asia for rhino horn. With countless articles and papers having been published on the subject - and the Internet abuzz with forums, including heated debates concerning possible solutions - current approaches seem to be failing. Evidence is in the numbers. Known poaching deaths in South Africa have risen sharply over the past three years: 668 rhinos in 2012, 1,004 last year, and 899 through the first nine months of 2014. This toll includes only documented kills — the real number is higher.
When cute turns deadly – the story of a wildlife biologist who was bit by a venomous slow loris, and lived to tell the tale
(10/24/2014) Slow lorises are YouTube stars. A quick search on the website will greet you with several videos of these endearing little primates--from a slow loris nibbling on rice cakes and bananas, to a loris holding a tiny umbrella. Lady Gaga, too, tried to feature a slow loris in one of her music videos. But the loris nipped her hard, and she dropped her plans. This was probably for the best, because the bite of a slow loris is no joke. Being the only known venomous primate in the world, its bite can quickly turn deadly.
Saving Asia's other endangered cats (photos)
(10/21/2014) It's no secret that when it comes to the wild cats of Asia—and, really, cats in general—tigers get all the press. In fact, tigers—down to an estimated 3,200 individuals—arguably dominate conservation across Asia. But as magnificent, grand, and endangered as the tigers are, there are a number of other felines in the region that are much less studied—and may be just as imperiled.
Use of mammals still prevalent in Brazil's Conservation Units
(10/06/2014) For as long as humans and animals have co-existed, people have utilized them as resources. Animals, and their parts, have been used for a variety of purposes, ranging from basic food to more esoteric practices such as in magical ceremonies or religion. A new study has found that the undocumented use of animals, particularly mammals, continues to occur in Brazil's protected areas known as Conservation Units.
Photos: Czech Republic publicly burns confiscated rhino horns
(10/06/2014) Late last month, armed guards escorted officials marching 60 kilograms (132 pounds) of rhino horns to a pyre for burning. The event, at the Dvůr Králové Zoo in the Czech Republic, was the first public burning of rhino horns in Europe. The Czech Republic burned the horns, which came from a government stockpile as well as from past rhinos held at the zoo, in a bid to help conserve rhinos.
Armed conflict decimates tigers, rhinos, and swamp deer in Indian park

(09/30/2014) The human cost of war is horrendous. However, while most attention is focused on the suffering caused to people—and rightly so—an understudied element is the impact on wildlife conservation. This is worrying given that many of the world's conflict zones are situated in biodiversity hotspots.
Did the world's only venomous primate evolve to mimic the cobra?
(09/29/2014) The bite of a slow loris can be painful, and sometimes even lethal. After all, this cute-looking YouTube sensation is the only known 'venomous' primate in the world—a trait that might have strangely evolved to mimic spectacled cobras, according to a recent paper. Mimicry in mammals is rare. But anecdotal evidence and studies in the past have noted the uncanny cobra-like defensive postures, sounds, and gait in slow lorises.
Malayan tiger population plunges to just 250-340 individuals
(09/16/2014) Malaysia is on the edge of losing its tigers, and the world is one step nearer to losing another tiger subspecies: the Malayan tiger. Camera trap surveys from 2010-2013 have estimated that only 250-340 Malayan tigers remain, potentially a halving of the previous estimate of 500 individuals.
Bizarre lizard newest victim of reptile pet trade
(09/15/2014) If you've never heard of the earless monitor lizard, you're not alone: this cryptic lizard has long-escaped the attention of the larger public. But over the past couple years its bizarre appearance has been splashed across social media sites for reptile collectors. While this decidedly-quirky attention may seem benign, it could actually threaten the species' existence.
Why are great apes treated like second-class species by CITES?

(09/11/2014) The illegal trade in live chimpanzees, gorillas, bonobos and orangutans showed no signs of weakening in the first half of 2014—and may actually be getting worse—since the Great Apes Survival Partnership (GRASP) published the first-ever report to gauge the global black market trade in great apes in 2013.
Conservationists use social media to take on Peru's booming illegal wildlife trade
(09/04/2014) Illegal wildlife trafficking is thriving in Peru. But a Peruvian organization is now using a public campaign, via social media and press releases, to track and rescue illegally kept wildlife in the country. 'I have filed 47 complaints from 14 different states in Peru including hundreds of animals commercialized illegally in markets, kept as pets, and used as tourist attractions,' said Noga Shanee, Co-founder and project director of Neotropical Primate Conservation.
Indonesian authorities bust porcupine-smuggling ring

(08/28/2014) Police in Langkat, North Sumatera, Indonesia, seized 55 porcupines from smugglers preparing to ship the animals to China. Three suspects were detained during last week's operation, while their accomplices remain at large. Dozens more animals reportedly obtained from dealers in Medan are still unaccounted for.
20 percent of Africa's elephants killed in three years
(08/19/2014) Around 100,000 elephants were killed by poachers for their ivory on the African continent in just three years, according to a new paper in the Proceedings of the National Academy of Sciences. Between 2010 and 2012 an average of 6.8 percent of the elephant population was killed annually, equaling just over 20 percent of the continent's population in that time.
Demand for shark fin plunging
(08/12/2014) Shark fin demand has dropped precipitously in China in just a few years, according to a new report by WildAid. Shark fin traders in Guangzhou—the current informal capital of the shark fin trade—say their sales have fallen by 82 percent in just two years, according to WildAid.
Want to save Africa's elephants? Close all ivory markets
(08/07/2014) The only way to save the long-suffering elephants of Africa is to close every ivory market on the planet and destroy all ivory stockpiles, according to a bold new essay in Conservation Biology. Written by Elizabeth Bennett, the Vice President for Species Conservation at the Wildlife Conservation Society, the paper is likely to prove controversial.
New Jersey bans elephant ivory trade
(08/05/2014) New Jersey Governor Chris Christie has signed into law a ban on elephant ivory sales, reports NorthJersey.com. The measure, passed earlier by the New Jersey State Senate and Assembly, establishes fines for first-time offenders caught buying or selling ivory products. Repeat offenders have stiffer fines.
Poachers target elephants, tigers in Sumatran park

(07/31/2014) The Leuser Ecosystem in Aceh, Indonesia is gaining the attention of international animal traffickers, according to the Leuser Conservation Forum (FKL). From the beginning of 2013, FKL patrols have dismantled 282 makeshift traps targeting high value threatened species, and the situation is getting worse.
Over a million pangolins slaughtered in the last decade
(07/28/2014) One of the world's most bizarre animal groups is now at risk of complete eradication, according to an update of the IUCN Red List. Pangolins, which look and behave similarly to (scaly) anteaters yet are unrelated, are being illegally consumed out of existence due to a thriving trade in East Asia.
Price of ivory triples in China

(07/07/2014) In the last four years the price of ivory in China has tripled, according to new research from Save the Elephants. The news has worrying implications for governments and conservationists struggling to save elephants in Africa amidst a poaching epidemic, which has seen tens-of-thousands of elephants butchered for their tusks across the continent annually
U.S should sanction Mozambique for its role in elephant, rhino poaching, urges NGOs

(07/03/2014) Two prominent NGOs U.S should sanction Mozambique for its role in elephant, rhino poaching, urges NGOsare petitioning the U.S government to slap Mozambique with trade sanctions due to the country's role in regional poaching. The groups contend that Mozambique has done little to combat both its own poaching epidemic or stop its nationals from spilling over the border to kill rhinos and elephants in South Africa and Tanzania.
Shot Egyptian vulture leads conservationists to bizarre black-market for bird parts
(06/24/2014) Around 11 AM on Thursday, 27 February 2014, Angoulou Enika was lying hidden in the tall grass on the side of a large water hole in the Sahel region of Niger. He was staying as quiet as he could while aiming his custom-made rifle at an Egyptian vulture which had landed nearby to drink from the water. He took a breath, held it and fired. The large bird fell to its side.
Grenades, helicopters, and scooping out brains: poachers decimate elephant population in park
(06/15/2014) Over the last two months, poachers have killed 68 African elephants in Garamba National Park representing around four percent of the population. Poachers have used helicopters, grenades, and chainsaws to undertake their gruesome trade, and, for the first time, the park has recorded that the criminals are removing the elephant's brains in addition to tusks and genitals.
New York State Assembly approves bill banning ivory trade

(06/13/2014) The New York State Assembly has passed a bill that would ban the purchase and sale of elephant ivory and rhino horn, reports the Wildlife Conservation Society (WCS), which played a key role in pushing the legislation.
Despite poaching, Indian rhino population jumps by 27 percent in eight years

(06/10/2014) The world's stronghold for Indian rhinos—the state of Assam—has seen its population leap by 27 percent since 2006, despite a worsening epidemic of poaching that has also seen 156 rhinos killed during the same period. According to a new white paper, the population of Indian rhinos in Assam hit 2,544 this year.
Indonesia's forests increasingly empty of wildlife

(05/25/2014) Tropical rainforests are the most species-rich ecosystems in the world. Each square kilometer has hundreds of tree species, birds and mammals, and countless other creatures. The idea that these forests could be devoid of animal life therefore seems ludicrous. Still the disappearance of birds, mammals and other species is what is happening in Indonesian forests. The 'empty forest' syndrome is becoming an increasing reality in this country.
Epidemic of elephant calf kidnapping hits Sri Lanka, say conservationists
(05/21/2014) In Sri Lanka, an underground wildlife racket has been simmering for a while. And a recent incident has brought it to a boil. On the night of May 1st, a gang attempted to kidnap a wild elephant calf out of the Uduwalawe National Park in Sri Lanka. But tipped off by alert villagers, police and wildlife officers foiled the abduction.
Chinese officials seize nearly a thousand dead pangolins
(05/20/2014) In one of the biggest pangolin trafficking cases yet recorded in China, officials confiscated 956 animals stuffed into 189 coolers this month. The dead pangolins were being carried overland in a truck, with the total haul weighing four tonnes. The traffickers were caught at the border of Guangdong Province. If convicted, they face up to ten years in jail.
Hong Kong begins destroying 131,000 pounds of elephant ivory
(05/17/2014) Hong Kong has begun destroying its 29.6-metric-ton stockpile of confiscated ivory. On Thursday authorities in the semi-autonomous Chinese city crushed and incinerated a ton of seized ivory in an action they hope will send a message to poachers and traffickers.
Chinese who eat endangered species could face over ten years in jail

(04/29/2014) It's well known that much of the world's massive illegal wildlife trade ends up in China, including poached tigers, pangolins, and bears. But now those who order pangolin fetuses, tiger blood, or bear bile at a restaurant or market may see significant jail time.
Okapi-killing warlord shot dead in the Democratic Republic of the Congo
(04/17/2014) The head of an informal militia and poaching group, Paul Sadala a.k.a. 'Morgan,' was killed on Monday after surrendering himself to the army in the Democratic Republic of the Congo (DRC). A well-known elephant poacher and terrorist, Morgan became most famous for leading an attack on the Okapi Wildlife Reserve station in 2012.
Next big idea in forest conservation? Connecting deforestation to disease
(04/03/2014) Thomas Gillespie is concerned with the connections between conservation and disease, with a particular emphasis on primates. Much of his research examines the places where humans and animals are at a high risk of exchanging pathogens, and how human-caused disturbances, such as deforestation, can change disease dynamics and impacts.
How locals and conservationists saved the elephants of Mali amidst conflict and poverty
(04/02/2014) At a time when Africa's elephants are facing a relentless poaching crisis, one community has managed to safeguard their elephants in the most unlikely of places: Mali. In a country that has suffered from widespread poverty, environmental degradation, and, most recently, warfare, a collaboration between conservationists and the local community has kept Mali's elephants from extinction.
Islamic clerics issue 'fatwa' against poaching, declare the illegal wildlife trade 'haram'
(03/10/2014) Indonesia's Islamic clerics drew praise from conservation groups last week after the top clerical body in the world's largest Muslim-majority country issued a fatwa, or religious decree, against poaching and wildlife trafficking. The Indonesian Council of Ulema (MUI) announced the fatwa on Tuesday, declaring the illegal wildlife trade to be haram, or forbidden under Islamic law. The fatwa forbids Indonesia's Muslims from "all activities resulting in wildlife extinction" and is meant in part to help support existing national laws protecting endangered species, which are poorly enforced and have done little to prevent poaching.
Rhino with bullet in its brain and hacked off horn wanders for days before being put down
(03/05/2014) Last week, visitors in Kruger National Park came on a horrifying sight of the poaching trade: a rhino, still alive, with its horn and part of its face chopped off. The gruesome photo of the young rhino went viral and sent South African authorities scrambling. Five days after the sighting, South African National Parks (SANParks) has announced they found the rhino and put it out of its misery.
South Africa loses nearly 150 rhinos to poachers so far this year

(02/28/2014) Since the first of the year, South Africa has lost 146 rhinos to poachers or approximately 2.5 rhinos every day. This is a slight dip from last year's poaching rate, which hit 1,004 for the whole year or 2.75 a day. South Africa is home to more rhinos than any other country on the planet, but the populations have been hit hard by poachers in recent years seeking rhino horn.
Palm oil plantations allegedly poison seven Critically Endangered elephants in Sumatra

(02/28/2014) Wildlife officials suspect foul play in the deaths of seven Sumatran elephants on the outskirts of Tesso Nilo National Park. Officials stumbled on the corpses of one female elephant, five young males, and one male calf in mid-February. Although the males had their tusks hacked off, the officials suspect the elephant were poisoned in revenge for disturbing illegal palm oil plantations inside the park.
Lady Gaga gets bitten by venomous primate, sparking outrage over loris trafficking
(02/25/2014) Last week, the musical artist, Lady Gaga, was 'nipped' by the world's only venomous primate, a slow loris, in a misguided attempt to use the animal in a new music video. After it bit the musician, the idea of using the primate in the video was dropped. This was just as well, according to loris expert Anna Nekaris, who says that slow lorises have become increasingly endangered worldwide by the illegal pet trade after people have seen them on YouTube videos.
Shoot to conserve: Corey Knowlton's rhino hunt escalates the debate over trophy hunting and environmentalism
(02/20/2014) 'After a long conversation with the FBI I have decided to temporarily suspend my activity on this page. I want to thank all of you who have commented [on] this important issue of Black Rhino Conservation.' – Corey Knowlton, Feb 3, 2014. This was the last post on Corey Knowlton's Facebook page. Knowlton is the hunter who won the Dallas Safari Club auction on January 11th to kill a Critically Endangered black rhino. All the money—$350,000—will go to a fund to protect rhinos. The plan is that sometime soon—once the paperwork clears the U.S. Fish and Wildlife Service—Knowlton will go to Namibia on a "trophy hunt" (accompanied by a park service official), shoot the designated rhino, and bring the old bull's hide back home to Texas.
Conservation groups launch new whistleblower site for wildlife and forest crimes

(02/18/2014) Welcome to Wildleaks: a new website that aims to give the global public a secure and anonymous platform to report wildlife trafficking and illegal deforestation. The illegal wildlife trade has become one of the world's largest criminal activities in recent years, decimating elephants, rhinos, tigers, primates, and thousands of lesser known species. Meanwhile, illegal logging is rampant in many parts of the world, imperiling biodiversity, undercutting locals, and robbing governments of revenue.
Ivory trade's shocking toll: 65% of world's forest elephants killed in 12 years (warning: graphic image)

(02/12/2014) Forest elephants have suffered unprecedented butchery for their ivory tusks over the past decade, according to new numbers released by conservationists today in London. Sixty-five percent of the world's forest elephants have been slaughtered by poachers over the last dozen years, with poachers killing an astounding nine percent of the population annually. Lesser-known than their savannah cousins, a genetics study in 2010 found that forest elephants are in fact a distinct species, as far removed from savannah elephants as Asian elephants are from mammoths. These findings make the forest elephant crisis even more urgent.
Obama announces new strategy to tackle wildlife trafficking, including toughening ivory ban

(02/12/2014) Yesterday, the Obama administration announced an ambitious new strategy to help tackle the global illegal wildlife trade, including a near-complete ban on commercial ivory. The new strategy will not only push over a dozen federal agencies to make fighting wildlife trafficking a new priority, but will also focus on reducing demand for wildlife parts and actively engaging the international community. The U.S. is the world's second largest destination for illegal wildlife trafficking after China.
Hong Kong to destroy 4,000 dead elephants' worth of ivory
(01/24/2014) The government of Hong Kong will destroy 28 tons of ivory confiscated from traffickers, reports CNN. The announcement, which comes just weeks after China destroyed six tons of seized ivory, suggests that the leaders of the world's largest market for ivory may be getting more serious about addressing a global poaching boom, say conservationists.
Over 1,000 rhinos killed by poachers in South Africa last year

(01/17/2014) In another sign that Africa's poaching crisis has gotten completely out of control, South Africa lost 1,004 rhinos to poachers last year. According to the numbers released today by the South African Department of Environmental Affairs, 2013 was the worst year yet for rhino poaching in the country with nearly 3 rhinos killed every day.
Indonesia police nab illegal wildlife traffickers in sting operation
(01/12/2014) Police in Indonesia's Aceh province have arrested two wildlife trafficking suspects allegedly behind five tiger poaching rings operating in the forests of northern Sumatra. The arrests followed a months-long investigation and an undercover sting operation in which police seized thousands of dollars worth of illegal animal parts.
Requiem or recovery?: the Sumatran rhino 200 years after its description
(01/08/2014) In 1893, William Bell, a surgeon in the service of the Dutch East India Company stationed in Bencoolen, Sumatra, examined the body of a dead rhinoceros. The animal, a male, was relatively small as rhinoceroses go, measuring only four feet four inches at the shoulder and eight feet five inches from its nose to the tip of its tail. Dr. Bell noted that the animal resembled a large hog and judged it to be a young individual based upon the condition of the bones and teeth.
Anti-elephant poaching story goes viral in China
(12/20/2013) A newspaper story about the impact of the ivory trade has gone viral in China, raising awareness among millions of Chinese, reports the Wildlife Conservation Society (WCS). The story, published November 15 in Southern Weekly, has been shared widely across Chinese web sites and social media.
Madagascar's most famous lemur facing big threats
(12/18/2013) The ring-tailed lemur (Lemur catta), perhaps the most well-known of Madagascar's endemic animals, is facing a "very high" risk of extinction in the wild. The Madagascar Section of the IUCN Primate Specialist Group reassessed the Red List status of ring-tailed lemurs and upgraded the species from Near-Threatened (2008) to Endangered (2012). Ring-tailed lemurs are facing extinction in some parts of Madagascar because of continued habitat loss, and more recently, species exploitation.
Top 10 Environmental Stories of 2013
(12/10/2013) 1. Carbon concentrations hit 400ppm while the IPCC sets global carbon budget: For the first time since our appearance on Earth, carbon concentrations in the atmosphere hit 400 parts per million. The last time concentrations were this high for a sustained period was 4-5 million years ago when temperatures were 10 degrees Celsius higher. Meanwhile, in the slow-moving effort to curb carbon emissions, the Intergovernmental Panel on Climate Change (IPCC) crafted a global carbon budget showing that most of the world's fossil fuel reserves must be left untouched if we are to avoid catastrophic climate change.
Microsoft founder funds Africa-wide elephant survey to measure ivory poachers' toll

(12/04/2013) Beginning next year, light planes and helicopters will undertake the first ever continent-wide aerial survey of Africa's vanishing elephant populations. The hugely ambitious initiative, which will count elephant herds in 13 countries, is being funded by Microsoft founder, Paul Allen, through his Paul G. Allen Family Foundation.
22,000 elephants slaughtered for their ivory in 2012

(12/02/2013) As the African Elephant Summit open in Botswana today, conservationists released a new estimate of the number of African elephants lost to the guns of poachers last year: 22,000. Some 15,000 elephants killed in 42 sites across 27 countries on the continent, according to newly released data from the CITES program, Monitoring the Illegal Killing of Elephants (MIKE). But conservationists estimate another 7,000 went unreported. The number killed is a slight decrease over 2011 numbers of 25,000.
New campaign: hey China, stop killing the 'pandas of Africa'
(10/29/2013) A new public-service campaign in China will ask potential ivory and rhino horn buyers to see the victims of these illicit trades in a new light: as the "pandas of Africa." The posters are a part of WildAid's 'Say No to Ivory and Rhino Horn' campaign, which was launched earlier in the year.
Stuffed tigers send two soldiers to jail in Indonesia

(10/28/2013) A military court in Indonesia's Aceh province has jailed two soldiers for illegally possessing two stuffed Sumatran tigers (Pathera tigris sumatrae) and a stuffed sun bear (Helarctos malayanus), a rare verdict in the Sumatran province where crimes involving wildlife are seldom prosecuted.
Fishermen illegally killing dolphins for shark-bait in Peru (video)
(10/23/2013) Peruvian fishermen slaughtered dolphins to use as bait for shark fishing, an undercover investigation has revealed. Footage showed infant and adult dolphins being harpooned then stabbed and clubbed before, in some cases, being cut open and butchered while still alive. The slaughtered dolphins were cut up and used as bait. Dolphins are also killed for human consumption in Peru even though it is illegal.
Advertising campaign changing minds in China on ivory trade
(10/16/2013) For three years, the International Fund for Animal Welfare (IFAW) has been running advertizing campaigns in Chinese cities to raise awareness on the true source of ivory: slaughtered elephants. A recent evaluation of the campaign by Rapid Asia found that 66 percent of those who saw the ads said they would "definitely" not buy ivory in the future.
Tapirs, drug-trafficking, and eco-police: practicing conservation amidst chaos in Nicaragua
(10/10/2013) Nicaragua is a nation still suffering from deep poverty, a free-flowing drug trade, and festering war-wounds after decades of internecine fighting. However, like any country that has been largely defined by its conflicts, Nicaragua possesses surprises that overturn conventional wisdom. Not the least of which is that the Central American country is still home to big, stunning species, including jaguars, giant anteaters, pumas, and the nation's heaviest animal, the Baird's tapir (Tapirus bairdii). Still, not surprisingly given the nation's instability, most conservationists have avoided Nicaragua. But tapir-expert Christopher Jordan, who has worked in the country for over four years, says he wouldn't have it any other way.
Tanzania should implement shoot-to-kill policy for poachers, says government minister

(10/09/2013) A government minister in Tanzania has called for a "shoot-to-kill" policy against poachers in a radical measure to curb the mass slaughter of elephants. Khamis Kagasheki's proposal for perpetrators of the illicit ivory trade to be executed 'on the spot' divided opinion, with some conservationists backing it as a necessary deterrent but others warning that it would lead to an escalation of violence.
Unlikely success: how Zimbabwe has become a global leader in rhino conservation
(10/02/2013) With its collapsed economy, entrenched poverty, and political tremors, one would not expect that a country like Zimbabwe would have the capacity to safeguard its rhinos against determined and well-funded poachers, especially as just across the border South Africa is currently losing over two rhinos a day on average. And indeed, without the Lowveld Rhino Trust (LRT), rhinos in Zimbabwe would probably be near local extinction. But the LRT, which is centrally involved in the protection of around 90 percent of the country's rhinos in private reserves along with conservancy members, has proven tenacious and innovative in its battle to safeguard the nation's rhinos from the poaching epidemic.






Page 1 | Page 2 | Page 3 | Page 4 | Page 5