News articles on wildlife trade

---
Mongabay.com news articles on wildlife trade in blog format. Updated regularly.








What happened to the elephants of Bouba Ndjida? [warning: graphic photos]
(03/07/2013) A new report released by the Wildlife Conservation Society says that poachers have killed a staggering 62 percent of Africa's forest elephants in the last decade. The insatiable demand for elephant ivory hails mainly from China and Thailand, which is ironically hosting this year's CITES (CoP16) meeting. The meeting will continue until March 13 2013. The study is based on a survey of five elephant range states including Cameroon. Cameroon is the home of Bouba Ndjida National Park, where the dizzying massacre of 650 elephants occurred last year.
Has shark fin consumption peaked at 100M dead sharks per year?
(03/05/2013) While a new study warns that up to 100M sharks are killed annually, there are signs out of China that demand for shark fin may be on the decline. A study published last week in the journal Marine Policy estimated shark deaths at 100 million in 2000 and 97 million in 2010, suggesting a slight drop in shark killing. Meanwhile reports out of China in recent months suggest an accelerating decline in shark fin consumption. China is the top market for shark fin, which is consumed as a status symbol, typically at wedding ceremonies and business dinners.
62% of all Africa's forest elephants killed in 10 years (warning: graphic images)
(03/04/2013) More than 60 percent of Africa's forest elephants have been killed in the past decade due to the ivory trade, reports a new study published in the online journal PLOS ONE. The study warns that the diminutive elephant species — genetically distinct from the better-known savanna elephant — is rapidly heading toward extinction.
CITES 40th Anniversary: Reflections of CITES Secretary-General John Scanlon
(03/04/2013) The Convention on International Trade in Endangered Species (CITES) is often hailed by scholars and conservationists as the most effective international environmental agreement. On March 3, CITES celebrates its 40th anniversary. What accounts for its success? In the following interview, CITES Secretary-General John Scanlon reflects on the convention's strengths and weaknesses.
Thailand's Prime Minister commits to ending ivory trade
(03/04/2013) Yesterday, Thailand's Prime Minister, Yingluck Shinawatra, committed to ending the ivory trade in her country. Her announcement came during the opening of the Convention on the International Trade in Endangered Species of Fauna and Flora (CITES) in Bangkok, which seeks to regulate trade in biodiversity across borders. Wildlife groups say that Thailand's legal trade in domestic ivory—international ivory is illegal of course—has created an easy opening for smugglers from abroad. Currently the ivory trade in Thailand is estimated to be second only to that of China.
Elephant and Rhino issues to be debated at CITES 16th Conference of Parties
(03/04/2013) When the Convention on International Trade in Endangered Species of Wild Fauna and Flora (CITES) meets from March 3-14 in Bangkok for its 16th Conference of Parties (CoP16), elephants and rhinos will be at the top of the agenda. While there are no proposals to open up trade in either elephant ivory or rhino horn, there are several other items on the agenda that will likely generate debate, including proposals for extension of the moratorium on ivory trade, a decision-making mechanism for ivory trade, and suspension of any rhino trophy hunting. Also to be discussed are enforcement mechanisms, including how to prevent illegal ivory from entering existing legal domestic markets.
Overview of the CITES 16th Conference of Parties in Bangkok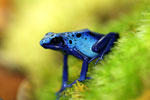 (03/01/2013) When countries meet in Bangkok, Thailand for the Convention on International Trade in Endangered Species of Wild Fauna and Flora (CITES) 16th Conference of Parties (CoP16), to be held from March 3-14, they'll consider 70 proposals submitted by 55 States regarding a range of species, from polar bears to turtles and tropical timbers. To help sort through the many agenda items, CITES Secretary-General John Scanlon provided the following overview of the most significant issues.
Chinese government creating secret demand for tiger trade alleges NGO (warning: graphic images)
(02/26/2013) The number of tigers being captive bred in China for consumption exceed those surviving in the wild—across 13 countries—by over a third, according to a new report by the Environmental Investigation Agency (EIA). The report, Hidden in Plain Sight, alleges that while the Chinese government has been taking a tough stance on tiger conservation abroad, at home it has been secretly creating demand for the internationally-banned trade. Few animals in the world have garnered as much conservation attention at the tiger (Panthera tigirs), including an international summit in 2010 that raised hundreds of millions of dollars for the vanishing wild cats.
A lifetime with elephants: an interview with Iain Douglas-Hamilton
(02/22/2013) Iain Douglas-Hamilton has dedicated his life to elephants. 'I like elephants because of the way they treat each other,' he says. 'They're very nice to each other most of the time, but not all the time ... You see a lot of play...a lot of tender touching, caressing, tactile contact of one sort or another.' The affection goes both ways. Douglas-Hamilton recalls one curious female who would always approach his vehicle. 'Eventually I got so friendly with her that...I could walk with her and feed her the fruits of the wild gardenia tree. That was a very special elephant for me. She eventually brought her babies up to meet me.' Douglas-Hamilton's dedication extends to protecting the species from harm, and especially the ivory trade. He calls the current ivory trade "totally unsustainable" and recommends a total ban on the trade.
Pity the pangolin: little-known mammal most common victim of the wildlife trade
(02/11/2013) Last year tens-of-thousands of elephants and hundreds of rhinos were butchered to feed the growing appetite of the illegal wildlife trade. This black market, largely centered in East Asia, also devoured tigers, sharks, leopards, turtles, snakes, and hundreds of other animals. Estimated at $19 billion annually, the booming trade has periodically captured global media attention, even receiving a high-profile speech by U.S. Secretary of State, Hillary Clinton, last year. But the biggest mammal victim of the wildlife trade is not elephants, rhinos, or tigers, but an animal that receives little notice and even less press: the pangolin. If that name doesn't ring a bell, you're not alone.
Over 11,000 elephants killed by poachers in a single park [warning: graphic photo]
(02/06/2013) Surveys in Gabon's Minkebe National Park have revealed rare and hard data on the scale of the illegal ivory trade over the last eight years: 11,100 forest elephants have been slaughtered for their tusks in this remote protected area since 2004. In all, poachers have cut down the park's elephant population by two-thirds, decimating what was once believed to be the largest forest elephant population in the world.
Sri Lanka to give poached ivory to Buddhist temple, flouting international agreements
(02/05/2013) The Sri Lankan government is planning to give 359 elephant tusks to a Buddhist temple, a move that critics say is flouting the Convention on International Trade in Endangered Species (CITES). The illegal tusks were seized in Sri Lanka last May en route to Dubai from Kenya; they are believed to stem from hundreds of butchered elephants, including juveniles, inside Africa, possibly Uganda. The decision comes after a high-profile National Geographic article, Ivory Worship, outlined how demand for ivory religious handicrafts, particularly by Catholics and Buddhists, is worsening the current poaching crisis. In 2011, it was estimated that 25,000 elephants were illegally slaughtered for their tusks.
Vatican condemns elephant poaching, pledges steps

(02/04/2013) Responding to an investigative report by National Geographic, the Vatican has condemned elephant poaching for ivory and pledged three steps to help in the battle to save the world's elephants. The National Geographic article Ivory Worship, by Bryan Christy, looked at how religions—specifically religious items for Christians and Buddhists—were playing in the growing demand for black-market ivory, which is currently resulting in the violent deaths of tens-of-thousands of endangered elephants every year.
Asian bear farming: breaking the cycle of exploitation (warning: graphic images)
(01/31/2013) In the forests of Asia, bears are being captured. These captives will be sent to bear farms, most unregulated and illegal, where they will be kept alive in a small cage, locked away for life. Their bodies will be used as renewable natural resources, from which profit will be made through the extraction of internal organs and fluids. By surgically inserting a permanent catheter into the bears' gall bladders, "farmers" extract several ounces of their bile. In a cycle of exploitation across east Asia, traditional medicine shops receive these daily shipments of bear bile products, while consumers support the industry through the purchase of these products, sustaining a supply-and-demand chain that puts more and more bears in cages as wild populations dwindle.
Religion, Chinese government drive global elephant slaughter
(01/24/2013) By some estimates, more than 30,000 elephants were slaughtered across the savannas and forests of Africa and Asia for the ivory trade during 2012. The carnage represents as much as 4 percent of the world's elephant population. Accordingly, some conservationists are warning that elephants face imminent extinction in some of their range countries. While the plight of elephants is increasingly visible due to media coverage, less widely understood is the role religion plays in driving the ivory trade. This issue was explored at length in an explosive cover story published in National Geographic by Bryan Christy last October. The story, titled Blood Ivory, detailed how demand for religious trinkets is driving large-scale killing of Earth's largest land animal.
Rhino wars: documenting the poaching crisis in South Africa
(01/16/2013) In 2012 a record 668 rhinos were slaughtered by poachers in South Africa for the horns, which are used as scientifically-debunked medicine in Asia. Rhino poaching has hit record levels worldwide over the past few years, but no where is the carnage greater than South Africa, which houses well over half of the world's rhinos. Thus it's no surprise that when student filmmaker, Anne Goodard, arrived in South Africa to film zebra behavior, she quickly became enthralled by the dark and tragic drama surrounding the country's rhinos.
Rhino poaching hits new record in 2012

(01/11/2013) 668 rhinos were killed in South Africa during 2012 according to new figures released by the South African government. The total, which represents a 49 percent rise over the 448 killed in 2011, reveals the heavy toll the black market trade in rhino horn is taking on one of Africa's best known and most endangered animals.
Kenya suffers it worst elephant poaching incident yet

(01/08/2013) Over the weekend Kenya suffered its single worst elephant poaching incident when poachers killed an entire family of elephants. In all, eleven elephants were gunned down and had their tusks removed. Among the dead was a two-month-old calf. The elephants were killed in Tsavo East National Park.
An avalanche of decline: snow leopard populations are plummeting

(01/03/2013) The trading of big cat pelts is nothing new, but recent demand for snow leopard pelts and taxidermy mounts has added a new commodity to the illegal trade in wildlife products, according to the Environmental Investigation Agency (EIA). Traditionally, the market for large cat products has centered around tiger bones and parts for traditional Chinese medicine. Snow leopards (Uncia uncia), however, are a novel trend in the illegal wildlife trade arena and skins and taxidermy mounts are the most recent fad in luxury home décor.
Ivory smuggling surged in 2011

(12/23/2012) Ivory smuggling surged in 2011, reaching its highest levels in nearly 20 years, says a new report released by the Convention on International Trade in Endangered Species of Wild Fauna and Flora (CITES).
African governments and China must respond as ivory trade reaches preposterous proportions
(12/13/2012) Royal Malaysian Customs have just announced the seizure of 24 tons of ivory in Port Klang. This is the largest-ever seizure of ivory in transit through the country. The 1,500 pieces of ivory came from over 750 elephants and were exported from Togo, a tiny west African country that has fewer than 200 elephants. The ivory was hidden in containers containing wooden crates that were built to look like stacks of sawn timber. The two crates were shipped from the port of Lomé in Togo, and were going to China via Algeria, Spain and Malaysia. Richard Leakey, the former Director of the Kenya Wildlife Service (KWS), who set Kenya's ivory stockpile alight in 1989, responded to the announcement.
Why it's time to ban the ivory trade for good [Graphic images: viewer discretion advised]
(12/12/2012) This week the Kenya Wildlife Service (KWS) announced a 14% decline in elephants in the Samburu/Laikipia ecosystem over the last 4 years. The decline has occurred in a population whose natural growth rate was measured at 5.3% between 2002 and 2008 according to the previous survey, suggesting that over 300 elephants are dying annually in the Samburu and Laikipia's landscape, denting the poster child image of one of Kenya's most important wildlife landscapes. Poaching and drought are the main causes of mortality in this population. The impact of poaching on tourism cannot be ignored, heavily armed bandits threaten more than elephants, if we can't protect elephants how can we protect international tourists? But it's the long term consequence that are of greater concern.
Forests, farming, and sprawl: the struggle over land in an Amazonian metropolis
(12/04/2012) The city of Parauapebas, Brazil is booming: built over the remains of the Amazon rainforest, the metropolis has grown 75-fold in less than 25 years, from 2,000 people upwards of 150,000. But little time for urban planning and both a spatial and mental distance from the federal government has created a frontier town where small-scale farmers struggle to survive against racing sprawl, legal and illegal mining, and a lack of investment in environmental protection. Forests, biodiversity, and subsistence farmers have all suffered under the battle for land. In this, Parauapebas may represent a microcosm both of Brazil's ongoing problems (social inequality, environmental degradation, and deforestation) and opportunity (poverty alleviation, reforestation, and environmental enforcement).
Pledge to end wildlife trafficking for Wildlife Conservation Day

(12/04/2012) Today has been dubbed the first ever global Wildlife Conservation Day. To honor it, a coalition of conservation groups—including WWF and Wildlife Conservation Society (WCS)—are working to raise awareness of illegal wildlife trafficking. Poaching for traditional medicine, bushmeat, and other products has put innumerable species at risk, including tigers, rhinos, sharks, and elephants.
Conservationists turn camera traps on tiger poachers
(11/12/2012) Remote camera traps, which take photos or video when a sensor is triggered, have been increasingly used to document rare and shy wildlife, but now conservationists are taking the technology one step further: detecting poachers. Already, camera traps set up for wildlife have captured images of park trespassers and poachers worldwide, but for the first time conservationists are setting camera traps with the specific goal of tracking illegal activity.
Development halted in crucial wildlife corridor in Malaysia
(11/07/2012) Kenyir Wildlife Corridor in northeast Malaysia is teeming with wildlife: elephants, gibbons, tigers, tapirs, and even black panthers (melanistic leopards) have been recorded in the 60 kilometer (37 mile) stretch of forest. In fact, researchers have recorded over 40 mammal species (see species list below), including 15 threatened with extinction according to the IUCN Red List. When these findings were presented by scientists to the Terengganu state government action followed quickly: all development projects have been halted pending a government study.
'The ivory trade is like drug trafficking' (warning graphic images)
(11/05/2012) For the past five years, Spanish biologist Luis Arranz has been the director of Garamba National Park, in the Democratic Republic of Congo (DRC). Arranz and a team of nearly 240 people, 140 guards among them, work to protect a vast area of about 5,000 square kilometers (1,930 square miles) of virgin forest, home to a population of more than 2.300 elephants that are facing a new and more powerful enemy. The guards are encountering not only bigger groups of poachers, but with ever more sophisticated weapons. According to Arranz, armed groups such as the Lord's Resistance Army from Uganda are now killing elephants for their ivory.
Leopard poaching is a bigger problem in India than previously believed
(10/31/2012) A recent study conducted by wildlife trade monitoring group TRAFFIC uncovered unnerving statistics about the illegal trade of leopards (Panthera pardus) in India: at least four leopards have been poached every week for the past decade in the country. The study, entitled Illuminating the Blind Spot: A study on illegal trade in Leopard parts in India, highlights the severity of leopard poaching from 2001 to 2010, despite preventative measures established in 1972 by the Wildlife Protection Act (WLPA) that prohibit the sale of leopard parts in India.
Indonesia remains epicenter for illegal wildlife trade in reptiles and amphibians
(10/24/2012) Demand for exotic pets is driving the illegal harvest and trade of herpetofauna (reptiles and amphibians) in Indonesian New Guinea, according to a recent study published in the journal Biodiversity and Conservation. Between September 2010 and April 2011, Daniel Natusch and Jessica Lyons of the University of New South Wales surveyed traders of amphibians and reptiles in the Indonesian provinces of Maluku, West Papua and Papua.
Authorities confiscate 600 dead elephants' worth of ivory in Hong Kong

(10/22/2012) Hong Kong authorities have confiscated two massive shipments of elephant tusks, totaling 1,209 tusks, stemming from Kenya and Tanzania. Representing over 600 poached elephants, the shipments are estimated to be worth $3.4 million on the black market. African elephants are being decimated for their tusks in recent years with heavily-armed and well-connected poachers—backed by criminal syndicates—killing off whole herds in some cases.
South Africa hits another new record in rhino killings

(10/18/2012) Four hundred and fifty-five rhinos have been killed by poachers in South Africa since the beginning of the year. The number surpasses the record set last year (448) and proves that national efforts to stem poaching have not yet made a dent in actual killings. The mass killing has been spurred on by high demand for powdered rhino horn in Vietnam and China. A traditional curative in Asia, rhino horn has no medicinal properties according to scientists.
The world's 25 most endangered primates: nearly a quarter in Madagascar
(10/15/2012) A coalition of conservation groups released the biannual Top 25 Primates list today, including nine species not appearing on the 2010 list, at the UN's Convention on Biological Diversity (CBD) in Hyderabad, India. Madagascar tops the list as home to the most threatened primates, including six on the list. Following Madagascar, Vietnam contains five, Indonesia three, and Brazil two. In all, over half (54 percent) of the world's primates, which have been evaluated, are considered threatened by the IUCN Red List.
The riot over rhinos: how a luxury and illegal commodity is driving the slaughter of one of the world's iconic megafauna
(10/15/2012) 23,680 = the estimated number of wild rhinoceroses in South Africa. 35,000,000 = the number of American dollars generated by rhino hunting in South Africa. 97% = the percentage increase in illegally-hunted rhinos in 2011 from the national average in 1990. 30,000 = the number of pounds of rhino horns confiscated from poachers since 2010. 65 = the number of horns that have been stolen in South Africa from public display. 430...the number of rhinos killed this year, and counting...
Parrots of the Caribbean: extinction looms in the Bahamas
(10/08/2012) I think about extinction a lot. It's only natural for someone in my line of work. On my way to work I drive past the Colorado National Monument. Even from a distance it's impressive: piles of dark schist 1,500 million years old; Wingate sandstone from the age of dinosaurs, all of it formed into cliffs, carved into spires. I can see Independence monument from the highway; a tall tower of tan sandstone that John Otto climbed near the beginning of the 20th century without rope. The monument is a display of the massive changes in the world. I often think about the rainforests and the oceans that once covered the land. Ecosystems have come and gone, the planet destroyed and rebuilt over and over.
In midst of rhino poaching epidemic, Lewa Wildlife Conservancy has happy problem: too many black rhinos
(10/02/2012) So far this year, South Africa has lost 430 rhinos to poachers, more than one animal a day. The epidemic of rhino poaching, fueled by demand for black-market powdered rhino horn in Vietnam and China, is decimating rhino species worldwide. In fact, last year saw the official extinction of two rhino subspecies: the Vietnamese rhino (Rhinoceros sondaicus annamiticus), a subspecies of the Javan, and the western black rhino (Diceros bicornis longipes), a subspecies of the black. However there is one place where rhinos still thrive. The Lewa Wildlife Conservancy in Kenya has found itself with a unique, but happy, problem: they have so many black rhinos, which are considered Critically Endangered by the IUNC Red List, that they need to move some to stop rhino-fights. In other words, their rhino population has hit its limit for the 25,000 hectare (62,000 acre) nonprofit protected area.
Religious fervor drives elephant slaughter

(09/14/2012) The legal ivory trade is failing to protect elephants which are being slaughtered en mass across the African continent to meet demand for religious trinkets, argues a new investigative report published in National Geographic by Bryan Christy.
Yuppies are killing rhinos, tigers, elephants

(09/07/2012) Yuppies, not elderly rural consumer, are driving the trade that is decimating some of the world's most iconic endangered species, including tigers, elephants, rhinos, pangolins, and bears, said experts meeting at a workshop in Vietnam.
Picture of the day: Yao Ming with baby elephant orphaned by ivory trade

(08/27/2012) Former NBA Basketball player and Olympian, Yao Ming is taking his first trip through Africa in order to see the on-the-ground impacts of the black-market ivory and rhino trades in East Asia. Ming, who stands 7-and-a-half feet (2.3 meters), has become not only well-known for his athletic prowess, but also his devotion to endangered wildlife.
Turning gorilla poachers into conservationists in the Congo [warning: graphic photos]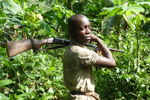 (08/13/2012) Although founded only four years ago, Endangered Species International-Congo, has ambitious plans to protect dwindling Western gorilla populations and aid local people in the Republic of the Congo. The organization, an offshoot of Endangered Species International (ESI), has been spending the last few years studying the bushmeat trade in Pointe-Noire, the country's second largest city, and developing plans for turning hunters into conservationists.
Kids campaign to save South Africa's rhinos from poaching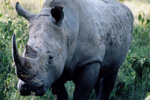 (08/09/2012) The young founders of the U.S. conservation group, One More Generation (OMG), have taken on a new task: halting rhino poaching in South Africa. After a trip last year to visit South Africa, Carter Ries (age 11) and Olivia Ries (age 9), have jump-started a campaign to help convince the South African government to put more resources into halting a rhino poaching plague in the country. Last year an astounding 448 rhinos were killed in South Africa for their horns, averaging more than one rhino a day.
A new tool for taking on elephant poaching: DNA forensics

(08/08/2012) One of the difficulties plaguing law enforcement and authorities when it comes to tackling elephant poaching is determining where the ivory originates. Now, research published in the journal Evolutionary Applications, has found a new way of tracking ivory back to wild elephants populations: forensic genetic studies.
Pictures of the day: pangolins saved in Thailand from poachers

(08/06/2012) Earlier this summer, 110 Sunda pangolins (Manis javanica) were rescued by Thai customs officials from poachers in a pickup truck. While the driver of the vehicle escaped, a passenger was arrested, but released after paying a fine of $75,000, reports the NGO FREELAND Foundation.
President of Chad sends troops after elephant poachers
(08/03/2012) Following the July 24 massacre of dozens of elephants in southwestern Chad, President Idriss Deby Itno sent helicopters to the Mayo Lemie – Chari Baguiri area to catch the poachers, according to Stephanie Vergniault, president of SOS Elephants, a wildlife NGO. President Deby also gave orders to check all the country's exit points for both the poachers and smuggled ivory. Reputedly, President Deby is personally concerned about elephant poaching and was unhappy to learn of last week's incident.




Page 1 | Page 2 | Page 3 | Page 4 | Page 5 | Page 6 | Page 7 | Page 8 | Page 9