News articles on wildlife rangers

---
Mongabay.com news articles on wildlife rangers in blog format. Updated regularly.






World Ranger Day: honoring our wildlife protectors

(07/31/2014) Like Memorial Day, when we honor our nation's military veterans, World Ranger Day is a day to recognize and celebrate the thousands of rangers who put their lives on the line as they protect wildlife and natural resources around the world.
Requiem or recovery?: the Sumatran rhino 200 years after its description
(01/08/2014) In 1893, William Bell, a surgeon in the service of the Dutch East India Company stationed in Bencoolen, Sumatra, examined the body of a dead rhinoceros. The animal, a male, was relatively small as rhinoceroses go, measuring only four feet four inches at the shoulder and eight feet five inches from its nose to the tip of its tail. Dr. Bell noted that the animal resembled a large hog and judged it to be a young individual based upon the condition of the bones and teeth.
Tanzania should implement shoot-to-kill policy for poachers, says government minister

(10/09/2013) A government minister in Tanzania has called for a "shoot-to-kill" policy against poachers in a radical measure to curb the mass slaughter of elephants. Khamis Kagasheki's proposal for perpetrators of the illicit ivory trade to be executed 'on the spot' divided opinion, with some conservationists backing it as a necessary deterrent but others warning that it would lead to an escalation of violence.
Obama to take on elephant and rhino poaching in Africa

(07/03/2013) Barack Obama launched a new initiative against wildlife trafficking on Monday, using his executive authority to take action against an illegal trade that is fueling rebel wars and now threatens the survival of elephants and rhinoceroses. The initiative, announced as the president visited Tanzania on the final stop of his African tour, was the second time in a week Obama has used an executive order to advance environmental policy, after announcing a sweeping new climate change plan.
On guard: protecting wildlife in a heavily hunted Brazilian forest

(06/24/2013) The Brazilian government offers tax relief to landowners who set aside areas for preservation. While this has expanded the system of private ecological reserves considerably, the Brazilian government currently lacks funding to enforce the protection of these lands from threats such as hunting, leaving the responsibility to the landowners.
Infamous elephant poacher turns cannibal in the Congo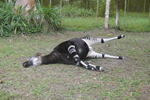 (04/03/2013) Early on a Sunday morning last summer, the villagers of Epulu awoke to the sounds of shots and screaming. In the eastern reaches of the Democratic Republic of the Congo, that can often mean another round of violence and ethnic murder is under way. In this case, however, something even more horrific was afoot.
Poachers enlisting impoverished wildlife rangers as accomplices in elephant, rhino killing

(04/01/2013) Corruption among wildlife rangers is becoming a serious impediment in the fight against poaching, fuelled by soaring levels of cash offered by criminal poacher syndicates, senior conservation chiefs have admitted. Rangers in countries as diverse as Tanzania and Cambodia are being bribed by increasingly organised poaching gangs keen to supply ivory, rhino horn and tiger parts to meet huge consumer demand in Asia.
Rhino wars: documenting the poaching crisis in South Africa
(01/16/2013) In 2012 a record 668 rhinos were slaughtered by poachers in South Africa for the horns, which are used as scientifically-debunked medicine in Asia. Rhino poaching has hit record levels worldwide over the past few years, but no where is the carnage greater than South Africa, which houses well over half of the world's rhinos. Thus it's no surprise that when student filmmaker, Anne Goodard, arrived in South Africa to film zebra behavior, she quickly became enthralled by the dark and tragic drama surrounding the country's rhinos.
'The ivory trade is like drug trafficking' (warning graphic images)
(11/05/2012) For the past five years, Spanish biologist Luis Arranz has been the director of Garamba National Park, in the Democratic Republic of Congo (DRC). Arranz and a team of nearly 240 people, 140 guards among them, work to protect a vast area of about 5,000 square kilometers (1,930 square miles) of virgin forest, home to a population of more than 2.300 elephants that are facing a new and more powerful enemy. The guards are encountering not only bigger groups of poachers, but with ever more sophisticated weapons. According to Arranz, armed groups such as the Lord's Resistance Army from Uganda are now killing elephants for their ivory.
The riot over rhinos: how a luxury and illegal commodity is driving the slaughter of one of the world's iconic megafauna
(10/15/2012) 23,680 = the estimated number of wild rhinoceroses in South Africa. 35,000,000 = the number of American dollars generated by rhino hunting in South Africa. 97% = the percentage increase in illegally-hunted rhinos in 2011 from the national average in 1990. 30,000 = the number of pounds of rhino horns confiscated from poachers since 2010. 65 = the number of horns that have been stolen in South Africa from public display. 430...the number of rhinos killed this year, and counting...
In midst of rhino poaching epidemic, Lewa Wildlife Conservancy has happy problem: too many black rhinos
(10/02/2012) So far this year, South Africa has lost 430 rhinos to poachers, more than one animal a day. The epidemic of rhino poaching, fueled by demand for black-market powdered rhino horn in Vietnam and China, is decimating rhino species worldwide. In fact, last year saw the official extinction of two rhino subspecies: the Vietnamese rhino (Rhinoceros sondaicus annamiticus), a subspecies of the Javan, and the western black rhino (Diceros bicornis longipes), a subspecies of the black. However there is one place where rhinos still thrive. The Lewa Wildlife Conservancy in Kenya has found itself with a unique, but happy, problem: they have so many black rhinos, which are considered Critically Endangered by the IUNC Red List, that they need to move some to stop rhino-fights. In other words, their rhino population has hit its limit for the 25,000 hectare (62,000 acre) nonprofit protected area.
Poacher known as 'Morgan' behind devastating massacre at Okapi Wildlife Reserve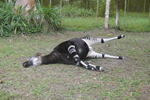 (07/05/2012) Officials have pointed to an infamous elephant poacher known as 'Morgan' as the head of the murderous attack at the Okapi Wildlife Reserve station in the Democratic Republic of the Congo (DRC) late last month. The attack by Morgan and his crew left seven people dead, including two wildlife rangers. The poachers also shot dead 13 captive okapis at the headquarters, which were considered ambassadors for the imperiled forest. One okapi remains alive, but injured and conservationists are not optimistic about its survival. UNESCO and the the NGO Fauna and Flora international have issued an emergency appeal to raise $120,000 dollars within two weeks for the victim's families as well as for rapidly rebuilding the station.
Carnage in Komodo: world-famous reef destroyed by poachers' bombs

(04/25/2012) Illegal fishermen have been utilizing homemade bombs to kill fish off the coast of Komodo Island, Indonesia, reports the Associated Press (AP); the bombs have not only injured fish populations in the protected area, but has also blasted biodiverse coral reefs popular with tourists. A scuba teacher told the AP that a section of Tatawa Besar coral reef, a popular diving spot, had been "blasted, ripped off, turned upside down."
Kruger National Park loses 95 rhinos to poachers in three months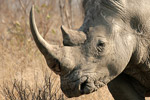 (04/05/2012) Since the first of the year, South Africa's Kruger National Park has lost 95 rhinos to poachers, reports the blog Rhino Horn is NOT Medicine. South Africa, and Kruger National Park in particular, continue to be the epicenter for rhino poaching worldwide. South Africa has lost 159 rhinos in total this year with Kruger bearing nearly 60 percent of the fatalities.
Elephant poachers kill unarmed wildlife ranger in Kenya

(01/16/2012) Abdullahi Mohammed, an wildlife ranger, was killed in the line of duty in Kenya this weekend by elephant poachers. A ranger with the conservation organization Wildlife Works, Mohammed was shot by poachers in Wildlife Works Kasigau Corridor project, a REDD program (Reduced Emissions From Deforestation and Degradation).
Gorilla poachers brutally murder forest ranger

(10/09/2011) Forest ranger, Zomedel Pierre Achille, was brutally murdered by gorilla poachers near Lobéké National Park in Cameroon, according to the World Wide Fund for Nature (WWF).
Malaria may hurt conservation efforts, aid poachers

(07/31/2011) In 2009, 781,000 people died of malaria worldwide and nearly a quarter billion people contracted the mosquito-bourne disease, according to the World Health Organization (WHO). While the impacts of malaria on people—among the world's worst diseases—have long been researched, a new study in Biological Conservation finds that malaria has a significant indirect impact on protected species. Many species contract various malaria strains, but the study also found that malaria in humans has the potential to leave endangered species unprotected.
Cambodia's wildlife pioneer: saving species and places in Southeast Asia's last forest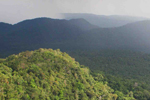 (05/11/2011) Suwanna Gauntlett has dedicated her life to protecting rainforests and wildlife in some of the world's most hostile and rugged environments and has set the trend of a new generation of direct action conservationists. She has designed, implemented, and supported bold, front-line conservation programs to save endangered wildlife populations from the brink of extinction, including saving the Amur Tiger (also known as the Siberian Tiger) from extinction in the 1990s in the Russian Far East, when only about 80 individuals remained and reversing the drastic decline of Olive Ridley sea turtles along the coast of Orissa, India in the 1990s, when annual nestings had declined from 600,000 to a mere 8,130. When she first arrived in Cambodia in the late 1990s, its forests were silent. 'You couldn't hear any birds, you couldn't hear any wildlife and you could hardly see any signs of wildlife because of the destruction,' Gauntlett said. Wildlife was being sold everywhere, in restaurants, on the street, and even her local beauty parlor had a bear.
Belief and butchery: how lies and organized crime are pushing rhinos to extinction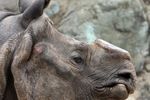 (05/11/2011) Few animals face as violent, as well organized, and as determined an enemy as the world's rhinos. Across the globe rhinos are being slaughtered in record numbers; on average more than one rhino is killed by poachers everyday. After being shot or drugged, criminals take what they came for: they saw off the animal's horn. Used in Traditional Chinese Medicine, which claims that it has curative properties, rhino horn is worth more than gold and cocaine on the black market. However, science proves all this cash and death is based on a lie. 'There is no medicinal benefit to consuming rhino horn. It has been extensively analyzed in separate studies, by different institutions, and rhino horn was found to contain no medical properties whatsoever,' says Rhishja Larson.
After another ranger killed, Virunga National Park requests UN peacekeepers

(02/01/2011) Less than a week after 3 wildlife rangers and 5 soldiers were killed in Virunga National Park by the rebel group Democratic Forces for the Liberation of Rwanda (FDLR), another ranger has been killed and a driver put in the hospital in critical condition. The situation has pushed park authorities to request UN peacekeepers for the park.
Eight rangers, soldiers killed in Virunga National Park

(01/25/2011) Yesterday morning, 3 wildlife rangers and 5 soldiers working in Virunga National Park were killed by the rebel group Democratic Forces for the Liberation of Rwanda (FDLR). These 8 were killed and 3 more wounded when their vehicle was fired on by FDLR rebels with rocket launchers. Park director Emmanuel de Merode told the AFP that it was the most serious incident to occur in Virunga National Park in the past 12 months.