News articles on wildlife conservation network

---
Mongabay.com news articles on wildlife conservation network in blog format. Updated regularly.






The only solution for polar bears: 'stop the rise in CO2 and other greenhouse gases'
(10/08/2014) Steven Amstrup, Chief Scientist for Polar Bears International, has worked diligently on polar bears for over 30 years. He radio-collared some of the first bears and discovered that annual activity areas for 75 tracked females averaged at a stunning 149,000 square kilometers. His recent work highlighted the cost of global warming to these incredible animals and the sea ice they so closely depend on.
Saving Peru's sea turtles and marine birds: conservationists and fishermen partner to tackle bycatch
(10/07/2014) Marine conservationists often view fisheries as an enemy of sorts, vacuuming up fish with little thought to the long-term consequences and using equipment that also ends up killing other species, i.e. bycatch like sea turtles and marine birds. However, Joanna Alfaro Shigueto, the President of the Peruvian NGOProDelphinus and winner of a 2012 Whitley Award, has chosen a different tact.
Unlikely success: how Zimbabwe has become a global leader in rhino conservation
(10/02/2013) With its collapsed economy, entrenched poverty, and political tremors, one would not expect that a country like Zimbabwe would have the capacity to safeguard its rhinos against determined and well-funded poachers, especially as just across the border South Africa is currently losing over two rhinos a day on average. And indeed, without the Lowveld Rhino Trust (LRT), rhinos in Zimbabwe would probably be near local extinction. But the LRT, which is centrally involved in the protection of around 90 percent of the country's rhinos in private reserves along with conservancy members, has proven tenacious and innovative in its battle to safeguard the nation's rhinos from the poaching epidemic.
Samburu's lions: how the big cats could make a comeback in Kenya
(09/30/2013) In 2009 conservationists estimated that less than 2,000 lions survive in Kenya, a drop of 26 percent in just seven years. In addition, the East Africa country continues to hemorrhage lions: around a hundred a year. Poaching, poisoning, and large-scale habitat loss has put lions on the defensive across Africa, but even countries once thought lion strongholds--like Kenya--have seen populations harried to devastation and in some cases local extinction. Shivani Bhalla, a fourth-generation Kenyan, is working to turnaround this trend in Samburu National Reserve.
Lions rising: community conservation making a difference for Africa's kings in Mozambique
(09/17/2013) Everyone knows that tigers, pandas, and blue whales are threatened with extinction—but lions!? Researchers were shocked to recently discover that lion populations have fallen precipitously: down to around 30,000 animals across the African continent. While 30,000 may sound like a lot, this is a nearly 70 percent decline since 1960. In addition, lion populations are increasingly fragmented with a number of populations having vanished altogether. However, there is hope: one place where lion populations are actually on the rise is Niassa National Reserve in Mozambique. Here, lion populations have risen by around 60 percent in just seven years. In part this is due to the effort of Colleen and Keith Begg.
A year after devastating attack, security returns to the Okapi Wildlife Reserve (photos)
(09/09/2013) On June 24th of last year, MaiMai Simba rebels, led by an elephant poacher known as Morgan, launched a devastating attack on the headquarters of the Okapi Wildlife Reserve in Epulu, Democratic Republic of Congo (DRC). The attack, which was reportedly in response to a crack down on poaching and illegal mining in the park, left buildings burned, equipment destroyed, and six people dead including two rangers. The militia also left with 28 women hostages, many of them minors. As if to add insult to injury, the militia didn't leave until they shot dead all 14 captive okapis at the headquarters, which were used as wildlife ambassadors for the local community.
Group pushes entrepreneurship model for conservation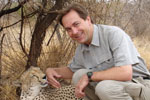 (09/28/2011) The Wildlife Conservation Network (WCN) is dedicated to protecting endangered species and preserving their natural habitats. This group supports innovative strategies for people and wildlife to co-exist and thrive. This year the group celebrates it's ten year anniversary. The WCN Expo is October 1st and 2nd, 2011. The following is an interview with Charles Knowles, the WCN's Executive Director and co-founder.
Sowing the seeds to save the Patagonian Sea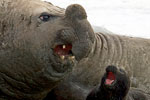 (09/07/2011) With wild waters and shores, the Patagonia Sea is home to a great menagerie of marine animals: from penguins to elephants seals, albatrosses to squid, and sea lions to southern right whales. The sea lies at crossroads between more northern latitudes and the cold bitter water of the Southern Ocean, which surround Antarctica. However the region is also a heavy fishing ground, putting pressure on a number of species and imperiling the very ecosystem that supplies the industry. Conservation efforts, spearheaded by marine conservationist Claudio Campagna and colleagues with the Wildlife Conservation Society (WCS), are in the early stages. Campagna, who often writes about the importance of language in the fight for preservation, has pushed to rename the area to focus on its stunning wildlife.
Fighting poachers, going undercover, saving wildlife: all in a day's work for Arief Rubianto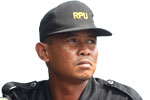 (09/29/2010) Arief Rubianto, the head of an anti-poaching squad on the Indonesian island of Sumatra best describes his daily life in this way: "like mission impossible". Don't believe me? Rubianto has fought with illegal loggers, exchanged gunfire with poachers, survived four days without food in the jungle, and even gone undercover—posing as a buyer of illegal wildlife products—to infiltrate a poaching operation. While many conservationists work from offices—sometimes thousands of miles away from the area they are striving to protect—Rubianto works on the ground (in the jungle, in flood rains, on rock faces, on unpredictable seas, and at all hours of the day), often risking his own life to save the incredibly unique and highly imperiled wildlife of Sumatra.
Into the Congo: saving bonobos means aiding left-behind communities, an interview with Gay Reinartz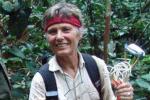 (09/23/2010) Unlike every other of the world's great apes—the gorilla, chimpanzee, and orangutan—saving the bonobo means focusing conservation efforts on a single nation, the Democratic Republic of the Congo. While such a fact would seem to simplify conservation, according to the director of the Bonobo and Congo Biodiversity Initiative (BCBI), Gay Reinartz, it in fact complicates it: after decades of one of world's brutal civil wars, the DRC remains among the world's most left-behind nations. Widespread poverty, violence, politically instability, corruption, and lack of basic infrastructure have left the Congolese people in desperate straits.
After declining 95% in 15 years, Saiga antelope begins to rebound with help from conservationists
(09/20/2009) In a decline on par with that suffered by the American bison in the Nineteenth Century, in the 1990s the saiga antelope of the Central Asian steppe plummeted from over one million individuals to 50,000, dropping a staggering 95 percent in a decade and a half. Since then new legislation and conservation measure have helped the species stabilize in some areas but in others the decline continues. Working for six years with the Saiga Conservation Alliance, Founding Member and Executive Secretary Elena Bykova has helped bring the species back from the very brink of extinction.
Community engagement is key to saving the rarest zebra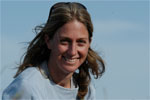 (09/14/2009) Efforts to protect the world's largest and rarest species of zebra — Grévy's Zebra (Equus grevyi) — hinge on engaging communities to lead conservation in their region, says a Kenyan conservationist. Belinda Low, Executive Director of the Nairobi-based Grevy's Zebra Trust, says her group's programs, which employ members of local communities as scouts and conservation workers, are helping maintain dialog between communities while providing new opportunities for education and employment. Grevy's Zebra Trust is working with communities to plan livestock grazing so that it can be used as a tool to replenish the land, rather than degrade it
Saving Africa's 'unicorn', the okapi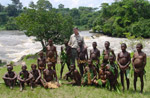 (09/02/2009) The giraffe is one of Africa's most recognizable animals, but its shy and elusive forest cousin, the okapi, was so little known that until just over a century ago the western world believed it was a mythical beast, an African unicorn. Today, a shroud of mystery still envelops the okapi, an animal that looks like a cross between a zebra, a donkey, and a giraffe. But what is known is cause for concern. Its habitat, long protected by its remoteness, was the site of horrific civil strife, with disease, famine, and conflict claiming untold numbers of Congolese over the past decade. Now, as a semblance of peace has settled over Democratic Republic of Congo (DRC), the okapi's prospects have further dimmed, for its home is increasingly seen as a rich source of timber, minerals, and meat to help the war-torn country rebuild. In an effort to ensure that the okapi does not become a victim of economic recovery, the Okapi Conservation Project (OCP) is working to protect the okapi and its habitat. Founded by John Lukas in 1987, well before the conflict, OCP today manages the Okapi Wildlife Reserve, a 13,700-square-kilometer tract of wilderness in the Ituri Forest of northeastern DRC.
Group takes 'venture capital' approach to conservation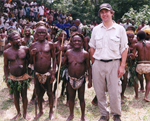 (09/16/2008) An innovative group is using a venture capital model to save some of the world's most endangered species, while at the same time working to ensure that local communities benefit from conservation efforts. The Wildlife Conservation Network (WCN), an organization based in Los Altos, California, works to protect threatened species by focusing on what it terms 'conservation entrepreneurs' -- people who are passionate about saving wildlife and have creative ideas for dong so.