News articles on weather

---
Mongabay.com news articles on weather in blog format. Updated regularly.






Texas loses half a billion trees to epic drought

(12/21/2011) A punishing drought in Texas has not only damaged crops, killed cattle, and led to widespread fires, but has also killed off a significant portion of the state's trees: between 100 and 500 million trees have perished to drought stress according to preliminary analysis. The estimate does not include tree mortality caused by fires. The drought has been linked to La Niña conditions, which causes drying in the Southern U.S., and has likely been exacerbated by global climate change.
Philippines disaster may have been worsened by climate change, deforestation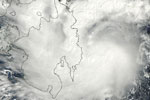 (12/20/2011) As the Philippines begins to bury more than a 1,000 disaster victims in mass graves, Philippine President Benigno Aquino has ordered an investigation into last weekend's flash flood and landslide, including looking at the role of illegal logging. Officials have pointed to both climate change and vast deforestation as likely exacerbating the disaster.
Evidence mounts that Maya did themselves in through deforestation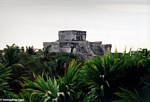 (12/08/2011) Researchers have garnered further evidence for a smoking gun behind the fall of the great Maya civilization: deforestation. At the American Geophysical Union (AGU) conference, climatologist Ben Cook presented recent research showing how the destruction of rainforests by the Mayan ultimately led to declines in precipitation and possibly civilization-rocking droughts. While the idea that the Maya may have committed ecological-suicide through deforestation has been widely discussed, including in Jared Diamond's popular book Collapse, Cook's findings add greater weight to the theory.
Climate change already worsening weird, deadly, and expensive weather

(11/02/2011) Unprecedented flooding in Thailand, torrential rains pummeling El Salvador, long-term and beyond-extreme drought in Texas, killer snowstorm in the eastern US—and that's just the last month or so. Extreme weather worldwide appears to be both increasing in frequency and intensity, and a new report from the Intergovernmental Panel on Climate Change (IPCC) connects the dots between wilder weather patterns and global climate change.
Climate change may fuel increase in warfare, finds study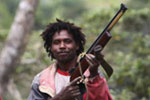 (08/24/2011) Civil war is twice as likely in tropical countries during particularly hot and dry years, according to a new study in Nature. The researchers found that El Niño conditions, which generally cuts rainfall and raises temperatures in the tropics, may have played a factor in one-fifth of the world's total conflicts during the past 50 years. El Niño conditions occur every 3-7 years. While the study did not examine global climate change in conjunction with conflict, the study links a warmer world to a more conflict-prone one, as least in the tropics.
Chart: US suffers record drought

(08/01/2011) An exceptional drought is still scorching major parts of Texas, New Mexico, Oklahoma, and Louisiana. A new report from the National Drought Mitigation Center finds that over July, nearly 12 percent of the US saw exceptional drought conditions, the highest record since monitoring began a dozen years. Exceptional drought is the worst possible on a 5-scale drought scale.
Adaptation, justice and morality in a warming world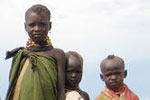 (07/28/2011) If last year was the first in which climate change impacts became apparent worldwide—unprecedented drought and fires in Russia, megaflood in Pakistan, record drought in the Amazon, deadly floods in South America, plus record highs all over the place—this may be the year in which the American public sees climate change as no longer distant and abstract, but happening at home. With burning across the southwest, record drought in Texas, majors flooding in the Midwest, heatwaves everywhere, its becoming harder and harder to ignore the obvious. Climate change consultant and blogger, Brian Thomas, says these patterns are pushing 'prominent scientists' to state 'more explicitly that the pattern we're seeing today shows a definite climate change link,' but that it may not yet change the public perception in the US.
NASA image shows it snowing in driest place on earth

(07/20/2011) A snowstorm engulfed parts of the driest place on earth this month: the Atacama desert in South America. Images captured by NASA's Moderate Resolution Imaging Spectroradiometer (MODIS) on Terra Satellite show parts of the landscape covered in white.
Worst drought in 60 years brings starvation fears to East Africa

(06/30/2011) A prolonged drought in East Africa is bringing many of the region's impoverished to their knees: the World Food Program (WFP) is warning that 10 million people in the region are facing severe shortages. While not dubbed a famine yet, experts say it could become one. Meanwhile, a recent study by FEWS NET/USGS has revealed that the current drought is the worst in 11 of 15 East African regions since 1950-51. Worsening droughts are one of the predictions for the region as the world grows warmer.
Climate change and deforestation pose risk to Amazon rainforest
(05/20/2011) Deforestation and climate change will likely decimate much of the Amazon rainforest, says a new study by Brazil's National Institute for Space Research (INPE) and the UK's Met Office Hadley Centre. Climate change and widespread deforestation is expected to cause warmer and drier conditions overall, reducing the resistance of the rainforest ecosystem to natural and human-caused stressors while increasing the frequency of extreme rainfall events and droughts by the end of this century. While climate models show that higher temperatures resulting from global climate change will threaten the resilience of the Amazon, current deforestation is an immediate concern to the rainforest ecosystem and is likely driving regional changes in climate.
Burning up: warmer world means the rise of megafires

(05/12/2011) Megafires are likely both worsened by and contributing to global climate change, according to a new United Nations report. In the tropics, deforestation is playing a major role in creating giant, unprecedented fires.
Are US floods, fires linked to climate change?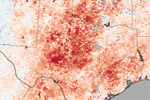 (04/28/2011) The short answer to the question of whether or not on-going floods in the US Midwest and fires in Texas are linked to a warming Earth is: maybe. The long answer, however, is that while it is difficult—some argue impossible—for scientists to link a single extreme weather event to climate change, climate models have long shown that extreme weather events will both intensify and become more frequent as the world continues to heat up. In other words, the probability of such extreme events increases along with global average temperature.
'Huge reduction' of water from plants due to higher carbon levels

(03/30/2011) As if ocean acidification and a warming world weren't enough, researchers have outlined another way in which carbon emissions are impacting the planet. A new study shows that higher carbon dioxide levels in the atmosphere have taken a toll on how much water vapor plants release, potentially impacting the rainfall and groundwater sources. A study in the Proceedings of the National Academy of Sciences (PNAS) has found that carbon dioxide levels over the past 150 years has reduced plants' spores, called stomata, by over one third (34%). This is important because stomata take in oxygen and carbon dioxide and release water vapor in a process dubbed 'transpiration'. Less stomata means less water driven into the atmosphere.
What's behind the 85% decline of mammals in West Africa's parks?

(03/28/2011) A recent, well-covered study found that African mammals populations are in steep decline in the continent's protected areas. Large mammal populations over forty years have dropped by 59% on average in Africa [read an interview on the study here] and by 85% in west and central Africa, according to the study headed by Ian Craigie, which links the decline to continuing habitat degradation as well as hunting and human-wildlife conflict. However, a new opinion piece in mongabay.com's open access journal Tropical Conservation Science argues that this study missed an important factor in central and west Africa where the decline in mammals was the worst: rainfall.
Want water? save forests

(03/21/2011) The UN-backed Collaborative Partnership on Forests (CPF) is urging nations to conserve their forests in a bid to mitigate rising water scarcity problem.
'These are the facts': 2010 to be among top three hottest years

(12/02/2010) Despite La Nina arriving at the end of the year—which bring cooler than average conditions—and bitter cold showing up recently in the Northern Hemisphere due to the North Atlantic Oscillation (NAO), 2010 was smoldering enough worldwide that it will very likely be among the top three hottest years since record-keeping began 160 years ago, reports the World Meteorological Organization (WMO) today.
Climate change linked to 21,000 deaths in nine months

(11/30/2010) Extreme weather events linked to climate change has caused the deaths of 21,000 people worldwide in the first nine months of 2010, according to Oxfam. This is already twice the casualties of 2009. In a new report More than ever: climate talks that work for those that need them most, the organization outlines the casualties of such weather-related disasters, for example devastating floods in Pakistan which killed 2,000 people and affected more than 20 million.
Obama science adviser wields evidence to undercut climate change denier

(10/04/2010) US President Barack Obama's science adviser, John Holdren, took on climate change deniers in a comprehensive, data-heavy speech last month at the Kavli Science Forum in Oslo, Norway. Proclaiming that "the earth is getting hotter", Holden went on to enumerate on the causes of climate change (human impacts) and its overall effect (not good), discussing at length the science that underpins the theory of climate change. For environmentalists and international officials frustrated with the US's slow pace on combating climate change—which is decades behind Europe's and many other nations'—Holdren touted that the Obama Administration had made progress on the issue and stated that the administration plans to pursue legislation again after a new congress is elected. However, given current predictions that Republicans will pick up seats in November, comprehensive climate and energy legislation seems unlikely since historically the majority of the GOP has been against tackling climate change.
An undamaged Amazon produces its own clouds and rain

(09/21/2010) Researchers recently traveled to the remote Brazilian Amazon to investigate how clouds are formed and rain falls in an atmosphere unburdened by human-caused pollution. Studying the atmospheric aerosol particles, which impact cloud formation and particles, above a pristine forests, researchers discovered that when left alone the Amazon acts as its own 'bioreactor': clouds and precipitation are produced by the abundance of plant materials.
Cold snap may have killed millions of fish in Bolivia, poisoning rivers

(08/31/2010) Although the last few months have been some of the warmest worldwide on record, including 17 countries reaching or breaking all-time highs, temperatures have not been above average everywhere. Cold air from Antarctica has brought chilling temperatures to parts of South America, including Bolivia where millions of fish and thousands of caimans, turtles, and river dolphins have perished according to Nature Communications.
Satellites show mangrove forest loss even worse than estimated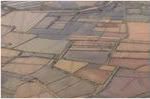 (08/19/2010) New satellite data shows that human actions are wiping out mangrove forests even faster than previous bleak estimates. Conducted by the US Geological Survey and NASA, the researchers found that mangroves comprise 12.3 percent less area than previously estimated. In total, satellites reveal that mangrove forests cover approximately 53,290 square miles (137,760 square kilometers). "Our assessment shows, for the first time, the exact extent and distribution of mangrove forests of the world at 30 meters spatial resolution, the highest resolution ever," said Dr Chandra Giri from USGS.
NASA image captures one of the warmest Julys on record

(08/19/2010) The NASA Goddard Institute for Space Studies (GISS) has found that the global average temperature of July 2010 was nearly 1 degree Fahrenheit (0.55 degrees Celsius) higher than average temperatures from July1951-1980. In fact, this July was tied for the warmest on record with July 2005 and 1998.
New NASA images reveal devastating impact of Russian fires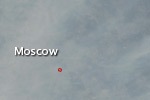 (08/11/2010) A new series of images released by NASA show the extent of smoke hovering over Moscow and Central European Russia, while another image measures the amount of carbon monoxide in the area, a gas which can produce a number of health problems. Russia is in the midst of a full-scale disaster as hundreds of forest and peatland fires are covering part of the world's largest nation in a thick cloud of smoke. Temperatures in Moscow and elsewhere have broken past heat records several times in the last month while a long drought combined with fires have led to the loss of 20 percent of Russia's grain crop, causing Prime Minister Vladimir Putin to ban grain exports. Russian officials say that it;s likely some 15,000 people to date have died from the disaster.
Summer from hell: seventeen nations hit all-time heat records

(08/09/2010) The summer isn't over yet, but already seventeen nations have matched or beaten their all-time heat records. According to Jeff Masters' WunderBlog, Belarus, the Ukraine, Cyprus, Russia, Finland, Qatar, the Sudan, Saudi Arabia, Niger, Chad, Kuwait, Iraq, Pakistan, Colombia, Myanmar, Ascension Island, and the Solomon Islands have all equaled or broken their top temperature records this year. In addition, the hottest temperature ever recorded in Asia was taken in Pakistan at 128 degrees Fahrenheit (53 degrees Celsius); this incredible temperature still has to be reviewed by the World Meteorological Organization (WMO).
Officials point to Russian drought and Asian deluge as consistent with climate change

(08/08/2010) Government officials are pointing to the drought and wildfires in Russia, and the floods across Central and East Asia as consistent with climate change predictions. While climatologists say that a single weather event cannot be linked directly to a warming planet, patterns of worsening storms, severer droughts, and disasters brought on by extreme weather are expected as the planet warms.
Record highs, forest fires, and ash-fog engulf Moscow

(07/27/2010) Moscow and parts of Russia have been hit by record high temperatures and forest fires. Ashen fog from peat forests burning near Moscow has prompted officials to warn elderly and those with heart or bronchial problems to stay inside. Workers should be allowed a siesta to rest in the afternoon, as well, said the Russia's chief health official.
NASA satellite image reveals record low snow for the United States

(06/02/2010) According to the National Oceanic and Atmospheric Administration, snow cover retreated to its lowest extent ever recorded in North America by the end of this April. Snow cover was 2.2 million square kilometers below average. With records of snow extent beginning in 1967, this is the lowest in 43 years and the largest negative anomaly in the past 521 months.
El Niño in Venezuela: Hugo Chávez's "Katrina" Moment?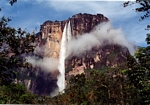 (03/22/2010) Venezuelan President Hugo Chávez has been in power for more than ten years, during which time he has deflected numerous electoral challenges, a recall effort, a coup d'etat and even an oil lock out. A politically adroit statesman, he has demonstrated enormous staying power throughout all these political crises. Yet, Chávez's luck may have finally run out: a devastating El Niño-linked drought has recently ravaged Venezuela and the government has been forced to undertake conservation measures for water and electricity. Hardly amused, some are holding Chávez responsible for the energy crunch and the drought could exact a heavy toll on the Venezuelan president in September's legislative elections.
Healthy coral reefs produce clouds and precipitation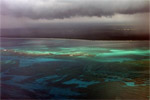 (03/03/2010) Twenty years of research has led Dr. Graham Jones of Australia's Southern Cross University to discover a startling connection between coral reefs and coastal precipitation. According to Jones, a substance produced by thriving coral reefs seed clouds leading to precipitation in a long-standing natural process that is coming under threat due to climate change.
Chinese official links extreme snowstorm to global warming

(01/05/2010) Bitter cold and snow have shut down Beijing after it received 4-8 inches (10-20 centimeters) of snow on Sunday, the largest snowfall since 1951, according to the Sydney Morning Herald. Guo Hu, the head of the Beijing Meteorological Bureau linked the storm to global climate change.
Record-breaking snow across the US and climate change

(12/26/2009) Over the past few weeks the United States has been pounded by a number of big snow storms. A week ago Washington DC received 18 inches of snow, setting a number of records. Over Christmas, the middle of the country, from Texas to Minnesota was also hit by record amounts of snow. While snow fall over the East Coast and middle of the country in the United States in December is hardly unusual, a number of record amounts of precipitation may point to a larger shift in the climate. Scientists say that higher temperatures causes more water evaporation, which increases the chances of heavy precipitation events, such as floods and snowstorms.
Bangladesh tops list of most vulnerable countries to climate change

(12/09/2009) According to the Global Climate Risk Index, Bangladesh is the most vulnerable nation to extreme weather events, which many scientists say are being exacerbated by climate change. From 1990 to 2008, Bangladesh has lost 8,241 lives on average every year due to natural disasters. In addition, rising sea levels also threaten millions of Bangladeshis.
Is El Niño back?

(07/28/2009) Ocean temperatures in the central and eastern Pacific have shifted into El Niño conditions, increasing the likelihood of anomalously dry conditions in Southeast Asia and other unusual weather patterns, according to the National Oceanic and Atmospheric Administration (NOAA) Climate Prediction Center.
Mangroves save lives by softening cyclone's blow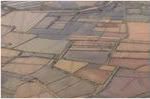 (04/15/2009) In 1999 a super cyclone struck the eastern coast of India, leaving 10,000 people dead. At the time the Orissa cyclone, named after the Indian state which it battered, was the deadliest storm in India in over a quarter century. However, according to a new study published in The Proceedings of the National Academy of Sciences the death toll would have been significantly higher if the mangrove forests buffeting the Indian villagers from the sea had not softened the cyclone's blow.





Experts forecast probability of global warming tipping points

(03/16/2009) The probability of Earth's climate passing a "tipping point" that could result in large impacts within the next two centuries is greater than 50 percent, according to research published in Proceedings of the National Academy of Sciences









Scientist forecast 4 Atlantic hurricanes in September

(09/02/2008) Prominent hurricane researchers are forecasting five tropical storms in the Atlantic for September, including four hurricanes. Two of these are expected to be "major" — category 3 or greater. Retired Colorado State University climatologist William Gray and Philip J. Klotzbach, who has taken over Gray's role as lead hurricane forecaster, estimate that Atlantic storms in September will be twice as active as normal.





Global warming increases "extreme" rain storms

(08/07/2008) Global warming is increasing the incidence of heavy rainfall at a rate greater than predicted by current climate models have predicted, reports a new study published in the journal Science. The findings suggest that storm damage from precipitation could worsen as greenhouse gas concentrations continue to rise.









Amazon rainfall linked to Atlantic Ocean temperature

(02/25/2008) Climate models increasingly forecast a dire future for the Amazon rainforest. These projections are partly based on recent research that has linked drought in the Amazon to sea surface temperatures in the tropical Atlantic. As the tropical Atlantic warms, the southern Amazon -- the agricultural heartland of Brazil -- may see higher temperatures and less rainfall.







NASA: Rain falls more often during the week than weekends

(02/04/2008) Storms in the southeastern United States generate more rainfall during the work week than on weekends, report NASA scientists. The pattern can be attributed to lower atmospheric pollution from humans on Fridays, Saturdays and Sundays. Atmospheric particulates have been linked to rainfall.





Flooding in India Leaves 3.5 million Homeless

(09/11/2007) The Indian military has been evacuating thousands of people from Assam, a state in northeastern India, after Monsoon rains flooded rivers. So far, 3.5 million people have been directly affected by the floods, in a state of 27 million. A total of 2,000 villages have been completely submerged by the floods, in some of the worst flooding in years.





Felix Death Toll Washes Up on Coastline

(09/07/2007) Nicaraguan and Honduran officials have announced that upwards of 100 people are confirmed dead, and another 120 still unaccounted for after Hurricane Felix made landfall earlier this week.




Page 1 | Page 2 | Page 3