News articles on wcff

---
Mongabay.com news articles on wcff in blog format. Updated regularly.





Cute koalas have become 'urban refugees'


(01/28/2013) According to Susan Kelly, koalas have become "urban refugees," under siege by expanding cities that bring with them deforestation, dogs, traffic, and other ills for native wildlife. Director of Global Witness, and writer, producer and director of the new documentary Koala Hospital, Kelly has spent 3 years working to understand the rising threats to one of the world's most beloved marsupials. While Koala Hospital highlights the many perils facing koalas, including climate change due to record fires across Australia, it also looks at the efforts of individuals who work to save koalas one—by—one at Port Macquarie Koala Hospital, taking in patients who have been orphaned, hit by cars, scarred in fires, or attacked by dogs.


Helping Borneo's indigenous people fight for their forests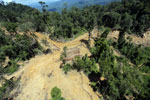 (01/28/2013) In the 1980's and 1990's more timber was removed from the rainforests Borneo than from all of Africa and South America combined. This tragic loss of habitat, with its attendant loss of wildlife and indigenous cultures, has gone largely unrecognized in the United States. Joe Lamb, a Berkeley-based writer, activist, and arborist, has worked to change that.


Religion, Chinese government drive global elephant slaughter


(01/24/2013) By some estimates, more than 30,000 elephants were slaughtered across the savannas and forests of Africa and Asia for the ivory trade during 2012. The carnage represents as much as 4 percent of the world's elephant population. Accordingly, some conservationists are warning that elephants face imminent extinction in some of their range countries. While the plight of elephants is increasingly visible due to media coverage, less widely understood is the role religion plays in driving the ivory trade. This issue was explored at length in an explosive cover story published in National Geographic by Bryan Christy last October. The story, titled Blood Ivory, detailed how demand for religious trinkets is driving large-scale killing of Earth's largest land animal.


Getting intimate with a giant, yet poorly known flightless bird: the cassowary


(01/23/2013) For large, conspicuous, and somewhat notorious animals, relatively little is known about cassowaries, a group of flightless birds that roams the rainforests of Northern Australia and New Guinea. This fact is highlighted in Cassowaries, a recent documentary by Australian journalist and film producer Bianca Keeley. Cassowaries tells the story of cassowaries struggling to survive after a major cyclone destroyed their rainforest home.


From the brink of extinction: elephant seals stage remarkable comeback


(01/23/2013) In the 19th century the Northern Pacific Elephant was thought to be extinct until a small population was discovered on an island of Baja California in 1892. Since then, the species has staged a remarkable comeback which was greatly accelerated by protective measures adopted by the U.S. and Mexican governments. The recovery is especially evident on the beaches of California's Año Nuevo State Park. Until the 1950s so individuals were observed in the park. In the 1960s pups started to be born on Año Nuevo's sandy shores. By the 1990s thousands of pups where born each year, capping the elephant seal's turnaround. 'Beachmaster', a new film by Christopher Gervais and Stan Minasian, tells the conservation success story of their recovery.


Save Lolita: new film urges release of captive killer whale


(01/22/2013) Through his new 90-second PSA, Save Lolita, filmmaker Daniel Azarian wanted to connect people to the plight of Lolita on a deeply human level; the only problem: Lolita is an orca, also known as a killer whale. But the stark, moving PSA succeeds, given the sociability of an individual—human or orca—who was stolen from her family and held in captivity for the past 42 years at Miami's Seaquarium.


Telling the story of the father of sea turtle conservation


(01/21/2013) In 1959, visionary Archer Carr founded the world's first conservation group devoted solely to sea turtles. Working with these marine denizens in Costa Rica, Carr was not only instrumental in changing local views of the turtles—which at the time were being hunted and eaten at unsustainable rates—but also in establishing basic practices for sea turtle conservation today. Now a new film by Two-Head Video, Inc. tells the story of Carr's work and the perils still facing marine turtles today.


Can ranchers co-exist with jaguars?


(01/17/2013) Jaguar once roamed from the United States to Argentina, but today they've been eliminated from several range countries, including the United States. The chief reasons are habitat loss and direct killing by humans, putting ranchers and farmers at the heart of the issue. Both ranchers and farmers convert key jaguar habitat and kill the big cats as a threat to their livestock. However in parts of Brazil's Pantanal, some ranchers are going about their business without killing jaguars. My Pantanal, a film by Andrea Heydlauff, Vice President of the wild cat conservation group Panthera, takes a look at one particular ranch that is helping prove that jaguars and ranchers can co-exist.


Rhino wars: documenting the poaching crisis in South Africa


(01/16/2013) In 2012 a record 668 rhinos were slaughtered by poachers in South Africa for the horns, which are used as scientifically-debunked medicine in Asia. Rhino poaching has hit record levels worldwide over the past few years, but no where is the carnage greater than South Africa, which houses well over half of the world's rhinos. Thus it's no surprise that when student filmmaker, Anne Goodard, arrived in South Africa to film zebra behavior, she quickly became enthralled by the dark and tragic drama surrounding the country's rhinos.


The secret to the surging popularity of sloths: viral Web videos


(01/16/2013) Sloths have been the beneficiary of a surge of popularity of late. A big part of that has been filmmaker Lucy Cooke's footage of baby sloths at the world's only sloth orphanage in Costa Rica. Posted on the Internet in 2010, a 90-second clip went viral and has now been watched millions of times. That video, called 'Meet the Sloths', 'attracted celebrity fans from Ricky Gervaise to Ashton Kutcher and turned the sleepy residents of the world's only sloth orphanage into international superstars,' according to Cooke.


Landmines, chains, and hope: the elephants of Thailand


(01/15/2013) Few animals draw more compassion and awe from people than elephants. Highly intelligent, deeply social, and touchingly sensitive, elephants have much in common with human beings, despite their size and shape. Yet elephants around the world are still often abused and mis-treated, whether to entertain tourists or as victims of human strife. A new film, The Last Elephants in Thailand, sets out to document both the good and bad that elephants encounter in a world dominated by homo sapiens.


Saving manta rays from the fin trade


(01/15/2013) Tens of millions of sharks and rays are killed each year to meet demand for shark fin, a delicacy across East Asia. But while the plight of sharks has gained prominence in international environmental circles in recent years, the decline in rays has received considerably less attention. A new film, Manta Ray of Hope, aims to change that. Produced by cinematographer, scuba diver, and marine conservationist Shawn Heinrichs, Manta Ray of Hope offers a look at the mysterious and magnificent world of the world's largest ray, the manta ray. The film highlights both the threats mantas face as well as some of the people who are working to save them.


Saving the Arabian leopard, the world's smallest leopard


(01/14/2013) Today most people are more likely to associate Yemen with warfare and bizarre terrorism plots rather than wildlife. But Yemen is home to a surprising diversity of animals, including a population of the world's smallest leopard: The Arabian leopard (Panthera pardus nimr). Native to the Arabian Peninsula, the Arabian leopard is today extremely rare — less than 200 animals are thought to survive in the wild. Despite the cat's precarious position, there is relatively little local enthusiasm to protect a species that is widely seen as a threat to livestock. Nevertheless one man in Yemen is trying to boost the value of leopard in the eyes of local people. David Stanton, an American teacher living in Yemen, had devoted his life to saving the Arabian leopard.