News articles on water scarcity

---
Mongabay.com news articles on water scarcity in blog format. Updated regularly.






Lima to restore pre-Incan aqueducts to alleviate its water crisis
(04/16/2015) To tackle a looming water crisis, the city of Lima, Peru, is planning a series of green infrastructure projects, including the restoration of an ancient network of aqueducts in the mountains above the city. With a rapidly growing population of around 8.75 million Lima is the world's second largest desert city, and no stranger to water shortages.
Kaiduan dam in Borneo meets fierce opposition
(04/06/2015) Activists are calling on the government of Sabah, Malaysia, to reconsider the proposed Kaiduan dam, saying it has not considered other solutions to Sabah's looming water crisis and has failed to consult with the indigenous people who will be displaced if the project proceeds.
U.S. Central Plains and Southwest will likely face apocalyptic drought
(02/12/2015) In the recent film Interstellar, a mysterious phenomenon known as "the blight" is wiping out agriculture around the world until only corn—for some reason—survives. Humanity is on the brink of starvation. While the blight may be science fiction, global warming is not, and a new study finds that future warming could decimate the western U.S. over the next century.
Apocalypse now? Climate change already damaging agriculture, acidifying seas, and worsening extreme weather
(03/31/2014) It's not just melting glaciers and bizarrely-early Springs anymore; climate change is impacting every facet of human civilization from our ability to grow enough crops to our ability to get along with each other, according to a new 2,300-page report from the Intergovernmental Panel on Climate Change (IPCC). The massive report states definitively that climate change is already affecting human societies on every continent.
The price of gold: winners and losers in Latin America's mining industry
(03/05/2014) On a Friday afternoon in June, the Plaza de Armas in Cajamarca is pulsing with life. It's winter here, and although thick white clouds hover low in the distance, the sun in this northern Peruvian city is warm. Couples sit on benches facing one another. Kids run in the grass between flowerbeds. Men in suits stride along the perimeter. It's an idyllic day. But signs of something more ominous are not far from sight. On the mountainside overlooking the town the words Nova Conga have been carved into the vegetation. It is a constant reminder that beyond the square, hemmed with international hotels and expensive restaurants, there is another reality.
Is Brazil's epic drought a taste of the future?

(02/25/2014) With more than 140 cities implementing water rationing, analysts warning of collapsing soy and coffee exports, and reservoirs and rivers running precipitously low, talk about the World Cup in some parts of Brazil has been sidelined by concerns about an epic drought affecting the country's agricultural heartland.
Bangladesh plans massive coal plant in world's biggest mangrove forest
(11/11/2013) On October 22nd Bangladeshi and Indian officials were supposed to hold a ceremony laying the foundation stone for the Rampal power plant, a massive new coal-fired plant that will sit on the edge of the Sundarbans, the world's largest mangrove forest. However, the governments suddenly cancelled the ceremony, instead announcing that the project had already been inaugurated in early October by the countries' heads of state via a less-ornate Skype call. While the governments say the change was made because of busy schedules, activists contend the sudden scuttling of the ceremony was more likely due to rising pressure against the coal plant, including a five-day march in September that attracted thousands.
Fracking sucks up all the water from Texas town

(08/15/2013) Beverly McGuire saw the warning signs before the town well went dry: sand in the toilet bowl, the sputter of air in the tap, a pump working overtime to no effect. But it still did not prepare her for the night last month when she turned on the tap and discovered the tiny town where she had made her home for 35 years was out of water.
What if companies actually had to compensate society for environmental destruction?
(04/29/2013) The environment is a public good. We all share and depend on clean water, a stable atmosphere, and abundant biodiversity for survival, not to mention health and societal well-being. But under our current global economy, industries can often destroy and pollute the environment—degrading public health and communities—without paying adequate compensation to the public good. Economists call this process "externalizing costs," i.e. the cost of environmental degradation in many cases is borne by society, instead of the companies that cause it. A new report from TEEB (The Economics of Ecosystems and Biodiversity), conducted by Trucost, highlights the scale of the problem: unpriced natural capital (i.e. that which is not taken into account by the global market) was worth $7.3 trillion in 2009, equal to 13 percent of that year's global economic output.
Up for grabs: how foreign investments are redistributing land and water across the globe
(04/18/2013) In 2007, the increased human population, increased prices in fuel and transportation costs, and an increased demand for a diversity of food products prompted a Global Food Crisis. Agricultural producers and government leaders world-wide struggled to procure stable food sources for their countries. But the crisis had impacts beyond 2007: it was also the impetus for what we now know as the global land-grabbing phenomenon.
Iraqi who is bringing back the Garden of Eden wins top environment award
(04/16/2013) The vast Mesoptomian marshes in southern Iraq were said to be the site of the original Garden of Eden. On their fringes have risen and fallen 12,000 years of Sumerian, Assyrian, Chaldean, Persian and Arab civilizations. Organized farming is thought to have begun here, as did the first cities and writing. In legend, Gilgamesh fell asleep on the water side and let slip from his fingers the plant of eternal youth. Abraham was said to have been born here and explorers like Sir Wilfred Thesiger made their name here.
WWF and National Geographic ask: 'How much stuff do you need?'

(02/04/2013) Seven billion people inhabit the planet and all require food and water, but less than one percent of the water found on the planet is fresh and accessible and 70 percent of that goes to growing crops. Meanwhile temperatures are rising worldwide due to the overuse of fossil fuel energy. Given these issues, a new series of videos by WWF and National Geographic, entitled Make Choices Count, aims to get people thinking about the environmental impact of commonly used items. The first video (see below) focuses on one of our most ubiquitous items: the cotton T-shirt.
Over $8 billion invested in watersheds in 2011

(01/28/2013) Unlike cars, hamburgers, and computers, clean drinking water is a requirement for human survival. In a bid to safeguard this essential resource, more and more nations are moving toward protecting ecosystems, such as forests, wetlands, and streams. In fact, according to a new report by Forest Trends' Ecosystem Marketplace, nations spent $8.17 billion in 2011 to secure freshwater by conserving watersheds.
Forests in Kenya worth much more intact says government report
(01/24/2013) Kenya's forests provide greater services and wealth to the nation when they are left standing. A landmark report by The Kenyan Government and the United Nations Environment Programme (UNEP) addresses the importance of forests to the well-being of the nation, putting Kenya among a pioneering group of countries that aim to center development plans around nature-based assets.
Climate change melting glaciers in the Andes

(01/22/2013) Glaciers are melting faster than ever in the tropical Andes, warns a new study published in The Cryosphere, which puts the blame for vanishing glaciers squarely on climate change. The study — the most comprehensive to date — found that since the 1970s glacier melt in the region has been speeding up, threatening freshwater supplies in Peru and Bolivia.
Improving food and water efficiency a must for the next generation

(12/05/2012) This summer, while climate change silence reigned in the U.S. presidential race, the Stockholm International Water Institute's conference for World Water Week focused on the global initiatives required in order to live with its effects. The report, titled "Feeding a Thirsty World," garnered the most publicity with the assertion that agricultural water scarcity and an increasing population would force the world to reduce average meat and dairy consumption down to just 5% of all calories by 2050. At present, 20% of the average human diet is made up from animal proteins.
Mekong dam spree could create regional food crisis
(08/27/2012) Fish are a hugely important protein source for many people around the world. This is no more evident than along the lower Mekong River delta where an estimated 48 million people depend directly on the river for food and livelihoods. But now a new study in Global Environmental Change cautions that 11 planned hydroelectric dams in the region could cut vital fish populations by 16 percent while putting more strain on water and land resources.
Drought pits farmers against frackers

(08/01/2012) Drought has created a standoff over water supplies in the U.S. Midwest between energy producers and farmers, reports Bloomberg. Natural gas and oil producers have been forced to seek new water sources as they mull calls from farmers and activists to recycle their water, a practice that would make 'fracking' more expensive.
Charting a new environmental course in China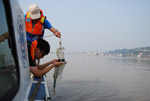 (05/21/2012) Founded in 1951, The Nature Conservancy (TNC) works in more than 30 countries and has projects in all 50 of the United States. The Conservancy has over one million members, and has protected more than 119 million acres of wild-lands and 5,000 miles of rivers worldwide. TNC has taken an active interest in China, the world's most populated nation, and in many important ways, a critical center of global development. The following is an interview with multiple directors of The Nature Conservancy's China Program.
Consumption, population, and declining Earth: wake-up call for Rio+20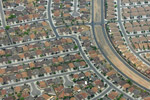 (05/15/2012) Currently, human society is consuming natural resources as if there were one-and-a-half Earths, and not just a single blue planet, according to the most recent Living Planet Report released today. If governments and societies continue with 'business-as-usual' practices, we could be consuming three years of natural resources in 12 months by 2050. Already, this ecological debt is decimating wildlife populations worldwide, disproportionately hurting the world's poor and most vulnerable, threatening imperative resources like food and water, heating up the atmosphere, and risking global well-being.
Featured video: climate, water, and desperation in Texas

(05/01/2012) As a part of PBS' new series Coping with Climate Change reporters visited several towns in Texas, which has suffered unprecedented drought beginning in 2010. The drought, which climatologists say is consistent with climate change predictions, has led to forest fires, vast tree mortalities, agricultural and livestock losses, and water shortages.
Turkey's rich biodiversity at risk
(03/28/2012) Turkey: the splendor of the Hagia Sophia, the ruins of Ephesus, and the bizarre caves of the Cappadocia. For foreign travelers, Turkey is a nation of cultural, religious, and historic wonders: a place where cultures have met, clashed, and co-created. However, Turkey has another wealth that is far less known: biodiversity. Of the globe's 34 biodiversity hotspots, Turkey is almost entirely covered by three: the Caucasus, the Irano-Anatolian, and the Mediterranean. Despite its wild wealth, conservation is not a priority in Turkey and recent papers in Science and Biological Conservation warn that the current development plans in the country, which rarely take the environment into account, are imperiling its species and ecosystems.
United Nations meets clean water goal

(03/07/2012) Over the past two decades (1990-2010) over two billion people have received access to improved drinking water, bringing the current number of people worldwide who have access to better water up to 89 percent. This accomplishment meets the UN's Millennium Development Goal's (MDG) target of cutting in half the amount of people worldwide who do not have access to safe and sustainable drinking water. According to a report by UNICEF and the World Health Organization (WHO), the goal was met in 2010, five years before its target year of 2015.
Top 10 Environmental Stories of 2011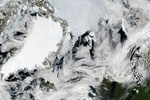 (12/22/2011) Many of 2011's most dramatic stories on environmental issues came from people taking to the streets. With governments and corporations slow to tackle massive environmental problems, people have begun to assert themselves. Victories were seen on four continents: in Bolivia a draconian response to protestors embarrassed the government, causing them to drop plans to build a road through Tipnis, an indigenous Amazonian reserve; in Myanmar, a nation not known for bowing to public demands, large protests pushed the government to cancel a massive Chinese hydroelectric project; in Borneo a three-year struggle to stop the construction of a coal plant on the coast of the Coral Triangle ended in victory for activists; in Britain plans to privatize forests created such a public outcry that the government not only pulled back but also apologized; and in the U.S. civil disobedience and massive marches pressured the Obama Administration to delay a decision on the controversial Keystone XL pipeline, which would bring tar sands from Canada to a global market.
11 challenges facing 7 billion super-consumers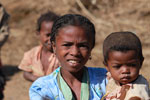 (10/31/2011) Perhaps the most disconcerting thing about Halloween this year is not the ghouls and goblins taking to the streets, but a baby born somewhere in the world. It's not the baby's or the parent's fault, of course, but this child will become a part of an artificial, but still important, milestone: according to the UN, the Earth's seventh billionth person will be born today. That's seven billion people who require, in the very least, freshwater, food, shelter, medicine, and education. In some parts of the world, they will also have a car, an iPod, a suburban house and yard, pets, computers, a lawn-mower, a microwave, and perhaps a swimming pool. Though rarely addressed directly in policy (and more often than not avoided in polite conversations), the issue of overpopulation is central to environmentally sustainability and human welfare.
New organization seeks to make biofuels sustainable, but is it possible?

(03/24/2011) Not too long ago policy-makers, scientists, and environmentalists saw biofuels as a significant tool to provide sustainable energy to the world. However, as it became clear that biofuels were not only connected to deforestation, pollution, and greenhouse gas emissions (sometimes exceeding fossil fuels), but also competed with the global food supply and water sources, biofuels no longer seemed like a silver bullet, but a new problem facing the environment and the poor. Still, biofuels have persisted not so much due to perceived environmental benefits, but to entrenched interests by the big agricultural industry, lobbyists, and governments. However, the Roundtable on Sustainable Biofuels (RSB) hopes to begin certifying environmentally friendly biofuels that don't compete with food production or water sources.
Want water? save forests

(03/21/2011) The UN-backed Collaborative Partnership on Forests (CPF) is urging nations to conserve their forests in a bid to mitigate rising water scarcity problem.