News articles on urbanization

---
Mongabay.com news articles on urbanization in blog format. Updated regularly.






Greener neighborhoods have less violent crime

(04/04/2013) Turn your neighborhood green and it may prevent violent crime in the long run, according to a new study in Landscape and Urban Planning, which found that violent crimes (assaults, robberies, and burglaries) occurred less often in greener areas of Philadelphia. The connection between greener neighborhoods and less violent crime even stood up after researchers accounted for education, poverty, and population levels.
Carbon Management in the Built Environment - book review

(04/02/2013) Carbon Management in the Built Environment, written by Rohinton Emmanuel and Keith Baker, is the complete introductory textbook covering low carbon management for the built environment. Carbon Management in the Built Environment integrates climate change science, design, materials science, and policy into a classroom friendly text.
Cute koalas have become 'urban refugees'
(01/28/2013) According to Susan Kelly, koalas have become "urban refugees," under siege by expanding cities that bring with them deforestation, dogs, traffic, and other ills for native wildlife. Director of Global Witness, and writer, producer and director of the new documentary Koala Hospital, Kelly has spent 3 years working to understand the rising threats to one of the world's most beloved marsupials. While Koala Hospital highlights the many perils facing koalas, including climate change due to record fires across Australia, it also looks at the efforts of individuals who work to save koalas one—by—one at Port Macquarie Koala Hospital, taking in patients who have been orphaned, hit by cars, scarred in fires, or attacked by dogs.
Energizing Sustainable Cities: Assessing Urban Energy - book review

(01/28/2013) Energizing Sustainable Cities: Assessing Urban Energy, edited by Arnulf Grubler and David Fisk, is a very well written book describing challenges and opportunities to define, analyze, and implement sustainable energy development for 21st Century urban centers. Urban populations, while roughly 50% of the global population, consume over 75% of the globe's energy. Therefore, developing frameworks to assess, analyze and implement sustainable energy systems that meet the criteria for these urban populations is foundational to mitigating climate change, halting biodiversity loss, and improving water quality globally.
Forests, farming, and sprawl: the struggle over land in an Amazonian metropolis
(12/04/2012) The city of Parauapebas, Brazil is booming: built over the remains of the Amazon rainforest, the metropolis has grown 75-fold in less than 25 years, from 2,000 people upwards of 150,000. But little time for urban planning and both a spatial and mental distance from the federal government has created a frontier town where small-scale farmers struggle to survive against racing sprawl, legal and illegal mining, and a lack of investment in environmental protection. Forests, biodiversity, and subsistence farmers have all suffered under the battle for land. In this, Parauapebas may represent a microcosm both of Brazil's ongoing problems (social inequality, environmental degradation, and deforestation) and opportunity (poverty alleviation, reforestation, and environmental enforcement).
Africa's great savannahs may be more endangered than the world's rainforests
(12/04/2012) Few of the world's ecosystems are more iconic than Africa's sprawling savannahs home to elephants, giraffes, rhinos, and the undisputed king of the animal kingdom: lions. This wild realm, where megafauna still roam in abundance, has inspired everyone from Ernest Hemingway to Karen Blixen, and David Livingstone to Theodore Roosevelt. Today it is the heart of Africa's wildlife tourism and includes staunch defenders such as Richard Leakey, Michael Fay, and the Jouberts. Despite this, the ecosystem has received less media attention than imperiled ecosystems like rainforests. But a ground-breaking study in Biodiversity Conservation finds that 75 percent of these large-scale intact grasslands have been lost, at least from the lion's point of view.
Featured video: turning yards and neighborhoods into wildlife habitat

(12/03/2012) A new animation by the American Society of Landscape Architects introduces viewers to the benefits of making their yards and neighborhoods wildlife friendly. By focusing on the threat of sprawl to biodiversity, the video shows how urban and suburban residents can use native plants, freshwater, and wildlife-friendly structures to allow a space for nature, and, possibly even help create and maintain corridors for wild animals.
Asian cities face high disaster risk with 650,000 killed in 2000s

(11/16/2012) Asia's cities are increasing vulnerable to natural disasters due to climate change, urban expansion, and poor planning, warns a report published this week by the Asian Development Bank. Disasters risk undermining recent economic gains in the region.
Meet Cape Town's volunteer 'toad shepherds'
(11/08/2012) August marks the last month of winter in South Africa, and, as temperatures begin to rise, activists in Cape Town prepare for a truly unique conservation event. Every year at this time western leopard toads (Amietophrynus pantherinus) endemic to the region and Critically Endangered, embark on a night-time migration through Cape Town from their homes in the city's gardens to the ponds they use as breeding sites—as far as three kilometers away. This season over one hundred volunteers took to the streets, flashlights in hand, to assist the toads in navigating the increasing number of man-made obstacles in their path. Among them was life-long resident and mother, Hanniki Pieterse, who serves as an organizer for volunteers in her area.
Urban sprawl could doom some biodiversity hotspots by 2030

(09/17/2012) Projected urban expansion could consume hundreds of thousands of hectares' worth of key biodiversity hotspots over the next twenty years, triggering the release of some 5 billion tons of carbon dioxide from direct land use change and further endangering hundreds of species, warns a new study published in the journal Proceedings of the National Academy of Sciences.
Japan declares its river otter extinct

(08/28/2012) Japan's Ministry of the Environment today declared the Japanese river otter (Lutra lutra whiteleyi) extinct. Last seen in 1979 in the city of Susaki on the island of Shikoku, the unique subspecies was killed-off by overhunting and loss of habitat due to development.
US southern forests face bleak future, but is sprawl or the paper industry to blame?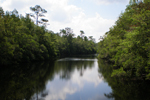 (05/19/2011) More people, less forests: that's the conclusion of a US Forest Service report for forests in the US South. The report predicts that over the next 50 years, the region will lose 23 million acres (9.3 million hectares) largely due to urban sprawl and growing populations amid other factors. Such a loss, representing a decline of over 10 percent, would strain ecosystem services, such as water resources, while potentially imperiling over 1,000 species. However, Dogwood Alliance, which campaigns for conservation of southern forests criticizes the new report for underplaying the role of clearcutting natural forests for the paper industry in the south.
It's not just size that matters: how population affects climate change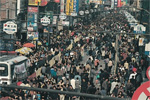 (11/11/2010) As the world's population increases, a surge in the number of older adults and the movement of people from the countryside to crowded cities will significantly affect levels of carbon dioxide emissions by 2050, according to a sweeping study published in the 11 October issue of the Proceedings of the National Academy of Sciences. A significant but attainable slowing of the planet's growing population could achieve up to 29 percent of the total decrease in emissions needed to stave off the harmful consequences of climate change by 2050, according to the study.
Farms in the sky, an interview with Dickson Despommier
(10/12/2010) To solve today's environmental crises—climate change, deforestation, mass extinction, and marine degradation—while feeding a growing population (on its way to 9 billion) will require not only thinking outside the box, but a "new box altogether" according to Dr. Dickson Despommier, author of the new book, The Vertical Farm. Exciting policy-makers and environmentalists, Despommier's bold idea for skyscrapers devoted to agriculture is certainly thinking outside the box.
The true cost of the Commonwealth Games

(09/30/2010) UK newspapers have been flooded this week and last by reports of the Commonwealth Games' venue literally caving in and collapsing, athletes have deemed their village accommodation "filthy" and terrorists have apparently threatened attacks. Thanks to the late monsoon this year, floods are now a fear, and the Games' venue has been choked by a cloud of toxic insect repellent due to further fears of an outbreak of the potentially fatal dengue fever because of mosquitoes being drawn to the floods' stagnant water.
White roofs could cool cities

(01/28/2010) Painting urban roofs white could effectively counteract some of the urban heat-island effect and even lower greenhouse gas emissions in cities, reports a new study in Geophysical Research Letters.
Discovering nature's wonder in order to save it, an interview with Jaboury Ghazoul

(09/08/2009) Sometimes we lose sight of the forest by staring at the trees. When this happens we need something jarring and eloquent to pull us back to view the big picture again. This is what tropical ecologist Jaboury Ghazoul provided during a talk at the Association of Tropical Biology and Conservation (ATBC) meeting this summer in Marburg, Germany. Throwing out a dazzling array of big ideas and even bigger questions—incorporating natural history, biodiversity, morality, philosophy, and art—the enthusiastic Ghazoul left his audience in a state of wonder.