News articles on united states

---
Mongabay.com news articles on united states in blog format. Updated regularly.





Massive snake found in Florida (photos)

(08/14/2012) Researchers in Florida have documented the biggest snake ever found in Florida. But the snake is an invader — it's not native.


Charts: comparing the largest carbon emitters

(08/12/2012) Earlier this month the U.S. Department of Energy's Energy Information Administration announced an 8 percent drop in U.S. carbon dioxide emissions during the first quarter of 2012. Emissions between January and March 2012 were the lowest since 1992.


Drought drives corn prices to record high

(08/09/2012) Drought in America's Midwest drive corn prices to record highs on Thursday.


Kids campaign to save South Africa's rhinos from poaching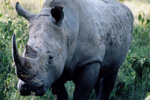 (08/09/2012) The young founders of the U.S. conservation group, One More Generation (OMG), have taken on a new task: halting rhino poaching in South Africa. After a trip last year to visit South Africa, Carter Ries (age 11) and Olivia Ries (age 9), have jump-started a campaign to help convince the South African government to put more resources into halting a rhino poaching plague in the country. Last year an astounding 448 rhinos were killed in South Africa for their horns, averaging more than one rhino a day.


July 2012: hottest month in U.S. history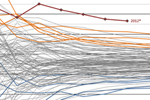 (08/08/2012) Last month was not only the hottest July in U.S. weather history, but the hottest month ever recorded in the contiguous U.S, besting a record struck in July 1936 during the Dust Bowl, according to new data from the National Oceanic and Atmospheric Administration (NOAA). The average temperature last month over the contiguous U.S. was 77.6 degrees Fahrenheit, or 3.3 degrees Fahrenheit above the 20th Century average. Making matters worse, crippling drought continued to spread over 63 percent of the lower 48 states.


Featured video: restoring rivers in the Tongass Rainforest

(08/08/2012) A new video highlights recent efforts to restore rivers in the Tongass Forest, the world's largest intact temperate rainforest. Industrial logging in vital watersheds have hurt salmon populations and other wildlife in the region, an issue the government, along with several partners, are now trying to rectify.


Climate and culture: abrupt change and rapid response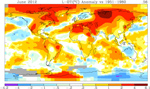 (08/06/2012) As the world experiences record heat, increased drought and fires, unprecedented ice melt and similar extreme weather anomalies decades before expected, climatologists have been forced to reconsider previous climate change projections and research techniques. Less than a decade ago, scientific consensus considered warming of more than 2 C and atmospheric levels of carbon dioxide near 450 parts per million (ppm) as acceptable or "safe". Revised climate science literature and expert opinion now regard safe atmospheric levels of carbon dioxide as below 350 ppm, or less than 1 C rise in average planetary temperature. Many researchers and environmentalists, however, recognize that the present deviation from pre-industrial temperatures of 0.8 C may be unacceptable to prevent runaway climate change and widespread disasters.


Gibson Guitar to pay $300,000 for violating Lacey Act with illegal timber imports from Madagascar

(08/06/2012) Gibson Guitar Company has avoided criminal prosecution under the Lacey Act — a law that aims to curb illegal logging abroad — by settling with the Department of Justice.


Extreme heatwaves 50 to 100 times more likely due to climate change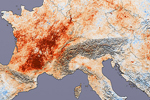 (08/05/2012) A recent rise in deadly, debilitating, and expensive heatwaves was caused by climate change, argues a new statistical analysis published in the Proceedings of the National Academy of Sciences (PNAS). Climatologists found that extreme heatwaves have increased by at least 50 times during the last 30 years. The researchers, including James Hansen of NASA, conclude that climate change is the only explanation for such a statistical jump.


U.S. carbon emissions lowest since 1992

(08/01/2012) A shift away from coal and reduced gasoline demand coupled with a mild winter led to an 8 percent drop in U.S. carbon dioxide emissions during the first quarter of 2012, reports the Energy Information Administration. Emissions between January and March 2012 were the lowest since 1992.


Drought pits farmers against frackers

(08/01/2012) Drought has created a standoff over water supplies in the U.S. Midwest between energy producers and farmers, reports Bloomberg. Natural gas and oil producers have been forced to seek new water sources as they mull calls from farmers and activists to recycle their water, a practice that would make 'fracking' more expensive.


NASA images reveal massive forest die-off from tiny beetle

(07/31/2012) Satellite images highlighted by NASA this week reveal a massive forest die-off in Colorado due to severe pine park beetle infestations.


Pictures: 40 years of NASA's Earth-observing satellite program

(07/25/2012) Landsat, NASA's Earth-observing satellite program, turned 40 on Monday. The space agency celebrated by releasing some of the program's best images showing how landscapes have changed in the past 40 years, including the five most popular 'Earth as Art' images.


Map reveals sharp increase in U.S. fires since 2001

(07/24/2012) A new map using NASA data reveals an increase in the severity of fires in the United States since 2000.


Featured video: climate change bringing on the extremes

(07/24/2012) Focusing on extreme weather events in the U.S. this summer, a new compilation video highlights the connection between climate change and increasing and worsening extremes, such as heatwaves, droughts, and floods.


U.S. drought could set in motion global food crisis

(07/23/2012) The U.S. is suffering drought levels not seen in over 50 years—and drawing comparisons to the Dust Bowl—with 56 percent of the contiguous U.S. in moderate to extreme drought. Some experts fear that the drought, and resulting hikes in food prices, could propel another global food crisis like those seen in 2008 and 2010.


Scientists testing anti-fungal bacteria on diseased frogs in California

(07/23/2012) Researchers are treating tadpoles in Kings Canyon National Park with a bacteria they hope will provide immunity to an infamous fungal disease, reports the San Francisco Gate. The bacteria could be key not only to saving California's mountain yellow-legged frog (Rana muscosa), which is listed as Endangered by the IUCN Red List, but also frog species around the planet, many of which have been decimated by the chytrid fungal disease.


Deepwater Horizon oil spill may have played role in dolphin deaths

(07/22/2012) In the first four months of 2011, 186 bottlenose dolphins (Tursiops truncatus) were found dead in the Gulf of Mexico, nearly half of them dolphin calves many of whom were perinatal, or near birth. Researchers now believe a number of factors may have killed the animals. Writing in the open-access journal PLoS ONE, scientists theorize that the dolphins died a sudden influx of freshwater from snowmelt after being stressed and weakened by an abnormally cold winter and the impacts of the BP oil spill.


Drought, heat, fires push more Americans to accept reality of climate change

(07/19/2012) Record temperatures, wildfires, drought, and crop failures have is helping convince more Americans that climate change is real and occurring, reports Bloomberg.


China's per capita emissions nearly as high as Europe's

(07/19/2012) The average person in China emitted 7.2 tons of carbon last year, according to new figures from BL Netherlands Environmental Assessment Agency and the European commission's Joint Research Centre (JRC). This means that the average Chinese citizen is now very close to the average European, who emits 7.5 tons, in terms of annual emissions. Having been named the world's largest emitter of greenhouse gases in 2009—usurping the U.S. from its long-held position—China continues to lead the pack with emissions that rose 9 percent in 2011.


Apple reverses course, rejoins green tech registry

(07/14/2012) Facing criticism from customers and potential loss of government contracts, computer giant Apple rejoined a green product registry it abandoned earlier this month.


Republican stalwart calls global warming 'a matter of fact', pushes for carbon tax

(07/13/2012) Former Secretary of State George Shultz is calling for a carbon tax to reduce U.S. greenhouse gas emissions and oil consumption, according to an interview released today by Stanford University.


Guilty pleas in NYC ivory bust

(07/13/2012) Two ivory dealers pled guilty to trafficking some $2 million worth of elephant ivory.


Deja vu: U.S. undergoes hottest 12 months on record...again and again

(07/12/2012) According to new data from the National Oceanic and Atmospheric Administration (NOAA)'s National Climatic Data Center, the last twelve months have been the warmest on record for the contiguous United States. This record, set between July 2011 through June 2012, beat the last consecutive twelve month record set only a month earlier between June 2011 and May 2012, which in turn beat the previous record holder, you guessed it: May 2011 through April 2012.


Animal picture of the day: the greater roadrunner

(07/12/2012) Charging at speeds up to 26 miles an hour (42 kilometers), the greater roadrunner (Geococcyx californianus) chases down prey like lizards and snakes. It is listed as Least Concern by the IUCN Red List, and is found across the Southwestern U.S. Although the greater roadrunner is capable of flight, it prefers racing along the ground.


Climate change increased the probability of Texas drought, African famine, and other extreme weather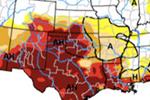 (07/11/2012) Climate change is here and its increasing the chances for crazy weather, according to scientists. A prestigious group of climatologists have released a landmark report that makes the dramatic point that climate change is impacting our weather systems—and in turn our food crops, our economies, and even our lives—here-and-now. The new report in the American Meteorological Society is first of what is intended to be an annual offering that will attempt to tease out the connections between climate change and individual extreme weather events, such as heatwaves, droughts and floods.


Wealthy consumption threatens species in developing countries


(07/11/2012) Consumption in wealthy nations is imperiling biodiversity abroad, according to a new study in Nature that investigates the link between international trade and biodiversity decline. The study shows how threats to biodiversity and ecosystems, located primarily in developing countries, can be connected to consumer demand for goods in wealthier nations. Some of the major commodities include coffee, cocoa, soy, beef and palm oil.


As U.S. sees record heat, extreme weather pummels 4 continents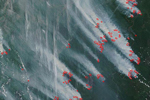 (07/10/2012) It's not only the U.S. that has experienced record-breaking extreme weather events recently, in the last couple months extreme weather has struck around the world with startling ferocity. In addition to the much-covered heatwaves, wildfires, and droughts in the U.S., killer floods struck India, the worst drought yet recorded plagued South Korea, and massive forest fires swept through Siberia to name just a few.


Scientist: 'no doubt' that climate change is playing a role in U.S. fires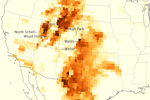 (07/02/2012) A noted climate scientist says there is 'no doubt' that climate change is 'playing a role' in this year's series of record fires in the western U.S. A massive wildfire in Colorado has forced the evacuation of 36,000 people, destroyed over 300 homes, and killed two people. The devastation wrought by the Waldo Canyon Fire even prompted a visit form U.S. President Barack Obama. But this is not the only epic fire in the U.S. this year: less than a month before the Colorado disaster, New Mexico experienced its largest fire on record in Gila Nation Forest; the conflagration burned up 247,000 acres (100,000 hectares). Other major wildfires have occurred in Utah and Wyoming, as well as other parts of New Mexico and Colorado.


Pictures: Drought, high heat and winds fuel massive fires in Colorado

(06/28/2012) Lightning strikes have blatantly ignored the warnings of park service officials in Colorado, setting off the 87,000 + acre High Park fire, the 20,000 + acre fire near Pagosa Springs, and a more recent wildfire just outside Boulder.


Cowards at Rio?: organizations decry 'pathetic' agreement


(06/20/2012) As world leaders head to Rio de Janeiro for the UN Summit on Sustainable Development, environmental and poverty groups are denouncing the last-minute text agreed on by dignitaries as "pathetic," (Greenpeace), a "damp squib" (Friends of the Earth), "a dead end" (Oxfam), and, if nothing changes, "a colossal waste of time" (WWF). "We were promised the 'future we want' but are now being presented with a 'common vision' of a polluter's charter that will cook the planet, empty the oceans and wreck the rain forests," the head of Greenpeace, Kumi Naidoo, said. "This is not a foundation on which to grow economies or pull people out of poverty, it's the last will and testament of a destructive twentieth century development model."


Rio+20 and economic perils in Europe: opportunity for linkage

(06/19/2012) This month, momentous events will occur on the global scene that will set the tone for whether 2012 will be a hopeful year or one in which dislocations and disconnects are further exacerbated by political failings. The EU will decide on its fiscal and monetary union that hinges on Greece's recent June election, which backed the political party that wants to stay in the Euro zone, but insists on adjustments to the earlier-negotiated economic rescue package.


U.S., others commit to restoring 45 million acres of native forests

(06/19/2012) The U.S. Forest Service joined Rwanda, a Brazilian coalition, and a Central American alliance of indigenous groups in a pledge to restore 18 million hectares (45 million acres) of native forests, reports the IUCN, a conservation group.


WWF: biggest villain at Rio+20 is Canada

(06/18/2012) Having sent a delegation to the United Nation's Rio+20 Summit on Sustainable Development, the World Wide Fund for Nature (WWF), the world's biggest conservation group, has recently declared their Heroes and Villains of Rio+20—so far. The NGO has strong words for the negotiating position of the U.S. and the major oil exporting countries (OPEC), but saves its harshest criticisms for Canada.


Warmer forests expel carbon from soils creating "vicious cycle"


(06/13/2012) As the world warms, temperate forests could become a source of carbon dioxide emission rather than a sink according to a new study in the Proceedings of the National Academy of Sciences (PNAS). Scientists found that two forest sites in the U.S. (Wisconsin and North Carolina) emitted long-stored carbon from their soils when confronted with temperatures 10-20 degrees Fahrenheit (5.5-11.1 degrees Celsius) higher than average.


U.S. undergoes warmest spring on record

(06/12/2012) Spring in the U.S. was the warmest on record, beating the past record-year (1910), by a stunning two degrees Fahrenheit, according to new data from the National Oceanic and Atmospheric Administration (NOAA). The data also shows that the past 12 months--from June 2011 through May 2012--was the warmest on record in the contiguous U.S. as well.


As Colorado and New Mexico burn, scientists say prepare for more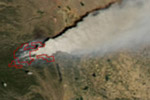 (06/12/2012) A massive wildlife in Colorado still burns after it has killed one person and damaged or destroyed over a hundred structures. The fire, the third largest in Colorado's history, has burned 39,500 acres (16,000 hectares) to date. Meanwhile in central New Mexico, another wildfire has damaged or destroyed 35 structures and burned 34,500 acres (14,000 hectares). This comes just weeks after New Mexico's largest wildfire ever—still going—burned up over 247,000 acres (100,000 hectares) of the Gila Forest. Weeks of heroic efforts by thousands of firefighters have contained this megafire by only 37 percent to date. Now, a new scientific study in Ecospshere has found that North America and Europe must prepare for even more fires as global temperatures continue to rise from climate change.


B95, the great survivor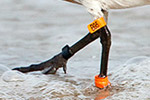 (06/11/2012) He is so long-lived that he has surpassed all expectations, touching hearts throughout the American continent, bringing together scientists and schools, inspiring a play and now even his own biography. B95 is the name of a rufus red knot (Calidris canutus rufus), a migratory bird that in his annual journeys of 16,000 kilometers (9,940 miles) each way from the Canadian Arctic to Tierra del Fuego, in Argentina, has flown a distance bigger than the one between the Earth and Moon.


EPA considers ban on herbicide that triggers sex reversal in frogs

(06/08/2012) The Environmental Protection Agency (EPA) will weigh a ban on Atrazine, a widely used herbicide linked to sex reversal and other reproductive problems in amphibians and fish. The chemical, which is manufactured by Syngenta, has been banned in the European Union since 2004 but some 80 million pounds Atrazine are applied to corn, sugarcane, sorghum and rice in the United States each year.


NASA image: New Mexico suffers record megafire

(06/04/2012) To date, around 250,000 acres (101,000 hectares) of the Gila Forest in New Mexico have burned in the state's largest fire ever recorded. Begun on May 16th due to lightning strikes, the unprecedented fire has likely been made possible by a combination of land-use changes, unflagging drought, and climate change.


Why bird droppings matter to manta rays: discovering unknown ecological connections

(06/04/2012) Ecologists have long argued that everything in the nature is connected, but teasing out these intricate connections is not so easy. In fact, it took research on a remote, unoccupied island for scientists to discover that manta ray abundance was linked to seabirds and thereby native trees.


After damning research, France proposes banning pesticide linked to bee collapse

(06/04/2012) Following research linking neonicotinoid pesticides to the decline in bee populations, France has announced it plans to ban Cruiser OSR, an insecticide produced by Sygenta. Recent studies, including one in France, have shown that neonicotinoid pesticides likely hurt bees' ability to navigate, potentially devastating hives. France has said it will give Sygenta two weeks to prove the pesticide is not linked to the bee decline, known as Colony Collapse Disorder (CCD).


Regulations help fish, and fishermen, recover in the U.S.

(05/30/2012) Marine fish populations in the U.S. are generally recovering, according to a new report by the National Oceanic and Atmospheric Administration (NOAA). Last year six fish populations reached healthy levels in the U.S., boosting the total number of fish populations that have recovered to 27 since 2000. The success is due to the implementation of science-based annual catch limits which regulate how many fish are caught every year.


Another record in global carbon emissions puts globe on track for 'devastating consequences'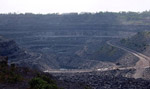 (05/29/2012) Last year global carbon dioxide emissions rose 3.2 percent to a new record of 31.6 gigatons, keeping the planet on track to suffer dangerous climate change, which could propel global crop failures, sea level rise, worsening extreme weather, and mass extinction. According to data from the International Energy Agency (IEA), China's carbon emissions rose the most last year (9.3 percent) while emissions in Europe and the U.S. dipped slightly. China is the currently the world's largest emitter of greenhouse gases, while the U.S. has emitted the most historically.


Nearly 2,000 fish species traded in U.S. tropical aquarium market

(05/24/2012) The U.S. tropical aquarium market poses problems and opportunities for conservation, according to a landmark study published in the open-access journal PLoS ONE. The study reviewed import records in the U.S. for one year (2004-2005) and found that over 11 million wild tropical fish from 1,802 species were imported from 40 different countries. While the number of fish species targeted surprised researchers, the total amount of fish imported was actually less than expected.


Groups urge President Obama to attend Rio+20 Sustainability Summit

(05/22/2012) Twenty-two conservation, indigenous, health and science groups have called on U.S. President Barack Obama to attend the up-coming Rio+20 Summit on Sustainable Development.


Cute animal picture (and video) of the day: baby otters

(05/21/2012) The Wildlife Conservation Society's Prospect Park Zoo in New York City has recently seen the arrival of three baby North American river otters (Lontra canadensis), the first born in the city at a zoo or aquarium in over 50 years.


Palm oil industry hires lobbying powerhouse to overturn EPA ruling on biofuels

(05/18/2012) The palm oil industry has hired lobbying powerhouse Holland & Knight to help overturn the Environmental Protection Agency's finding that palm oil-based biodiesel fails to meet greenhouse gas emissions targets under the country's Renewable Fuels Standard, reports The Hill.


Featured video: why one scientist is getting arrested over climate change

(05/16/2012) In March 2012 the head of NASA's Goddard Institute for Space Studies and well-known climatologist, James Hansen, spoke at a TED conference to explain what would push a 70-year-old scientist to participate in civil disobedience against mountaintop coal mining and the Keystone Pipeline, even leading to several arrests.


Consumption, population, and declining Earth: wake-up call for Rio+20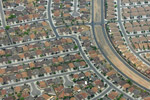 (05/15/2012) Currently, human society is consuming natural resources as if there were one-and-a-half Earths, and not just a single blue planet, according to the most recent Living Planet Report released today. If governments and societies continue with 'business-as-usual' practices, we could be consuming three years of natural resources in 12 months by 2050. Already, this ecological debt is decimating wildlife populations worldwide, disproportionately hurting the world's poor and most vulnerable, threatening imperative resources like food and water, heating up the atmosphere, and risking global well-being.



Page 1 | Page 2 | Page 3 | Page 4 | Page 5 | Page 6 | Page 7 | Page 8 | Page 9 | Page 10 | Page 11 | Page 12 | Page 13 | Page 14 | Page 15 | Page 16 | Page 17 | Page 18 | Page 19 | Page 20 | Page 21 | Page 22