News articles on united states

---
Mongabay.com news articles on united states in blog format. Updated regularly.





99.999% chance 2012 will be hottest year on record for continental U.S

(12/13/2012) 2012 will almost certainly be the hottest year on record across the 48 contiguous United States, says a new analysis published by Climate Central.


Western scrub jay funerals...what's all the ruckus?


(12/10/2012) The western scrub jay (Aphelocoma californica) is a common denizen of suburban neighborhoods in the U.S., loitering at bird feeders and amusing bird watchers with their entertaining antics. Known to birders as 'WESJ,' this handsome bird is non-migratory and territorial during the breeding season, but what's curious about WESJ's is the way they respond to risks in their environment. When descended on by a predator or encountering a dead member of its kind, these birds hop from perch to perch and call loudly, ensuing in a 'cacophonous reaction,' a term coined by researchers at the University of California, Davis who are studying the behavior of these unique birds.


Climate Summit in Doha characterized by lack of ambition


(12/09/2012) Ahead of the 18th United Nations Framework Convention on Climate Change (UNFCCC) in Doha, Qatar a variety of reports warned that the world was running out of time to avoid dangerous climate change, and that there was a widening gap between what nations have pledged to do and what the science demanded. A landmark report by the World Bank painted an almost apocalyptic picture of a world in which global temperatures have risen 4 degrees Celsius above pre-industrial levels, including unprecedented heatwaves and droughts, rising sea levels, global agriculture crises, and a stunning loss of species. In addition, scientific studies released near the two week conference found that sea levels were rising 60 percent faster than predicted, forests around the world were imperiled by increasing drought, marine snails were dissolving in the Southern Ocean due to ocean acidification, and ice melt in Greenland and Antarctica was on the rise.


Wealthy nations' fossil fuel subsidies dwarf climate financing

(12/05/2012) A new analysis finds that 21 wealthy countries spent five-times more on subsidizing fossil fuels in 2011 than they have on providing funds for poor nations to cut greenhouse gas emissions and adapt to the impacts of climate change. The analysis, by Oil Change International, comes in the midst of the current UN Climate Summit held in Doha, Qatar; progress at the talks has been stymied due to the gulf between poor and rich nations, including on the issue of climate financing.


'No-one is listening to the entire scientific community': global carbon emissions set to hit new high


(12/03/2012) Global carbon dioxide (CO2) emissions from industrial sources are set to hit a new record high this year according to a new analysis by Global Carbon Project. The analysis in Nature Climate Changes predicts that CO2 emissions will rise another 2.6 percent, hitting 35.6 billion tonnes. The scientists warn that such steep climbs in global emissions year-after-year means that the door is rapidly closing on a global agreement to keep temperatures from rising 2 degree Celsius (3.6 degrees Fahrenheit) above pre-industrial levels.


Ecological Restoration and Environmental Change: Renewing Damaged Ecosystems - book review

(12/03/2012) Stuart K. Allison, PhD's excellent book Ecological Restoration and Environmental Change: Renewing Damaged Ecosystems clearly explains the current state of affairs regarding ecological restoration. He addresses key issues and challenges to ecosystem restoration science dogma. He questions how we define ecosystem restoration and against which baseline. Baselines are various and can be difficult to define on a species by species level.


Introducing the 'Obama-fish'

(11/30/2012) Scientists have named five newly discovered fish after former and current U.S. political leaders, including President Barack Obama, Bill Clinton, Al Gore, Jimmy Carter, and Teddy Roosevelt, reports the Tennessee Aquarium Conservation Institute and Scientific American.


'Exporting deforestation': China is the kingpin of illegal logging


(11/29/2012) Runaway economic growth comes with costs: in the case of China's economic engine, one of them has been the world's forests. According to a new report by the Environmental Investigation Agency (EIA), China has become the number one importer of illegal wood products from around the world. Illegal logging—which threatens biodiversity, emits carbon, impoverishes local communities, and is often coupled with other crimes—has come under heavy pressure in recent years from the U.S., the EU, and Australia. Each of these has implemented, or will soon implement, new laws that make importing and selling illegal wood products domestic crimes. However, China's unwillingness to tackle its vast appetite for illegal timber means the trade continues to decimate forests worldwide.


Birders urge ban on imports of 5 snake species

(11/28/2012) Bird conservationists in the United States are urging Congress to ban imports of five types of snakes that are considered a threat to native birds.


Legislation leaves future of world's largest temperate rainforest up in the air


(11/27/2012) Although unlikely to pass anytime in the near term, recurring legislation that would hand over 80,000 acres of the Tongass Rainforest to a Native-owned logging corporation has put local communities on guard in Southeast Alaska. "The legislation privatizes a public resource. It takes land that belongs to all of us, and that all of us have a say in the use and management of, and it gives that land to a private for-profit corporation," Andrew Thoms, Executive Director of the Sitka Conservation Society, told mongabay.com in a recent interview.


Hopes pinned on Obama again as Doha Climate Summit opens


(11/26/2012) A number of observers have expressed hope that the Obama Administration, fresh from a re-election victory in the U.S., will take a more active and ambitious role at this year's UN Climate Summit, held in Doha, Qatar. The summit opens amid fresh—and increasingly dire—warnings over climate change from the World Bank, the International Energy Agency, and the UN itself.


China and India plan 818 new coal plants

(11/26/2012) Even as the clamor to reduce greenhouse gas emissions reaches a new high—echoed recently by such staid institutions as the World Bank and the International Energy Agency (IEA)—a new analysis by the World Resources Institute (WRI) finds that 818 new coal-fired plants are under proposal in China and India. In all 1,199 new coal-fired plants are currently planned worldwide, according to the report, totaling 1.4 million megawatts of energy.


Climate activists march on White House again to oppose Keystone XL pipeline

(11/19/2012) Yesterday, climate activists marched around the White House in opposition against the Keystone XL pipeline, which if built will carry tar sands from Canada to the Gulf of Mexico and an international market. The protest, which included over 3,000 people according to organizing groups, is an opening salvo in activists' battle to convince the Obama Administration to turn down the pipeline for good.


BP fined $4.5 billion for Gulf of Mexico oil spill, but company may spend more buying its own stocks

(11/19/2012) Last week the U.S. federal government fined BP $4.5 billion for the Deepwater Horizon disaster in 2010, which killed 11 workers and leaked nearly 5 million barrels of oil into the Gulf of Mexico. The oil giant also plead guilt to 12 felonies and two misdemeanors. However, even this fine—the largest in U.S. history—failed to dampen shareholder support of BP: stocks actually rose one percent following the announcement. Meanwhile, according to the Sunday Times, BP plans to spend $5.9 billion (over a billion more than the fine) buying back its own shares in order to boost stock prices.


Obama criticized for lack of urgency on climate change

(11/15/2012) Following the devastation wrought by Hurricane Sandy—which many scientists say was likely worsened by climate change—and a long silence on the issue of global warming during the Presidential campaign, environmentalists yesterday were disappointed when re-elected President Barack Obama seemingly put action on climate change on the back burner.


Remembering the Dust Bowl: it could happen again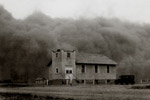 (11/15/2012) The Dust Bowl, a film by Ken Burns and Dayton Duncan, and The Dust Bowl: An Illustrated History, a book authored by Dayton Duncan and Ken Burns, chronicles the worst man-made ecological disaster in American history. Told in first-person narrative by survivors of the Dust Bowl and brought to color through vivid storytelling and over 300 rare archival photos, these two combined efforts must be watched and read by those concerned with our human impact on Earth.


Obama breaks climate silence at press conference

(11/14/2012) At a news conference today, a question by New York Times reporter Mark Landler pushed President Obama to speak at some length about climate change. In his answer, Obama re-iterated his acceptance of climate science and discussed how progress on tackling climate change might proceed in his second term, though he also noted that he wouldn't put action on the climate ahead of the economy. President Obama made a small reference to climate change in his victory speech following his historic re-election last Tuesday, but his answer today was the most the president has talked about the issue at any length since at least Hurricane Sandy.


Controversial wolf hunt moves to the Midwest, 196 wolves killed to date


(11/14/2012) The hugely controversial wolf hunt in the U.S. has spread from the western U.S. (Montana, Idaho, and Wyoming) to the Midwest (Minnesota and Wisconsin) this year. Although the wolf hunt is less than a month old in the region—and only eleven days old in Minnesota—196 animals so far have been shot. As in the west, the wolf hunt has raised hackles among environmentalists along with fierce defenders among hunters. Wolves, which were protected under the the Endangered Species Act (ESA) since 1973, were stripped of that status by legislation in 2009, opening the door—should a state choose—to trophy hunting.


U.S. to become world's largest oil producer in 5 years

(11/13/2012) In a dramatic reversal, the United States is set to become the world's largest producer of oil by 2017, according to a new report from the International Energy Agency (IEA).


It's not just Sandy: U.S. hit by record droughts, fires, and heatwaves in 2012


(11/05/2012) As the devastation wrought by Hurricane Sandy—killing over 100 people and producing upwards of $50 billion in damage along the U.S. East Coast—has reignited a long-dormant conversation on climate change in the media, it's important to note that this is not the only weird and wild weather the U.S. has seen this year. In fact, 2012 has been a year of record-breaking weather across the U.S.: the worst drought in decades, unprecedented heatwaves, and monster forest fires. While climatologists have long stated that it is not yet possible to blame a single extreme weather event on climate change, research is showing that rising temperatures are very likely increasing the chances of extreme weather events and worsening them when they occur.


Photos of flooded New York Aquarium released


(11/02/2012) The Wildlife Conservation Society (WCS) today released pictures showing damage caused earlier this week at the New York Aquarium by Hurricane Sandy. The photos show extensive flooding in parts of the aquarium, which is located on the Coney Island boardwalk and is run by WCS.


Bloomberg endorses Obama, cites climate change

(11/01/2012) New York City Mayor Michael Bloomberg today endorsed President Barack Obama for a second term, citing the importance of addressing climate change in the aftermath of the devastating impact of tropical storm Sandy earlier this week.


Facing 'critical' situation, New York Aquarium closed indefinitely

(10/31/2012) The New York Aquarium on Coney Island suffered 'serious flood damage' during Hurricane Sandy and will be closed 'indefinitely', according to the Wildlife Conservation Society (WCS), which runs the aquarium and other zoos in New York City.


New York Aquarium entirely 'underwater'

(10/30/2012) Hurricane Sandy, which brought storm surges that reached 14 feet to New York City, has put the Wildlife Conservation Society's New York Aquarium "under water," according to a statement from the organization. The aquarium is located on the Coney Island boardwalk, in the heart of an area where rescue operations are currently under way to save people stranded in their homes. There are reports that flooding has reached some people's roofs.


Hours before Hurricane Sandy hit, activists protested climate inaction in Times Square


(10/30/2012) On Sunday, as Hurricane Sandy roared towards the coast of the Eastern U.S., activists took to the streets in New York City to highlight the issue of climate change. Activists organized by 350.org unfurled a huge parachute in Times Square with the words, "End Climate Silence," a message meant to call attention to the fact that there has been almost zero mention of climate change during the presidential campaign, including not a single reference to the issue in the four presidential debates.


How climate change may be worsening Hurricane Sandy


(10/29/2012) While scientists are still debating some fundamental questions regarding hurricanes and climate change (such as: will climate change cause more or less hurricanes?), there's no debating that a monster hurricane is now imperiling the U.S. East Coast. A few connections between a warmer world and Hurricane Sandy can certainly be made, however: rising sea levels are likely to worsen storm surges; warmer waters bring more rain to increase flooding; and hotter temperatures may allow the hurricane to push both seasonal and geographic boundaries.


Picture of the day: Shell drilling rig within view of the Arctic National Wildlife Refuge

(10/29/2012) Twelve miles off shore from the Arctic National Wildlife Refuge floats a seemingly tiny man-made device—at least from an airplane—but it's actually a 160-foot high Shell Dutch Royal oil drilling rig. While the hugely controversial plan to drill for oil in the Arctic ocean was postponed this year due to a variety of mishaps and delays, the Shell rig is expected to be in the area until the end of month drilling top holes in the ocean floor to prep oil drilling next year.


Future of the Tongass forest lies in salmon, not clear-cut logging


(10/25/2012) The Parnell administration's Timber Task Force recently unveiled a proposal to carve out two million acres of the Tongass National Forest for clear-cut logging under a state-managed "logging trust." The stated goal is to revive Southeast Alaska's timber industry that collapsed two decades ago amid changing market conditions, logging cutbacks and evolving public opinion about timber harvesting on national forests.


New study adds to evidence that common pesticides decimating bee colonies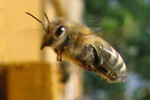 (10/24/2012) The evidence that common pesticides may be partly to blame for a decline in bees keeps piling up. Several recent studies have shown that pesticides known as "neonicotinoid" may cause various long-term impacts on bee colonies, including fewer queens, foraging bees losing their way, and in some cases total hive collapse. The studies have been so convincing that recently France banned the use of neonicotinoid pesticides. Now a new study finds further evidence of harm caused by pesticides, including that bees who are exposed to more than one chemical, i.e. neonicotinoid and pyrethroid, were the most vulnerable.


Lack of climate change in presidential debates part of larger trend

(10/23/2012) The final presidential debate between President Barack Obama and Governor Mitt Romney, focusing on foreign policy, ended like all the others: without a mention of climate change or its likely impacts on Americans, from rising sea levels to worsening extreme weather to the threat of instability abroad. While environmental groups have kicked-off a campaign to target this "climate silence," the lack of discussion on climate change is a part of a larger trend in the U.S. where media coverage of the issue has declined even as scientists argue that impacts are increasing.


By imitating human voices, beluga whale may have been attempting to communicate

(10/23/2012) Five years after the death of a captive beluga whale named NOC, researchers have discovered that the marine mammal may have been trying to communicate with people by mimicking humans voices at the National Marine Mammal Foundation in San Diego. Analyzing tapes of human-like speech from the young male beluga whale, scientists writing in Current Biology note that while there have been reports of beluga whales making human like sounds before, this is the first time evidence has been captured on tape and analyzed.


Wealthy nations, excluding U.S., pledge to double funds for biodiversity

(10/22/2012) Although negotiations came down to the wire, nations finally brokered a new deal at the 11th meeting of the Convention on Biological Diversity (CBD) in Hyderabad, India; at its heart is a pledge to double resources from wealthier countries to the developing world by 2015 to conserve embattled species and ecosystems. While no numbers were put on the table, observers say a doubling of current resources would mean around $10-12 billion a year. However, this amount is still far short of what scientists and conservation groups say is necessary to stem current extinctions.


Cute animal picture of the day: baby walruses on the mend

(10/11/2012) Two walrus male calves were discovered over the summer near Barrow, Alaska, dehydrated and ill, after their separate mothers perished. The calves have been receiving care at the Alaska SeaLife Center, but one will soon be moved to the Wildlife Conservation Society's (WCS) New York Aquarium and the other to the Indianapolis Zoo.


Dollar General drops APP due to rainforest destruction concerns

(10/11/2012) U.S. retailer Dollar General has stopped sourcing paper products from controversial brand Asia Pulp and Paper (APP), according to the World Wide Fund for Nature (WWF) which has targeted 20 companies for selling APP-sourced tissue and paper towels. APP has been under fire for years for deforestation on the Indonesian island of Sumatra, the last home to the Sumatran tiger (Panthera tigris sumatrae), Sumatran orangutan (Pongo abelii), and Sumatran elephant (Elephas maximus sumatranus), each of which is listed as Critically Endangered by the IUCN Red List.


Over 70 percent of Americans: climate change worsening extreme weather

(10/10/2012) According to a new poll, 74 percent of Americans agree that climate change is impacting weather in the U.S., including 73 percent who agreed, strongly or somewhat, that climate change had exacerbated record high temperatures over the summer. The findings mean that a large majority of Americans agree with climatologists who in recent years have found increasingly strong evidence that climate change has both increased and worsened extreme weather events.


Nary a mention of climate change during U.S. presidential debate

(10/04/2012) The hour-and-a-half long debate between President Barack Obama and ex-governor Mitt Romney last night ended without a single reference to climate change. Frustrated with the lack of discussion on the issue from both candidates, environmental activists sent a petition with over 160,000 signatures to debate moderator, Jim Lehr, urging him to ask a question about climate change. The petition fell on deaf ears.


Jaguar conservation gets a boost in North and Central America


(09/27/2012) Jaguar conservation has received a huge boost in the past few months both in Latin America and in the U.S. An historic agreement singed between the world's leading wild cat conservation organization Panthera and the government of Costa Rica in addition to a new U.S. Fish and Wildlife Service (FWS) proposal bring renewed hope to the efforts to revive the iconic jaguar in its current habitat and return the cats to the American Southwest.


Corruption still plundering forests in Laos for furniture

(09/26/2012) The forests of Lao are still suffering from widespread destruction with the government turning a blind eye to a thriving black market logging trade on the border of Laos and Vietnam, according to an update report by the Environmental Investigation Agency (EIA). Last year, the EIA found that powerful players, including the Vietnamese military, were plundering Laos of its forests for raw logs. Smuggled from Laos into Vietnam, the raw logs are crafted into furniture, which are eventually exported to Europe and the U.S. Now, over a year later a new report finds little has changed.


Featured video: trailer for Living Downstream

(09/25/2012) After suffering from bladder cancer at 20, Sandra Steingraber began to study the links between toxic chemicals and deadly diseases. Her research led her to write the the much-acclaimed book Living Downstream, which combines her personal struggles with disease and the on-going contamination of our environment. Now, a new film based on the book, Steingraber's life, and the science behind cancer and chemicals in our environmental, is being released worldwide. To see the list of screenings worldwide: LIVING DOWNSTREAM.


Another mishap kills Shell's Arctic oil drilling for the year

(09/18/2012) Following global protests, a series of embarrassing mishaps, and a lengthy regulatory process, Dutch Royal Shell has announced it is abandoning its hugely controversial off-shore oil drilling in the Arctic—this year. The announcement came after the company damaged a containment dome meant to cap an oil spill. The incident was the latest in a series of delays and problems that oil the giant faced in its $4 billion plan to drill in the Chukchi and Beaufort Seas.


NASA image shows why San Francisco is foggy

(09/12/2012) The short answer to why San Francisco, California is foggy? The Pacific Ocean's marine layer. A new image by NASA's Earth Observing-1 satellite shows the marine layer—cool, heavy air produced by a colder ocean surface meeting warmer air—encroaching on the metropolis. Western winds push the marine layer over the city, which brings dense cloud cover over the city, and often engulfs buildings, bridges, and people in fog.


Shell begins offshore drilling in the Alaskan Arctic

(09/10/2012) With the approval of the Obama Administration, Royal Dutch Shell began drilling into the ocean floor of the Chukchi Sea off the coast of Alaska yesterday morning. The controversial operation, which has been vehemently opposed by environmental and Native groups, will likely only last a few weeks this year until the Arctic winter sets in. The U.S. government has said that Shell must complete operations by September 24th, however the oil giant has asked for an extension.


Obama approves preparation for oil drilling in Arctic, Shell en route

(08/30/2012) In the same week that sea ice in the Arctic Ocean hit another record low due to climate change, the Obama Administration has given final approval to Royal Dutch Shell to prepare for exploratory drilling in the region. Vehemently opposed by environmentalists and indigenous groups, the drilling plans are a part of the Obama Administrations 'all of the above' energy policy. Whether or not Shell will actually drill a well this season, however, is still up in the air as its oil spill containment barge remains docked in Washington state for an upgrade that could last several days.


U.S. boosts fuel economy standard to 54.5 mpg

(08/29/2012) The Obama administration finalized rules that will boost the national fuel economy standard for cars and light trucks to 54.5 miles per gallon for the 2025 model year.


Chinook salmon return to Olympic National Park after dam demolished

(08/21/2012) In March of this year the Elwha Dam, which had stood for 99 years, was demolished in the U.S. state of Washington. Five months later, Chinook salmon (Oncorhynchus tshawytscha) made their way down 70 miles of long-blocked off habitat and entered Olympic National Park.


Pictures of the day: NASA captures stunning images of U.S. wildfires at night

(08/21/2012) NASA is now able to capture satellite images of wildfires—at night. Using the The Suomi National Polar-orbiting Partnership satellite (S-NPP), which has instruments that are particularly sensitive to light, NASA was able to take images of fires burning nocturnally across the American West in what has been a record year, to date, for fires in the country.


Illegal lobster fishermen slammed with over $50 million penalty

(08/21/2012) Three men who illegally harvested lobster from South African waters and smuggled them to the U.S. for 14 years have been ordered to pay $54.9 million in restitution to the South African government by a District Court in Manhattan. According to the Pew Environment Group this is the largest restitution order under the U.S. Lacey Act, which deals with the illegal wildlife trade. The judgement, however, still requires the approval of a district judge.


Shell running out of time to drill in U.S. Arctic - this year

(08/20/2012) The clock is running out for oil giant, Royal Dutch Shell, to drill controversial oil wells in the U.S. Arctic before the harsh winter sets in, reports the Wall Street Journal and Bloomberg. While the company is still optimistic it can reach the Arctic by summer's end, it awaits a number of final permits after suffering numerous setbacks, including one of its drilling ships going adrift and nearly running aground in Alaska.


Velociraptor spider discovered in Oregon cave (pictures)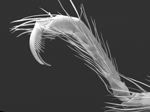 (08/17/2012) Scouring the caves of Southwest Oregon, scientists have made the incredible discovery of a fearsome apex predator with massive, sickle claws. No, it's not the Velociraptor from Jurassic Park: it's a large spider that is so unique scientists were forced to create a new taxonomic family for it. This is the first new spider family to be discovered in North America in over 130 years. 'This is something completely new,' lead author of a paper on the species, Charles Griswold with the California Academy of Sciences, told SFGate. 'It's a historic event.'


United States ranks near bottom on first ever energy efficiency scorecard

(08/15/2012) Last month, the American Council for an Energy Efficient Economy released its first ever international energy efficiency scorecard, which gave the United Kingdom the top score. Using data points honed over years of rating U.S. states, the organization hoped to inspire nations to learn from each others' effective policies, as well as encourage "friendly competition" in the spirit of lowering global carbon emissions. At number one, the United Kingdom achieved a score of 67 out of 100 points, followed by Germany, Italy and Japan. As a whole, the European Union tied with China and Australia, and nine points below them, the United States came in with a score of 47 out of 100.



Page 1 | Page 2 | Page 3 | Page 4 | Page 5 | Page 6 | Page 7 | Page 8 | Page 9 | Page 10 | Page 11 | Page 12 | Page 13 | Page 14 | Page 15 | Page 16 | Page 17 | Page 18 | Page 19 | Page 20 | Page 21 | Page 22