News articles on united states

---
Mongabay.com news articles on united states in blog format. Updated regularly.





Bush unveils global warming strategy

(05/31/2007) Thursday, President Bush outlined his proposal for reducing greenhouse gas emissions, calling for a series of meetings between the world's largest polluters to establish a global target for emissions reduction. The Associated Press reported that environmentalists quickly dismissed the plan as a "do-nothing" approach, while other critics said the plan comes too late to restore the administration's credibility after years of dragging its feet and outright rejecting action on global warming.


EPA sued for San Francisco Bay Area pesticide use

(05/30/2007) The Center for Biological Diversity, an environmental group, sued the U.S. Environmental Protection Agency on Wednesday, accusing the agency of approving the use of 46 pesticides without determining whether the chemicals threaten 11 endangered species in the San Francisco Bay Area.


U.S. responsible for 44% of global warming bill-Oxfam

(05/29/2007) The U.S.is responsible for 44% of the annual $50 billion needed to fight global warming said aid agency Oxfam as expectations mount that the United States will reject stiff targets and timetables for reducing carbon dioxide emissions. The U.S. and other G8 nations are meeting next week in Germany to discuss climate change.


U.S. tropical timber imports fall by half in 2006

(05/28/2007) Tropical lumber imports into the United States fell from 353,985 cubic meters in 2005 to 176,806 cubic meters in 2006, reports the International Tropical Timber Organization (ITTO) in its latest update. Tropical timber made up only 12 percent of U.S. hardwood lumber imports by volume for the year.


Dinosaurs were on Noah's Ark claims new museum

(05/27/2007) The new Creation Museum in Kentucky includes a display featuring dinosaurs on Noah's Ark, reports Reuters. The $27 million museum, which says it depicts the Bible's first book, Genesis, as literal truth, opens Monday near Cincinnati.


First U.S. offshore wind farm wins preliminary approval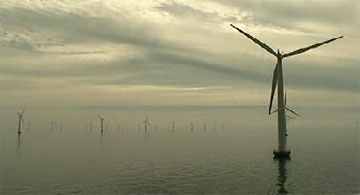 (05/23/2007) The first offshore wind farm in the United States won preliminary approval Tuesday from a panel of Delaware state officials. According to published reports, four Delaware state agencies ordered Delmarva Power, an electric utility, to buy wind-generated power from Bluewater Wind, the wind farm's developer.


Plan to bring lions, elephants to U.S. excludes Africans


(05/22/2007) Writing in the June 2007 Scientific American one of the scientists who helped put forth a radical proposal to reintroduce historical megafauna -- including camels, cheetah, elephants, and lions -- revisits the scheme, reviewing its basic points and refuting some of the criticism the plan received from the general public and other conservation biologists.


CO2 emissions growth surges as global energy efficiency falls

(05/21/2007) Worldwide growth in carbon dioxide emissions has doubled since the close of the 1990s, reports a study published in the early on-line edition of the Proceedings of the National Academy of Sciences. The findings suggest that the global economy is more dependent on fossil fuels than ever before, with carbon intensity--the amount of carbon needed to produce a unit of economic output--decreasing after a period of increases.


Improving energy efficiency will require overcoming market distortions

(05/20/2007) In a new study, McKinsey&Company, one the world's most respected management consulting firms, reports that the world should be able to cut energy demand growth by half over the next 15 years without compromising economic growth. However it says that market forces along will not drive the transition--targeted policies will be needed to overcome present market failures and policy distortions.


High corn price mean pigs eat candy bars, french fries

(05/20/2007) Near record high prices for corn mean that farmers are feeding their pigs people food according to an article in The Wall Street Journal.


U.S. ethanol may drive Amazon deforestation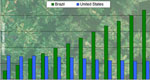 (05/17/2007) Ethanol production in the United States may be contributing to deforestation in the Brazilian rainforest said a leading expert on the Amazon. Dr. Daniel Nepstad of the Woods Hole Research Center said the growing demand for corn ethanol means that more corn and less soy is being planted in the United States. Brazil, the world's largest producer of soybeans, is more than making up for shortfall, by clearing new land for soy cultivation. While only a fraction of this cultivation currently occurs in the Amazon rainforest, production in neighboring areas like the cerrado grassland helps drive deforestation by displacing small farmers and cattle producers, who then clear rainforest land for subsistence agriculture and pasture.


16 cities to get energy-saving retrofits

(05/17/2007) Sixteen cities will get financing to make buildings "greener" through environmental renovations, former President Clinton announced Wednesday at the C40 Large Cities Climate Summit in New York, where mayors and local government officials are meeting to discuss strategies to flight global warming. The green building initiatives will cut carbon emissions and reduce waste.


US tropical hardwood imports fall 24% since 2002

(05/16/2007) The United States is importing considerable less tropical hardwood according to the International Tropical Timber Organization's (ITTO) Tropical Timber Market Report.


Calpine may benefit from global warming limits

(05/16/2007) Power generator Calpine will be well-positioned when the regularlory environment for carbon dioxide emissions shifts and federal caps are introduced, reports the Wall Street Journal.


20-40% of U.S. bees have disappeared

(05/14/2007) Known and unknown ailments have killed 20 to 40 percent of bee colonies across the United States this winter according to a leading entomologist.


California sues Bush administration over fuel standards

(05/14/2007) Monday California sued the Bush administration for "illegally adopting 'dangerously misguided' gas mileage rules." In a lawsuit backed by 11 states, the suit alleges that the Highway Traffic Safety Administration's new mileage standards violate federal law by ignoring both the environment environmental impact on oil use and the country's growing dependence on imported oil.


Citigroup commits $50 billion to fight global warming

(05/13/2007) Citigroup said last week that it plans to spend $50 billion towards mitigating climate change, mostly through investments in clean energy and 'alternative technology' over the next 10 years.


Global warming to cause summer temperature spike in Eastern U.S.

(05/11/2007) NASA scientists warn that average summer temperatures in the eastern United States will climb as much as 10 degrees Fahrenheit by the 2080s as a result of human-induced global warming.


NASA: U.S. may face extreme summer temperatures

(05/09/2007) A new NASA study warns that the eastern United States could experience extreme warming by 2080, with average summer temperatures rising 10 degrees Fahrenheit.


Reps Lott and Stevens oppose fuel efficiency bill

(05/08/2007) Tuesday the U.S. Senate Commerce Committee approved a bill that would raise the passenger fleet automobile fuel standard to an average 35 miles per gallon by 2020, reports Reuters.


Carbon dioxide emissions lag 25% behind 2012 targets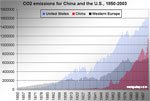 (05/08/2007) The world is far behind carbon dioxide emissions targets set by the Kyoto Protocol reports the Little Green Data Book 2007, an annual publication put out by the World Bank. The publication notes that global carbon dioxide emissions have risen 19 percent since 1990, more than 25 percent behind goals set forth under the Kyoto Protocol, which called for a 5.2 percent reduction from 1990 levels.


Summer babies do worse in school due to pesticides

(05/06/2007) A new study links conception date to academic achievement later in life. The reason? Summertime pesticide use in the U.S. Midwest. Analyzing standardized test scores (Indiana Statewide Testing for Educational Progress) for 1,667,391 students in Indiana, neonatologist Paul Winchester, of the Indiana University School of Medicine, and colleagues found that children conceived in June through August had lower test scores than average.


U.S. could offset 20% of emissions through reforestation of marginal lands



(05/03/2007) Reforesting marginal agricultural land could significantly slow the increase of carbon in the atmosphere reports a new study based on NASA data, though it would be no magic bullet in fighting global warming since temperate forests have been shown to increase regional temperatures by absorbing more sunlight. Still, reforestation has the potential to offer other ancillary benefits including watershed services and erosion control.


Wind energy has promise, but brings concerns, reports study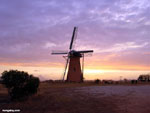 (05/03/2007) While wind-generated energy has the potential to produce clean electricity without carbon dioxide emissions, more research is needed to understand its impact on wildlife says a new report from the National Research Council, a private, nonprofit institution that provides science and technology advice under a congressional charter.


Legal ruling may put endangered species at greater risk

(05/02/2007) In a letter sent Monday to U.S. Secretary of the Interior Dirk Kempthorne, the Senate Committee on Environment and Public Works, and the House Committee on Natural Resources, they warn that the new definition--spelled out in a legal opinion from the Solicitor of the U.S. Department of the Interior in March--will substantially weaken the federal Endangered Species Act of 1973.


Bush seeks funding cuts for Earth monitoring satellites

(05/02/2007) The American Association for the Advancement of Science (AAAS) warned that environmental satellites responsible for monitoring Earth are endangered due to budget cuts and shifts in spending towards military and human space flight programs.


'Reign of terror' over Fish and Wildlife Service ends with resignation


(05/01/2007) Julie A. MacDonald, the deputy assistant secretary at the Interior Department who riled environmentalists by seeking to gut the endangered species act, has resigned. The resignation comes a month after MacDonald was rebuked for illegally distributing internal agency documents to industry lobbyists.


U.S. and China fight plan to slow global warming

(04/30/2007) Claiming that costs of fighting global warming will be higher than consensus estimates, China and the United States are fighting plans to slow climate change, according to the Associated Press (AP). The countries also say the impacts of climate change will not be as severe as projected and want to raise the emissions cap of atmospheric carbon dioxide levels from 430 parts per million (ppm) proposed by the European Union to 445 ppm. Current CO2 levels stand around 381 ppm.


Luxury designers are clueless when it comes to green fashion

(04/19/2007) While cutting-edge designers use eco-friendly fabrics made from the likes of bamboo and hemp to craft comfortable and stylish clothes that have a reduced impact on the planet, 'green' fashion has been slow to take off at the luxury level, reports an article in today's Wall Street Journal.


Renewable chemicals for green plastics gain ground

(04/19/2007) A bio-plastics revival is furthering driving up commodity prices according to an article in today's Wall Street Journal. The article reports that high oil prices are leading manufacturers to substitute agricultural produce-based plastics for petroleum-based plastics.


Ethanol may be greener but have higher health cost

(04/18/2007) Widespread burning of ethanol as fuel may increase the number of respiratory-related deaths and hospitalizations relative to gasoline, according to a new study by Stanford University atmospheric scientist Mark Z. Jacobson. The report comes as mounting environmental concerns cloud the benefits of using ethanol as a green alternative to fossil fuels.


Bush administration praises record level of global warming emissions

(04/17/2007) The head of the U.S. Environmental Protection Agency said the 0.8 percent growth in greenhouse gas emissions in 2005 showed the Bush Administration was serious about addressing climate change.


Palo Alto aims to cut CO2 emissions 80% by 2050

(04/15/2007) The city of Palo Alto, California aims to cut greenhouse gas emissions significantly in coming years, joining a growing number of U.S. cities that have pledged to cut emissions by 80 percent by 2050. The goal, set forth in Green Ribbon task force report last year, was discussed by a panel of experts convening at Stanford University Sunday.


ConocoPhillips becomes first U.S. oil major to call for CO2 limits

(04/11/2007) This week ConocoPhillips became the first major U.S. oil firm to call for a legally-binding emissions cap. The Houston-based company said it would join the U.S. Climate Action Partnership (USCAP), a coalition of corporations seeking to influence future climate policy.


Measures to drive adoption of super efficient cars in the U.S.


(04/11/2007) To reduce its growing dependence on foreign oil the United States could implement relatively low-cost measures to put millions of super efficient vehicles on American highways, said energy efficiency expert Amory Lovins of the Rocky Mountain Institute in a speech at Stanford University. The measures could significantly cut oil usage, help fight climate change, and make U.S. roads safer.


TXU hopes to build nuclear reactors instead of coal-fired power plants

(04/10/2007) Texas energy company TXU will abandon plans to build coal-fired power planets and will instead focus on building the largest nuclear power plants in the United States according to an article from The Wall Street Journal. Despite reduced emissions of greenhouse gases, the decision will likely prove controversial due to the high cost of nuclear energy. Without substantial subsidies nuclear energy is rarely cost-competitive with coal or renewable power sources.


Concentrating solar power better option than nuclear

(04/10/2007) Regarding Nuclear power plants are financially risky given high costs, there is absolutely no need for nuclear power in the US because there is a simple mature technology that can deliver huge amounts of clean energy without any of the headaches of nuclear power.


Climate change could turn Southwest into 'Dustbowl'


(04/05/2007) Global warming threatens to create a dustbowl in the American Southwest according to a new study published in the journal Science.


Herring fish restored to Bronx River in New York City

(04/05/2007) Building on last year's first-ever successful stocking of river herring in the Bronx River, an estimated 400 additional fish were released today in an ongoing effort to establish a breeding population of these native fish in one of the nation's most urbanized waterways. The release, which took place on the grounds of the Bronx Zoo, is part of a partnership among a diverse group of officials, biologists and citizen's groups to restore the Bronx River, the only remaining fresh water river within New York City's borders.


Nuclear power plants are financially risky given high costs

(04/04/2007) Nuclear power plants are risky investments given rapidly rising costs of construction of nuclear fuel, reports a new study by researchers from Georgetown University, Stanford University and UC Berkeley.


2007 hurricane season will be 'very active' but not due to global warming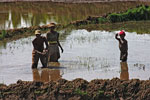 (04/03/2007) Developing La Nina conditions, not global warming, should make the 2007 Atlantic hurricane season 'very active' according to a top U.S. hurricane forecaster. William Gray of the Department of Atmospheric Science at Colorado State University said he expects 17 named storms this year, including 9 hurricanes. He says there is a 74 percent chance that a category 3, 4, or 5 hurricane will hit the U.S. coastline (the historic average for the past century is 52 percent) and a 49 percent chance that such a storm would hit the Gulf Coast of the United States (versus an average of 30 percent for the past century).


Supreme Court rebukes Bush Administration on global warming rule


(04/02/2007) The U.S. Supreme Court ruled against the Bush Administration in a landmark case with global warming implications. In Massachusetts v. EPA, the Supreme Court ruled 5-4 that (1) state governments and environmental groups have the right to sue the EPA, and (2) the EPA has the right to regulate CO2 emissions as a pollutant under the Clean Air Act. On a third point, where the EPA can choose not to regulate CO2 emissions, the Supreme Court directed the agency to "reconsider its refusal based on the factors set forth in the law."


Global warming could hurt salmon fisheries in Pacific Northwest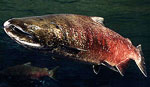 (04/02/2007) Global warming could cause Chinook salmon populations in Washington state to decline 20-40 percent by 2050 according to a new study published in the online early edition of PNAS. The researchers urge policymakers to focus on restoration of lower elevation habitats in order to reduce the expected impact of climate change on salmon populations.


U.S. government seeks to weaken Endangered Species Act

(03/28/2007) The Bush Administration is seeking to rewrite the Endangered Species Act to significantly reduce its effectiveness in protecting threatened species say environmentalists who released secret U.S. government documents on the issue.


Biofuels demand will increase, not decrease, world food supplies

(03/27/2007) As concerns mount over fuel-versus-food competition for crops, a Michigan State University ethanol expert says that cellulosic ethanol could render the debate moot. Bruce Dale, an MSU chemical engineering and materials science professor, notes that ethanol can be made from cellulosic materials, like farm waste, instead of corn grain.


Ladybugs ruin good wine

(03/26/2007) Secretions by ladybugs can taint the aroma and flavor of otherwise perfectly good wine, but scientists at Iowa State University say they may have devised a solution.


Bush, U.S. automakers look for easy way out of fuel standards

(03/26/2007) President Bush praised U.S. automakers on their efforts to build more 'flexible fuel' vehicles capable of running on blends of gasoline and biofuels like ethanol and biodiesel. Environments retorted that the announcement was simply a ploy to undermine efforts to develop more fuel efficient cars, according to The Associated Press.


Salamanders dying due to common pesticide


(03/25/2007) Atrazine, one of the most widely used pesticides in the United States, may be killing salamanders, according to American biologists writing in the journal Environmental Health Perspectives.


China may top U.S. in greenhouse gas emissions in 2007

(03/23/2007) China's carbon dioxide emissions may exceed those of the United States in 2007, making the country the world's largest greenhouse gas polluter, according to analysis of Chinese energy data.


Bush administration seeks to cull Endangered Species Act

(03/20/2007) After losing a series of lawsuits to protect endangered species, the Bush administration moved to reinterpret the Endangered Species Act so that it would only apply to areas where species are at risk, not areas where they are thriving or have already disappeared.



Page 1 | Page 2 | Page 3 | Page 4 | Page 5 | Page 6 | Page 7 | Page 8 | Page 9 | Page 10 | Page 11 | Page 12 | Page 13 | Page 14 | Page 15 | Page 16 | Page 17 | Page 18 | Page 19 | Page 20 | Page 21 | Page 22