News articles on united states

---
Mongabay.com news articles on united states in blog format. Updated regularly.





Consumers should help pay the bill for 'greener' palm oil


(01/12/2010) Palm oil is one of the world's most traded and versatile agricultural commodities. It can be used as edible vegetable oil, industrial lubricant, raw material in cosmetic and skincare products and feedstock for biofuel production. Growing global demand for palm oil and the ensuing cropland expansion has been blamed for a wide range of environmental ills, including tropical deforestation, peatland degradation, biodiversity loss and CO2 emissions. In response to these concerns, a group of stakeholders—including activists, investors, producers and retailers—formed the Roundtable on Sustainable Palm Oil (RSPO) to develop a certification scheme for palm oil produced through environmentally- and socially-responsible ways. It is widely anticipated that the creation of a premium market for RSPO-certified sustainable palm oil (CSPO) would incentivize palm oil producers to improve their management practices.


Over 15 percent of Florida panther population lost last year due to car collisions



(01/07/2010) A record number of endangered Florida panthers died this year due to car collisions, reports conservation organization, Defenders of Wildlife. Sixteen panther deaths from cars have been confirmed in 2009; an additional animal is suspected of having died from injuries due to a car in October. The mortality rate due to cars alone depletes the Florida panther population by over 15 percent. With less than 100 individuals left in the wild, every Florida panther killed before its time makes it more difficult for the animal to recover.


Scientists call for an end to mountaintop removal mining in the US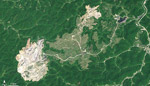 (01/07/2010) A group of scientists have called for the Obama Administration to place a moratorium on infamous mountain top mining due to "growing scientific evidence" of severe environmental degradation and serious impacts on human health, including cancer. The article, published in Science, is written by a dozen influential scientists, including hydrologists, ecologists, and engineers.


Housing developments choking wildlife around America's national parks

(01/05/2010) Housing developments within 50 kilometers (31 miles) of America's national parks have nearly quadrupled in sixty years, rising from 9.8 million housing units to 38 million from 1940 to 2000. The explosion of housing developments adjacent to national parks threatens wildlife in a variety of ways, according to a new study in the Proceeding of the National Academy of Sciences (PNAS). "We are in danger of loving these protected areas to death," says co-author Anna Pidgeon as assistant professor at the University of Wisconsin-Madison.


Underwater rocks could be used for massive carbon storage on America's East Coast

(01/05/2010) Considering it is unlikely that global carbon emissions will start dropping anytime soon, researchers are beginning to look at other methods to combat climate change. One of these is to hook polluting power plants up to massive carbon sinks where instead of the carbon going into the atmosphere it would be stored away in rocks. The process is known as carbon capture and storage or CCS. But before one can even debate the pros and cons of setting up CCS, scientists must see if high-quality sites exist.


A 'dangerous world' for migratory birds, an interview with Sarah Lehnen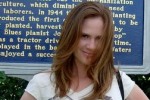 (01/04/2010) Sarah Lehnen has worked with America's rich birdlife for a decade: she has studied everything from songbirds inhabiting dwindling shrub land in Ohio to shorebirds stopping over in the Mississippi Rive alluvial valley, always with an eye towards conservation. Most recently she has been involved in testing migratory birds for avian flu. It may come as a surprise, but American birds are in serious decline. In March of last year, US Secretary of the Interior, Ken Salazar, announced that one-in-three American birds are endangered. Even once common birds are showing precipitous declines. Birds face a barrage of threats, which are only complicated—and heightened—for migratory birds.


New fox subspecies uncovered in California

(01/03/2010) Heavily-populated California may be one of the last places one would expect to find a new mammal, but the Sacramento Bee reports that genetic evidence has revealed a new subspecies of red fox.


Record-breaking snow across the US and climate change

(12/26/2009) Over the past few weeks the United States has been pounded by a number of big snow storms. A week ago Washington DC received 18 inches of snow, setting a number of records. Over Christmas, the middle of the country, from Texas to Minnesota was also hit by record amounts of snow. While snow fall over the East Coast and middle of the country in the United States in December is hardly unusual, a number of record amounts of precipitation may point to a larger shift in the climate. Scientists say that higher temperatures causes more water evaporation, which increases the chances of heavy precipitation events, such as floods and snowstorms.


Agreement reached in Copenhagen, although 'not sufficient to combat the threat of climate change'

(12/18/2009) On late Friday, US President Barack Obama reached an agreement described as "meaningful" during a meeting with Chinese Premier Wen Jiabao, Indian Prime Minister Manmohan Singh and South African President Jacob Zuma at the last day of the Climate Change Conference in Copenhagen.


US moves talks forward in Copenhagen with pledge of 100 billion fund, now it's China's turn

(12/17/2009) Secretary of State Hillary Clinton brought some much need good news to Copenhagen with her. In an announcement this morning, Clinton announced that the United States was ready to join other industrialized nations in mobilizing 100 billion dollars a year in climate aid for developing and vulnerable nations by 2020 at the Climate Change conference.


U.S. pledges $1B towards rainforest conservation

(12/17/2009) The U.S. will contribute $1 billion towards an effort to reduce emissions from deforestation, according to Agriculture Secretary Tom Vilsack.


Catastrophic sea level rise could occur with only two degrees Celsius warming

(12/17/2009) Allowing the climate to rise by just two degrees Celsius—the target most industrialized nations are currently discussing in Copenhagen—may still lead to a catastrophic sea level rise of six to nine meters, according to a new study in Nature. While this rise in sea levels would take hundreds of years to fully occur, inaction this century could lock the world into this fate.


Is the US sinking climate change talks at Copenhagen?

(12/16/2009) While it's difficult to know what's truly going on inside the Bella Center at the UN Climate Change Conference in Copenhagen, a pattern seems to be emerging of the United States being unwilling to compromise on, well, anything.


New poll: 70 percent of Americans agree that global warming is occurring

(12/11/2009) A new poll, taken in the midst of the scandal involving hacked emails from climate change scientists, shows that a significant majority (70 percent) of Americans agree with climatologists that the earth is warming.


United States to speed up green technology patents

(12/11/2009) Green technology patents will see a year shaved off the average forty month wait time to approve new patents in the US. The US Patent and Trademark Office (USPTO) is implementing a one-year pilot program to push green technology patent applications through the process more quickly, so that the technologies can reach the market faster.


US provides 3 billion in subsidies for Exxon-mobil project in Papua New Guinea

(12/10/2009) While officials from around their world are working night-and-day to come up with an international agreement to combat climate change in Copenhagen, the US Export-Import Bank confirmed it will subsidize a natural gas project in Papua New Guinea to the tune of 3 billion dollars—a record for the bank.


Obama on global warming and forest protection

(12/10/2009) President of the United States, Barack Obama, was in Oslo, Norway this morning accepting the Nobel Peace Prize, which he won in part for promising to bring the United States to the negotiating table on climate change—something he has recently done.


US think-tank: islands affected by global warming should wait for trickle-down money

(12/09/2009) Poor island nations threatened by rising seas should wait for money through trickle-down economics, according to the founder of the US Competitive Enterprise Institute. The Washington-based free-market think tank believes that curbing greenhouse gas emissionss to combat climate change will be too costly to the US and global economies.


Gore, Moon, and Rasmussen attempt to regain trust after 'Danish Text' leak in Copenhagen

(12/09/2009) The head of the UN, Ban-Ki Moon; the Danish Prime Minister, Lars Lokke Rasmussen; and American climate change leader, Al Gore, all attempted to downplay the leak of the 'Danish Text' which has riled developing countries due to portions of its content, such as allowing a climate fund to be controlled by the World Bank, seemingly overturning the Kyoto principle whereby developed countries are held responsible for climate change, and setting higher emission per capita standards for industrialized countries over developing countries even in forty years time.


Developed countries plan to hide emissions from logging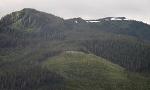 (12/09/2009) While developing countries in the tropics have received a lot of attention for their deforestation emissions (one thinks of Brazil, Indonesia, and Malaysia), emissions from logging—considered forest cover change—in wealthy northern countries has been largely overlooked by the media. It seems industrialized countries prefer it this way: a new study reveals just how these countries are planning to hide forestry-related emissions, allowing nations such as Canada, Russia, and the EU to contribute to climate change without penalty.


Current decade is the warmest on record

(12/08/2009) As 192 countries meet in Copenhagen to wrangle out a complex and at times sticky agreement to combat climate change, the World Meteorological Organization (WMO) has released new evidence that the world is undergoing warming. According to the WMO the current decade is likely the warmest on record.


Leaked document in Copenhagen seen as sidelining poor countries

(12/08/2009) A document leaked late in the day at Copenhagen has threatened to further divide developing nations from wealthy countries during the conference in Denmark. The document, labeled as the 'Danish-text', is seen by many as sidelining poor countries by handing over climate financing to the World Bank, requiring developing countries to cut total emissions, and in forty years time still allowing wealthy countries to emit more than developing per capita.


Canada, not Copenhagen, hit by protests over climate policy

(12/08/2009) While tens of thousands of protestors have gone to Copenhagen to call on world governments to do more to fight against climate change, the most surprising protest on the first day of the Climate Change Conference in Copenhagen occurred thousands of miles away: in Canada.


Europe says US and China emission targets don't go far enough

(12/07/2009) At a press conference during the first day of the UN Copenhagen Climate Change Conference, the European Union has stated it will not raise its emissions cuts from 20 percent to 30 percent by 2020 (over 1990 levels) unless the US and China go further in their cuts.


Email scandal may be turning against climate change deniers

(12/07/2009) It may be that climate change scientists and policymakers have simply had enough, and it may be that the emails which were hacked did not reveal the massive conspiracy that they were supposed to, either way climatologists and politicians have gone on the offensive against claims that the hacked emails from the East Anglia's Climate Research Unit are evidence that climate change is a conspiracy or hoax.


Obama administration about to declare carbon dioxide a danger to the public, allowing regulation

(12/06/2009) The day before talks start in Copenhagen on a new international treaty to combat climate change, the Wall Street Journal reports that the Environmental Protection Agency (EPA) in the United States is set to declare carbon dioxide a 'public danger' as soon as Monday.


James Hansen says Copenhagen approach "fundamentally wrong" would be better to "reassess"

(12/03/2009) James Hansen, one of the world's foremost climatologists, told the Guardian today that he believes the Copenhagen talks are flawed to the point where failure of the talks may be the best way forward. "The approach that is being talked about is so fundamentally wrong that it would be better to reassess," Hansen said.


Has Canada become the new climate villain (yes, that's right, Canada)?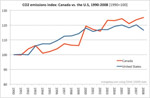 (12/02/2009) In 2007 American delegates to a climate summit in Bali were booed outright for obstructing a global agreement on climate change. Then in a David versus Goliath moment they were famously scolded by a negotiator from Papua New Guinea, Kevin Conrad. "If for some reason you are not willing to lead, leave it to the rest of us. Please get out of the way," Conrad told the American delegates. However, much has changed in two years: the United States, under a new administration, is no longer the climate change pariah. The US has recently announced emissions cuts, negotiated successfully with China on the issue, and will be attending—Obama included—the Climate Change Summit in Copenhagen next week. Obama and his team probably don't need to worry about being booed or remonstrated this time around, but that role may instead go to Canada.


Not just the polar bear: ten American species that are feeling the heat from global warming

(12/01/2009) A new report, America's Hottest Species, highlights a variety of American wildlife that are currently threatened by climate change from a small bird to a coral reef to the world's largest marine turtle.


World leaders falling over themselves to show up at Copenhagen

(12/01/2009) If you're a world leader and you won't be in Copenhagen next week you might feel out of the loop. Currently 98 heads of state have agreed to attend the Climate Change Summit in Copenhagen—nearly half of the 192 member nations of the UN.


Americans throw away enough food every year to feed 200 million adults

(11/30/2009) The amount of food Americans throw away has risen by approximately 50 percent since 1974 according to a new study in PLoS ONE. American now waste on average 1400 calories per person everyday, equaling 150 trillion calories a year nationwide. Considering that the average person requires approximately 2,000 calories a day, this means that the US could feed over 200 million adults every year with the food that ends up in the trash. Currently, the UN estimates that one billion people—an historical record—are going hungry worldwide.


Land of plenty: 50 percent rise in the amount of food wasted in America worsens global warming, consumes freshwater

(11/25/2009) Just before Thanksgiving a new study shows that Americans are throwing away more food than ever. Since 1974 the amount of food Americans water per capita has risen by approximately 50 percent, according to a new study in PLoS ONE. Researchers found that food waste is adding to America's greenhouse gas emissions and accounts for over one quarter of the nation's freshwater consumption every year.


The US will set emissions target, but is this a turning point for success at Copenhagen?

(11/24/2009) Today may mark a turning point for a successful negotiation at the Climate Change Summit in Copenhagen or it may just be another blip in the up-and-down news cycles that have preceded the summit for months.


U.S. pledges $275M to rainforest conservation

(11/20/2009) The U.S. pledged $275 million to efforts to reduce deforestation in developing countries, reports Reuters.


Gibson Guitar under federal investigation for alleged use of illegal rainforest timber from Madagascar

(11/19/2009) Federal agents from the U.S. Fish and Wildlife Service raided Gibson Guitar's factory Tuesday afternoon, due to concerns that the company had been using illegally harvested wood from Madagascar, reports the Nashville Post.


Record year for CO2 emissions, even with economic slowdown

(11/17/2009) 8.7 billion tons of carbon dioxide was emitted into the earth's atmosphere in 2008, a growth of 2 percent despite the economic crisis. This averages out to each person contributing a record high of 1.3 tons of carbon, according to a report in the journal Nature Science. While the global recession slowed the growth of fossil fuel emissions for the first time this decade, it did not lower emissions altogether.


Holding the Global North Responsible for Climate Change: What Would Lord Russell Do?


(11/16/2009) If Lord Bertrand Russell were still alive today, he would most likely be appalled by the Global North's glaring inaction on climate change. One of the twentieth century's most eminent philosophers, Russell was also an outspoken critic of war and irrationality. In 1966, just as the United States was ramping up the war in Vietnam, Russell helped to establish a novel legal tribunal which condemned war crimes committed in South East Asia.


New rating systems seeks to promote sustainable landscapes from shopping malls to city parks

(11/15/2009) The Sustainable Sites Initiative has developed the United States' first rating system for the design, construction, and on-going maintenance of a wide-variety of landscapes, both with and without buildings, including shopping malls, subdivisions, university campuses, corporate buildings, transportation centers, parks and other recreation areas, and single-family homes.


UN singles out US as the most important nation for global warming negotiations

(11/11/2009) Visiting Washington DC, Secretary-General Ban Ki-Moon stated that the United States was the world's most important actor when it comes to negotiations for a new climate change treaty, while urging the Senate to move forward on legislation.


Nations vulnerable to global warming present demands: carbon levels below 350ppm and billions in aid

(11/10/2009) A group of nations especially vulnerable to the effects of climate change have released a declaration calling for developed countries to keep CO2 emission below 350 parts per million (ppm) and to give 1.5 percent of their gross domestic product to aid developing nations in adapting to the myriad impacts of climate change.


Obama slower than Bush in protecting America's endangered species

(11/08/2009) In George W. Bush's eight years as president, he placed 62 species under the protection of the Endangered Species Act (ESA), an average of eight species per year. While, Bush's slow pace in protecting endangered species frustrated environmentalists in light of continued decline among many species, Obama is moving even slower.


EU is 2nd largest source of peat emissions after Indonesia, finds global peat survey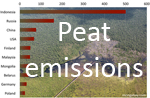 (11/04/2009) The EU is the world's second largest source of carbon dioxide emissions from peatlands drainage, after Indonesia, reports the first country-by-country assessment of peat stocks. The study, conducted by Wetlands International and Greifswald University, found that drainage of wetlands for agriculture, forestry and peat extraction causes 1.3 billion tons of carbon dioxide emissions per year. Emissions from fires and peat mining (for horticulture and fuel) amount to another 700,000 million tons per year.


California's great white sharks are a distinct population

(11/04/2009) Researchers have long thought that white sharks migrated across oceans, but a new study in the Proceedings of the Royal Society B shows that the population in the northeastern Pacific Ocean, along California, hasn't mixed with other white sharks for tens of thousands of years.


Disney commits $4 million to rainforest conservation in the Amazon, Congo

(11/03/2009) The Walt Disney Company will invest $7 million in forest conservation projects in the U.S., the Congo Basin, and the Amazon in an effort to reduce its greenhouse gas emissions.


Wolves keep forests nutrient-rich

(11/02/2009) As hunting wolves is legal again in two American states, Montana and Idaho, researchers have discovered an important role these large predators play in creating nutrient hotspots in northern forest environments. Researchers from Michigan Technological University found that when wolves take down their prey—in this case moose—they do more than simply keep a check on herbivore populations. The corpses of wolf-hunted moose create hotspots of forest fertility by enriching the soil with biochemicals. Due to this sudden up-tick in nutrients, microbial and fungal growth explodes, in turn providing extra nutrients for plants near the kill.


Illegal logging trade from Myanmar to China slows, but doesn't stop

(10/28/2009) The illegal wood trade from Myanmar to China has slowed, but it still threatens Myanmar's tropical forests and species, according to a new report by Global Witness. From 2005 and 2008 improved border controls into China led to a drop in imports of logs and sawn wood by 70 percent.


New bill would protect children from untested chemicals

(10/28/2009) Emerging science increasingly links exposure to toxic chemicals with serious health problems. From bisphenol-A in baby bottles to phthalates in children's toys and flame retardants in nursery furnishings, the modern world is filled with synthetic compounds that research now shows likely cause neurological and behavioral disorders, reproductive and developmental disruption, cancer and other troubles.


"Money is not a problem," palm oil CEO tells conservationists during speech defending the industry


(10/26/2009) Earlier this month at a colloquium to implement wildlife corridors for orangutans in the Malaysian state of Sabah, Dr. Yusof Basiron, the CEO of Malaysian Palm Oil Council (MPOC), told conservationists and primate experts that the palm oil industry was ready to fund reforestation efforts in the corridors. "We can raise the money to replant [the corridors] and keep contributing as a subsidy in the replanting process of this corridor for connecting forests," Basiron said in response to a question on how the palm oil industry will contribute. "Money is not a problem. The commitment is already there, the pressure is already very strong for this to be done, so it's just trying to get the thing into motion."


Amazonian natives say they will defend tribal lands from Hunt Oil with "their lives"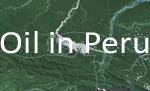 (10/25/2009) Indigenous natives in the Amazon are headed to the town of Salvacion in Peru with a plan to forcibly remove the Texas-based Hunt Oil company from their land as early as today. Peruvian police forces, numbering in the hundreds, are said to be waiting in the town. The crisis has risen over an area known as Lot 76, or the Amarakaeri Communal Reserve. The 400,000 hectare reserve was created in 2002 to protect the flora and fauna of the area, as well as to safeguard watersheds of particular importance to indigenous groups in the region.


Perfect shot of the rare Iberian wolf wins nature photo contest

(10/22/2009) It's hard to believe the shot is real: it's that good. But a photo of a rare Iberian wolf—a subspecies of the gray wolf—jumping a fence has won the 45th Veolia Environment Wildlife Photo of the Year award. The photographer, Jose Luis Rodriguez, has said that he hopes the haunting image will inspire the people of Spain to be proud to have this endangered animal still roaming their countryside.



Page 1 | Page 2 | Page 3 | Page 4 | Page 5 | Page 6 | Page 7 | Page 8 | Page 9 | Page 10 | Page 11 | Page 12 | Page 13 | Page 14 | Page 15 | Page 16 | Page 17 | Page 18 | Page 19 | Page 20 | Page 21 | Page 22