News articles on united states

---
Mongabay.com news articles on united states in blog format. Updated regularly.






Dilma disappoints with weak rainforest target

(06/30/2015) Brazilian President Dilma Rousseff disappointed environmentalists with what they call weak commitments on reducing deforestation and supporting renewable energy announced today during her visit to the White House.
U.S. to remove extinct cougar from Endangered Species Act

(06/30/2015) The U.S. government has declared the Eastern cougar extinct more than 80 years after its a believed a hunter in Maine wiped out the last individual. Scientists still dispute whether the Eastern cougar was a distinct subspecies, but either way officials believe the original population that roamed much of the Eastern U.S. and Canada is gone—and has been for decades.
High pressure: is U.S. policy deterring illegal wood imports?
(05/19/2015) Some countries, such as the U.S., have imposed legislation at the consumer level, banning the import of illegally sourced wood through their borders. A new study finds that such legislation can be effective, with a 2008 amendment to the Lacey Act significantly reducing the influx of illegal wood into the U.S.
U.S. gov't gives conditional approval for offshore Arctic drilling
(05/15/2015) Earlier this week, the Bureau of Ocean Energy Management (BOEM) approved Shell Gulf of Mexico Inc.'s multi-year Exploration Plan for the Chukchi Sea off the northern Alaska coast. Environmental groups have raised concerns over the approval, saying drilling in the area threatens wildlife, puts workers at risk, and will further contribute to global warming.
Illegal ivory trade alive and well on Craigslist

(04/28/2015) As it has become more difficult to buy illegal ivory from slaughtered elephants on places like eBay, Etsy, and Amazon.com, traders and buyers in the U.S. have turned to another venue: Craigslist. A new report by the International Fund for Animal Welfare (IFAW) and the Wildlife Conservation Society (WCS) finds that the ivory trade is thriving on Craigslist.
Russia and Canada lead the world in forest loss in 2013
(04/02/2015) Russia and Canada led the world in forest loss, accounting for nearly forty percent of the 18 million hectares of forest lost globally in 2013, reveals a new analysis based on high resolution satellite imagery. The research — released today on Global Forest Watch, a forest monitoring and research platform — was led by Matt Hansen of the University of Maryland and involved Google, World Resources Institute (WRI), and other institutions
Elephant poaching rate unchanged – and still devastating
(03/25/2015) New figures show essentially no change in the number of elephants killed in Africa by poachers last year, despite a high-profile meeting on the crisis which was attended by 46 countries and a number of commitments. Data from CITES' Monitoring the Illegal Killing of Elephants (MIKE) estimated that around 20,000 elephants were killed in 2014, the same as in 2013.
Scientists warn of global warming threat to temperate rainforests
(03/13/2015) In a new study published recently in Earth Systems and Environmental Sciences, researchers warn that temperate rainforests may be in for big changes in the face of global warming, and they recommend reducing greenhouse gas emissions before it's too late.
Study finds soil releases carbon for decades after forests are felled
(03/11/2015) According to a study by researchers with Dartmouth College, the carbon stored in mineral soils, which lie underneath the organic soil layer, is released for decades after a forest is cut down. This may have serious implications for how carbon emissions from deforestation are accounted for.
Arctic upheaval: new book outlines challenges at the top of the world
(02/16/2015) For most of us, the Arctic is not at the front of our minds. We view it as cold, stark, and, most importantly, distant. Yet, even in an age of vast ecological upheaval, one could argue that no biome in the world is changing so rapidly or so irrevocably. Two hundred plus years of burning fossil fuels has warmed up the top of our planet more quickly than anywhere else.
U.S. Central Plains and Southwest will likely face apocalyptic drought
(02/12/2015) In the recent film Interstellar, a mysterious phenomenon known as "the blight" is wiping out agriculture around the world until only corn—for some reason—survives. Humanity is on the brink of starvation. While the blight may be science fiction, global warming is not, and a new study finds that future warming could decimate the western U.S. over the next century.
Feds confirm first wolf in the Grand Canyon area shot dead

(02/12/2015) Last fall, tourists to the north rim of the Grand Canyon reported seeing a gray wolf. The only problem was there had been no wolves in the area for over 70 years. Still, it turned out the animal in question was not a coyote or stray dog, but, indeed a female gray wolf known as "914F". She had migrated hundreds of miles from the northern Rockies. Unfortunately, this was near the end of her story.
Super-rare carnivore photographed in Yosemite after missing for nearly a century
(02/03/2015) For years, biologists believed the Sierra Nevada fox was down to a single population of around 20 animals in California's Lassen Volcanic National Park. But then in 2010, biologists found a small population near Sonora Pass. Now, more good news: last week, scientists documented the first Sierra Nevada fox in Yosemite National Park in nearly 100 years.
Monarch butterfly population rises a little, but still perilously low
(01/28/2015) The world's migrating monarch butterfly population has bounced back slightly from its record low last year, but the new numbers are still the second smallest on record. According to WWF-Mexico and the Mexican government, butterflies covered 2.79 acres (1.13 hectares) in nine colonies this year in the Mexican forests where the insects overwinter.
Accounting for natural capital on financial exchanges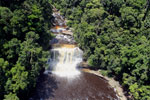 (01/26/2015) Last month, Norway's stock exchange, the Oslo Børs, introduced a way for investors to use their money to promote sustainability. A new list by the stock exchange highlights green bonds, financial products issued by companies to raise capital for environmentally friendly projects. Notably, the list requires that issuing companies obtain and publicize outside opinions on the projects' environmental features.
Changing California forests may help us prepare for the future
(01/21/2015) A new study published by the Proceedings of the National Academy of Sciences examines how California's forests have changed since the 1930s--and, according to its authors, can help us understand how forests will respond to the changing global climate in the future.
Judge protects Midwest wolves after 1,599 killed in three years

(01/06/2015) Future wolf hunting and trapping seasons in the Upper Midwest are on hold after a judge ruled the Obama Administration erred in removing the top predator from the Endangered Species Act. The ruling came nearly three years after the U.S. Fish and Wildlife Service dropped federal protections for the Great Lakes' wolf population. Since then hunters and trappers have killed 1,599 wolves.
Two vanishing prairie butterflies added to the Endangered Species Act
(01/05/2015) This fall, the U.S. Fish and Wildlife Service added two little-known prairie butterflies to the Endangered Species Act. One of the species, the Poweshiek skipperling, may be down to only a few hundred individuals. The Dakota skipperling is faring a little better, but both have lost the majority of their habitat in the pass few hundred years and continue to decline.
Top 10 HAPPY environmental stories of 2014
(12/29/2014) In what was widely seen as a possible breakthrough in the battle to coordinate some kind of response to global warming, China and the U.S. announced joint actions this year. On November 12th, the world's two most powerful countries surprised pretty much everyone by announcing that they would work together to tackle the crisis.
Top 10 Environmental Stories of 2014
(12/23/2014) In 2014, the unimaginable happened: companies representing the majority of palm oil production and trade agreed to stop cutting down rainforests and draining peatlands for new oil palm plantations. After years of intense campaigning by environmentalists and dire warnings from scientists, nearly two dozen major producers, traders, and buyers established zero deforestation policies.
Green Climate Fund nears $7 billion after U.S. pledges $3 billion

(11/17/2014) The Green Climate Fund (GCF) is suddenly looking very lively after two announcements over the weekend. The U.S. has announced an initial pledge of $3 billion to the fund, while Japan pledged $1.5 billion. This more than doubles the current amount pledged to the key fund, which is now around $6.94 billion from thirteen countries. The new pledges also bring the fund much closer to an initial goal of $10-15 billion.
Prelude to Paris: China and U.S. surprise world with joint climate deal
(11/12/2014) In what will likely have major ramifications for a new climate agreement in Paris in 2015, China and the U.S. surprised everyone today by announcing a joint climate deal. At a press conference in Beijing, China President, Xi Jingping, and U.S. President, Barack Obama, outlined climate actions for both juggernauts up to 2030.
Feds: gray wolf may have returned to the Grand Canyon after 70 years

(11/04/2014) Over 70 years since the last gray wolf was killed in Grand Canyon National Park, the top predator may be back. Tourists have reported numerous sightings—and taken photos—of a wolf-like animal roaming federal forest land just north of the park. Agents with the U.S. Fish and Wildlife Service now intend to capture the animal to determine if it is indeed a wolf or perhaps a wolf-dog hybrid.
Could California be facing a mega-drought?
(10/13/2014) Scientists and politicians, everyone agrees: California is in deep trouble. As the state enters its fourth year of drought and the soil has never been drier. Some look at the sky with hope that El Niño will bring much needed rain. But most are starting to wonder if this is just the beginning. Are we entering a mega-drought that could last for more than a decade?
The only solution for polar bears: 'stop the rise in CO2 and other greenhouse gases'
(10/08/2014) Steven Amstrup, Chief Scientist for Polar Bears International, has worked diligently on polar bears for over 30 years. He radio-collared some of the first bears and discovered that annual activity areas for 75 tracked females averaged at a stunning 149,000 square kilometers. His recent work highlighted the cost of global warming to these incredible animals and the sea ice they so closely depend on.
'Canary in the cornfield': monarch butterfly may get threatened species status
(09/08/2014) Monarch butterflies were once a common sight throughout the North American heartland. But declines in milkweed – their caterpillars' only source of food – have led to a 90 percent decline in monarch numbers. Now, the U.S. Fish and Wildlife Service is reviewing a petition that would grant the iconic species protection through the Endangered Species Act.
Invasion of the lionfish: new research finds the situation may be worse than we thought
(08/27/2014) You may have recently read the controversial story on invasive lionfish research involving Dr. Zack Jud of Florida International University and a young girl named Lauren Arrington. While the issue of attribution in scientific research is crucial to the discipline, much of the media focus so far has sidestepped the real issue: what lionfish tolerance for brackish water really means for the environment.
How do we save the world's vanishing old-growth forests?
(08/26/2014) There's nothing in the world like a primary forest, which has never been industrially logged or cleared by humans. They are often described as cathedral-like, due to pillar-like trees and carpet-like undergrowth. Yet, the world's primary forests—also known as old-growth forests—are falling every year, and policy-makers are not doing enough to stop it.
Invasive species worsen damage from Hawaii's storms
(08/22/2014) Damage from Hurricane Iselle, which recently battered Hawaii's Big Island, was exacerbated by invasion of non-native tree species, say experts who have studied the transformation of Hawaii's native forests. selle, which made landfall on the Big Island on August 7, was the third-strongest tropical cyclone to hit Hawaii since 1950. It caused upwards of $50 million in damage.
Want to save Africa's elephants? Close all ivory markets
(08/07/2014) The only way to save the long-suffering elephants of Africa is to close every ivory market on the planet and destroy all ivory stockpiles, according to a bold new essay in Conservation Biology. Written by Elizabeth Bennett, the Vice President for Species Conservation at the Wildlife Conservation Society, the paper is likely to prove controversial.
New Jersey bans elephant ivory trade
(08/05/2014) New Jersey Governor Chris Christie has signed into law a ban on elephant ivory sales, reports NorthJersey.com. The measure, passed earlier by the New Jersey State Senate and Assembly, establishes fines for first-time offenders caught buying or selling ivory products. Repeat offenders have stiffer fines.
Seeking justice for Corazón: jaguar killings test the conservation movement in Mexico
(07/31/2014) Eight years ago, a female jaguar cub was caught on film by a motion-triggered camera trap set in the foothills of canyons, oak forest, and scrubland that make-up the Northern Jaguar Reserve, just 125 miles south of the U.S.-Mexico border. Three years later, in 2009, the jaguar reappeared on film as an adult. They called her 'Corazón' for the distinctive heart-shaped spot on her left shoulder.
The world's best mother: meet the octopus that guards its eggs for over four years
(07/30/2014) The ultimate goal of all species on the planet is procreation, the act of making anew. But few mothers could contend with a deep-sea octopus, known as Graneledone boreopacifica, which researchers have recently observed guarding its eggs for four-and-a-half years (53 months), before likely succumbing to starvation soon after.
Germany tops energy efficiency rating while U.S. remains stuck near the bottom

(07/21/2014) Two years after the first energy efficiency ranking report put out by the American Council for an Energy-Efficient Economy (ACEEE), and the U.S. still lags widely behind most of the world's other large economies. In the second report, the U.S. came in at number 13 out of 16 nations—even beaten by new-comer to the report, India—while Germany took the top spot.
U.S should sanction Mozambique for its role in elephant, rhino poaching, urges NGOs

(07/03/2014) Two prominent NGOs U.S should sanction Mozambique for its role in elephant, rhino poaching, urges NGOsare petitioning the U.S government to slap Mozambique with trade sanctions due to the country's role in regional poaching. The groups contend that Mozambique has done little to combat both its own poaching epidemic or stop its nationals from spilling over the border to kill rhinos and elephants in South Africa and Tanzania.
Global warming puts trillions at stake, but mitigation offers big economic gains

(06/25/2014) Two new reports this week look at the economics of global warming. The first, Risky Business, tallies the cost of climate change to the U.S., including tens-of-billions lost to destruction of coastal property, crop failures, drought, wildfires, and heatwaves. In contrast, the second report, by the World Bank, turns climate change economics on its head.
Bigger than Mexico? Obama announces major expansion of Pacific protected area
(06/18/2014) President Obama announced yesterday he intends to drastically expand the Pacific Remote Islands Marine National Monument making what will likely be the largest marine protected area on the planet. While the full extent of the ocean park has yet to be determined, it could potentially protect over two million square kilometers, an area larger than Mexico.
New York State Assembly approves bill banning ivory trade

(06/13/2014) The New York State Assembly has passed a bill that would ban the purchase and sale of elephant ivory and rhino horn, reports the Wildlife Conservation Society (WCS), which played a key role in pushing the legislation.
More is better: high bee biodiversity boosts crop yields
(06/12/2014) Scientists have discovered that blueberry plants visited by more diverse bee species increased their seed number, berry size and fruit set, and quickened their ripening time. They hope their findings encourage farmers to help support local wild bee communities.
EPA carbon proposal may be crucial step in addressing global climate change

(06/10/2014) The U.S. Environmental Protection Agency's (EPA) June 2nd regulation proposal hit all the expected chords. Following on the heels of a January regulation for new power plants, the Clean Power Plan focuses on all existing electric generation. By 2030, the plan aims to reduce 2005-level carbon dioxide emissions by 30 percent.
By the bones: herring populations were superabundant before commercial fisheries
(06/09/2014) Scientists analyzed almost half a million fish bones to shed light on the population history of Pacific herring (Clupea pallasii) in the North Pacific Ocean. Their paper reveals a decline of unprecedented scale, and suggests that while the abundance of Pacific herring does fluctuate naturally, their numbers have fallen precipitously since commercial fishing started targeting the species in the 19th century.
New species has its anus behind its head
(06/09/2014) In the dark caves of southern Indiana in the United States, scientists have discovered a new species of cavefish that are blind, pinkish, and have their anus behind their heads. This peculiar new cavefish is the first to be described in North America in 40 years, and researchers have named it Amblyopsis hoosieri or Hoosier cavefish.
Trawling: destructive fishing method is turning seafloors to 'deserts'
(05/28/2014) Previous research has linked trawling to significant environmental impacts, such as the harvest of large numbers of non-target species, collectively termed "bycatch," as well as destruction of shallow seabeds. Now, a new study finds this method is also resulting in long-term, far-reaching consequences in the deeper ocean and beyond.
Upcoming EPA Proposal could put America back on track to lead on global warming
(05/27/2014) A regulation proposal on coal plants that the U.S. Environmental Protection Agency (EPA) will release in June could be great news for the climate change initiative. The EPA rolled out tough regulations on new constructions of electric generation facilities in January, but the nation's 1,500 existing power plants were left unaffected.
Extreme cold and drought in U.S. linked to climate change
(05/23/2014) The U.S. Midwest and Northeast experienced one of the coldest, snowiest winters on record this past season. This might seem contrary to warming trends forecast by climate scientists, but a new analysis released today in Science points out that climate change caused by greenhouse gas emissions may actually have contributed to the well-below average temperatures seen in parts of the U.S.
The quiet zoo revolution
(05/19/2014) A quiet zoo revolution has also been occurring over the past twenty-five years. Rather than just stand by the sidelines as species vanish in the wild, many zoos have begun funding on-the-ground conservation efforts. This revolution signals a widening realization by zoos of the positive—and wholly unique—role they could play in combating global mass extinction. But are zoos doing enough?
53 indigenous activists on trial for police-protester massacre in Peru
(05/15/2014) In the summer of 2009, on a highway in Peru known as Devil's Curve: everything went wrong. For months, indigenous groups had protested new laws by then President Alan Garcia opening up the Amazon to deregulated logging, fossil fuels, and other extractive industries as a part of free trade agreements with the U.S.
After 89-year absence a wolf returns to Iowa...and is shot dead

(05/12/2014) DNA testing has confirmed that an animal shot in February in Iowa's Buchanan County was in fact a wolf, according to the Iowa Department of Natural Resources. This is the first confirmed gray wolf (Canis lupus) in the U.S. state since 1925.
Fish-terrorizing, prehistoric-looking turtle actually three species
(04/30/2014) So, you're a fish swimming in a river in Louisiana. Hungry, you see a little worm wiggling out from the river bed. You swoop in for the ambush only to have that little worm turn into the gaping maw of some prehistoric-looking monster out of fishy nightmares. You've been duped: it's too late to escape as the beast's jagged jaws close over you. Meet the alligator snapping turtle...or one of several species.
3M linked to deforestation in Brazil, Canada, Europe, and U.S., says NGO
(04/29/2014) A new report from activist group, ForestEthics, alleges that U.S. company, 3M, supplies many of its products from endangered forests around the world. The NGO links 3M's masking tape and sandpaper to caribou habitat in the boreal forests of Canada, Scotch-Brite sponges to a controversial paper mill in Brazil, and those ubiquitous Post-it Notes to allegedly poor logging practices in the U.S.
The beef with beef: how 12 strategies could drastically cut agricultural emissions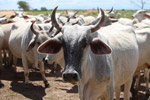 (04/25/2014) Eating less beef, cutting food waste, and utilizing farm landscapes to sequester carbon are three ways a new report suggests the world could rapidly tackle agricultural emissions. Currently, global agriculture accounts for nearly a fifth of the world's greenhouse gas emissions when agriculturally-linked deforestation is included.
Featured video: Showtime releases first episode of major new climate change series online
(04/08/2014) Although Showtime's landmark new climate change series doesn't premiere until Sunday, the network has released an edited version of the first episode of Years of Living Dangerously to the public (see below). The nine-part documentary series is being billed as a "groundbreaking" exploration into the many ways that climate change is already wreaking havoc on the lives of people around the world.
The incredible shrinking salamander: researchers find another casualty of climate change
(04/04/2014) Climate change is contributing to a slew of global problems, from rising seas to desertification. Now, researchers have added another repercussion: shrinking salamanders. Many amphibian populations around the world are currently experiencing precipitous declines, estimated to be at least 211 times normal extinction rates. Scientists believe these declines are due to a multitude of factors such as habitat loss, agricultural contamination, and the accidental introduction of a killer fungus, among others.
U.S. citizens willing to spend billions to protect monarch butterflies
(04/03/2014) New research shows Americans are willing to pay for the protection of the ailing monarch butterfly, which is experiencing a steep decline in numbers. The study, published in Conservation Letters, found nearly three-quarters of those surveyed placed importance on conservation efforts for the iconic species.
Cocaine: the new face of deforestation in Central America
(03/11/2014) In 2006, Mexico intensified its security strategy, forming an inhospitable environment for drug trafficking organizations (also known as DTOs) within the nation. The drug cartels responded by creating new trade routes along the border of Guatemala and Honduras. Soon shipments of cocaine from South America began to flow through the Mesoamerican Biological Corridor (MBC). This multi-national swathe of forest, encompassing several national parks and protected areas, was originally created to protect endangered species, such as Baird's Tapir (Tapirus bairdii) and jaguar (Panthera onca), as well as the world's second largest coral reef. Today, its future hinges on the world's drug producers and consumers.
Despite frigid cold in U.S., January was the fourth warmest on record worldwide

(02/27/2014) Worldwide, this January was the fourth warmest since record-keeping began, according to new data released by National Oceanic and Atmospheric Administration (NOAA). While parts of the world, most notably eastern North America and northern Russia, experienced temperatures well-below average, overall the month was a scorcher. In fact, another dataset, from NASA's Goddard Institute for Space Studies (GISS), that uses different methodology, found that January was the third warmest since record keeping began.
Obama announces new strategy to tackle wildlife trafficking, including toughening ivory ban

(02/12/2014) Yesterday, the Obama administration announced an ambitious new strategy to help tackle the global illegal wildlife trade, including a near-complete ban on commercial ivory. The new strategy will not only push over a dozen federal agencies to make fighting wildlife trafficking a new priority, but will also focus on reducing demand for wildlife parts and actively engaging the international community. The U.S. is the world's second largest destination for illegal wildlife trafficking after China.
Alaska roasting: new NASA map shows the Final Frontier in grip of January heatwave
(02/05/2014) Alaska got California weather at the end of January, as displayed by a new map based on data by NASA's Terra satellite's Moderate Resolution Imaging Spectroradiometer (MODIS). The U.S. state experiences one of its warmest winter periods on record during the second half of January, including some temperatures that ran 40 degrees Fahrenheit (22 degrees Celsius) above average. According to the EPA, temperatures in Alaska have risen an average of 3.4 degrees Fahrenheit (1.9 degrees Celsius) in just the last 50 years due to climate change.
Migrating monarch butterflies hit shockingly low numbers
(01/31/2014) The monarch butterfly population overwintering in Mexico this year has hit its lowest numbers ever, according to WWF-Mexico. Monarch butterflies covered just 0.67 hectares in Mexico's forest, a drop of 44 percent from 2012 already perilously low population. To put this in perspective the average monarch coverage from 1994-2014 was 6.39 or nearly ten times this year's. For years conservationists feared that deforestation in Mexico would spell the end of the monarch migration, but now scientists say that agricultural and policy changes in the U.S. and Canada—including GMO crops and habitat loss—is strangling off one of the world's great migrations.
Over 2,500 wolves killed in U.S.'s lower 48 since 2011

(01/28/2014) Hunters and trappers have killed 2,567 gray wolves in the U.S.'s lower 48 states since 2011, according to recent data. Gray wolves (Canis lupus) were protected by the Endangered Species Act (ESA) for nearly 40 years before being stripped of their protection status by a legislative rider in 2011. Last year total wolf populations were estimated at over 6,000 in the region.
The next best thing: how well do secondary forests preserve biodiversity?
(01/23/2014) Secondary forests, which are areas that were previously cleared of old-growth cover, now comprise the majority of the forested areas in the United States, Europe, and elsewhere. A heavily debated issue is to what extent secondary forests are able to contribute to the preservation of biodiversity. In an article published in PLOS ONE, a group of researchers from the Smithsonian Tropical Research Institute led by Michiel van Breugel evaluated the biodiversity preservation potential of secondary forests.
Environmental groups: top secret Pacific trade agreement to sacrifice wildlife, environment

(01/16/2014) Environmental groups have blasted draft text of the Trans-Pacific Partnership (TPP) released yesterday by WikiLeaks as potentially devastating to the environment and wildlife. The massive 12-nation free trade agreement has been negotiated in secret now for almost four years, and the information release by WikiLeaks shows that key environmental safeguards in the agreement are being stripped away, including a ban on shark finning and illegal logging, as well as legally-enforced pollution regulations.
Carbon emissions rise 2 percent in U.S. due to increase in coal

(01/14/2014) Carbon dioxide emissions rose two percent in the U.S. last year, according to preliminary data from the Energy Information Administration. Emissions rose largely due to increased coal consumption, the first such rise in U.S. emissions since 2010. Still, the annual emissions remain well below the peak hit in 2007 when emissions hit 6 billion tons.
Rewilding Chile's savanna with guanacos could increase biodiversity and livestock
(01/06/2014) Local extinctions have occurred across a variety of habitats on every continent, affecting a gamut of species from large predators such as the wolves of North America, to tiny amphibians like the Kihansi spray toad of Tanzania. The long trek toward reversing such extinctions has begun, but it is not without its challenges, both ethical and logistical.
Climate change drives Florida mangroves northward

(12/30/2013) A decline in the frequency of extreme cold weather in Florida has allowed coastal mangrove forests to expand northward, finds a study published this week in Proceedings of the National Academy of Sciences.
Featured video: U.S. forests decimated for 'green' bio-energy in Europe

(12/12/2013) Wetland forests in the southern U.S. are becoming the victims of a drive for so-called green energy in Europe, according to activist group Dogwood Alliance, which has produced a new video highlighting the issue. The activists contend that bio-energy that depends on chopping down forests not only devastates vital ecosystems, but actually emits more greenhouse gases than traditional fossil fuels.
Average American consumes 50,000 pounds of raw materials annually for the stuff they buy
(12/10/2013) The average American car weighs about 3,000 pounds. But to produce that vehicle, a lot more raw materials were used than its final weight! Maybe as much as 100 times more, as reported by scientists in a recent paper in the Proceedings of National Academy of Science. For this car to be produced, iron ore is mined in Australia and made into steel. Steel is then shipped to Japan and made into a car, which is then sold in the U.S. Most studies until now, measured national consumption by accounting only for the final weight of the products we purchase.
Making cap-and-trade work: the history and future of a proven program
(12/09/2013) While the merits for slowing climate change will be treated here as a given, the method for doing so looms elusive. In a recent article, I described pricing carbon through carbon taxes and carbon credits as a way to mitigate greenhouse gas emissions and slow global climate change. As there has been some emotive controversy towards both of these, I would like to analyze them more deeply, starting here with carbon credits.
Hedge fund downgrades stock over company's links to illegal logging in Russian Far East
(12/02/2013) A hedge fund manager has downgraded Lumber Liquidators' stock over the company's alleged links to illegal logging in the Russian Far East, reports The Wall Street Journal. Speaking at the Robin Hood Investors Conference on November 22, Whitney Tilson, the founder of Kase Capital Management, said Lumber Liquidators' stock price may be inflated due to purchases of illegally sourced timber from Russia.
Govts pledge $280M to slow deforestation for agriculture
(11/21/2013) The governments of Norway, Britain and the United States pledged $280 million toward a new initiative that aims to reduce emissions associated with forest conversion for agriculture, reports Reuters. The money will come out of previously committed funds for climate change. The initiative, called the BioCarbon Fund Initiative for Sustainable Forest Landscapes and administered by the World Bank, focuses on the 80 percent of deforestation that is driven by agriculture.
Gulf of Mexico deep sea may need decades to recover from oil spill
(11/20/2013) The catastrophic explosion that spewed some five million barrels of oil deep into the Gulf of Mexico in April 2010 will take a heavy toll in the ocean's lowest layers for years to come. That's the stark conclusion of seafloor research conducted six months after the Deepwater Horizon oil spill. The study, published on August 7 in PLoS ONE, examined life in the Gulf's deepest waters near the blowout, about 1.6 kilometers below the surface. Here, the researchers found that the damages will take decades to reverse.
Fracking: the good, the bad and the ugly
(11/18/2013) The last few years have ushered in a new national and global awareness of fracking, the 150-year-old technology for extracting natural gas and oil from rock. Fracking, short for hydraulic fracturing, uses ultra-high-pressure slurries to create hairline fractures throughout solid rock. Oil, and more frequently gas, comes rushing out while sand from the mixture holds the fractures open in this nearly alchemical process. As many readers are aware, there are two very divisive schools of thought on fracking. One side touts it as the future of energy. The other derides fracking as inherently toxic and demands its immediate and permanent cessation. Like so many aspects of life, the truth lies somewhere in between.
Coal's future carbon costs may make it more expensive than wind energy
(11/15/2013) At first glance, a recent report from the U.S. White House on the social cost of carbon reads like a daunting economics exam. A small chart poses the first question about the price tag policymakers attach to future greenhouse gas emissions: Does each metric ton of carbon that billows into the air cost $11, $33 or $52? The answer is all of the above.
Powered by Google, high resolution forest map reveals massive deforestation worldwide
(11/14/2013) Researchers today released a long-awaited tool that reveals the extent of forest cover loss and gain on a global scale. Powered by Google's massive computing cloud, the interactive forest map establishes a new baseline for measuring deforestation and forest recovery across all of the world's countries, biomes, and forest types. The map has far-reaching implications for efforts to slow deforestation, which accounts for roughly ten percent of greenhouse gas emissions produced by human activities, according to the authors of the paper that describes the tool and details its first findings.
Wolves boost food for Yellowstone's threatened grizzlies
(11/13/2013) Wolves and grizzlies aren't best buddies. Burly bears can barge in on a feasting pack, making off with the wolves' fresh kill. Wolves have been known to dig into bear dens and snag a cub. But after gray wolves returned to Yellowstone National Park in 1995, grizzly bears ate more berries in the summer for a pre-hibernation nutritional boost, researchers reported Sept. 4 in the Journal of Animal Ecology






Page 1 | Page 2 | Page 3 | Page 4 | Page 5 | Page 6 | Page 7 | Page 8 | Page 9 | Page 10 | Page 11 | Page 12 | Page 13