News articles on tuna

---
Mongabay.com news articles on tuna in blog format. Updated regularly.





Photo: Bluefin tuna sells for record $1.76 million in Japan

(01/05/2013) A bluefin tuna sold for a record $1.76 million at an auction in Tokyo, Japan Saturday, reports the Associated Press.


Featured video: tuna industry bycatch includes sea turtles, dolphins, whales

(01/16/2012) A Greenpeace video, using footage from a whistleblower, shows disturbing images of the tuna industry operating in the unregulated waters of the Pacific Ocean. Using fish aggregation devices (FADs) and purse seine nets, the industry is not only able to catch entire schools of tuna, including juvenile, but also whatever else is in the area of the net.


World's most expensive tuna

(01/05/2012) A 593 pound Pacific bluefin tuna sold for $735,000 (56.49 million yen) in Tokyo's Tsukiji market today. This beats the previous record price hit last year by over $260,000. Why so expensive? Bluefin tuna, considered the best sashimi and sushi in the world, have been fished to near extinction with the population of the Pacific bluefin the most stable to date.


Fishing industry exceeds Atlantic bluefin quota by 141 percent

(10/18/2011) In 2010 the fishing industry exceeded its quota of eastern Atlantic bluefin tuna (Thunnus thynnus) by 141 percent, according to a new analysis by Pew Environment Group. The analysis depends on official data, thereby leaving out the massive black market on Atlantic bluefin tuna.


Mitsubishi and Walmart agree to clean up fish sourcing practices

(03/09/2011) Two big players in seafood today announced that they are changing the way their fish are caught. Mitsubishi, which owns the UK's most popular brand for tuna in a tin, Princes, and Walmart, which owns Asda, have agreed to stop buying from fishermen who use purse seines fishing in conjunction with fish aggregating devices (FADs) by 2014. These methods have been blamed in part for the vast overfishing of the world's tuna and helping to decimate other species, such as sharks and rays, as bycatch.


Japanese firm is deadliest for marine life, says Greenpeace

(01/10/2011) Greenpeace has ranked the canned tuna corporation Princes as the most environmentally damaging tuna brand in the U.K., citing that the Japanese company uses destructive fishing methods and that its claims of sustainability are blatantly untrue.


Bluefin tuna gets record price ($396,000) at Japanese auction

(01/06/2011) On Tuesday, a 752-pound Pacific bluefin tuna was sold at Japanese auction for the highest price ever received for raw seafood - $396,000. The price tops the previous record by more than $100,000 and comes at a time when tuna populations around the world are experiencing precipitous declines.


Fisheries commissions' ability to manage diminishing tuna stocks called into question

(12/31/2010) During a meeting earlier this month, the Western and Central Pacific Fisheries Commission (WCPFC) disregarded appeals from the EU and Japan, as well as from Commission scientists, calling for a substantial and immediate reduction in catch rates of bigeye and yellowfin tuna in response to diminished stocks. An earlier meeting of the International Commission for the Conservation of Atlantic Tunas (ICCAT) resulted in only cosmetic cuts to Atlantic bluefin quotas, calling into question the ability of the global system of Regional Fisheries Management Organizations (RFMOs) to prevent overfishing.


Growing Atlantic dead zone shrinks habitat for billfish and tuna, may lead to over-harvest

(12/29/2010) A dead zone off the coast of West Africa is reducing the amount of available habitat for Atlantic tuna and billfish species, reports the National Oceanic and Atmospheric Administration in a study published in Fisheries Oceanography. The zone is growing due to global warming and is expected to cause over-harvest of tuna and billfish as the fish seek higher levels of oxygen in areas with greater fisheries activity.


Thousands pledge to boycott restaurants serving bluefin tuna

(12/01/2010) So far over 14,000 people have pledged to boycott eating bluefin tuna or visiting any restaurant that serves the imperiled species. The boycott, begun by US-conservation organization Center for Biological Diversity (CBD), is striving to raise awareness about a species that many scientists say is being fished to the brink of extinction.


History repeats itself: the path to extinction is still paved with greed and waste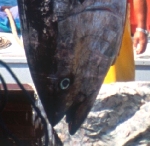 (04/05/2010) As a child I read about the near-extinction of the American bison. Once the dominant species on America's Great Plains, I remember books illustrating how train-travelers would set their guns on open windows and shoot down bison by the hundreds as the locomotive sped through what was left of the wild west. The American bison plunged from an estimated 30 million to a few hundred at the opening of the 20th century. When I read about the bison's demise I remember thinking, with the characteristic superiority of a child, how such a thing could never happen today, that society has, in a word, 'progressed'. Grown-up now, the world has made me wiser: last month the international organization CITES (Convention on International Trade in Endangered Species) struck down a ban on the Critically Endangered Atlantic bluefin tuna. The story of the Atlantic bluefin tuna is a long and mostly irrational one—that is if one looks at the Atlantic bluefin from a scientific, ecologic, moral, or common-sense perspective.


ICCAT fails to protect critically endangered tuna—again

(11/15/2009) The International Commissions for the Conservation of Atlantic Tuna (ICCAT) ignored the advice of its scientists to end fishing of the Atlantic bluefin tuna. Instead ICAAT set a quota of 13,500 tons of fish. This is not the first time ICCAT has flouted its own researchers' advice: it has repeatedly set quotas well-above its researchers' recommendations.


Atlantic bluefin tuna should be banned internationally: ICCAT scientists

(10/29/2009) Scientists with the International Commission for the Conservation of Atlantic Tuna (ICCAT) have said in a new report that a global ban on Atlantic bluefin tuna fishing is justified. ICCAT meets in November to decide if they will follow their scientist's recommendations.


Sushi restaurant, Nobu, warns patrons not to eat bluefin tuna, but serves it anyway

(05/27/2009) Last year, Nobu was caught red-handed serving critically-endangered bluefin tuna to patrons, even after servers claimed its tuna was not bluefin. Now after heavy criticism, the trendy restaurant, owned by Robert DeNiro and popular with celebrities, has finally taken action.


Mediterranean bluefin tuna has only three years left unless fishery closes

(04/14/2009) If the Mediterranean bluefin tuna fishery is not closed, the bluefin will be functionally extinct by 2012 according to a new analysis from World Wildlife Fund (WWF). While the population has undergone steep declines for over a decade, fishery managers and policy-makers have continually ignored calls from scientists that fishing must stop if the Mediterranean bluefin tuna is to survive.


Tuna industry launches new organization to save tuna from itself

(03/16/2009) Yesterday saw the launch of the International Seafood Sustainability Foundation (ISSF). Composed of scientists, environmental organizations, and the tuna industry, ISSF will focus on ensuring that tuna populations are preserved from overfishing.


Mediterranean bluefin tuna originate in the Gulf of Mexico

(10/02/2008) Researchers have discovered a previously unknown migratory route for the northern bluefin tuna, proving for the first time that the species' Mediterranean and North American subpopulations interact. According to the paper published in Science the two groups meet as juveniles then return to their birthplace to spawn. For a critically-endangered species that is still heavily fished, the new finding has large conservation and management implications.


Small-scale fisheries are "best hope" for sustainability in developing world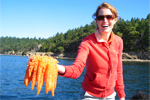 (09/08/2008) Fish stocks are declining globally. While the consumer in the industrial world has yet to feel the full impact of this decline, those in the developing world know it well. Local small-scale fishermen are catching less fish to feed growing populations. Jennifer Jacquet of the Sea Around Us Project believes the hope for sustainable seafood lies in these very fisheries.


Nobu offers critically-endangered species to sushi diners

(09/08/2008) Nobu, a pricey and trendy sushi restaurant with locations around the world, regularly serves critically-endangered Northern bluefin tuna to its clientele, reveals an investigation by the environmental group Greenpeace.


How sustainable is your canned tuna? It depends on the retailer

(08/13/2008) To aid concerned tuna-lovers, Greenpeace has ranked eight of the top canned tuna retailers in order from most sustainable to least. Canned tuna from John West, the biggest retailer of tuna in the UK, proves to be the worst of the lot, whereas Sainsbury's is the most environmentally-friendly. In a press release Greenpeace said that Sainsbury's is "the only tinned tuna brand that is fished using sustainable methods".


Greenpeace ship attacked by Turkish tuna fishermen during protest

(05/30/2008) Members of a Turkish tuna fishing boat attacked the Greenpeace ship Arctic Sunrise while the ship was engaged in a protest against overfishing. The incident occurred Friday in the Cypriot Channel and was reported to the Turkish Iskenderun Gulf Port Authorities.